February 9, 2021
Posted by:

Admin

Category:

Real Estate Mobile App Development, Technology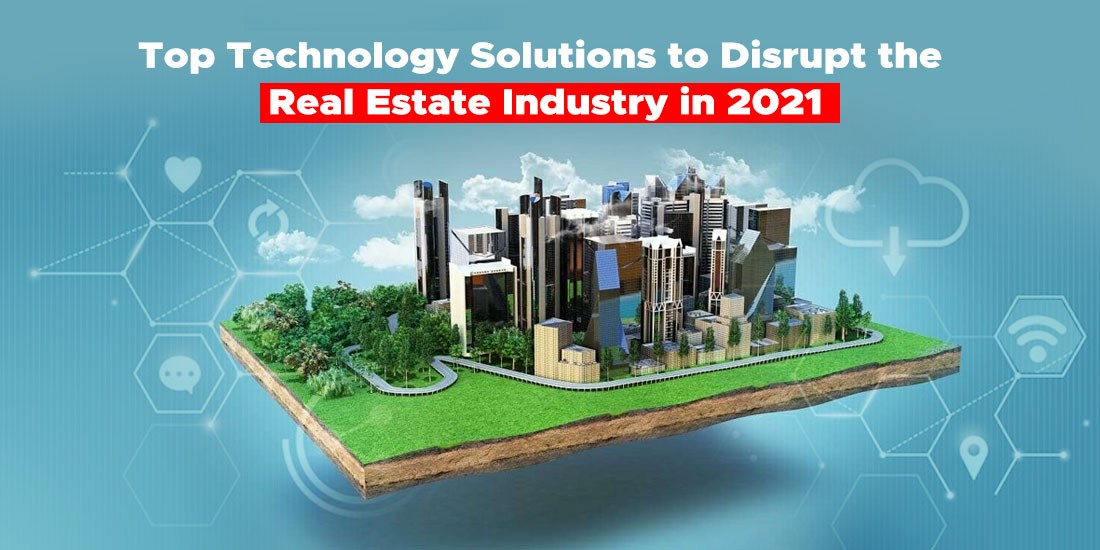 Technology is aggressively reshaping industries with no one left behind. From gradual growth to massive scaling, and regional expansion to becoming global players, from mediocre productivity to enhanced ROI, technology is turning out in becoming everyone's cup of tea. It is gradually supplying businesses with end-to-end support that not only makes them full-fledged but also makes them fit for a seamless global market entry.
The real estate industry is not an exception to the above-mentioned technology revolution. The best application of technology in the real estate industry is redefining all the verticals that exist in the domain. With the real-world applications of various technologies onboard, businesses that reside in the real estate industry are able to get rid of all the hassles and bustles that stops them from being successful entity. End-to-end streamlining of in-house operations is yet another advantage put forward by technology in the real estate space. Of all industries that were disrupted by technology, real estate is the one that has the most potential to flourish. The wholesome of the real estate industry was redefined in such a way that the businesses that reside and their customers mutually benefitted in the best possible manner. In this article, we deal more with the digital transformation that is actively taking place in the real estate industry, technologies that are participating in the process, and how better they can transform the industry and the future. So let us get started.
Why the Real Estate industry demands more technology integration
Real estate is one such industry that is vulnerable to errors, as it comprises hectic manual tasks and documentation processes. This has become a key challenge that real estate organizations have become so limited when it comes to scaling the business. Traditional approaches and practices have turned out in taking organizations to nowhere. To address the key business challenges and tackle them in the most productive manner, businesses started to adopt technologies onboard. Technological adoptions have resulted in end-to-end automation and streamlining of the process, thereby making organizations free from all hassles and bustles. This has delivered groundbreaking results and organizations have started to implement best technological practices in an aggressive manner. It has not only helped real estate businesses in eliminating the hurdles their way but has equipped them with the best strategies that could help them serve their customers better. When it comes to productivity, technology-oriented adaptations were far more productive than traditional approaches.
Seasoned technology offerings taking the real estate domain to newer heights
The skyrocketing demand for technology solutions in the real estate industry has resulted in technologists delivering the most precise service offerings to customers. Customized technology offerings that go above and beyond user requirements have prompted more and more real estate players to switch to digital platforms. A fine blend of art, creativity, and technology has helped businesses enhance their bandwidth, thereby adding more mileage in their journey towards being a successful organizations.
Key technology trends in the Real Estate industry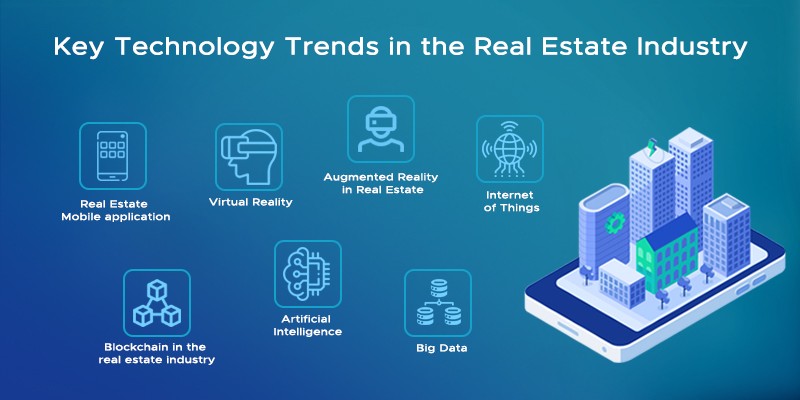 Based on the use cases and real-world applications, the logistics industry demands the integration of a wide array of technologies. These technologies vary from Artificial Intelligence, machine learning to IoT, Blockchain, etc. Let us now see what the prime technologies are and use cases in the logistics industry that are offering them a potential breakthrough.
Real Estate mobile application
The power of mobility relies upon the hands of a common person leveraging mobile apps and businesses are making the most out of it with the real estate industry no exception. Having a mobile app for a real estate business is like gaining traction with a potential set of customers. With mobile apps, they can enhance their revenue like anything; reach out to the relevant group of customers in a hassle-free manner, and much more. In fact, mobile apps in the real estate industry act like a potential tool that differentiates a successful business from that of a struggling one. Mobile application in the retail industry acts as a platform where both the buyers and sellers can interact in a hassle-free manner and get the deal done.
Virtual Reality
Virtual Reality is one of the hottest topics that are taking the business to newer heights. In the real estate domain, it is capable of delivering groundbreaking services and solutions to customers. Virtual Reality in the real estate industry is helping businesses gain huge traction when compared with traditional approaches and hassles. A virtual tour is a perfect example of virtual reality in the real estate industry. Back in the day, customers need to make personal visits prior to confirming properties or houses, but not anymore. With the Virtual Reality virtual tour, businesses can set up a digital experience for their customers which helps them analyze the property even from miles apart.
Augmented Reality in Real Estate
The best application of Augmented Reality, popularly known as AR is taking over the key place in the real estate industry. It is not only helping businesses attract customers thereby enabling more sales and revenue, but can even help global construction companies in conceptualizing and visualizing projects the way they look in reality. This has helped drive a high amount of efficiency and transparency in the process.
Blockchain in the real estate industry
Blockchain Technology is termed as the most transparent and efficient technology and it has a lot to act, especially in a highly volatile and vulnerable industry like real estate. The application of blockchain is helping businesses residing in the real estate industry to take off all the hassles and bustles that existed in the domain, thereby making it as transparent as possible. Blockchain Land registry is one of the finest examples of how efficiently blockchain can make the wholesome of the system transparent. Since blockchain data remains tamper-proof and uneditable, this enhances the transparency of this technology. The real estate industry is leveraging this feature of the blockchain industry to figure out a handful of activities like land ownership, land registry, and much more.
Artificial Intelligence
Artificial Intelligence is manmade intelligence, leveraging which machines themselves can think, analyze and perform according to predefined events. In the Real Estate industry, Artificial Intelligence has turned out to be a real boom. It comes with a magical Midas touch and has a wide array of use cases. An AI-enabled chatbot is the very first example. With AI chatbots, businesses can interact with their clients without any support from a human executive. Since AI chatbots can interact with customers the same way as humans do, they can even identify their mood swings, emotional state, etc, and can perform in such a way that the customer relationship is nurtured to its core. Another use case of AI in Real Estate island price prediction. Its use case can also vary from hiring staff to coordinating and streamlining end-to-end activities.
Also, Read – Artificial Intelligence Trends in Real Estate
Internet of Things
The Internet of Things (IoT) is backlashing the traditional approaches in the commercial real estate industry and is redefining the way we live. The best use cases of IoT help businesses residing in the Real Estate industry outperform their competitors than ever before. Some of the use cases of IoT in the real estate industry comprise smart workplaces, workplace optimization, Air quality improvement, reduced manpower, etc.
Big Data
Data is the new oil and to get the precise edge over the market, and to stay on top of the current trends, data has to be collected, segregated, and analyzed in the best possible manner. With Big Data, businesses can leverage the power of data, with most modern technology integrations and adoptions. Big data is transforming the real estate industry into a better one like no way before.
Technologies to disrupt the real estate industry

 More technologies and their best applications are actively been introduced into the real estate space. Key players in the industry are making the most out of this technology disruption to scale their businesses like anything. With the best integration of futuristic technologies, any real estate business can scale from level A to level b and reach out to a global set of clients in a hassle-free manner. In short, we can say that the future of the real estate industry is bright with more and more technologies getting on board.