October 10, 2022
Posted by:

Admin

Category:

React Native App Development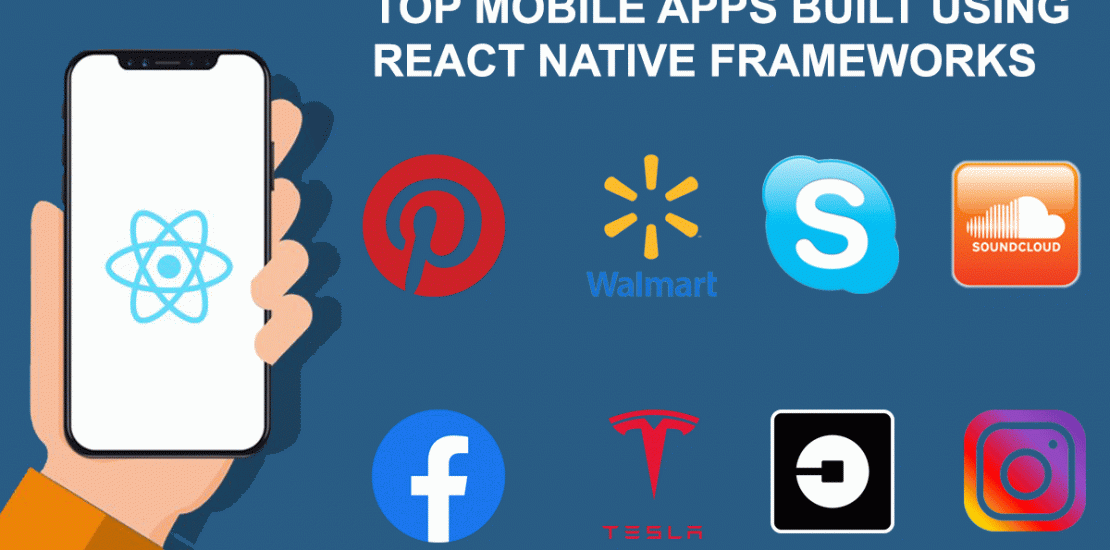 Famous Mobile Apps Built with React Native Platform
React Native is one of the finest and most popular hybrid app development platforms. Founded by Facebook in 2013, React Native brought huge flexibility in the area of cross-platform app development. Moreover, it is free to use and is backed by a wide range of supportive communities. The benefit of the app developed using React Native platform is that multiple apps for multiple operating systems can be developed at the same time.
The need for a hybrid app development platform like React Native arouse as the cost and time for developing native apps have gone pretty much high. Leveraging React Native, one can build high-end and cost-effective hybrid apps that too in the least possible time. One can see a sudden rise in terms of productivity while developing a hybrid app on the React Native platform. Comparing the performance of apps that are built on React Native and Native platforms, the best performer will be the one that developed on React Native. It supports almost 90 % of the codes on both iOS and Android and the codes are highly reusable. The User Interface and User Experience offered by the React Native app development platform are outstanding and it even supports animations as well.
High popularity among the developer communities has gained huge traction for React Native and even the tech giants started developing their apps using the same. While the ones who were on the traditional modes started migrating to the React Native Platforms. A developer who has hands-on experience in Web Technology can easily write programs on React Native without any hassles. App developed on React Native possess high speed and ensures a high degree of security.
In this blog, we are going to see the list of famous apps that are built using React Native platforms that you were unaware of.
So let's get started!
FAMOUS APPS THAT ARE DEVELOPED USING REACT NATIVE
FACEBOOK
As we have mentioned above, React Native was developed and implemented for the first time by social media giant Facebook. For Facebook, all they want was their app development processes to be crisp and transparent. They want a single team to develop both iOS and Android apps. And for the first time, they implemented React Native while developing their Facebook Ads Manager mobile application for both iOS and Android apps. Frequently they have migrated all their related apps like Facebook, Facebook Messenger, and all on to React Native platform. Facebook has witnessed a sudden change after implementing React Native apps. Its performance has gone tremendously high. Moreover, it is highly user-friendly compared to the normal native app of Facebook.
WALMART
Retail giant Walmart has developed its apps leveraging React Native. It helped them in improving their in-app activities and has enhanced the customer satisfaction rate. This, in turn, increased the overall customer engagement rate thereby generating more in-app sales and revenue. The platform shift has met the company goals in lesser time and helped them in scaling their further business activities.
INSTAGRAM
Instagram has integrated React Native into its existing frameworks. This helped them in adding new features to their apps. These features would have been very hard to implement on an app using conventional ways. But React Native made it easy. Promote Post is a new option available on the Instagram app and this was made possible after the integration of the React Native platform. High-quality UI and UX were made possible onto the app interface leveraging React Native.
PINTEREST
Pinterest is one of the leading social media platforms that was built using React Native and it was done at the end of 2017s. And they come up with a high-end mobile app for both iOS and Android platforms within a week or two. Many more add-on features were introduced to the app using React Native. As React Native facilitates codes among different platforms, developers at Pinterest found the development a smooth process.
SKYPE
Skype is one of the most popular messaging and calling tools. Leveraging Skype, one can send unlimited messages and voice and video calls based on the plans. Even the mobile app for Skype was built using React Native. The Android and iOS version of Skype apps built using React Native possess high quality and have pleasing UI and UX.
TESLA
The famous Electric vehicle manufacturer Tesla has its Android and iOS apps built using React Native. This helps them to not only engage their customers but also assisted them unlimitedly in adding new features to the app without any hassles.
UBER
Uber, the widely used taxi aggregator company has made use of React Native frameworks to develop a high-end mobile application for its users as well as taxi operators. They have made use of the same technology on their sister concern, Uber Eats as well. The purpose behind the transition is to offer its customers hassle-free ways of booking a ride or food from its app. Uber found this transformation highly successful and they are building more features on their existing apps.
SOUND CLOUD
Sound Cloud recently updated its Sound Cloud Pulse mobile application leveraging the React Native platform. The integration helped them onboard several outstanding features in their app thereby attracting customer traction. Sound Cloud found the hybrid app much more productive as it took less time to develop and offers a stunning experience to the users.
Conclusion:
The aforementioned are just a few of the top mobile apps that are built using React Native frameworks. There exist many more apps that are built using the same hybrid app development platform. And many are on the verge of migrating from native to React Native within no instance of time because of the advantages offered by it. In sum, we can conclude that React Native plays an important role in scaling up a business and act as a great tool for engaging potential customers. Hire DxMinds Innovation Labs, a leading React Native app development company widespread across the globe to level shift your current native app to React Native or to develop high-end hybrid apps.
For more details, write a mail to us at info@dxminds.com