January 27, 2021
Posted by:

Admin

Category:

Mobile app developers, Mobile App Development, Outsourcing and Offshoring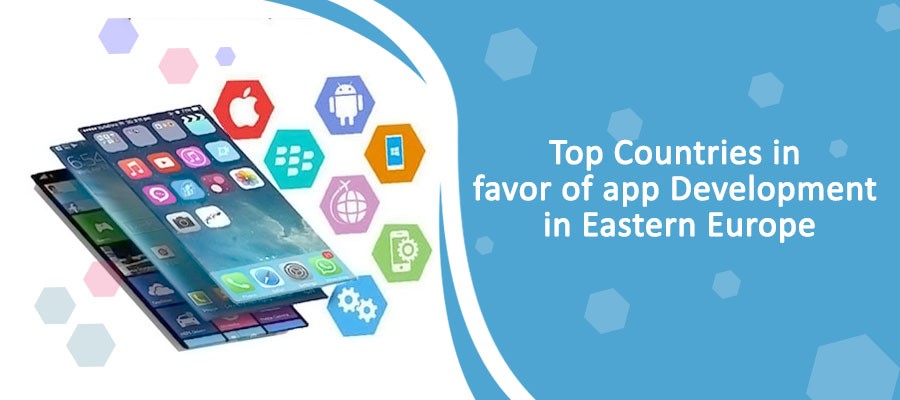 The process of mobile application development has turned out in being a much potential one over the years. Apps have turned out to be the unique single factor that determines the success of an organization. It has helped businesses in enhancing their bandwidth and range of business operations in such a way that their vision remains focused and can seamlessly reach out to potential audiences. With a wide array of mobile applications and app development methodologies, businesses were able to make it big, no matter what.
The eastern European countries that comprise countries such as Russia, Poland, Croatia, Slovakia, Hungary, etc are all the hubs of digital transformation, where technology plays a vital role in level-shifting the lives of individuals and businesses. Smartphones and mobile applications hold the lion's share of the portion and businesses are leveraging it to the best in such a way that they can enhance their revenue and business. Businesses are looking forward to figuring out the top country in Eastern Europe to develop software solutions to carve out top-of-the-line mobile applications that fit the best for their organizational requirements.
Why do businesses need mobile apps to survive?
Anything and everything has gone digital these days. An increasing amount of digital transformation has prompted businesses to leverage futuristic methods in reaching out to their customer base. This has turned out in being the trendsetter and hence digital transformation. Mobile applications act as a tool that businesses can be leveraged to implement and practice digitalization on a daily basis. With mobile applications on board, businesses across the globe are given the power to scale their internal operations like anything. It helps them streamline their day-to-day operations and adds a high amount of transparency to the current frameworks. In shorter, we can say that if a business needs to be futuristic, and need to be successful like never before, the only option they are to associate with the top mobile app developers in Eastern Europe and to make use of the mobile applications to the fullest.
Top countries in favor of app development in Eastern Europe
Ukraine
Ukraine is one of the best app development hubs in Eastern Europe. The nation comes with highly flexible foreign investment policies that prompt global businesses to invest in the country. One can find top-of-the-line technology partners in Ukraine for having their projects developed. The demand for outsourcing in Ukraine has got global traction and they have managed to get a position among Gartner's top 30 countries to outsource.
Poland
Poland always stands tall and high among the list of top outsourcing destinations in Eastern Europe. The high level of its literacy rates makes the availability of top-of-the-line app developers in Poland seamless. Global organizations are considering Poland as a potential outsourcing center in Eastern Europe.
Romania
Romania is the 28th top outsourcing nation among the list of top 50 nations to outsource projects. The nation is known for its rich availability of technical expertise that prompted global countries in setting up their technology hubs in Romania.
How to figure out the top app developers in Romania, Ukraine, Poland, etc.?
Hiring top-notch resources who are capable of seamlessly scaling up to your requirements and delivering them with utmost priority has always been a challenging job, whether in Eastern Europe or any other global country. So this section of the topic can be applied anywhere across the globe. So let us figure out how you can find the top mobile app developers in Eastern Europe or any other global nation.
Prior to hiring, there involves a wide array of tasks one needs to accomplish. He/ She needs to ensure that this checklist gets filled with utmost accuracy. Let us see what those factors are and how they can help one hire top mobile app developers in Eastern Europe.
Top mobile app developers in Eastern Europe will have an enriched portfolio
Yes, you heard it right. A company portfolio has a lot to say about its performance and capability to deliver results. The portfolio comprises a detailed list of the past projects the organization has delivered. It let you stay ahead of the in and our activities of the organizations and the purpose they are standing for. The portfolio is a key metric when it comes to sorting out the best and the good.
They host top-of-the-line resources
What makes an organization a standalone one is its capacity to meet the customer requirement to its fullest. For that, they need to uphold a wide array of potential resources that are capable of hooking up to new challenges and fulfilling them with utmost priority and accuracy.
Access to technology
The wholesome mobile app development process is comprised of wide integration of state-of-the-art technologies. The app development company in Eastern Europe you are looking forward to associating with should have seamless access to these technologies that can help you flourish your business like anything. Technologies like Artificial Intelligence, Machine Learning, Blockchain Technology, IoT, etc. play a keen role in the app development process these days, and hiring an agency with end-to-end mastery over these technologies can help you get there easily.
Enhanced customer satisfaction rate
Customers are king and delivering services that go parallel to their expectations is not that easy task. For that to happen, one needs to have a high amount of fluency and proficiency in the entire domain. A hand on experience also plays a major role at this point. When it comes to hiring the best mobile app developers in Eastern Europe, you never ought to ignore their rate of customer satisfaction. Else, you will end up messing up things.
Reviews and rating matters
In the process of figuring out the top mobile app developers in Eastern Europe, you should try your best to reach out to the past and present customers of their organizations. Reaching out to them can help you in determining whether the organization can be leveraged to meet your requirements or not. Also, go for the reviews and ratings the organizations have on online spaces such as search engines, maps, social media handles, and much more.
DxMinds Technologies- Top mobile app Development Company in Eastern Europe
Your search for the top mobile app developers in Eastern Europe ends up figuring out DxMinds Technologies. As far as the organization is concerned, DxMinds focuses on building futuristic solutions and products that help businesses in reaching out to a wider set of audiences in the most precise manner. The team DxMinds is structured in such a way that they can seamlessly level up in such a way that they can deliver the most accurate solutions to their customer base. With DxMind's resources on board, businesses can flourish like anything. They analyze your business in detail and help you figure out your pain points and strategies to outpace them with the utmost accuracy and potentiality.
The app development process at DxMinds Technologies
The entire app development process at DxMinds is subdivided into several milestones and let us has a look at that.
Ideation
Ideation is the initial phase of app development at DxMinds. Being the top app developer in Eastern European countries like Hungary, Poland, Czech Republic, etc, clients approach DxMinds with utmost confidence. They pitch their app idea, which they need to get visualized. The team of mentors, developers, technologists, engineers, and architects reviews and brainstorms that idea to make it to a finely polished one.
Market Research
The second phase of app development at DxMinds starts when the team of profound analysts conducts end-to-end market surveys. This is to ensure the app is built relevantly to the market demands. Conducting end-to-end market research helps the team in having a deep understanding of the market pulse and what exactly the customers are looking forward to having.
Competitor Analysis
To figure out the big fishes in the industry and to deliver services that outpace their pain points, team DxMinds conducts a detailed Competitor analysis based on the customer idea. It let them get rid of all hassles and bustles that stop a business from being a successful entity.
Development
The development process at DxMinds is a highly transparent process. The team considers various opinions and suggestions into account that the app can be an unmatched one. It is at this phase that the profound technologists at DxMinds integrate state-of-the-art technologies such as AI, ML, IoT, etc.
Testing
Team DxMinds carry out a wide array of testing procedures such as functional testing, usability testing, security testing, etc. to ensure the proper usability of the app. DxMinds have enhanced testing labs where we perform manual as well as automated testing processes to ensure the app is free from all bugs and errors.
Deployment
Post-successful testing is app deployment. The process is all about airing the app to the respective app stores and at DxMinds, this process is done with the utmost accuracy and attention paid to detail.
Maintenance and support
The better support and maintenance of a mobile app, the better will be its overall performance. To put that into perspective, team DxMinds offers the best in class app support and maintenance services in which they cover all the entire aspects of the same.
Resource hiring models at DxMinds
DxMinds showcases a set of diversified engagement models so that its clients can make the most out of them. Let us have a detailed look at the top engagement models at DxMinds.
Turnkey and co-owned projects
Build, Operate, Transfer
Why DxMinds is the best technology partner in Eastern Europe
Enhanced resource pool
Seamless scaling up and scaling down of resources
Agile methodology
Futuristic development approaches
FAQ
Which is the best country in Eastern Europe for hiring app developers?
Ukraine, Poland, Hungary, etc. are the top nations where you can hire top-of-the-line developers.
Which is the best mobile app development company in Eastern Europe?
In Eastern European countries like Hungary, Russia, Poland, etc, one will find it hard to figure out mobile app development companies that are as good as DxMinds Technologies.
What makes DxMinds special?
The development approach, attitude toward attaining perfection, engagement models, etc. make DxMinds a standalone app development company in Eastern Europe.
What are the engagement models offered by DxMinds?
BOT, ODC, Turnkey, and co-owned projects, etc. are some of the engagement models offered by DxMinds.
What kind of technology services does DxMinds offer?
The technology services offered by DxMinds comprise AI, ML, IoT, AR/ VR/ MR, etc.