October 10, 2022
Posted by:

Admin

Category:

Mobile App Development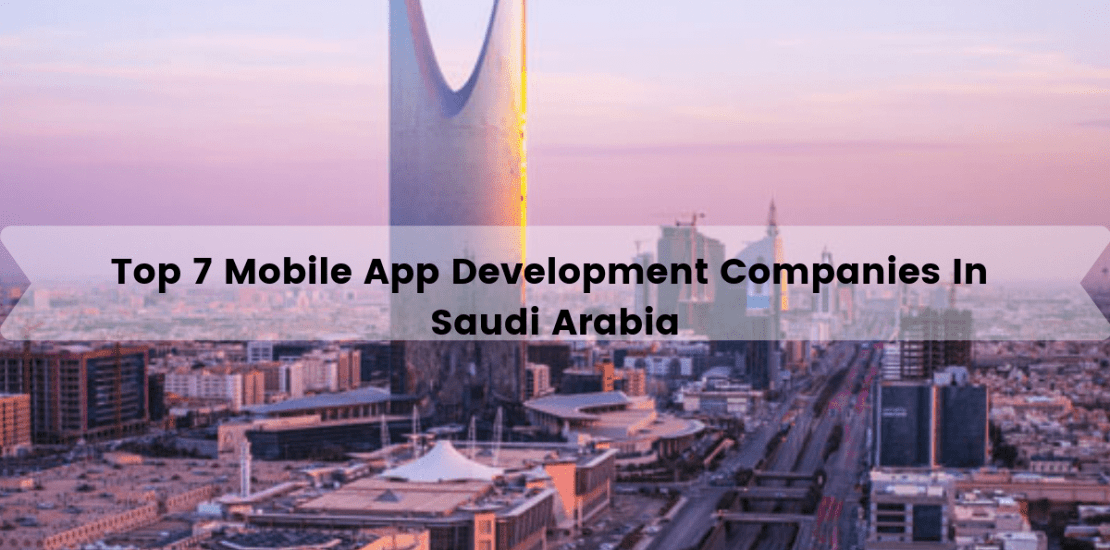 Saudi Arabia is one of the fastest-growing technology-adopted nations in the world. When it comes to Technology, Saudi Arabia ranks 13th position worldwide on the Global Security Index. The advent of technology in Saudi Arabia has resulted in the massive growth of the nation. A large number of industries set across various verticals of Saudi Arabia got automated after the introduction of technology. Digital transformation services by the best mobile app development companies in Saudi Arabia are offering numerous opportunities for businesses in Saudi Arabia to scale. Mobile applications are at the front line in digitalizing and setting up a digital ecosystem in the nation.
Over the years, mobile applications are changing businesses in Saudi Arabia rapidly and dramatically. Recent times have witnessed Saudi Arabia becoming one of the finest hubs for mobile app development companies. It is because of the sudden growth in the number of smartphone users in Saudi Arabia and their continuous affinity towards the usage of mobile apps. However, businesses in Saudi Arabia have been prompted to upgrade their business strategies by moving on to digital spaces leveraging mobile applications.
This in turn has resulted in the rise of competition among businesses in Saudi. As the going gets tougher, the tougher gets going. Mobile app development companies in Saudi Arabia play a vital role in catering to the digital needs of the business. The fact that mobile applications are helpful in improving sales and enhancing user engagement rates has forced businesses to onboard digitalization. Nowadays, the number of app development companies in Saudi Arabia has increased consistently. The entrepreneurs who are seeking the assistance of top mobile app developers in Saudi Arabia have gone into a dilemma kind of situation as every app developer in Saudi, regardless of their industry expertise or domain authority claims themselves to be the best.
The expertise of an app development agency is what gets reflected in the output of the mobile app they develop. So it is mandatory that one should associate with the best iOS and Android app Development Companies in Saudi Arabia. The purpose of this blog is to make aware the entrepreneurs in Saudi Arabia, who want to have their mobile app ready from the most reliable and professional app developer. Here, we will discuss the top 10 mobile app development companies in Saudi Arabia, who are reliable to the core and can assist you throughout the app development cycle. So let us get started.
list of top mobile app development companies in Saudi Arabia
The rankings given here are genuine and highly reliable as the companies listed here are the result of continuous research and findings. The companies that managed to seize a position in this list have met our benchmarks well, especially in three important areas of Quality, Reliability, and Experience.
1. DxMinds Technologies:
DxMinds is the Best Mobile App Development Company in Saudi Arabia Riyadh, and Jeddah. DxMinds helps clients in achieving professional independence by developing trendy technological solutions. Mobile applications developed by DxMinds, the best iPad app developers in Saudi Arabia backlash against conventional practices and approaches. These apps are the best when it comes to gaining customer traction and profitability. All these power-packed solutions are designed in such a way that it is capable of taking your business to the next level. Major services offered by DxMinds Technologies are
1. Mobile Product Strategy
2. AI, ML, and data
4. Custom web solutions
5. Cloud Services
6. DevOps
7. Native iOS and Android App Development
8. Cross-Platform App Development
9. Mobile 2D and 3D Game Development
10. Augmented and Virtual Reality Development
11. UI and Front-End Development
12. Testing and Quality Assurance 13. Enterprise solutions and much more.
Facts & Figures about DxMinds:
★ We serve clients ranging from early-stage companies to Fortune 200 Enterprises to 1,000 Global firms across globally.
★We've developed 150+ top-rated apps and hundreds of more prototypes, extending a full range of digital technology solutions and services worldwide.
Contact: +971-501529161
Email: info@dxminds.com
Address: P.O.Box.211200 – Office 1109, AlMoosa Tower 1, Sheikh Zayed Road, Dubai, UAE
Consult Us :
2. Cubix:
Cubix is a mobile app, games, and enterprise software Development Company based in Saudi Arabia. They are really specialized in the development, customization, and integration of various enterprise-level resolutions, business intelligence analytics, web, and mobile solutions. With over years of experience, Cubix has worked for clients that comprise individuals, start-ups, and enterprises.
3. AppSquadz:
A rapid-growing I.T. firm and Android App development company in Saudi Arabia, Riyadh skilled in Designing, iOS app development, digital marketing, AI, VR, and IOT, committed to achieving user-centric solutions for your business. AppSquadz has the capacity to meet your requirement thereby making you a digitally transformed new-age business.
4. Terasol Technologies:
Terasol Technologies maintains its expertise in developing apps that will deliver high-grade solutions to its customers. Our entire development theory revolves around getting reliable software solutions to satisfy the demands of you and your clients. Terasol Family is a team of hard-working, deeply curious groups who consider building great apps. Apart from being designers, developers, we are filmmakers, bloggers, gamers, and more.
5. CYBOSOL:
Cybosol is a leading Mobile App Development Company in Saudi Arabia that has the advantage of being grown up and managed by an excellent team of skilled experts who are highly qualified in advanced technologies. Since its incorporation in the year of 2006, Cybosol has gained attention as a product and services company and has been recognized for its customer focus and delivery ability.
Get a Quote
6. Ibtikar Technologies:
Ibtikar Technologies is a Saudi-based digital transformation company founded in 2010. The company is focused on developing, designing, managing, and marketing customized products that meet customers' requirements. The products and services offered by Ibtikar Technologies vary from web content to mobile apps, whether they are for entertainment, business, or education. The utmost goal of this iOS app development company in Saudi Arabia is to generate new approaches to improve the foundation of web services and app development in Saudi Arabia
7. Infusion InfoTech:
Infusion InfoTech, the best IT Outsourcing, and offshore software development company in Saudi Arabia allows customized mobile application and web development web service development (application integration) and combination, warehouse inventory management solutions, real estate IDX solutions, shopping cart software, API Integration, and many more.
8. Magneto IT Solutions
Magneto IT Solutions is a highly trusted software and Mobile App Development Company in Saudi Arabia founded in 2009. The main focus of Magneto IT solutions remains on services like eCommerce, Mobile Applications, Customize Web Applications, Digital Marketing, SEO Services, IoT, Chatbot, etc. This agile app development company has a global delivery model and rigid QA systems to provide innovative and powerful on-time business solutions that lie within budgets.
9. TechGropse Pvt. Ltd.
TechGropse Pvt. Ltd. is a mobile design and development company in Saudi Arabia that holds specialization in custom mobile app development, web development, game development, and digital solutions. The progressive and excellent 5 years of experience in app development with 100+ technology experts and 500+ apps delivered all around the world has enabled TechGropse to rise as a credible name in the field of mobile app development.
10. Simform
Simform is a leading service provider of mobile app solutions and digital transformation services. Simform has created various digital solutions for several enterprises, futuristic start-ups, and global Fortune companies. Its core services include custom mobile app development, web development, API integration, etc. Among the leading Mobile App Development Companies in Saudi Arabia, Simform has created mobility solutions for diverse industries such as health, e-commerce, education, real estate, news, social networks, businesses, restaurants, finance, entertainment, and travel, for which it utilizes the latest technologies of the trade.
Benefits of having a mobile application in Saudi Arabia
Before diving deep into the list of app developers in Saudi Arabia, let us see in detail the advantages of a business having a mobile application in Saudi Arabia. So, let us move on to that.
In this digital era, businesses of all sizes and industries need digital transformation onboarded to stay ahead of the competition. Especially in a globally acclaimed region like Saudi Arabia, the need for digitalization and automation holds a huge priority. So to conquer the market and excel in the global competition, it is mandatory for a business in Saudi Arabia to have a full-fledged mobile application. Investing in a mobile app will benefit Saudi businesses in the following ways.
Brand awareness
A mobile app is one of the most powerful tools to boost the brand value of your business. It helps you in getting connected to the right audience, thereby helping your business leave a sense of branding among them. The more the brand value is, the higher will be the conversions, sales volume, and income generation.
Instant Access
Mobile apps are fast and are instantly accessible for customers to find your business information and services, that too is just a click away. Also, mobile applications are having offline access as well. Associate with the Best App Development Company in Saudi Arabia to develop mobile apps with great looks and features to keep your customers engaged.
Personalization
Mobile application helps businesses in delivering personalized experience to their customers. In this advanced mobile marketing era, personalization helps businesses in passing an awesome user experience. Push notifications, custom marketing campaigns, and location-based marketing are the best ways for personalization. Big fish these days are making use of mobile applications in giving the best personal experience to customers.
Increase customer loyalty
For a business to become a success, it has to gain customer loyalty and mobile applications are the best in achieving the same. With a high number of features that allow a business to gain customer loyalty, mobile applications are taking over the position of excellent customer relationship management.
Figuring out the best app developers in Saudi Arabia
One has to keep in mind these factors, prior to hiring the best app development company in Saudi Arabia. It will result them in associating with the best app development agency.
· Company Portfolio
Have a deep understanding of the portfolio of Android and iOS app development companies in Saudi Arabia. Analyzing so will give you an inner insight into how well they are at handling different projects. Based on that you can easily come up to a conclusion.
· Company Expertise
In order to develop a top-notch mobile application, a mobile app development company has to have mastery over various technologies such as Artificial Intelligence, machine learning, blockchain technology, and much more. It is your prime duty to figure out their expertise in various domains and how it can be leveraged whilst developing a mobile app for you.
· Budget
App development cost varies from agency to agency. It is not mandatory to invest all your money into the app development procedure. So one needs to hire the most economical mobile app development company.
· Quality assurance & maintenance
App maintenance plays a major role in determining its success. An ideal mobile app developer in Saudi Arabia has to offer end-to-end support and maintenance services.
For more details on how the apps developed by DxMinds can take your business to the next level, drop an Email to info@dxminds.com
Consult Us :
Frequently Asked Questions:
Which is the best web and app development company in Saudi Arabia?
DxMinds Technologies is the best digital transformation agency in Saudi Arabia. Whatever digital services you need, whether web, mobile, or enterprise-level solutions, DxMinds serves you with innovative solutions and real-life problems.
How much will it cost to develop a mobile app in Saudi Arabia?
Developing a mobile application in Saudi Arabia varies from agency to agency. However, at a budget-friendly mobile app development company in Saudi Arabia like DxMinds, the cost to develop an average mobile application will lie somewhere around USD 10,000 to USD 50,000.
What is the ideal time frame for developing a mobile application in Saudi Arabia?
There exists no ideal time frame. It all depends on your project and the agency you associate with. On an average scale, an app will take no more than 6 months to develop.
Which is best? iOS or Android?
Both platforms hold huge potential. What matters is which category of users falls right for you. If your user base is more into iOS, you have to go for iOS or the other way around. Hybrid apps will do well if you need both iOS and Android.