October 12, 2022
Posted by:

Admin

Category:

Mobile App Development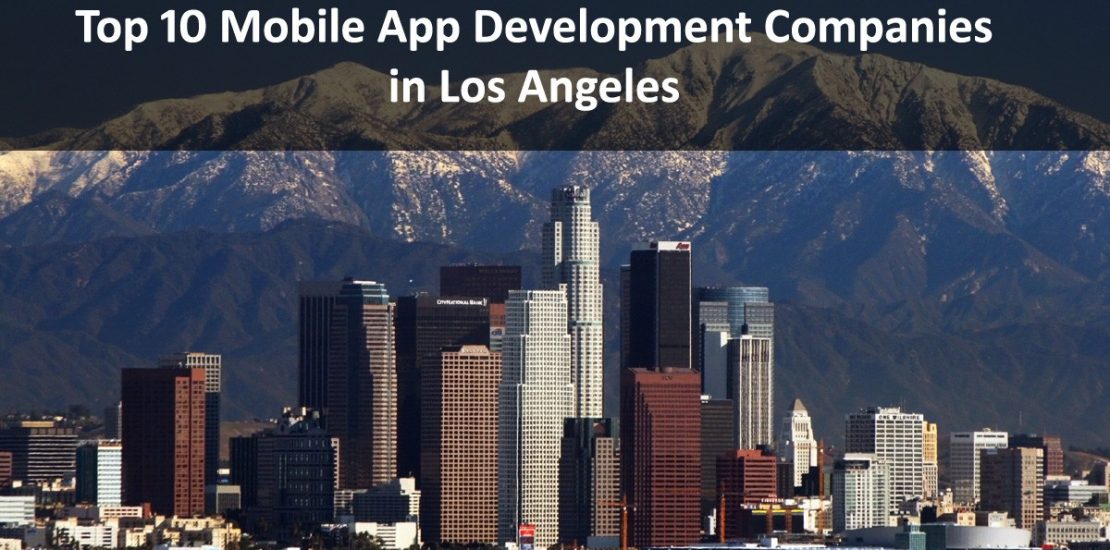 Mobile App Development Companies in Los Angeles CA
The revolution led by smartphones and related mobile applications and the impact it had on our ecosystem holds huge potential. This has promoted the lion share of global businesses to shift to a digital space leveraging mobile applications. Entrepreneurs out there are aggressively looking for mobile application development companies to avail of the best digital transformational services. Things are no different in Los Angeles.
The purpose of this article is to help the business based in Los Angeles in figuring out the best mobile application development company in the town. Here, we have made a list of the top 10 mobile app development company in Los Angeles, which will be helpful and add more value to your search. The list has been evolved out as a process of continuous researches and findings. Several factors like quality of service, deep analysis of the portfolio, customer relationship, technology mastered, etc were taken in to account throughout the process. We are sure that this list of top mobile apps development companies in Los Angeles will be a benchmark that plays a major role in coming up with a successful mobile application. So let us dive deep into the topic.
DxMinds Technologies Inc
DxMinds Technologies is the best digital transformation and Mobile App Development Company in Los Angeles. DxMinds is headquartered in the USA and have a physical presence in countries like India, UAE, Peru, and Australia. The company is delivering exceptional and unparalleled services to its client base widespread across the globe. Explicit services deliver in the area of custom app development and enterprise mobility solutions have positioned DxMinds technologies among the top app development companies in Los Angeles. DxMinds Technologies is the ideal digital transformation partner for businesses varying from small, micro, medium to next-generation innovative startups and global fortune companies. Solutions and products developed by DxMinds Technologies leveraging cutthroat solutions open business the doors of exponential scaling opportunities. A large number of services have been offered by this fastest-growing digital transformation company ad the list increases as new technologies get introduced. Some of the major service offerings of DxMinds Technologies are:
· IOS mobile application Development
· Android mobile application development
· Hybrid mobile application development
· Virtual Reality/ Mixed Reality/ Augmented Reality
· Internet of Things ( IoT)
· Chatbot development
· Blockchain Technology
· Cryptocurrency and cryptocurrency exchange development etc.
Wildebeest
Wildebeest is an award-winning digital transformation company that hosts a rich client base varying from Coca-Cola, Disney, GM, Google, Taco Bell, Microsoft, etc. They build futuristic products and solutions that help a business stand out from the competitors. Wildebeest have exemplary solutions for both B2B and B2C. Highly customizable and durable mobile applications developed by Wildbeest take off your business to the next level leveraging the best technological application. They are one of the leaders among apps developers in Los Angeles.
Invemo
Invemo help bands come up with a highly innovative solution by eliminating all of the hassles that made them stay back from being successful. Invemo develops mobile applications that are highly scalable and reliable that takes an organization from level A to level Z. This top app development company in Los Angeles is highly in parallel to the latest trends in technology that it redefines the current landscapes and onboard organizational success. The services offered by Invemo include iOS mobile application development, Android mobile application development, Hybrid mobile application development, Mobile, Web, Cloud solutions and much more. Invemo can be a great choice if you want to develop a fully-fledged mobile application in Los Angeles.
Sileria
The top-notch services delivered in the field of mobile technology, wearables, gaming, and embedded domains have positioned Sileria, the top Android and iOS app Development Company among the list of leading digital transformation agencies in Los Angeles. The company has high expertise and domain authority over various mobile and web technologies.
Sidebench
Sidebench is an innovation first, customer-friendly mobile application development company in Los Angeles. The positions themselves as Los Angeles premier mobile application and software Development Company. Sidebench holds exemplary skill set leveraging which they give life to your mobile applications making use of the best industry practices and use cases.
Saritasa
Saritasa is a leading digital transformation company based out of Los Angeles that offers outstanding mobile and web development services. The services delivered by Saritasa in the area of digital transformation include iOS and Android application development, Web Development, AR/VR development, Custom development, Internet of things, DevOps, Database development, etc. Saritasa with its abundance of knowledge and domain expertise delivers unimpeachable solutions and products that wonders the end customers. The list of customers served by the company includes Sony, Yamaha, Makia, etc.
Goji Labs
Goji Labs develops mobile application that helps your organization outpace its competitors. The application developed by the leading iOS and android application Development Company in Los Angeles delivers the best product-market fit for your business thereby taking it to a global landscape. Goji Labs partners with legacies like Kitchen Table, Kangarootime, Ucla, Boon, etc. Outstanding services offered by Goji Labs are web and mobile application development, UX/UI designing, Research ad development, etc.
ISBX
ISBX is a team of highly passionate mobile application developers in Los Angeles who beholds huge potential and expertise in the entire domain of mobile application development. ISBX associates with innovative startups, SMBs, and even global fortune companies in strategizing and implementing various digital transformational phase shifts regardless of its size or industry. The major service offerings of ISBX include android mobile application development, iOS application development, hybrid mobile application development, Blockchain technology; various digital transformational services for entertainment, media, education industries, etc.
Touchzen
Touchzen undertakes all mobile apps development projects by utmost care and deep understanding of the least details to diminish all the hassle and bustles that get involved in between. Meeting the client requirements beyond the customer expectation has, in turn, made Touchzen one of the best android and iOS apps development companies in Los Angeles.
Stateside Agency
Digital solutions developed by stateside agencies hold a high degree of potentiality and disruptiveness. Explicit services delivered at the pace of digital transformation leveraging the best industry practices have helped companies in taking their customers' through an excellent buyer journey all around. The stateside agency is highly capable of taking your business to the next level by waving technology into every framework of it. The top-notch services delivered by the top iOS and Android mobile apps Development Company in Los Angeles include enterprise mobility solutions, cloud services, web, and mobile application development services and much more.
DxMinds Technologies – Best among the top app developers in Los Angeles
We are sure that you find the list of top mobile apps development companies in Los Angeles well and good. The companies listed above are capable of delivering top-notch services. Yet if we are again asked to sort out that one android and iOS apps development company in Los Angeles that delivers with a one hundred percent of customer satisfaction and accuracy, we will suggest you hire DxMinds Technologies. It is a company that has access to a wide range of resources including highly trained professionals, project managers, and designers, who work seamlessly towards giving life to your app idea.
Why DxMinds Technologies for developing mobile applications in Los Angeles
· Agile model of development
· Scalable and reliable mobile applications
· Cutting edge technologies
· Innovative products and solutions
· 24×7 customer support
Our Location: