April 21, 2020
Posted by:

Admin

Category:

Mobile App Development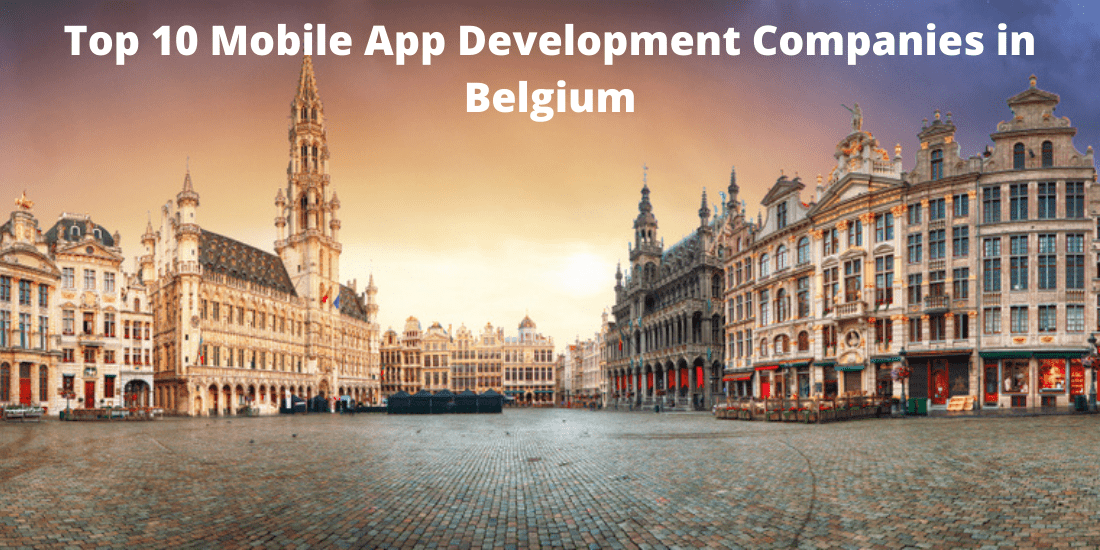 The prominent country in Western Europe, Belgium is not only known for its profound architectural engineering, but also for its increased proficiency in technological advancements. Belgium was able to level shift easily to welcome digital transformation with its enhanced approaches to developing digital landscapes. The positive attitude of its population towards accepting digital advancements also plays a key role in making the nation going parallel with world-class technologies. Since the lion share of its population are smartphone users, mobile applications are gaining huge popularity in taking the lives of the common men in Belgium to the next level.
Why businesses in Belgium need mobile apps to succeed
Technology is taking over the way how businesses work in Belgium. When we talk about technology adoption, one of the leading popular platforms is mobile applications. Mobile applications become much popular in Belgium right after a major chunk of its population has turned out in becoming active smartphone users. The advent of mobile applications has disrupted the conventional practices and processes in the modern Belgium business world. It has streamlined its day to day operations, thereby breaking down tedious jobs into simpler ones. Mobile apps offer a handful of opportunities for business when it comes to reaching out to potential clients. It acts as a tool where businesses can deliver precise advertisements in for of video, banners, images, and push notifications. As mobile applications are simple and easy to use, businesses find it as the right platform to engage their users. From an individual point of view, mobile apps have made their life easy. Whether hailing a cab, booking a movie ticket, or even ordering their favorite cuisines from restaurants, they find mobile apps as the right tool. Mobility is another advantage offered by mobile apps. In a nutshell, we can say that mobile applications are helping businesses with X number of factors that help them scale-like anything.
Figuring out the best mobile app development company in Belgium
There are certain characteristics and peculiarities possessed by the best mobile apps developers in Belgium, following which can enhance one's journey towards availing the best services. Here we are going to discuss in detail the characteristics of an ideal app developer out of Belgium.
· Well Experienced
App development is all about the experience of the development agency. The more the experience into the app development domain, the higher will be their affinity towards developing futuristic and customer-centric mobile apps. In their search towards figuring out the best app developers in Belgium, it is a must that one should take the experience of the app development company into account as a factor for hiring.
· Domain Expertise
Even though a company is well experienced and they do not have the relevant domain authority, it can trouble you with the entire app development process. Having high domain expertise helps app development companies to rise to the standards so that they can meet the customer experience. It is also one of the key factors one should never ignore.
· Technology Mastery
With great apps come grate technologies. To enhance your app and the experience it imparts, integration of the latest technologies is a must. Prior to hiring app developers in Belgium, consider the agency's mastery over various technologies like Artificial Intelligence, Machine Learning, Blockchain technology, AR/VR/MR, etc.
· Customer Satisfaction Rate
An ideal app development company in Belgium should be able to deliver precise services that keep their customers happy. One can figure out the customer satisfaction rate by having a word of mouth with their previous set of customers.
· Portfolio
Having an enriched portfolio is a symbol of success among app development companies in Belgium. An in-depth analysis of each company's portfolio lets you stay on top of their previous works, quality in the work delivered, etc.
· DxMinds Technologies
DxMinds Technologies is a prominent product engineering and mobile app development company in Belgium. Team DxMinds comprises of highly talented professionals having well-versed knowledge and experience in developing world-class digital solutions and mobile applications. The proficiency DxMinds hosts in developing futuristic mobile apps leveraging state of the art technologies have helped DxMinds in being the best Android app development company in Belgium. Following the pathways of technology, DxMinds helps businesses in availing top-notch iOS apps and hybrid apps as well. Other than Belgium, DxMinds services top-notch services in several parts of the globe. Headquartered in Californa of the USA, DxMinds has its corporate offices in areas like India, UAE, Peru, and Australia. Various services offered by DxMinds consists of
Ø Enterprise app development
Ø Web app development
Ø Artificial Intelligence Services
Ø Business Intelligence
Ø Big Data
Ø Virtual Reality
Ø Mixed Reality
Ø Chatbot Development etc.
· KangaCoders
KangaCoders, the best iOS app development company in Belgium comes with a tagline of 'Geek is what defines us'. The end-to-end digital solutions put forward by KangaCoders are designed to meet customer expectations, thereby catering them with precise services to satisfy their appetite. At KangaCoders, they try their level best to go in parallel to the latest technologies thereby adding more value to their client business. KangaCoders focuses on delivering the best quality services that allow a perfect market alignment for brands and businesses. The major services offered by KangaCoders consist of Android app development, iOS app development, Hybrid app development, and web app development.
· Kern IT
Kern It is a mobile app development company in Belgium founded in the year 2012. It is located in Brussels, the capital of Belgium. Kern IT is on its mission to give life to app ideas of companies varying from micro, small, medium to start-up companies and enterprises. Kern IT has a special focus on delivering precise services to start-ups and it consists of idea validation, building interactive models, prototyping, MVP, etc. Other services offered by Kern IT are Web and mobile app development, Enterprise, and management software development, UI/UX designing, etc. The average cost of services delivered by Kern IT is about 50–100 USD per hour.
· Versatile World
The leading android and iOS app development company in Brussels, Belgium- Versatile world carries out an in-depth analysis of customer requirement and impart services that go in parallel with the same. The precise tablet and smartphone app development services offered by Versatile World ensure that their services are raised to those standards where their customers are benefited the most out of it. Consult, design, develop, and support is the approach put forward by Versatile World. The company has got a wide array of successful projects to showcase and they have been considered as a leading player in the industry.
· Tapptic
Tapptic, the top app developers in Belgium is on their mission towards imparting comprehensive app development services not only for smartphones but also for wearable and other gadgets. They come with a tagline of 'innovative apps for all platforms'. Technological solutions developed by Tapptic that possess a high degree of global standards set the company apart from other app developers in Belgium. Leveraging the best application of latest technologies like Artificial Intelligence and Machine Learning Tapptic is able to deliver jaw-dropping services to their global set of customers. The major client set of Tapptic consists of Accor Hotels, Sarenza, La Poste, LVMH, etc.
· Medallion
Medallion is a pioneer app development company in Belgium having profound experience developing high-end apps for Android, iOS, Windows, and Blackberry devices, and gadgets. Team Medallion consists of highly talented engineers, developers testers, designers, and project managers who take your app idea to the next level by adding more value to the development process. Apps developed by Medallion is highly interactive that it helps you gain huge customer traction.
· Lizard Apps
Founded by TU Delft Alumni with profound experience in the digital transformation industry, Lizard apps is a leading mobile app development company based out of Belgium that delivers the most accurate services to the customers leveraging cutting edge technologies. They are well known for their proficiency in developing top-notch android apps, iOS apps, web apps, windows apps, e-commerce platforms, data platforms, etc. the digital solutions developed by Lizard apps possess a high degree of flexibility, accuracy, transparency, and pace. They not only help you to come up with innovative mobile apps but help you redesign your existing app to a perfect one.
· Neofacto
Neofacto is a team of highly passionate engineers and architects working towards achieving client requirements and is 49 in the count. The innovative and futuristic approach put forward by Neofacto helped them in being a standalone app development company in Belgium. Neofacto is founded in the year 2000 and has got rich experience working with clients originating from different domains. The average app development rate at Neofacto is about USD 25 per hour.
· Setelia
Competitive services offered by Setelia in the domain of mobile app development help your business stay ahead of its competitors. Leveraging the latest of all technologies, Setelia carves out end-to-end solutions that help your business go above and beyond, surpassing all the hassles and bustles seamlessly. It was founded in the year 2005 with a vision of imparting the best services to the clients and the rate per hour for developing mobile applications at Setelia ranges from USD 25 to USD 50.
· Appwise
User-friendly mobile applications created by Appwise are all you required to survive in this tech-savvy era. The apps developed by Appwise help you explore all the unexplored domains of your industry, thereby helping you impart precisely and the most accurate services to your end customers. Appwise is the best when it comes to implementing a mobile strategy, UI/UX Design, and mobile app development for various types of businesses ranging from futuristic start-ups to global fortune companies.
DxMinds Technologies- the toppers among the list of best app development companies in Belgium
From the above list of top 10 app developers in Belgium, if we are told to figure out one best company, we will definitely go for DxMinds Technologies. DxMinds showcases a diversified array of digital services that help your business stay a full-fledged one. Competitive pricing, ability to meet deadlines, the best quality of delivered services, etc. made DxMinds everyone's choice. DxMinds in Belgium is well known for its engagement models wherein they help you save potential budget leveraging various engagement models such as offshore development center, Turnkey, and co-owned projects, which is also known as fixed cost model, Build Operate Transfer model, etc. Solutions delivered by DxMinds hold a high degree of transparency and are designed to go hand in hand with customer business.
FAQ
Which is the top mobile app development company in Belgium?
DxMinds Technologies Inc is the popular iOS and Android app Development Company in Belgium. Also, DxMinds offers top-notch services in enterprise app development, web app development, BI services, IoT solutions, and much more.
What are the factors that set DxMinds apart from top mobile app developers in Belgium?
The accuracy in services delivered, flexible engagement models, profound resources, competitive pricing, etc are some of the major factors that make DxMinds the best mobile apps development company in Belgium.
What kind of apps do DxMinds develop in Belgium?
Being the fastest growing digital transformation company, DxMinds help you develop mobile apps belonging to A to Z categories, covering industries varying from logistics, mining, hospitality to transportation, and hyper-local delivery apps.
How much does it cost to develop a mobile app at DxMinds?
The app development cost varies based on the context and is bounded to a large number of factors like complexity of the app, features required, third-party integrations, and much more.
What is the ideal time required for developing a mobile app at DxMinds?
Just like app development cost, the time period for developing a mobile app is bounded to some constraints like technologies required, the complexity of the app, etc.
Does DxMinds host any engagement models?
Yes. DxMinds hosts highly flexible engagement models such as Build Operate Transfer, Offshore Development Centre, Turnkey, and Co-Owned Projects, etc.
What are the technologies used by DxMinds?
DxMinds holds a high degree of mastery over technologies like Artificial Intelligence, Machine Learning, Blockchain Technology, Big Data, Augmented Reality, Virtual Reality, Mixed Reality, etc.