September 1, 2020
Posted by:

Admin

Category:

E-Commerce App Development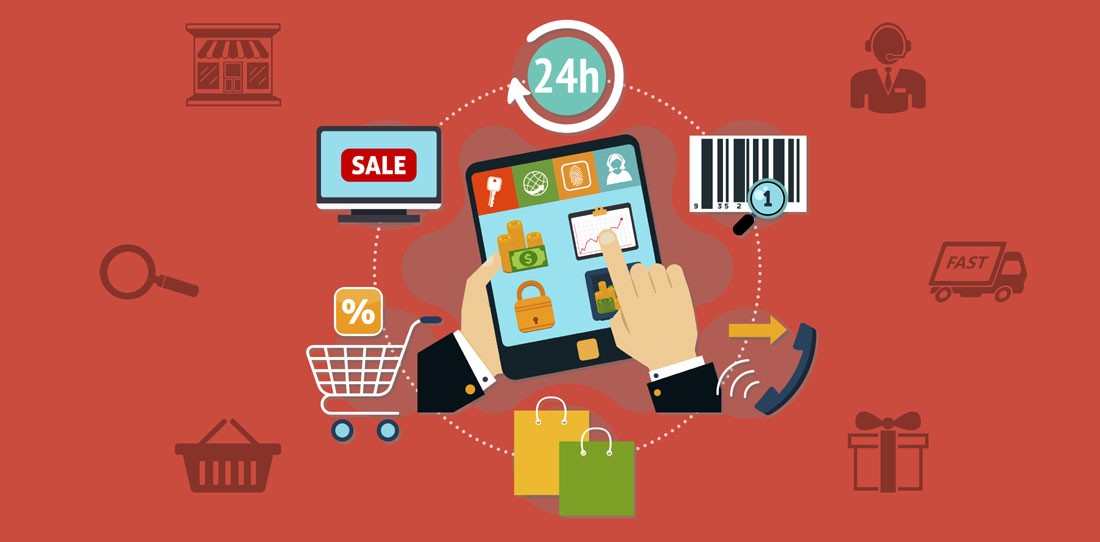 On its race towards being more contagious, the corona has vandalized human lives, economies, and hope of the many. Covid-19 has turned out in being so savage that millions have lost their lives. The quick spread of the virus has devastated and shattered our lives that the abnormal lifestyle has become the new normal. The protocols to contain the diseases have prompted governments to force its citizens to stay at home by staying safe, avoiding all unnecessary public visits. Protection gears such as masks, shields, glows, personal protection kits, and all have become a part of our lives.
Economies of various nations got drained amid the battle against the pandemic. Businesses turned out to generate null revenue, while a major chunk got bankrupted winding up their legacies. The impose of complete lockdown has turned enterprises upside down. Almost every business got severely by a coronavirus and its aftermath.
E-Commerce industry was on its verge of disruption prior to the COVID-19 outbreak. And it is the only industry which has reported a sales growth of about 76% amid the pandemic. Why E-Commerce industry alone was able to make this? How they could crack it? The answer is very simple. Customers prefer more of the safer side when it comes to shopping and they prefer E-Commerce websites and mobile apps for their convenience. This is quite alarming that traditional business owners need to take note of it.
The key factor that helped the rise of E-commerce businesses is the advent of mobile apps. The mobile application has played a major role in digitalizing the entire business, adding more transparency to both business owners and end customers. Apps have eliminated all the hassles involved in the process and have offered all the possible solutions to make the E-Commerce websites operate seamlessly. In this article, we are going to see in detail about which are the major E-Commerce businesses based across the world and how mobile apps have helped them in boosting their sales and revenue even at the Covid-19 times.
Major E-Commerce businesses across the globe
We are much familiar to a large number of E-Commerce businesses servicing around us. Yet we are going to see them in detail.
· Amazon
Amazon is the most successful E-Commerce company in the world. It was founded by Mr. Jeff Bezos, the wealthiest man in the world as per Forbes magazine, in his twenties. It was founded in the year 1994. This multi-national company has its headquarters at Washington and generates revenue of about 281 billion. Nearly one million employees work with Amazon as per the latest sources. Even though they own a multitude of businesses, the company had its business associated with the E-Commerce segment during its initial stages. Other than the E-Commerce shopping platform, the company is successful in setting up businesses over various segments and they are Audible, Amazon Web Service, Zappos, AmazonFresh, Blink, Amazon Prime, Alexa, Amazon Robotics and much more. The company mainly makes use of a mobile application to offer exemplary services to its customer. Users can download the app from the respective stores, create an account and start their shopping, that too in a seamless manner.
· Flipkart
Flipkart was an Indian E-Commerce and online shopping platform founded by Mr. Sachin Bansal and Mr. Binny Bansal and was later acquired by Walmart Labs. It was founded in the year 2007. It grew very faster from its start-up stage to the unicorn stage. It has subsidiaries like Myntra, Ekart, Phonepe, etc. It is one of the most successful E-Commerce companies from India, which has gained global traction. Record sales took place at Flipkart even at the time when Corona is at its peak. The organization is running successfully. Flipkart has its headquarters in Bangalore, India. It has its operation held in Singapore as well.
· eBay
eBay is one of the most popular eCommerce companies in the world. It is founded by Mr. Pierre Omidyar in 1995. It is an American based multinational company having its headquarters at San Jose, California. This E-Commerce platform deals with buying and selling electronics, Cars, Fashion, Collectables, etc. eBay offers an exemplary experience to its customer that it has turned out in being a huge hit. The company is generating huge revenue even at times of pandemics. The sister concerns of eBay are mobile.de, Auction Co, GittiGidiyor, etc.
· Rakuten
Rakuten is popularly known to be the Amazon of Japan. This Japanese E-Commerce and online retail store is based out of Tokyo and was founded in the year of 1997. It was founded by Japanese entrepreneur Mr. Hiroshi Mikitani. It holds huge potential and has helped the management generate potential revenue.
The rising demand for E-Commerce mobile applications
Users are choosing more of E-Commerce platforms over conventional shopping methods during this Covid-19 time because of the facilities it features. There arouse a feeling where users find E-Commerce platforms as the most secure way of executing shopping. Also, E-Commerce platforms are now hosting products that meet end-to-end customer requirements. All a business needs to run a successful E-Commerce platform is a full-fledged mobile application. Conventional business owners are now moving on to digital platforms, making the best use of mobile applications as they never fail to meet their requirements. Also, mobile applications help them scale-like anything and generate potential revenue even in stressful situations like pandemics and catastrophes. Also, an E-Commerce business that runs with the help of mobile application let business owners eliminate their struggle and enhances organizational productivity. Also, it helps business owners add more transparency.
Reason for enhanced sales on E-Commerce platforms
· Offers enhanced safety
· Customers can purchase sitting at home
· Reduces public contacts
· Safer goods transit
· Freehand packaging
· Zero rate of infection
· Faster delivery
· Availability of A to Z products
Mobile applications adding more value to E-Commerce businesses
Mobile applications are the best medium for engaging customers. It also offers a high degree of mobility. Innovative designing and user-friendly approach put forward by mobile application make it everyone's cup of tea. Moreover, mobile applications are easy to use and enriched with the latest technologies. All these factors combined together and have prompted business owners to strategize their customer approaches leveraging mobile applications. The main reasons why E-Commerce platforms are making use of mobile applications are
· Easy to use make it everyone's cup of tea
· Guaranteed Innovation
· Customer-centric
· High degree of user engagement rate
· Offers multiple opportunities that pave the way for business growth
· An ideal tool to thrive in this tech-savvy era
· Increases brand awareness, brand value, and brand reach
· Make it easy to target the right audience at the right time
· Effective and efficient when compared with conventional modes and practices
An overview of E-Commerce businesses: Before and after mobile apps
E-Commerce at times of websites alone
Before the advent of mobile applications, the only way for E-Commerce businesses to reach out to their customers was websites. It had a lot of limitations at that time. However, since there was no limitation left behind, customers were prompted to rely upon the website. At those times, for accessing a website, it is mandatory that one should open a computer or the ones who were not having it on hands has to depend on internet cafes and all. Usually, customers used to skip this process and go shopping brick and mortar style. Even though there were sales happening, the number of conversions was limited. This was one of the barriers E-Commerce businesses have faced before the advent of mobile applications. Another reason is that even though businesses need to spend a lot on advertisements on physical spaces like televisions, hoardings, billboards, etc to attract customer attention and prompt them to visit the website. Since it is all physical, there is no particular metrics for them to measure the success of conversions of these campaigns. This is also a major challenge faced by E-Commerce businesses before the arrival of mobile apps. Businesses struggled hard to deliver a personalized experience to the customers before mobile apps were introduced. They couldn't identify what exactly the customers are looking for or deliver them suggestions based on their requirements. This literally has created a gap between the customers and the E-Commerce business. The opportunity of scaling was also limited during that time.
E-Commerce businesses after the advent of mobile apps
The entire process of running an E-Commerce business right from product listing to shipping and delivery, a large amount of transparency was added into the domain. Mobile applications have taken over the key role of streamlining the day to day operations of E-Commerce websites. The advent of apps has turned out to be a boon for E-Commerce businesses in a multitude of ways. Mobility was the main among them. Mobility has backlashed the conventional ways and has prompted customers to surf and purchase anything they need even on the move. High-speed mobile internets added much more value to the process. Thus apps helped customers in detaching themselves from various constraints that limited them from executing a fine shopping. This has prompted customers in choosing E-Commerce mobile apps over conventional ones. Mobile apps offer a handful of opportunities to business in reaching out to potential customers in the form of ads such as video ads, banner ads, push notifications, in-app ads, etc. It also allows the business in tracking the retainment rates of those ads by setting up various metrics. Moreover, apps allow businesses in reaching out to the target audiences by setting up various demographics such as age, gender, occupation, interests, and much more, which helps a business enhance its sales and revenue. Another advantage that was offered right after the advent of mobile apps is that it allows businesses to deliver a personalized experience to their customers. E-Commerce businesses are now able to track the search history of the customers and deliver personalized experiences and suggestions for each customer. It can also help businesses in finding out loyal customers base on the purchase history and deliver them the best possible services, offers, and discounts.
Need for the best E-Commerce app development company
It is no doubt that to succeed and outpace your competitors, not only in E-Commerce but in any business; you need to have full-fledged mobile applications. For coming up with a full-fledged mobile application, you need to associate with the best E-Commerce app development companies in India, USA, UAE, Peru, and Australia. Developing top-notch mobile applications require a high amount of skills and skills that come with relevant experience. It is this experience that adds value to your app development process. One needs to invest potential time in doing researches to figure out the top E-Commerce app development company in India. Here are some points which will add value to your search for the leading E-Commerce app development agencies.
· Filter companies based on their experience in the domain. More the experience, higher will be their skills to enhance the app development process
· Mastery over various technologies is mandatory. The process of app development itself involves the integration of various technologies and the mastery of the app development company you associate with can help you in its seamless integration.
· A detailed analysis of the work portfolio of the app development company helps you stay on top of their skills. Their works speak louder to you than their salesperson.
· Reviews and ratings on search engines, social media platforms, and various other places let you know the customer satisfaction rate of the app development company you are going to associate. Associate with agencies that have a relevant amount of good reviews and customer feedback. It can turn out the entire process to a mess otherwise.
DxMinds Innovation Labs- the best E-Commerce app development agency
Are you a struggling business owner running conventional modes? Are you failing miserably in meeting minimum sales amid Covid-19? Are you looking forward to scaling your business exponentially leveraging digitalization? Then you should associate with DxMinds Innovation labs, the pioneers among top E-Commerce app development companies in India. Other than India, DxMinds has its presence in the Middle East, USA, Peru, and Australia. A team of highly talented professionals is the key asset of DxMinds. This leading app development and digital transformation company help you in staying ahead of time by developing groundbreaking solutions leveraging cutting edge technologies. The apps developed by DxMinds help are full-fledged and help you gain huge customer traction and generate potential revenue. For more details, drop a mail to Info@dxminds.com
FAQ
How success will E-Commerce businesses be in the coming decades?
E-Commerce businesses hold huge potential. It has got a bright future that anyone can set up an E-commerce business and can become highly successful
How long will it take to develop an E-Commerce mobile app?
The time consumed for developing an E-Commerce mobile app is bound to several factors, one among them is the complexity of the app. The more its complexity is, the higher will be the development time.
What is the cost to develop an E-Commerce mobile app?
It will charge you about USD 10,000 to USD 50,000 to develop an E-Commerce app. The pricing may vary based on the requirements and demands. However, economical app development companies like DxMinds help you build a full-fledged e-commerce app at the lowest price possible.