May 29, 2023
Posted by:

Admin

Category:

Blockchain Development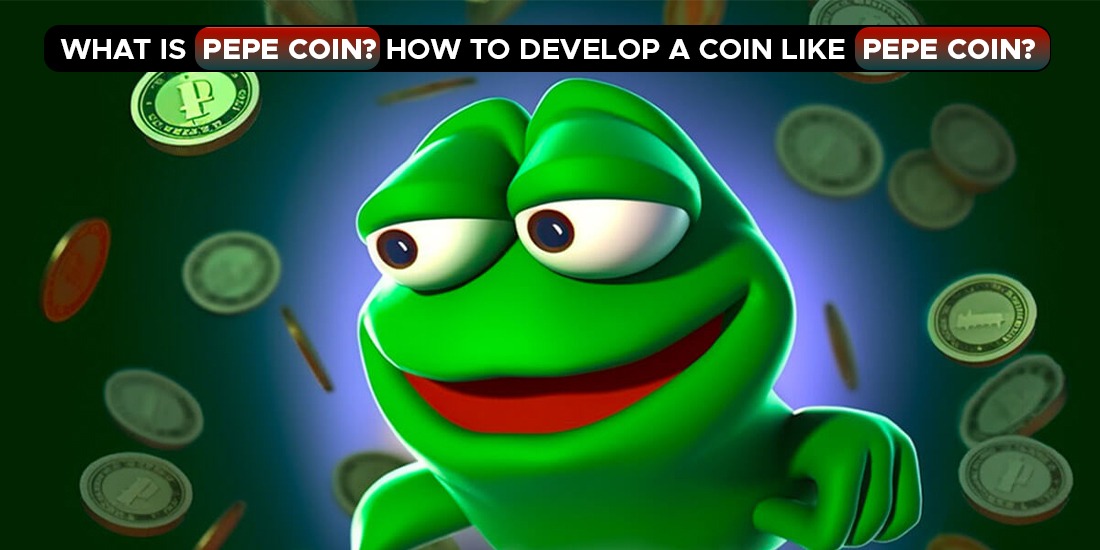 The Complete Guide to Meme Coins-How to Develop a Meme Coin like PEPE Coin
Meme coins have a devoted fan base despite frequently being made as a joke. They have become so popular as an investment option among cryptocurrency enthusiasts. Meme coins are no longer a joke because of their uniqueness and the massive rewards they offer. Initial investors who have invested in meme coins like PEPE Coin have gained millions of dollars as profit. PEPE Coin is one of the newest meme coins available, which got its name from the famous meme icon Pepe the Frog. Pepe coin has given tremendous returns to its investors in the shortest span of time.
In this blog, we will analyze more about meme coins, how to create a meme coin like PEPE Coin, and what sets it apart from other meme coins. Please note, this is not an advisory to purchase any kind of cryptocurrency as they possess high investment risks. Always do your own research before investing.
What are meme coins?
Meme coins are a category of cryptocurrency that is built for fun. They have a huge community following, making them popular and gaining investor traction. With global influencers like Elon Musk promoting coins like dogecoin, Shiba Inu etc. meme coins have become a popular investment option for new age investors. These coins are highly volatile and have frequent price changes. As a result, they have drawn many investors' attention to take a chance to generate potential wealth. Investing in these coins is highly risky, but there is a chance for significant profits.
Why Are They Gaining Popularity?
Meme coin creation is a relatively new concept, and due to their uniqueness, they are gaining popularity. Meme coins will explode in the crypto world for many reasons, including:
Meme coins typically require little technical expertise and are easy to mine/buy/sell
Meme coins are more affordable for customers wishing to invest small amounts because their investment costs are lower than those of other popular cryptocurrencies.
Meme coins are highly volatile; therefore, their value is subject to sudden changes. With the high volatility, investors may be able to make quick profits in the shortest possible time
What is Pepe Coin?
The Pepe Coin is currently creating a stir in the cryptocurrency industry. It was released in April 2023. Its logo is Pepe the Frog, a famous meme character. Developers at Pepe Coin have put much effort into building a solid community around the coin. They also place a lot of emphasis on humor and memes. This has helped draw a sizable and vibrant fan base for the currency. One distinguishing features of PEPE Coin is its unique tokenomics. Its maximum supply is 420,690,000,000 tokens and has a built-in deflating mechanism that burns a particular amount of tokens after each transaction. This creates a scarcity in the market and results in a price pump. Pepe coin was initially launched on Uniswap. Three days after its launch there was a trading volume growth of over $30 million. Knowing its potential, popular cryptocurrency exchanges like Binance, KuCoin, etc. have listed Pepe coin for their users.
How to buy Pepe (PEPE) in India?
Buy Pepe Coin with MetaMask
You have to create a cryptocurrency wallet to buy Pepe coin on MetaMask. You can also use the Metamask Chrome extension or download the app from Android/ iOS stores.
You'll need to deposit/ buy ETH in your wallet. You can buy ETH from Metamask or deposit it from other wallets or exchanges.
Sign up for Uniswap online to buy $PEPE. Go to app.uniswap.org and connect your wallet to Uniswap after that.
Swap ETH for PEPE on Uniswap. The contract address for PEPE Coin is 0x6982508145454ce325ddbe47a25d4ec3d2311933. Choose the amount of token you want to swap and press confirm.
Cryptocurrency Inquiries? Get a Free Quote!
Buy Pepe Coin on popular cryptocurrency Exchanges
Popular cryptocurrency exchanges like Binance, Coinbase, Kraken, KuCoin, etc. have PEPE coin listed on their platforms. You have to create an account, deposit the required funds and purchase the token.
What Made Meme Coins Like Pepe Coin a Huge Success?
Choosing the right platform
Pepe Coin was created on the Ethereum network; therefore, it is generally trustworthy and safe. This has helped gain the investor's trust.
The token's deflationary function is another factor. This means that a small fraction of the tokens are burned with each transaction, reducing the total quantity from the supply. This implies that existing token holders receive a part of each transaction.
Another success factor is the community. It emphasizes community engagement and growth more. The founders were able to build a scalable community around the project.
How to Create a Successful Meme Coin Like PEPE Coin?
To create a successful meme coin you can hire the best cryptocurrency developers in India or get help from one of the reputable blockchain app development companies in Bangalore, India.
Follow the steps to create your own meme coin like PEPE Coin.
Ideation
Pepe the Frog was a relatable meme to the users they were well aware of the meme. Similarly, you have to choose the right branding strategy, name, and logo to place your meme token right.
Tokenomics
Tokenomics plays an important role in determining the success of a cryptocurrency project. You have to define the total supply of the token, the burning mechanism, inflationary/deflationary characteristics, etc.
Choosing the blockchain Platform
You can create meme coins on any blockchain platform you want. Ethereum, Binance Smart Chain, Solana, etc, are the popular platforms one can consider.
Create smart contract
To build your meme coin, you need to have smart contracts developed. Smart contracts help you define the features of your coin. If you are new to developing smart contracts, get help from the best smart contract development companies.
Develop a website
The website has to talk about the vision and mission of the project. It can also act as a marketing and branding tool. To highlight the unique qualities of your token and differentiate it from the competitors, you can add a roadmap, key features, and other details
Get the project listed on exchanges
Once you have everything in place, you have to aggressively work towards getting your project listed on various exchanges. Create a clear partnership roadmap about the listings which will help your token reach more users.
Community building
A strong and loyal community is the backbone of any successful cryptocurrency project. You need to invest your time and energy in building a successful community. Promotional activities, airdrops, celebrity endorsements, community engagement, etc. can be considered. By taking this step, you can be confident that there will be demand for your meme coin to support trading. Keep engaging your community with frequent updates and milestones to build trust. It will help in the long-term vision of the project.
Conclusion
Developing your own meme coin like Pepe coin can be a way to generate humongous wealth. By building a solid project, you can catch the attention of active crypto users looking for upcoming meme coins. If you focus on the above-mentioned points while building your meme coin, it will lead your project to success eventually.
Get in Touch With Us