October 9, 2022
Posted by:

Admin

Category:

Mobile App Development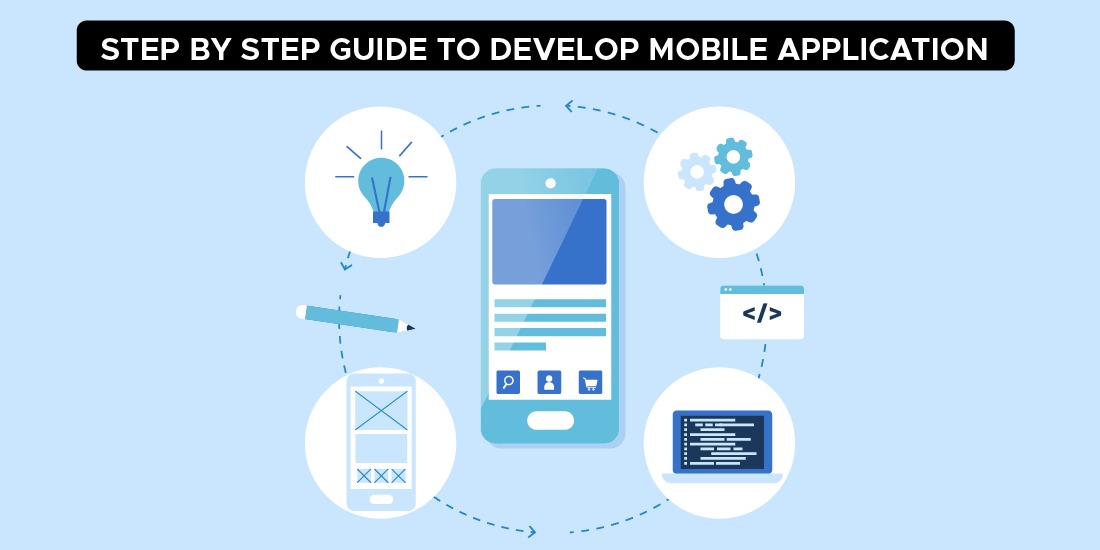 Steps to Develop a Successful Mobile Application
Are you having a business idea? Do you need an app to level-shift your idea to execution? Are you not aware of the nitty-gritty aspects prior to mobile app development? Stuck on how and where to start? Don't worry, we can help you.
In this blog, we will take you through the systematic process of how you can convert your app idea into reality and the factors that need to be taken into account right before developing a mobile app.
So let's get started
Tips for Developing a Successful Mobile Application
Figure Out a Problem
It all starts with a solution and it should be a perfect alternative to the problem faced by the masses. As an entrepreneur, one has to invest quality time in research and surveys to figure out what kind of problems are faced by society. Experts say that one has to approach at least 100 people a day to identify what matters most to them. Collect as much data as possible and filter the best one or two among them. Once these things are done, you can then move to the next phase.
Idea Validation
As an entrepreneur, once you have clearly figured out the issues, you have to validate your idea. You have to thoroughly check if your idea is feasible or not. Do proper ground research and connect with your friends and family regarding the same. Do have multiple rounds of sittings with career experts and entrepreneurial trainers to double-check the same.
Are Customers Willing To Pay For You?
Once your idea is validated, you have to cross-check if your customers are willing to pay for your business or not. Every business stands for generating revenue and entrepreneurs have to make sure that the idea behind his/her business can be monetized. If customers are not ready to pay for your business, what is the use of taking a risk? Surveys are the best way to find out the possibility.
App Idea Must Be Scalable
Any business, in the long run, should be highly scalable. An entrepreneur needs to make sure that his idea generates enough profits even when the area of focus gets wider and wider. What if a business is growing and the revenue generation is going the other way around? It can't anymore be called a scalable business.
Marketability
Marketability is one of the main factors that distinguish between a successful and non-successful business. Any business that can be marketed better will grow better. No doubt about it. Aspiring entrepreneurs should consider marketability as an important factor while proceeding with their app idea.
User Persona
Creating a user persona will be very much helpful for entrepreneurs in identifying their potential customers. Users can be categorized based on various demographics such as age group, gender, profession, geography, etc. Target your right audience, find out their categories, and cater to their requirements.
App Platform
Once all the commercial aspects are taken into account, the entrepreneur should think of considering the app platform. The best way to choose the right App platform is by identifying the customer segment and figuring out the lion's share of the devices they rely upon. It doesn't make sense when the majority of your customers are Apple users and you are developing an Android app or vice versa.
Rough Design and Flow Chart
Just go for designing a rough pictorial representation of your concept about how the app should look like. This will help you easily convey your idea if you are searching for any co-founders. Collect feedback from your friends, family, and industry experts, and make relevant changes accordingly.
Choose the Right App Development Agency
Hiring a mobile app development company to serve your purpose has to be done carefully. You can refer to our previous blog, Top Mobile application development companies in Bangalore India for more reference. The agency you go to for app development plays an important role in determining your success. Their experience is what matters the most. Make sure they have done a handful of projects and are well-versed in various technologies. A deep reference to their past and present projects can give you a detailed picture of the agency.
Go For Minimum Viable Product
Minimum Viable Product or MVP is the practice of developing a mobile application with the very basic features integrated into it. MVP is the best medium for an entrepreneur to validate his product by exposing it to the real market. Based on the feedback, he can make relevant changes to the app. Once your app has gained enough traction, you can go for a full-fledged mobile app.
App User Interface and User Experience (UI/UX)
The primary function of an app is to offer users a hassle-free experience. This is one of the major factors to determine the success of an app. From a user's point of view, he expects an app that possesses top-notch designs and features. Never Fail to meet their needs at any cost for it can have a negative impact on your business.
TECHNOLOGIES
Make sure to integrate the latest technologies onto your app platform to offer a hassle-free user experience. Integrating the latest technology doesn't sound like you have to add all of the available technologies but the one which the app demands.
APP SECURITY AND LOAD TEST
For users to trust an app they feel it should possess a high degree of security and respect towards their privacy. Put security as a primary factor while developing your app and see your app shining in the respective app stores. When your business is gaining huge traction and the usage rate is tremendously going up, the necessity of a load test comes into the picture. A load test is to be done to ensure that the functionality of the app is not affected even though a large number of users are on the platform.
CONCLUSION
We have tried to cover all the major aspects that need to be taken into account prior to mobile app development. Hope you find this blog useful. Try hiring the most experienced mobile app development company, DxMinds Innovation Labs in order to experience the all-new digital transformation techniques and the impact they can have on your business.
For more details, info@dxminds.com