May 7, 2021
Posted by:

Admin

Category:

Game Development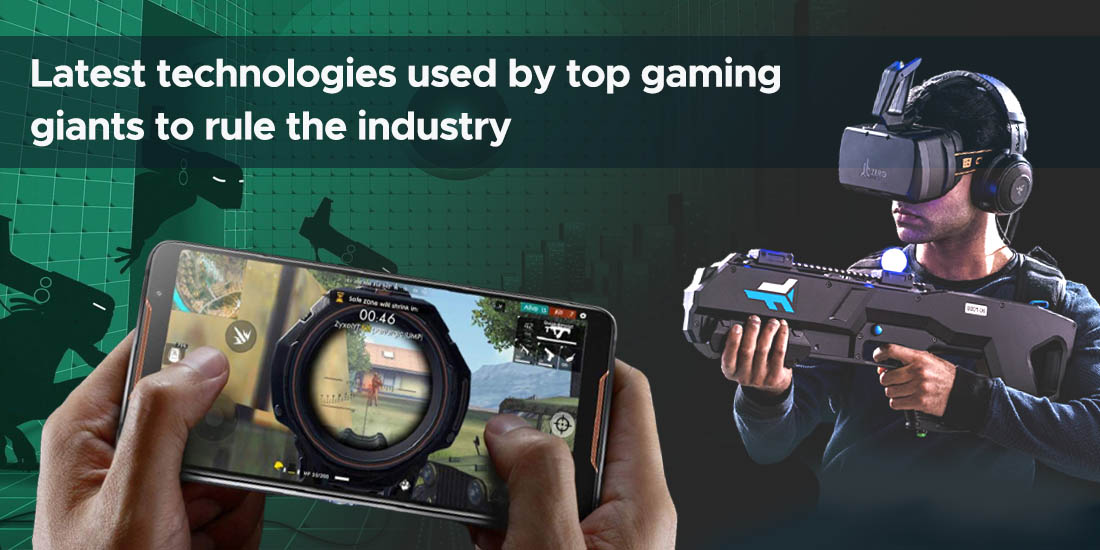 Technology has blended a unique combination to the games which have blurred the lines between reality and fantasy. All thanks to these emerging game changing technologies, the 2021 gaming industry will see several advancements in the upcoming future. From the development of electronic games to the era of Arcade Games, the gaming industry has made a big advancement beyond imagination. The technology has advanced the thrill and allure of playing games with more visual stimulus, creativity, and satisfaction. The face of online games has changed drastically. The various gaming technology is on the cusp of unlocking the true potential.
Let's dwell on them in detail and understand the impact of technologies used in game development:
Augmented Reality
How many of you like playing Pokemon Go? There will be a big "Yes", as these virtual scavenger hunts, interactive theme park experiences could take you to several different places around you.
The folks loved playing Pokemon Go, an augmented reality mobile game where the virtual reality images, the colorful critters called Pokemon Go overlay a person's view of the real world, hence the public places were found swarmed with smartphone-wielders on the Pokemon-catching missions.
This geo-based AR gameplay was already around. Once the Pokemon got famous, there were plenty of games in which game lovers spend time with Ash Ketchum and Pikachu. The real blend of the interplay between the digital characters and physical locations.
People have started gaining an appetite for games that interact with reality. AR technology offers an improved online gaming experience by offering a 360degree view on a mobile phone or desktop.
Experts are just a click away
Virtual Reality
Virtual Reality will help the future of gaming technology create more immersive games. Online gaming will see a significant rise in VR-based games, as they have become more accessible to customers in recent years. Since VR games let you experience an exciting experience, where a player feels to be a part of real games.
Most of the gaming industry giants are upgrading their software to virtual reality versions to attract more customers. VR headsets are combined with the latest game engines to develop 3D graphics to enhance the gaming experience for gamers. DxMinds is also a leading Mobile app Development company in Dubai.
Cloud Gaming
'High-quality gaming requires a big investment in the hardware, but thanks to cloud gaming which can resolve the problems of making high-end games accessible on web browsers. Cloud is the latest trend that has evolved for the ease of online players.
All you need to access cloud gaming is a high-speed internet connection. Users will not be required to install and run updates regularly. Cloud gaming is one of the technologies used in game development which allows its players to enjoy a gaming experience from any gadget with a stable internet connection.
Since every file is stored on the cloud, the user is not required to secure a large storing space. Quick and regular updates make games more accessible.
Graphics
The virtual world in games is as real as the real world and all the credits go to graphics technology which has changed all recognition today. And the graphics are keeping up with this power of game changing technologies to fire up an old game and see how rough the visual edges were.
Facial Recognition
Facial recognition is one of the innovative technology trends in gaming industry which is adopted and will be getting updated in the upcoming years. You can play games where your game console can read your facial expression and assist in various ways.
Digi Payments
The Internet has become a safe place to make payments and is generally boosted up with secure and lightning-fast transaction methods, hence it can be concluded that the technologies used in game development has offered more comfortable and safer transaction options.
These app stores enable players to do transactions without revealing their identity. These digital security techniques ensure that digital transactions are limited and money laundering is eliminated. The innovative blockchain technology has made these online transactions safe and secure. Many game lovers are utilizing their credit cards to make payments online, even casinos are also offering some recent fair methods of payments such as bitcoin and digital wallets, which are more secure ways of online transactions. Utilizing crypto wallets and cryptocurrencies are safe ways of transactions.
Request a free quote
Virtual Teammates
In this tech-savvy world, especially during this covid-19 pandemic, these multiplayer games like PubG are used to help folks kill time. Thanks to the evolution of these multiplayer online role-playing games and technology trends in gaming industry, online gaming has become an entirely different experience for players. As a result, these online games help people to enjoy the gaming experience with their real friends.
Applications for wearable devices
Nowadays the online gaming industry has started utilizing smartwatches and fitness brands. To reach their niche audience, many casinos are working on a wristwatch application. These wearable applications have become a source of attraction to grow to a sci-fi level. For instance, when the players enjoy some games related to AR/ VR, they wear a headset like HoloLens to step into a reality with games.
These online gambling sites have also got integrated with wearable devices to help players enjoy games on the go. These new gadgets have facilitated the players to enjoy their favorite game variants even without using their smartphones.
Smart gaming experience
These online gaming platforms have attracted several customers who are already using smartphones. With the increased use of online games, these mobile versions have availed people with several great opportunities to enjoy hassle-free games. Nowadays a player can carry out several other things with just a single click.
Mobile gaming is an emerging trend that facilitates a player to access myriad games with the convenience of their location. Cars, parks, homes, or any other convenient place, a player can enjoy their games via their smartphones.
Enhanced security measures
Technology is offering players a great opportunity to enjoy a more secure gaming experience. These innovative measures have reduced the chances of cyber fraudulent activities and hacking. Facial recognition, fingerprint recognition help customers keep their information secure.
The Conclusion
These innovative game changing technologies have brought tremendous changes and have simplified the everyday lives of life. Hence these gaming and online casinos or gambling websites aren't left behind in this competitive world to offer world-class gaming experiences to the customer. These advancements in gaming technology have made gambling convenient and safe. Augment reality will continue to unlock more opportunities with fewer social interactions.
These VR games help people to seek out oversized versions of it with their friends, co-workers. These current trends and forecasts of the gaming industry will help you to escape into a different world of gaming.
Free consultation request
Popular Posts: