September 28, 2022
Posted by:

Admin

Category:

Funding trends, Innovation, Technology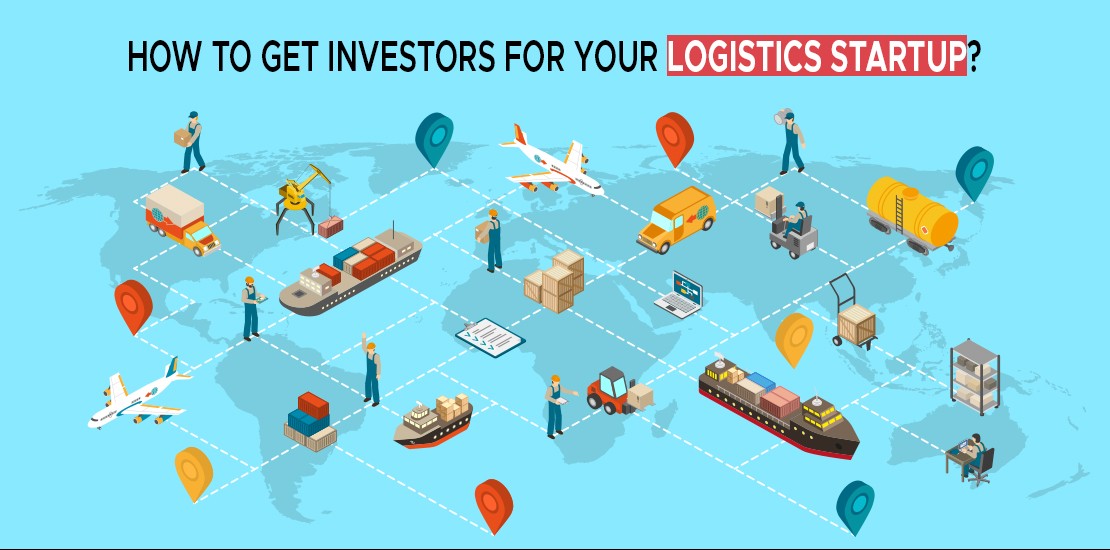 The logistics and supply chain industry is blooming since the covid-19 pandemic. The quick growth of e-commerce—which heightened by over 25%—connected with capacity limitations and traffic jams in both air and ocean transportation resulted in the significance of supply-chain resilience. There appears to be a renewed emphasis on the importance of logistics and the desire for greater supply chain visibility.
Currently, Logistics is been leading every other industry in advancement, funding, and technology growth. The most demanding business models for the logistics industry include those that offer services like moving and packaging, transportation, legal counsel, warehousing, inventory control, etc.
Yes, that's true.
A lump sum of money is getting invested in Logistics tech right now. The markets are currently infatuated with Logistics Tech, regardless of whether they are funding it through venture capital (VC), private equity (PE), growth equity, or an initial public offering (IPO). The key behind the tremendous growth and modernization of the logistics sector is ''E-commerce" which has built the bridge between transportation and technology.
Everyone has unique ideas and concepts. While some of them might turn out to be worth one, others are probably not. Even though you're logistic start-up project may look fantastic on paper, in real starting a successful start-up company is very different from that.
Do you know how to make your logistic start-ups profitable? Along with a solid idea, you need to work smart on getting the right investors who can be around you in every up and down. So how to get and check on the investors for your Logistics start-up? This blog is designed for that purpose itself.
Keep Reading this blog that gives you the best plan, tips, and steps to seek reliable investors for your right logistics start-ups.
Reasons behind the popularity of the Logistics Business in 2022
E-commerce growth: The logistics sector is being significantly impacted by the world's booming e-commerce market. The demand for logistics services is skyrocketing as a result of the phenomenal growth of online shopping.
Growth of online grocery shopping: Online grocery shopping is expanding quickly in India along with e-commerce. Another area where logistics businesses are experiencing a significant rise in demand for their services is this one.
Demand for last-mile delivery: As businesses work to deliver orders to customers as quickly and effectively as possible, last-mile delivery is becoming more and more significant in the logistics sector.
The surge in express delivery: The logistics sector is also experiencing rapid expansion in this area. Logistics companies are working hard to meet this demand as customers expect deliveries to be made at ever-faster rates.
Growth in Reverse logistics: It is growing quickly as more and more businesses place a greater emphasis on ensuring that returns are managed effectively.
Technology integration: The major reason that powers up the logistics industry are technology integration. Cargo and shipment tracking technologies like GPS trackers, Bluetooth, and RFID sensors made the logistics sector quicker and smarter
According to studies, funding for logistics startups nearly doubled in 2021 compared to 2020, leading to the emergence of numerous logistics subsectors.
Working on your own logistics startup would be a wise choice in such favorable circumstances. It might still be difficult to find an investor for your logistics company. But don't worry, this blog will familiarise you with the scenario of current investments in the logistics market and will provide you with advice on how to attract investors for your logistics startup.
Uncovering the core of the blog that is
How to get the best investors for your logistics startup?
Without sufficient funding, your logistics startup won't get off the ground or last over the long haul. Nearly 840,000 companies had been in operation for less than a year in 2021, according to Statista. Many of these startups won't last because they don't account for operating expenses.
You might be wondering what deal of funding your logistics startup may require. There isn't a magic number that all logistic businesses should use when raising capital. Your business may need more or less funding depending on the concept or your startup scope.
In case you are confused or scared of taking the front foot in investment and all, then better to collaborate with trustworthy logistics software development services and gain access to the knowledge and practical experience of professionals in the field. A logistics tech development company will also help you by providing you with a variety of original concepts for your project that address the needs of the market today.
Now coming to a major challenge is how to make investors believe in your logistics startup idea.
Here are a few important steps you can follow to do so
Connect and Network
Building a network can be challenging for start-up companies, but it's essential to gain the confidence of rival companies and industry leaders to succeed. Make sure to leave a good impression because investors pay close attention to the trust factor, especially when their money is at stake.
Finding potential business partners is easiest at logistics conferences, exhibitions, and events. Find out if you can get in touch with any logistics firms that can give you financial support or a foundation for your business. Select a business partner or investor who is willing to help you as you scale your operation.
Delve deeply, Inquire, and reach out to potential investors
– Finding a list of potential investors is the first—and possibly most crucial—step you should take when you decide to seek capital as an entrepreneur. Investment companies have particular areas of expertise and focus, just like your business. To choose the right investor or fund for your business at this stage, you must first decide which type will be most beneficial.
– A seed stage fund or angel investor would be the most appropriate for you to speak with if you are just starting or pre-revenue. Keep in mind that to invest, investors must find deals. Do your research and identify some companies that have raised money with the specific investment thesis of writing checks into your space if you plan to approach seed-stage venture capital firms.
– In many cases, VCs will meet with uninteresting companies in order to learn more about a specific industry. Because logistics touches so many industries, some venture capitalists will schedule first, and even second, meetings with logistics start-ups to learn more about supply chains and transportation.
– Early-stage companies ($1 million to $10 million in revenue) seeking a small amount of money (less than $1 million) should target Seed and Series A stage venture capital firms, as well as strategic investors. Strategic investors bring experience, connections, and brand recognition in addition to cash.
– Companies in their late stages and growth stages now have more options than ever before.
– These businesses have a long history and greater predictability of their potential in the future, in addition to meaningful operations and profits. Institutional investors are looking for mature businesses that can provide them with the security of future revenues.
Focus on collaborating with reliable investors
One of the most crucial things you can do as an entrepreneur to increase your chances of getting funded is to concentrate on the right investors for your business. Even five or six years ago, few institutional investors had given supply chain logistics or logistics in general much thought, let alone potential investment opportunities. This makes sense because, in the past, logistics companies were low-profit, high-capital expenditure businesses like storage facilities or trucking companies. Investors have a lot of chances to earn great returns in our industry right now thanks to the growth of higher-margin brokerage firms and the launch of logistics technology companies. Having said that, a small number of investors have significantly more experience in the logistics industry, which makes them much more likely
Possess a sound strategy and a captivating plan to pitch.
Get your plan together *in writing* and create a strong presentation and financial model if you're looking for any kind of investment for your business. From there, you'll be in a good position to strike up a conversation with the ideal investor to safeguard your future. Don't overthink this step or undervalue the momentum you'll build by just sitting down to write down your dream in 10 slides or less. Having to narrow down your vision to a few slides is incredibly focused. Don't worry if you don't get it right the first time; nobody does.
Consider the early feedback seriously as you begin with something. In your slide deck, be sure to address any concerns that an investor so graciously shares with you during your initial meetings. Go in-depth on your potential market size in your deck for the subsequent investor presentation if the investor is worried about, for instance, your total addressable market size (TAM). When analyzing the market potential for your startup, investing in industry reports can be very beneficial.
When you are allowed to introduce yourself, include your relevant background as well as how you became aware of the problem you are attempting to solve. A compelling origin story can serve as the foundation for your fundraising messaging, as well as your sales and recruitment messaging.
Funding info of Winning Logistics start-ups in a span of 2021-2022
The below-mentioned list of the most promising logistics startups that have seized the attention of logistics investors all at once was compiled based on a thorough examination of data from CBInsight, Crunchabse, and other reliable sources.
Transportes
It is a website that allows shippers and consignees to compare prices on sea transportation as well as transport costs among different transport operators. The startup was founded in Copenhagen with a funding of $1M, and they are now primarily focused on shipping from Asia to Denmark. They do, however, want to expand the network all over the world.
UberCARGO
Uber for trucks in the global logistics sphere is currently only available in Hong Kong. A truck on demand arrives in a matter of minutes with UberCargo which has achieved $ 1.2 billion in funding. A customer can load his or her belongings or request assistance from a driver. The app allows users to check their delivery status in real-time. A customer can check on the status of his cargo or ride in the truck with the driver as a passenger.
Flexport
Flexport is a complex freight forwarding platform that looks like an online bulletin board. Users can compare options, book cargo, and track and manage deliveries through the platform. Flexport provides air and sea cargo transportation as well as insurance services. This startup attracted logistics investors who contributed a total of $935 million to improve global supply chain resilience.
Conclusion
Having said that, most successful logistic start-ups begin with validating an idea, developing a thorough business plan, and getting the right investors that raise sufficient funding. Your startup will fail if proper financial planning is not implemented.
Even if you find yourself in trouble in finding investors then best to connect with a leading logistics tech company that serves outstanding logistics software development services.
And in that case, DxMinds never disappoints you because we have the best expertise, skillful team, and advanced technology tools, a complete package to make your startup successful.
You can go through our portfolio or connect with us to know everything. Custom logistics software development, telematic software development, asset tracking, transportation, freight logistics software, and much more are all part of our logistics suite of services.
FAQ's
How to start a logistics business?
There are important steps to starting a logistics business:
Contact the owner of a similar business or conduct research
Concentrate on specific segments
Consider developing a business model
Perform competitor research
Reach out to a successful logistics tech development company such DxMinds
What are some logistics business concepts?
You can implement the following logistics business concepts:
Specific shipping market
On-demand services of new varieties
Management of the supply chain
Transporting cattle
Optimization of the warehouse
Read Also: How Much Does it Cost to Develop a Mobile App in Bangalore?