November 2, 2020
Posted by:

Admin

Category:

Outsourcing and Offshoring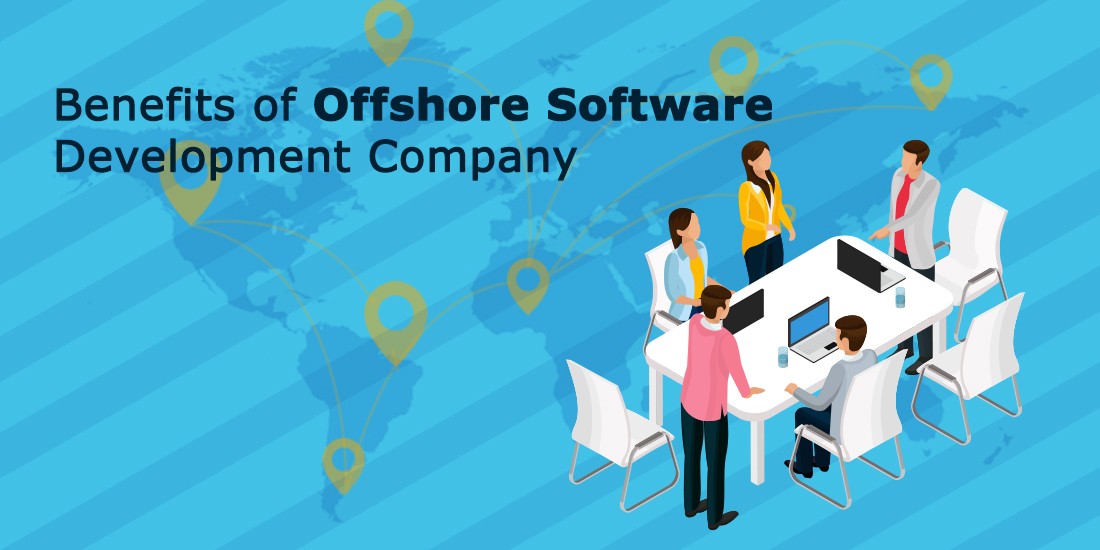 Need an app for your business development but not finding an excellent professional hand that can assist you in achieving your business objective in your native land? Expand your search limit to the boundaries of this globe and get an offshore software development team to attain the best services. Today's business world has grown to the sky, eradicating all the boundaries of geo locations and local customers. When you are targeting the worldwide market and customers, then why shrivel the rest of the locations when it comes to hiring a team for your business development?
Regardless of your location, offshore development centers assist you in choosing a team from any corner of the world and working with the best team to bring success to your account. There are several countries renowned for offering the best offshore software development services at the most affordable cost.
The top countries preferred for hiring an offshore development team are listed below:
India
China
Malaysia
Brazil
Indonesia
Thailand
Philippines
Belarus
Romania
Among all the above-listed countries, most of the software development companies prefer India, the reason being it is the best talent to offer at the most affordable price. Offshoring the software development process is trending these days and the scope of this approach has a great scope in the future too as it serves several benefits along with cutting down capital investment.
Benefits of Hiring Offshore software developers:
Reduces operational cost:
In most of the big countries hiring a native software developer can be very costly depending on the cost of living of that specific country. When you go for a professional with higher experience and skills then the compensation also may spike up. Salary is just a basic aspect of the capital you invest in your native team; apart from that, you have to consider office space, equipment, basic amenities, and other benefits in the payroll of your employee. This doubles your capital investment.
As an alternative to a native team, if you choose an offshore development center, it can assist you to cut down all the extra costs and also give you the best talent in the least possible payoff depending on the country you choose. When you compare the salaries of software developers in a developing country like India and a developed country like the USA, you will find salaries of Indian software developers are three to four times lesser than those in another country.
Opportunity to scale quickly:
The team is the backbone of any company, especially when a company works on precise deadlines. If you have an in-house team and any of your employees included in the project are left the mid-way may cause dragging down the speed of your software development till you get an appropriate replacement. Also, finding a proper replacement with the same skills and experience may be difficult. In the mean, you are overburdened with work, quality, and the task of hiring the best professional.
Instead, you choose to hire offshore software developers then you can scale up your team at any time without any delay. If you choose a country like India for setting up your offshore development center, then getting a replacement for any software development technology increases by 50 times more than any other country. A study conducted on the computer science education sector illustrates that India produces an average of 1.5 million software development experts every year which is a huge number to get the best talent fitting your requirements.
Access to the best engineering talent:
Limiting to a country will limit your options too. If you step out of your country, you will find more talented professionals with lesser compensation than your native workforce. Most of the software development companies from all across the world started heading towards India in search of exceptional talent with excellent proficiency in the latest technologies. India is renowned for its innovations and creativity.
The top technological skills possessed by software developers in India are listed below:
Machine Learning and Artificial Intelligence:
Artificial intelligence and machine learning are creating buzz around the technological market. The hype created by these two superlative technologies is justified by the capabilities it offers to the developer. Over the last two decades, India is ruling the sector of artificial intelligence and machine learning with the most innovative software. There are more than a hundred IT companies in India renowned for the best and most advanced innovations in the relevant sector. In India, already 31% of total businesses have incorporated AI and ML technologies into their operations, and more to go.
The Internet of Things is one of the latest technologies that allow connections between digital devices. Using software engineering skills and the Internet of Things, now communication between two wireless devices is possible. The developers in India are skilled with multiple coding languages and fit their codes in micro and nano forms of hardware with an ability to work at a limited bandwidth internet connection.
The need for cloud computing has shot up with the emergence of the Internet of Things, and the need to store, access, and process data has increased. To cater to the increasing demands of online data saving and processing, several renowned brands have come with their respective services. To give a technological infrastructure, you can use cloud computing services for cost-effectively developing major software with zero in-house server storage.
The growing connectivity between the devices is increasing the possibility of intruding on the privacy and theft of data has been raised by ten times. To keep your data safe and restrict any malicious activity on your network you can take the assistance of cybersecurity experts. They keep you updated about the loopholes in your networks and strengthen them keeping your data and devices secure. Studies conducted over the countries show that a rapid hike in the number of cybersecurity professionals has been noticed in India within the last five years. The predicted number of current cybersecurity professionals in India is 1 million which is 150% more than the number of professionals in 2017.
The virtual world is gaining rapid fame in the technological world. It is giving liberty to folks to experience a virtual world without implementing the machines in the physical world. Kubernetes is playing the main role in accelerating the existence of the virtual world by allowing the development and deployment of a network of virtual machines. In the past two years, a sudden leap has been experienced in the Kubernetes sector demanding a huge number of professionals to develop software using the latest technologies giving room to a more innovative approach.
Cloud-based environments are the new face of technology that allows you to store data online. With the increase in cloud requirements, demand for data shipping technology emerged. Docker was the one-stop solution for this requirement. It allows the experts to save configurations in the image form and transmit it for further usage. The docker offers flexibility to use the images without any primary setup or any software.
Computing is an everyday business for everyone but with the growing digitized world, the complexity of computing is also increasing. The growing challenges of computing can't be solved using classical computing methods and systems. The quantum mechanical phenomena are leveraged by the Universal quantum computers to simplify the computing procedures using superposition and entanglement of scale with gigantic numbers such as qubits, or quantum bits.
Digitization has proven a boon for the world along with the benefits it also has come up with large data production and storage issues. Hadoop is an open-source framework that facilitates you to store data and run applications on a cluster of commodity hardware. With the help of Hadoop, you can store, process, and handle any kind of data without any limit. Most businesses are now hiring offshore developers highly skilled in big data Hadoop to develop applications with which they can confine their data management procedures.
Tips to earn the maximum benefit of the offshore software development team:
Undoubtedly there are several benefits to opting services of an offshore development team. But most businesses fail to utilize the comprehensive benefits of the team. You can earn much more than your agreement points. Are you thinking about how to make maximum benefit out of your selected team? Here are the apt answers to your questions.
Prioritize your tasks to offshore:
A software development cycle comprises various levels, ranging from taking the client specification requirement to deploying the project and giving post-development maintenance. Before scheduling the task to your selected team you must check for their proficiency and must try to allocate tasks for which professionals as asking a high pay in your native land. Most of the top brands try seeking a team that can serve them with only software development services and client coordination keeps at their end and gets accomplished from the native team. This approach allows the offshore software development team to completely focus on the development for the complete project tenure and also companies get the simple task accomplished by the native team at a lower cost without extending the tenure of the offshore team.
Discuss the project goals:
A clear client requirement specification is important for potential software development. Being at a distant location you may not be able to keep a detailed eye on every unit development. Just giving a project to the offshore development team may not serve you with the desired output. Before your chosen team starts the work, try to communicate more and more with them to explain your project idea, the basic objective of the project, and especially your perception of the end product. The more you will explain your ideas and thoughts with your team, the more they will be able to give a precise face to your software development ideas.
Organizational structure:
Offshore development centers come with the biggest advantage over outsourcing a project that is you have complete control over the team working on your project. But if you are not communicating with them then you may lose control over your team and the project too. Once you collaborate with an offshore development company make sure to match your organizational structure. When you go off the native land, then time zones may vary and can be the biggest hurdle for you to communicate with the team or to look into the project development procedures. Once you finalize your team, make sure to set the operational activities of your team with your time zone to make it more convenient and effective.
Transparency:
To make the best out of your offshore development team you need to keep complete transparency with them. It will help your team to understand your business, area of interest, and targeted customers better. Make sure to inform your team about your business idea, objective, investments, organizational structure, and capabilities precisely. Clear visibility to your project will aid your team to serve you with more creative ideas and processes enhancing your project and giving the superlative output.
Utilize overlapping hours:
Being from different native lands there might be a difference in the time zones which may act as a hurdle in your interaction. This can be resolved by making effective use of overlapping hours. An overlapping hour means those hours in which both the team of your native land and offshore one is working. Try setting most of your communications and dictations during those hours to keep your work going smoothly.
Incorporate agile methodology:
The agile method of software development is now used worldwide to eradicate or lessen the possibilities of error. In the Agile method, the software development divides into smaller iterations, and after the development of each iteration, testing is done to test the efficiency of the software. It allows you to get deeper into the project development, and point out any changes required at the basic level to save time and capital investment.
Avoid micromanaging:
Every country has its work culture and strategies. You may find a great difference between your work culture and the offshore software development team. Avoid micromanaging them to structure them into your work strategies. Let your teamwork to their best levels and provide you with the best output with their creative ideas and innovations. Just make sure to check the development at every stage to ensure your project development is heading in the right direction.
Conclusion:
There are several benefits offered by offshore development centers all across the globe. Most of the European countries are driving toward India to set up an offshore development team and avail maximum benefit. But least of those are aware of how to bring out the best of their selected team.
The very first benefit that you avail yourself of by hiring an offshore development team in India is access to the best technologies and professionals at least possible payments. Other than cost-cutting, there are many other benefits. Smart use of the team can even serve you with an enhanced experience and better team performance.