October 12, 2022
Posted by:

Admin

Category:

AR VR App Development, Famous App Analysis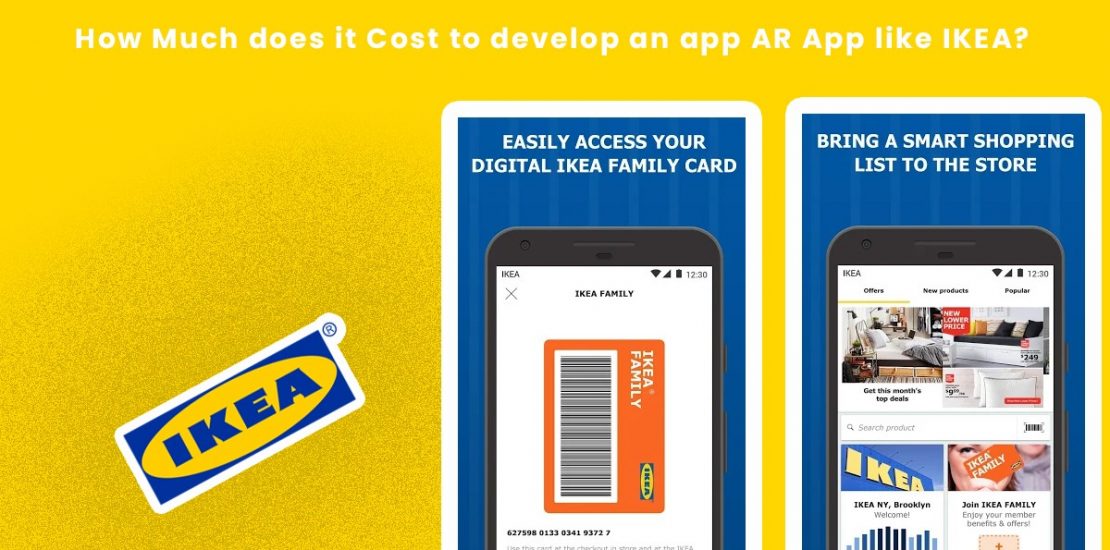 How Much Does it Cost to develop a Augmented Reality (AR) App like IKEA
What is IKEA?
IKEA is a world renowned furniture and home appliance brand cum seller. Having a turnover of 40 billion Euros in 2018, IKEA remains as a giants in the furniture manufacturing and sales industry.  Recently IKEA had gone viral all across the globe. It is because they have come up with a new solution which enhances the overall customer experience. They have integrated Augmented Reality, which is also known as AR to their mobile app named IKEA Place. The application of AR in IKEA app stands out as a case study which reveals how effectively technology can be featured in a business sector.
In this blog, we are going to discuss the various aspects, features and development cost of an Augmented Reality app like IKEA Place.
I believe, this blog will be handbook for those who are all set to develop an Augmented Reality App.
Do You have an AR App Idea?
WHAT IS AUGMENTED REALITY?
Augmented reality deals with the installation and practice of programmed 3-Dimensional objects in the real world which is actually a representation of the virtual world. Ever since Augmented Reality has been introduced in the market, it has created unpredictable wonders. As a reason, it's widely been used and is becoming the talk of the town. AR acquired this much popularity after the launch of the viral game Pokémon GO, which deals with the collection of Pokémon which are kept in the virtual space and are accessible using a smart phone and the provided AR app.
AUGMENTED REALITY IN IKEA PLACE APP
IKEA has adopted the feature of placing virtual 3D objects in the real world facilitated by Augmented Reality to enhance their customer experience. The mobile app thus developed comes up with a wide range of furniture and home appliances listed in. A customer who has the app downloaded from the respective app store will be able to view the products as a catalogue, just like what other E-Commerce apps does. What makes IKEA stand out from other E-commerce platforms is the AR feature fused in to it.
The AR feature in IKEA app makes use of the smart phone camera to measure the room dimensions. Once the user chooses the right furniture which he likes the most from the app, he can use the AR feature to visualize how it will be when it's placed at his home space. The object placed in such a way resembles very much similar to the real world object. The user can run a visual tour of furniture that fits his space just by changing the listing and by repeating the same process. Once he found particular furniture or utensil is an appropriate match, he can go ahead and purchasing the same either on the app or just by visiting the nearest IKEA store.
For every business to grow, it has to be flexible and should admire changes. Experts at IKEA are very well known to this fact. That's the strategy adopted by IKEA prior developing the Augmented Reality mobile app. It really helped them in digitalizing their business. AR in IKEA app offers a 360 degree virtual experience. It was with the help of AR Kit by Apple and other major tools, that IKEA were able to fulfill the AR app requirement for their furniture retail business.
Request Callback
ADVANTAGES OF HAVING AN AUGMENTED REALITY APP
Increase Customer Experience: Integrating AR in a business app, especially in an E-Commerce business app offers customers a hassle free shopping experience. With increased efficiency brought in to the business, AR also enhances the customer experience.
Product Visualization: As the users can visualize and try out the products in real time, chances are less that the products get returned after purchase. This reduces the cost of shipment as well.
Stay ahead of Competitors: These days, customers tend to prefer AR based apps as they showcase more features that normal app. This let the business owner stay ahead of the market competition.
Product Promotion: AR plays an important role when it comes to promotion and advertisement of products. As it offers 3D features of the virtual objects, chances of the product getting reached out to potential customers are more.
Apart from the normal mobile apps, an AR app should possess certain add on features that sets them apart. Let us see what they are:
FACTORS AFFECTING THE DEVELOPMENT COST OF AN AR APP
App Design
Design plays an important role in case of an AR mobile app. Much attention has to be paid while handling the design aspects of the app. Perfection has to be felt at every image designed. The 3D image should be designed in such a way that it should blend perfectly with the real world. Any compromise on the quality can result in diminishing the brand value.
Development
As developing an AR app requires huge skill set and expertise, hiring the right developer is mandatory. The tools used for developing an AR app should be chosen wisely. The popular tools used in developing AR apps are AR Kit and Google Tango.
Quality Analysis
The AR app has to be tested properly as a part of ensuring its bug free. As the customers are pretty sensitive, any fault in the app will literally makes them irritated. Testing of an AR app can be a tedious task, but it's a must.
Platform
The app platform which is used to build the AR app is another factor which decides it's costing. The app can be on android, iOS or React Native, which is a cross platform app.
Get a Free Consultation on your AR App Requirements
HOW MUCH DOES IT COST TO DEVELOP AN AR APP LIKE IKEA PLACE
The AR app development cost varies based on the development companies. Each company will charge differently base up on their policies. Though the average development cost for an app like IKEA will be around USD 50 per hour, it can go up to USD 50K to USD 100 K based on the requirements.
Appoint DxMinds Technologies, the leading AR/VR Company in Bangalore for developing an AR app like IKEA Place. Being one among the very few economical AR/VR development company, one will be charged less and can avail the best services when compared to other companies.
For more details regarding Augmented Reality app development, write to DxMinds at info@dxminds.com 
Contact Us