March 10, 2023
Posted by:

Admin

Category:

Famous App Analysis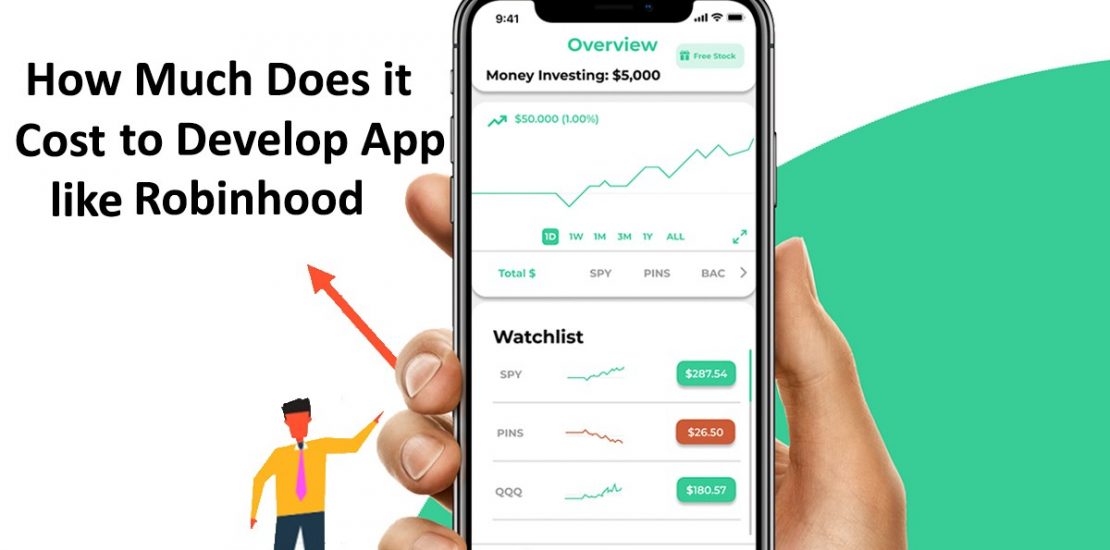 Stock Trading App like Robinhood Cost?
History clearly shows that mobile application has aggressively transformed all the industries it belonged to. The interesting part is that there are no industries left behind ignoring mobile applications, even the stock markets are no exception.
There was a time where traders have to purchase their shares and equities in the form of physical certificates. Even though it has been digitalized in later years, it is the transformation carried out by mobile applications that helped traders in making it big. As stock markets are highly volatile and risky, even a fraction of delay in a trade can cause huge losses to the traders. Mobile applications filled that gap by acting as a tool that helps users to trade even on the go. This made potential users in being the regular beneficiaries of these equity trading mobile applications.
Huge traction gained by stock trading mobile applications has opened the door of enormous opportunities for entrepreneurs and enterprises out there. This prompted them to explore more about the same. This article deals more with a stock trading app Robinhood, it's in and out features including the app development cost of Robinhood, its features, requirements and much more you need to know before developing an app like Robinhood. We are sure that this article will be a feast for everyone out there who is eagerly looking forward to knowing the app development cost of stock trading app Robinhood to harvest his or her fortune.
More on stock trading application Robinhood and how does it work
The US-based stock trading company Robinhood was founded by Mr. Baiju Prafulkumar Bhatt and Mr. Vlad Tenev. The company offers a high-end mobile application for its users to trade stocks, funds, gold and even cryptocurrencies. The app acts as a one-stop financial solution by offering complete cash management products. The ultimate aim of the company is to make trading fun and productive that even an amateur trader can be a professional in no meantime.
Why building a crypto trading app like Robinhood
· Holds a potential market
· Millions and billions of active traders
· Increased usage of cryptocurrencies and commodities
· Enhanced traction
Features of a commodity trading app like Robinhood
· Sign Up/ Sign In
As the very basic feature of every app, even Robinhood also allows its users to create an account on the platform. Various countries have different norms and declarations. Based on those rules a user needs to provide the mandatory details at the time on creating an account. They then can make use of his/her username and password to log in.
· Unique Dashboard
The dashboard of trading platforms will be entirely different from gaming apps or any other apps. It has to serve an entirely different category of people so that the dashboard has to be highly innovative and productive. A trading app like Robinhood possesses a top-notch dashboard and it is one of the primary factors which made the app a grand success.
· Real-time market data
As trading deals with a wide range of real-time data, an app like Robinhood should never fail in delivering those data and it should be delivered in a hassle-free manner. As trading stocks and cryptos include a huge amount of risk in it, a user prefers a provider who does the same with utmost perfection.
· Market watch list
The app should have a watch list were the stocks selected by the users belongs to. It is from the market watch list that a user can have access to various information such as the current market price of the stock, bid price, number of bidders. Etc.
· Recommendation
All trading platforms often provide recommendations to their traders. These recommendations are made based on various researches done on several stocks.
· Buy/Sell option
Once a trader feels to proceed with the purchase of certain stocks, there should be a buy option available, clicking on which he can enter various metrics such as the quantity of the stocks he needs to purchase, triggered amount at which the trade needs to be closed, etc. Sell option lets them in selling the stocks they own.
· Portfolio
The portfolio contains all the shares purchased by the trader. It also let them aware of their profit and loss margin etc
· Trade confirmation notification
Once a trader buys or sells a stock, the trade confirmation has to sent to him either as an email or as an SMS or both the ways. This can also be accessed under the notification category,
· Integration to a bank account
A stock trading app should have an integration with the bank account where the users can link their accounts with.
· Pay in/ payout integrations
A user needs to transfer cash from the bank to the trading account for a trade to make happen. This is termed as Pay in. The app needs to facilitate these kind integrations for the users to trade. The app should also have the facilities where a user has to transfer the funds from his trading account to banks as well.
Cost to develop a trading app like Robinhood
Coming to the costing aspect of developing an app like Robinhood, it is bounded to so many factors. Few of them are the location where the app belongs to, the app size, the platforms on which the app has to be developed, let's say iOS, Android or both, technologies integrated to the app, third-party plug-in, and APIs. However, based on these factors, the approximate cost of developing a stock trade app like Robinhood is likely to vary from USD 15,000 to USD 50,000. It may vary as per the requirements.
DxMinds Innovation Labs- the best stock trading app development company
If you are eagerly searching for the pioneer app development company to develop a stock trading app for your business, we suggest you go for DxMinds Innovation Labs. DxMinds not only offers an outstanding trading app but also let you in gaining huge traction to your business. For more details on getting a free consultation on the app development cost of a trading app like Robinhood, drop a mail to: info@dxminds.com