October 10, 2022
Posted by:

Admin

Category:

Famous App Analysis, Food Delivery App Development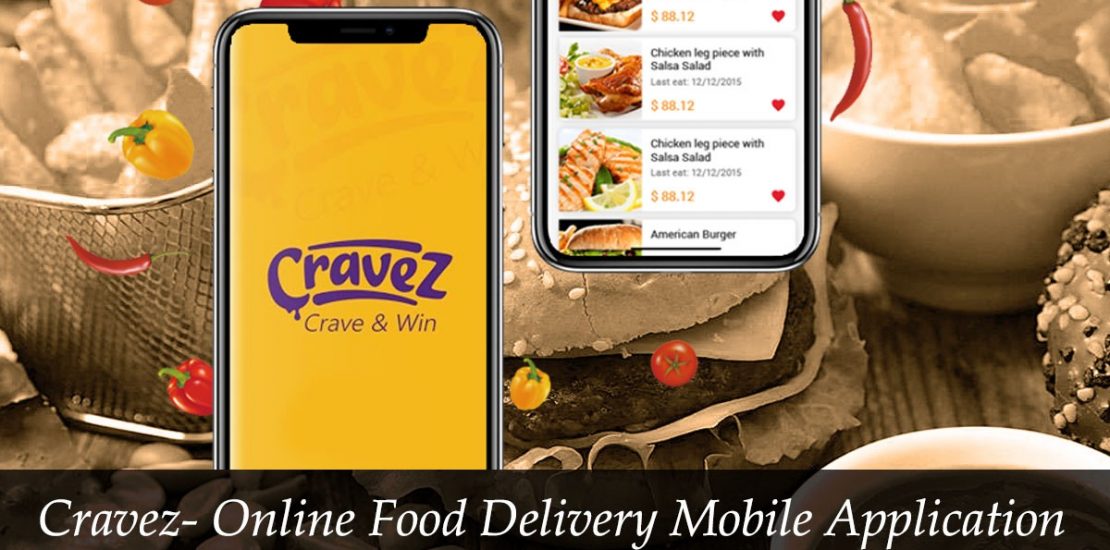 What is Cravez and Development Cost of Food Delivery App like Cravez
Online food delivery business has always been a hot topic across the globe. Whether it be in Asia, Europe or anywhere on the earth, it has always brought fortunes to the entrepreneurs who come up with the execution part of it.
Kuwait is the city that hosts a wide range of natural resources, harbors, and mouth-watering cuisines. This blog is all about a mobile app in Kuwait that helps its founders to dig out the fortune by acting as a platform for its customers to order their favorite cuisines online. The app is called to be Cravez-Crave and Win. Here in this blog, we are going to discuss it's in and out features and the cost to develop an online food delivery app like Cravez.
So let's get started!
Cravez- the online food delivery mobile application
Craves, the online food delivery mobile app act as an aggregator that connects restaurants and users that deliver its services along the length and breaths of Kuwait city, Hawally, Farwaniya, Ahmadi, Mubarak, and Al-Kabir. The app is exclusively designed for foodies who want to try out the all available varieties of cuisines out there on the premises of Kuwait. From Chinese to Japanese and Mediterranean, the app collaborates with a wide range of restaurants that hosts a wide range of cuisines available across the globe.
Leveraging the app, a user can book their favorite mouth-watering dishes from the listed restaurants, delivered at their doorstep that too in the least possible time. The app helps them in skipping their journey to the restaurant, spending their potential time there waiting for the food to arrive on their table. Cravez allows them in their food being delivered in any address in Kuwait, whether it be at their workplace or home, Cravez will take care of it.
What makes the app a standalone from the other apps of the same niche are the facilities they offer to their users. Users, based on their purchase history, get chances to participate in lucky draw contests that are conducted on a monthly and annual basis which reward them with assured prizes and gifts.
The app comes with a high-end user interface and a stunning user experience. It is very simple to the core that a customer finds it easy to use it without any hassles. The app lets its users order multiple cuisines from multiple restaurants to satisfy their appetite by making a one-time payment that is not even offered by many aggregators out there.
The app offers numerous facilities to its users. They are:
· Crave and Win
· Multiple Restaurants, One-time payment
· Personalized promotions
· Highly Customizable dishes
· Multiple cuisines
· Safe and Secure Payment
The app comes with various features that we are about to discuss now. Let us dive deep into that right away:
· Sign Up
Making use of various social media accounts or email id, a user can register their account of Cravez.
· Sign in
One can sign in with their username and password to access their account on Craves to order food online.
· Location Access/ Search
The app makes use of the device location to figure out the nearby restaurants. It can be done automatically or a user can do it manually.
· Restaurant Search
Once the location has been set, the app will automatically display the list of nearby restaurants. Users can make use of the search console to manually search for restaurants or dishes.
· Delivery by Craves
When users go for this option, the executives at Cravez will deliver the order.
· Delivery By Restaurant
Users can make use of this facility if they want the food to be delivered by the restaurant itself.
· Location Change
One can change his location leveraging the location change option.
· Search by food Name/ Search By restaurant
Users can search either by restaurant name or by the dish name. It will work either way.
· Grid View/ List View
Users can select either grid view or list view, based on which the search results will be displayed. It's a personal customization tool.
· Favourite List/ Wish List
Based on his/ her wish, a user can add their favorite dish or restaurant on to their favorite/ Wish list, based upon which he can make future purchases. This lets them in skipping their search for the favorite dish/ restaurant repeatedly but at the fingertip.
· My Addresses
A list of the delivery addresses manually entered by the users will be displayed here. They can make relevant alterations to the current address, add or remove addresses based on their wishes.
· My orders
Pat and present orders made by the user will be shown under the My Orders category.
· My cart
Users can add their favorite dishes to their carts and it will be displayed here. They can either add or remove dishes into the cart based on their will. Right after My Cart is the checkout, where they have to make payments.
· My account
This space is exclusively made for users where their username, email id, contact information, and various other personal information are available.
· My Wallet
The app comes with a built-in wallet where the users can recharge it and make it useful for their proceeding purchases.
· News Feeds
Various app-related notifications and newsfeeds will be available in this section
· Language change
Based on the user's wish, they can choose their preferred language and it can be done under the language menu.
· My Points
Each dish is given each point, which will be given to the users based on their purchase. These points will be visible under the My Points segment. The users in their later purchases can redeem these points.
· Search Filters
Various search filters are provided in the app with which users can land upon what exactly they are looking for. The filters include trending dishes and restaurants, nearby locations, filters based on delivery time, minimum order, delivery charge, and delivery by cravez, pickup, pre-order, the restaurant is open or not, pay online, discounts-, meal course, etc.
· Track order
Once a user has placed an order, they can track its status by clicking on track my order option. Its status from the preparation of the food to the assignation of delivery executive and even their travel routes will be displayed on the app.
Cost to develop a food delivery app like Cravez
The cost of developing a food delivery app like Cravez depends on various factors like app platform, app size, app location, UI/UX, technologies used, additional features, etc. However, with the integration of basic features, the cost to develop an app like Craves at a leading mobile application development company like DxMinds will be around USD 15000 to USD 50000. The cost may differ depending on your requirements and features. For more details React: info@dxminds.com