July 6, 2023
Posted by:

Admin

Category:

Mobile app development cost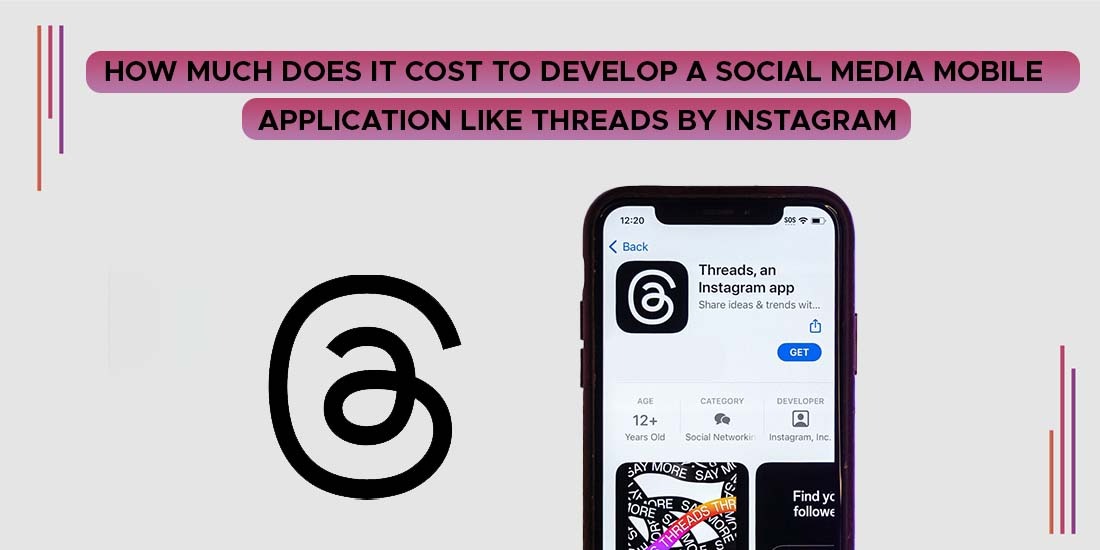 How much does it cost to develop an App like Threads by Instagram?
The social media space is filled with big players who formulate different strategies to increase user experience and engagement. The more innovative approach a company takes, the more leverage they gain in terms of active users. This has created a healthy rivalry among social media giants like Meta, Twitter, TikTok, clubhouse, etc.
In this article, we are going to see the result of one such rivalry between Meta and Twitter that prompted Meta in coming up with a clear-cut competition to the latter. It all by launching a brand new social media platform named Threads powered by Instagram. Let us see more in detail about threads, their features, and the cost to develop an app like Threads by Instagram.
More about Threads by Instagram
Ever since Elon Musk took over Twitter, he was aggressively implementing a lot of changes that had mixed responses from users across the globe. However, the unique features that set Twitter apart from other social media apps stuck the loyal users close to the platform. Mark Zuckerberg, founder of Meta found a gap that existed and announced the launch of its Twitter rival Threads on April 2023.
Threads by Instagram was officially Launched on July 5th, 2023. In just a short span of 7 hours after its launch, the app saw sign-ups of more than 10 million users. The app comes with an innovative design and user experience that is capable of attracting more Twitter users to the platform. The newly launched version is officially called the Initial Version by Meta. It is no doubt that threads can create potential threats to Twitter and its other competitors.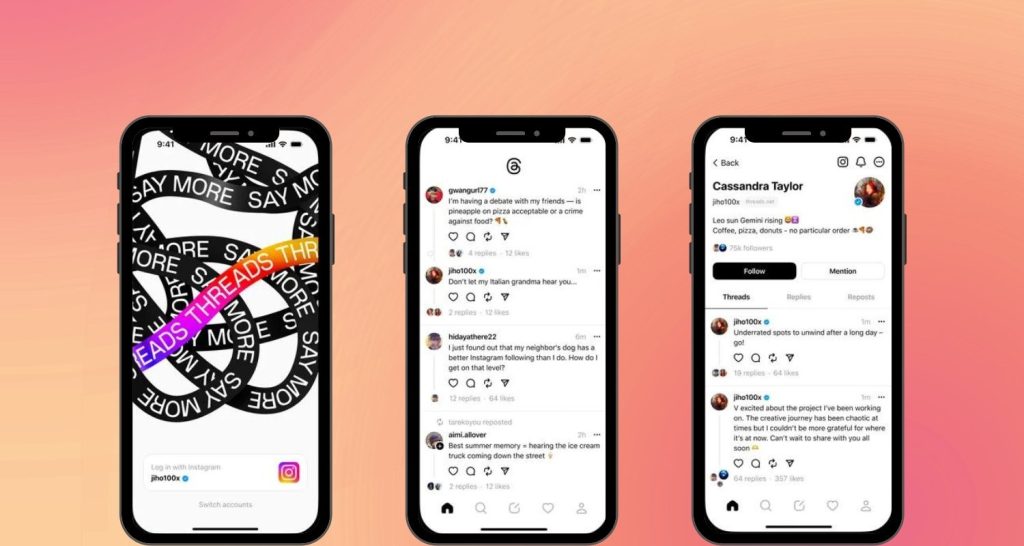 How does Threads by Instagram Work?
Threads is an easy-to-use platform that is powered by Instagram. Users can create their accounts by easily logging in using their Instagram accounts. Threads will automatically fetch the user details including their profile picture, description, bio, etc. from their linked Instagram account. Threads mobile app allows users to post images, create threads, and links, and post videos that have a length limited to 5 minutes, even though it is meant to be a text-based conversation platform. The app allows users to share posts from Instagram on Threads and vice versa.
Features of Threads social media app
Let us see what are the major features that come with the Threads social media mobile application and what their uses are.
Account Creation
Users can create an account on Threads by using their current Instagram account. It's a hassle-free process and helps users by fetching their details automatically from Instagram.
User Profile
Right after the account registration, users can have access to their personal profiles where they can make relevant changes as required. They can change their bio, add a link to their profile, choose to make it public or private, etc. However, to change their names, the user needs to update the same on Instagram.
Follow/ Unfollow
Threads allow users to follow other Threads users by tapping on the following option. There is also an unfollow option to undo the same. Several other followers management options are available such as blocking, unblocking, etc.
Create New Thread
By clicking on the New Thread option, users are able to create new posts and share them with their followers. The post could be images, videos, links, and text. Users can control the privacy of their threads by choosing the list of people who can engage with the post. There are mainly three options available named Anyone can interact, Profiles you follow, and Mentioned profiles only.
Feed
The app comes with an exclusive feed section which is called the Home. The threads posted by the connections of a user will be displayed in the feed section. Users can interact with these posts by liking, commenting, and sharing.
Search
The Threads app comes with a search option in the menu bar. Users can use the search option be used to enter search queries to find user profiles and posts.
Notification
All activities happening on a profile will be displayed in the notification section. It includes new followers, comments, likes, shares, updates from verified profiles, etc. The mute/unmute option is also available for notifications.
Status update
Just like sharing status on Instagram and other Meta platforms, users on Threads also can share their status updates with their followers. It also comes with privacy features like sharing with close friends only.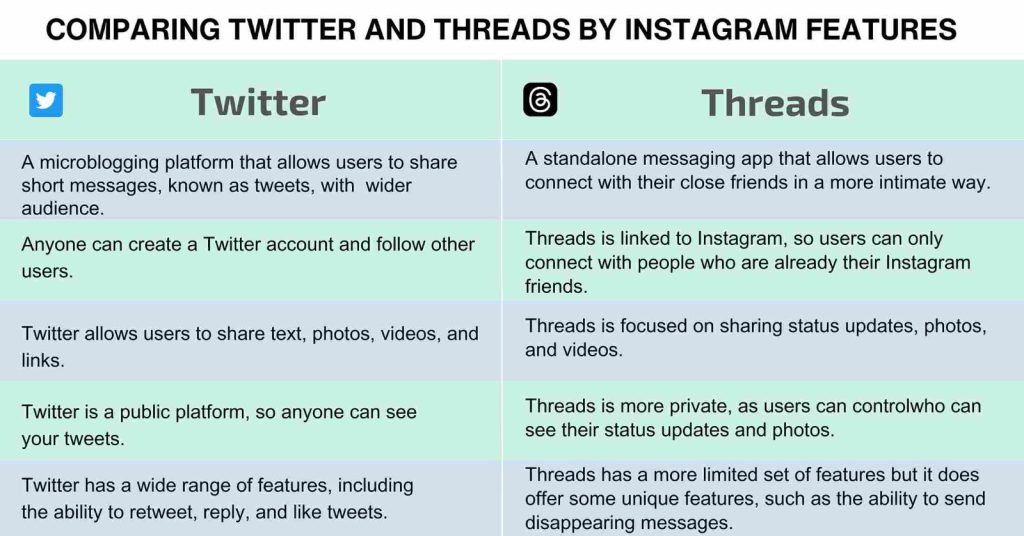 Limitations of Twitter Rival Threads
User Limitation
Only Instagram users can create their account on Threads, whereas anyone can sign up for an account on Twitter. This can prevent non-Instagram users from joining threads.
Content Limitation
Thread ultimately is a subsidiary of Instagram. Unlike Twitter, not all forms of content formats can be shared on Threads.
Feature Restrictions
Even though Threads is a Twitter rival, it doesn't have a lot of features that can cause tough competition to Twitter. This can stop active Twitter users from migrating to Threads.
Monetization
Since it is still in a very early stage, Threads have not offered any monetization programs to the users. But Twitter has it.
How much does developing a Social media mobile application like Threads cost?
Twitter rival 'Threads' is gaining huge traction as users are flowing to the platform to experience the new features offered by the application. This is solid proof that there is a huge demand for new social media applications in the market. Entrepreneurs and businesses can leverage this opportunity by coming up with mobile applications similar to Threads. When it comes to developing a social media app like Threads, several factors need to be considered. Some of them are the platforms supporting the app eg; whether it is Android or iOS, the technologies used to build the app, the expertise of the app development company, the experience of the resources working on the project, the location of the app, etc. However, considering various factors into account, the cost of building a mobile application like Threads can cost between USD 50000 to USD 150000.
Best Social Media Mobile application development Company
DxMinds Innovation Labs is a leading digital transformation company offering top-notch technology services to customers across the globe. Being an ISO 9001: 201 certified company, the technology solutions offered by DxMinds meet global standards and parameters. DxMinds comes with solid experience developing a wide range of mobile applications, especially social media apps that are capable of attracting users by delivering top-of-the-line user experience and innovative interfaces. The development team at DxMinds including the developers, architects, UI/UX designers, testers, and project managers comes with proficient industry experience in handling challenging projects.
Get a Consultation