October 11, 2022
Posted by:

Admin

Category:

Famous App Analysis
The advent of mobile applications has completely disrupted our perceptions and the way we used to conceive things. Technology leveraged mobile applications and its best industry practices are redefining the conventional practices and have given life to a brand new ecosystem. With mobile applications, the end-users can seamlessly accomplish their day to day activities. It helps them in achieving hassle-free lives and has eliminated all of the frictions that have existed in it. It has opened the doors of wide opportunities for businesses as well. The performance of mobile application integrated businesses when compared with normal ones will be quiet high as mobile applications are the perfect tool to perfectly engage the right set of audiences. Just by analyzing the skyrocketing number of mobile applications that get added to the respective app stores daily, one can conclude the impact mobile applications can have on our society and role played by the apps in developing a digital economy.
There are productivity mobile applications, E-Commerce mobile applications, food delivery mobile applications, Fintech mobile applications, taxi-hailing mobile applications, and much more. Each mobile application stands for serving each purpose. Also, there are mobile applications that help us in getting connected with our friends and family. The role played by these mobile applications in eliminating or feeling of missing out our dear ones is potential. Today, we are going to discuss in detail one such mobile application, Instagram. The number one social media mobile application, Instagram offers a multitude of ways to connect with friends and families. For entrepreneurs who are actively looking towards the opportunities of developing a social media mobile application like Instagram, this will be the right place to find out the in and out details of the same. We will also discuss the cost of developing a mobile application like Instagram. So let us get started.
More about social networking mobile application Instagram – How it does works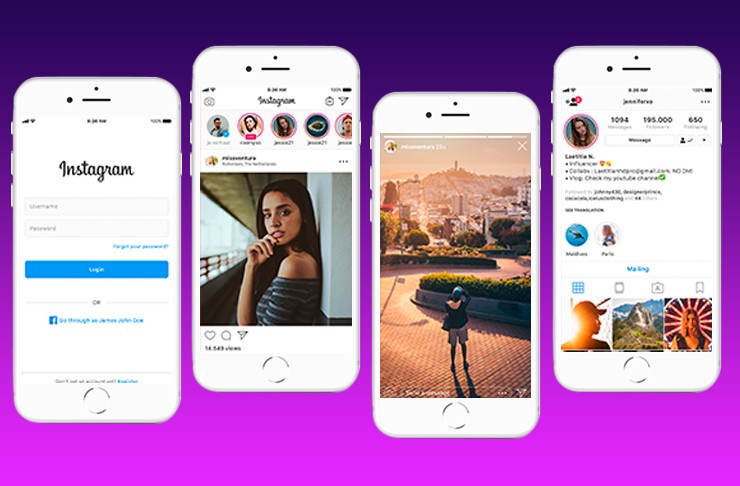 Instagram is one of the widely adapted photos sharing social media network founded by Mr. Kevin Systrom and Mr. Mike Krieger. It was launched in the year 2010 and has gained huge traction from the global community. Ever since the Instagram mobile application was launched, it's been grabbing several achievements and rewards which finally led the tech giants Facebook in achieving Instagram. This trending social media mobile application allows its users to maintain their friend circle by sending and accepting connection request thereby sharing news feeds among them. These news feeds can be of photos and videos. To enhance the user experience, the application is implementing the latest technologies into its frameworks.
Need for a social networking application like Instagram
Back in time, getting touch with the loved once was a tedious job. One needs to put in a lot of manual efforts for accomplishing the same. It was in that scenario that various social media networks leveraging technology came into existence. The best application of these social media networks has created a wow factor among the users. Instagram, the youngest one of all trending social media applications has redefined the landscapes of social networking. It has foreseen the customer requirements and has made real-time updates to stay ahead of the market. The need for a social mobile application in the current tech-savvy world is relevant and holds huge potential.
Features of a photo and video sharing mobile application like Instagram
· Sign up/ Sign In
Users need to have an account registered on the mobile application to get started. They can make use of their mobile number, Gmail id or even Facebook account to create an account. Once registered, leveraging the username and password, they can log in to their account.
· Personal profile/ Business profile
One can have both personal as well as a business profile on Instagram. They need to provide several mandatory details that they have to complete the profile set up. This includes profile name, profile picture, about the user, etc.
· Search bar
To get connected with their friends and family, users need to send a connection request to their known ones. Leveraging the search bar, they can provide their user name and can find the ones they are looking for.
· Add Photo/ Video
To stay in touch with friends and family and to add photos and videos, the app should have features that allow the users to do the same.
· Likes and reactions
A user when finds the post that he/ she finds interesting can leave reactions as likes and comments. Also, the app should allow users to share posts among their connections.
· In-app messaging
The app should allow its customers in carrying out personal conversations between the other users. Having this feature will allow the application to engage its customers on a real-time basis.
· App stories
Stories are one of the latest features introduced by Instagram to enhance user experience. Other than feeds, the users can add customized stories as their status which will last for a time of 24 hours. These stores will be visible for other users and the list of people who have viewed the story will be made available to the store owner.
· Personalized content
The app allows its users to avail more of personal content. It helps them in setting priorities, based on which the contents will be visible to them.
· Instagram for business
Instagram for business helps enterprises in delivering their products to a wide range of people. It also helps normal users in availing of the right products they are looking for. The application also helps businesses in delivering customized advertisements that play a major role in promoting their products.
Features affecting the development cost of a mobile application like Instagram
Rising demand for a mobile application like Instagram among a wide range of users has resulted in potential entrepreneurs thinking about developing a mobile application like Instagram. All they want to know is the factors affecting the cost of a mobile application like Instagram. Several factors affect the mobile application development cost and some of them are the platforms for which the mobile applications are built for, size of the application, location for which it's been built, app maintenance, app security, app features, technologies used, etc. are some among them. The app development company one hire for developing a mobile app like Instagram also plays a key role in determining the app cost.
How much does it cost to develop a mobile app like Instagram
We have seen the features affecting the cost of developing a mobile application like Instagram. One needs to invest a sum of USD 10,000 to USD 50,000 to develop one basic app of this kind. The price may vary based on the technologies that need to be integrated and various other requirements.
DxMinds Innovation Labs – Best social media app Development Company
DxMinds Innovation Labs is a leading digital transformation and social media mobile application Development Company that operates to deliver impeccable services to its clients that are widespread across the globe. Hands-on experience and proficiency over various technologies made DxMinds Innovation Labs one of the best mobile application development companies. For more details on how mobile applications developed by DxMinds can help you, drop a mail to info@dxminds.com