June 1, 2020
Posted by:

Admin

Category:

Famous App Analysis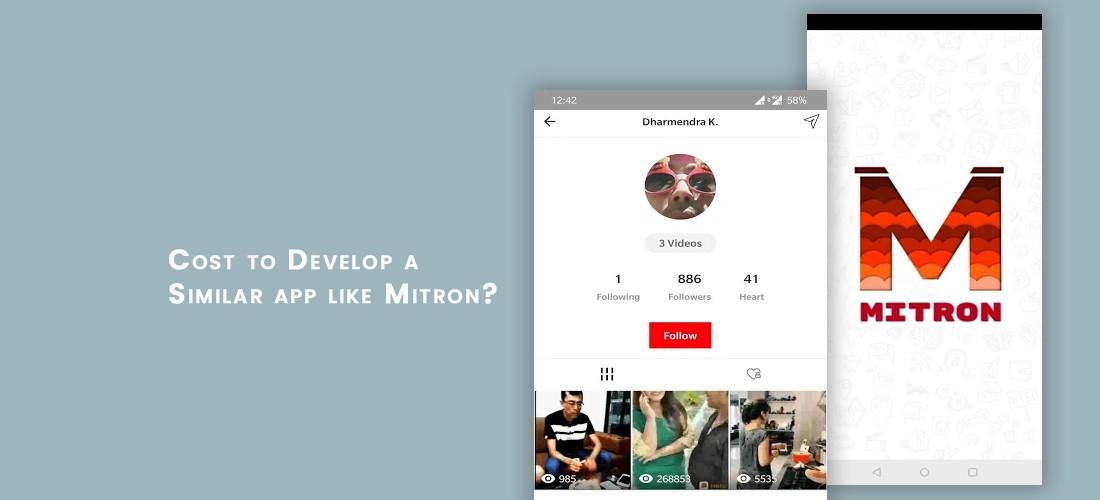 Lately, video streaming and sharing applications have become the most beloved and trendy topic of the town.
With more than 5 million users within a month, the video making and sharing app Mitron has turned into the next short-filming application that has surprised the world.
Individuals have begun to spend long hours watching videos and making content on this app and thriving into the most downloaded app within the few months of its launch
Of course, there is Facebook, Instagram, YouTube with the vast success story, however, now there are a lot of other social media apps that are merit using to grow your business in 2020. Moreover, Mitron is the best social media app that is impressing the market from everywhere throughout the world.
In this blog, you are entitled with most expected queries such as:
What is Mitron?

What are its features and Functionalities? and

How Much Does It Cost To Develop an App Like Mitron?
Have a complete study into the blog from start to conclusion to get a clear idea
About Mitron 
Mitron is a free Short Video and Social Platform based application. It is intended for the audience to exhibit their creative videos inline with the theme of light silliness. Mitron offers a simple and smooth interface for users to make, edit and share their videos, and simultaneously browse through a library of top videos over the globe.
The main motive at Mitron is to offer a platform where people can come and engage them-self with short videos posted by people over the globe and simultaneously make a socially innovative force for people to share and create their videos.
Most of the start-ups and enterprises are still in a dilemma that how this app within a short time achieved immense popularity.
Here is an analysis behind the magic of the app:
Mitron empowers users to create an exceptionally entertaining video by utilizing different filters, animation impacts, and music. 
Users are allowed to create any content directly from lip-syncing to dancing to tunes and to create unique content and challenges for the users.
Offer access to music library full with drifting songs.
Accessibility to share videos on social media. 
Get a Consultation
Basic Features of Mitron App
In the wake of breaking down the Mitron clone, DxMinds the top video streaming app development company has divided the app features into two classes: basic and advanced features and their expense.
User Login/Profile Registration 
At the point when we talk about developing an application like Mitron, including the login features is the essential thing to consider. The login features ought to be implemented into your social media video streaming app and give an alternative to signup from other social media platforms, including Facebook, Instagram. Ensure, to get to this application; users will be required to sign in the application. 
Upload or Save The Videos 
The best feature of the application comes here by enabling the users to upload their videos rapidly and effectively on the platform. To make it basic for users, given the option to either save or upload the video relying upon their advantage.
Push Notifications 
To connect with your users longer, it is a great benefit to integrate notification features that updates the users about comments, likes or different updates on their posted videos.
Filters and Effects 
Mitron app users are advantaged to utilize a lot of filters and effects to make their video more fascinating. Additional, there is a beauty filter, different stickers, and animation effects that can make your content more alluring. 
Video Sharing 
To build the number of users and followers on your application, it merits including a sharing feature. It empowers users to share their videos on other social networking platforms like Instagram, Facebook, Whatsapp, and more. By hiring the top android app development team such as DxMinds, you can easily get a video sharing element for your application.
Video Editing 
In Mitron, each user is entitled to make different editing in their short videos including cropping, flipping, rotating, reversing their uploaded videos, and exploring different playback speeds. Additionally, they are facilitated to record their videos with their choice of song as Mitron gives a broad music library to the users.
User Interface and Navigation of App 
UI is the foundation of your application, We being #1 On-demand video streaming app development company make sure to keep it basic and easy for users. After login into the mitron application, users will discover all the trending videos with easy-to-follow navigation. By simply scrolling over the screen, users can watch videos in a steady progression.
Advance Features 
AI-based Analytics
Empower amazing content discovery and connecting with video encounters. Apply A.I. algorithms to your live video stream to recognize, arrange, and clarify assets. Convert unstructured video into experiences with machine learning 
Live Video Streaming 
Live streaming lets you connect in with your followers with a video feed, talk, chat, and more. DxMinds the top video making app developers build an engaging clone app like Mitron by integrating a Live video streaming feature.
Augmented Reality based Filters 
With facial animation innovation, you can actualize the most interesting video filters with rich animation, fun face alterations, or even little AR scenarios called with a tap or facial appearance. Such intuitiveness builds user engagement and motivates for increasingly varied video content.
Get a Quote
Now let's dive into the demanding query i.e
How Much Does It Cost To Develop An Similar App Like Mitron?
Developing an application like Mitron is never a simple task, but at the same time, it's not rocket science. There are numerous Top Mobile app development companies in Bangalore like DxMinds who can assist you with developing a video streaming application with all the fundamental features. 
So the cost to develop an app like Mitron depends on various facts such as
Operating Platform
With regards to building up an application, it is primary to choose which platform you are going to target-iOS or Android? However, the ideal answer to this question is to target both the platforms if you want to make your application like Mitron. However, if you are running with a shortage of budget, initially you can go with a single platform considering the target audience and their desires.
UX/UI Design 
Did you know, what is the secret behind the accomplishment of the Mitron App? Indeed, it is exceptionally engaging and easy to use application design that allows users to get to this application without difficulties. User-friendly and instinctive UI/UX design plays an indispensable role in driving new users and acquiring their trust and loyalty
App Functionalities and Features 
The cost also relies on several features and how complex the application is. The advanced innovations with trending technologies hold more budget compare to basic ones.High features and functionalities were directly proportional to the high cost.
Development team
A skilled team of Project Manager, Android/ios developers, UX/Ui designers, and QA testers plays a major role in successful app development. The development team is equipped with the latest resources, technologies, and agile app development methodologies that assist in building high performing apps.
By considering the above facts, the cost to develop an app like Mitron may fall from $7K-$30K.
DxMinds-The leading video streaming app development company
DxMinds the trending app development company in Bangalore flourishing its footprints by developing demanding apps in the market with a blend of latest technologies and advanced processes. The company's success depends on a team of developers who are enthusiastic, skilled, and experience to develop engaging applications.
From On-demand video streaming to live to stream,we are experts in building robust video streaming applications 
Looking for video making apps then contact us on info@dxminds.com
Contact Us