How Much Does an app like Lenskart Cost?
The popularity followed by the wide adoption of smartphones and related mobile applications has resulted in massive digitalization, industry-wise. The advantages of mobile app facilitates have made it everyone's cup of tea, no matter what. Mobile apps fall under the category of such resources that offers unimpeachable services in scaling a business exponentially. The role played by mobile applications in executing innovative technologies in solving real-world problems is worth appreciating. Thus apps are taking over conventional practices and are having real dominance in making a business big.
The advent of mobile apps has added automation in every domain of business. Right from in-house operations to sales marketing and revenue generation, the app plays a remarkable role in meeting targets. Back in the day, mobile apps were just a symbol of prestige. However, nowadays, situations have turned the other way around and apps have become the skeleton of a business. As of now, millions and billions of mobile apps are available in the market, ready to serve their users. There are entertainment apps, infotainment apps, fintech apps, gaming apps, music apps, productivity apps, eCommerce apps, and several other apps. Moreover, a quality number of mobile apps are being deployed to the app store on a daily basis. This is a clear indication of how potential is the role played by mobile apps in our lives.
Lenskart is an online store exclusively designed for the sales of a wide range of eye wears. Lenskart is a pure example of how one can come up with an innovative idea leveraging digital transformation and mobile applications. The demand for an app like Lenskart is gaining huge traction as it is offering endless opportunities for scaling and revenue generation to its management. In this blog, we will discuss in detail Lenskart, its features, advantages, and business model. We will also have a detailed look at how much it cost to develop an online eye-wear store like Lenskart. So let us get started!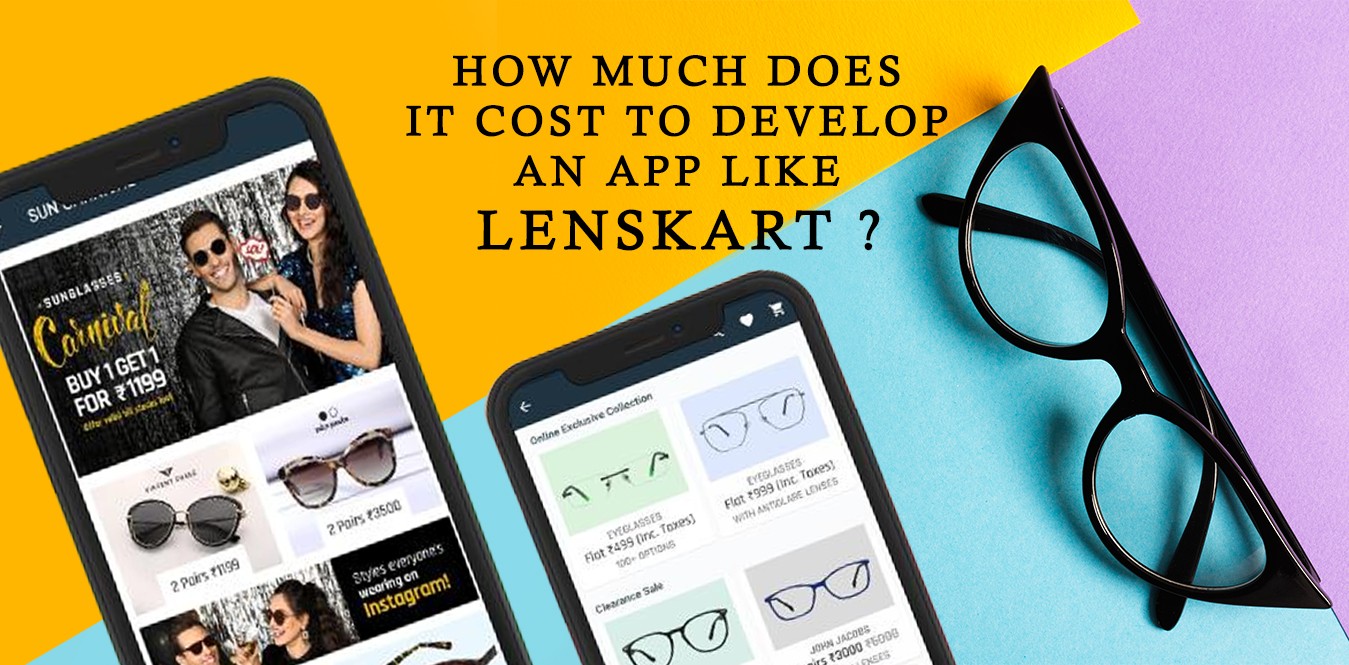 More about eyewear mobile apps like Lenskart
The leading Indian optical prescription eyewear retail chain Lenskart is founded by Mr. Piyush Bansal, Amit Chaudhary, and Mr. Sumeet Kapahi in the year of 2010. The main business operation of Lenskart, the Delhi headquartered eyewear supplier is by making use of digital platforms like mobile apps and websites. Even though they are successful at running an online business, in order to deliver enhanced and personalized customer experience, they started opening retail outlets. As of now, the company has successfully opened 500 retail stores in around 70 Indian cities. The Lenskart mobile app has turned out to be a huge success that a major chunk of sales and revenue generation revolves around the mobile app. Because of its successful business model and the impact, it is having on the Indian market, the company was able to generate investments from potential investors like Softbank, etc.
Major Investments in Lenskart
A large number of visionary investors have invested in Lenskart and this is a clear indication of how successful will be online eyewear selling mobile apps. With the latest investment from Kedaara, the total valuation of Lenskart has turned out to be approximately USD 1.5 billion. Some of the major investors in Lenskart are Sofina, Softbank, Kedaara Capital, Epiq Capital, Steadview, Capital Management, PremnjiInvest, and Chiratae Ventures.
How does it work?
Working model of Lenskart
The working model of Lenskart is quite simple. It acts as a platform that connects the manufacturer to the end customers by completely eliminating the middlemen. This helps the customers in availing high-quality products straight from the OEMs with no hidden costs or commissions. Lenskart makes use of various robotic techniques whilst manufacturing eye wears to increase accuracy and bring down errors to zero percentage.
With the advent of its mobile app, Lenskart was able to streamline its operations, right from marketing to sales and enhancing customer interaction. Of all the revenue generated by Lenskart, the majority of it is from the mobile app. Its app plays a crucial role in making the brand more popular among the customer. The Lenskart app is a fine blend of technology and creativity with all the necessary features integrated into it in order to deliver a unified experience to the users. Now, we are going to see in detail the features of the Lenskart mobile app. Let's move over to it.
Wide Range of Product Listed
By using the Lenskart app, one is given access to shop a wide range of eye wears ranging from Eyeglasses, sunglasses, prescription glasses, contact lenses, and much more.
The app is offering delivery pan India, which doesn't limit the customer's shopping experience.
Multiple Brand Under One Roof
Lenskart mobile app is enriched with brands that originate from the local markets to imported, vintage brands.
Scratch Resistant Products
Lenskart claims to be the authorized seller of scratch-resistant products that are less prone to tampering and scratches.
The app allows users to save their prescriptions to experience enhanced shopping. The prescription will be saved in the app for the users to save it later on.
The app delivers the best in-class user experience by offering a handful of discounts and cashback for every purchase.
In the event that the user wishes to visit a nearby Lenskart retail store, the app allows him to locate the precise one.
Lenskart offers end-to-end support to its customers in buying the ideal eyewear that meets their requirements. The buying guide which they give access to the customers is a part of one such process. This guide will allow the users in figuring out specs that fit the best for them.
The app makes use of a virtual camera to calculate the frame size of the user. Right after the app scans the user's face, it will refine the searches based on the result.
To deliver the best user experience, the app allows the user to virtually try the eye wears so that they can proceed with purchasing it. A smartphone camera is what the app makes use of to make this happen.
To add more value to the services they offer, Lenskart allows customers to book home eye services wherein certified eye practitioners will arrive at your doorstep for a complete eye check-up.
Features
Unique features of our Lenskart like app development services
Customer app features
Admin Panel App Features
Customer app features
Hassle free ways of registering an account on the app by making use of the mobile number, social media accounts, or email id. It also offers an ideal login process.
My Orders section is exclusively dedicated to the users who want to stay on top of their past purchases.
It is to this address provided by the users that the items they purchases will be delivered to.
The product that the customers wish to buy later can be bookmarked and added to the wish list.
The app is integrated with a safe and secure wallet. Users can make use of this wallet to add money which adds more value to their purchase.
The contents on the app are categorized using various metrics like men, women, kids, eyeglasses, reading eyeglasses, sunglasses, and much more. Also, it is categorized based on the price range, offers, and brands.
The app needs to have an interactive search bar where the users can enter the keyword. This has to take them to the right products they are looking for.
App inbox basically is a notification bar that will allow the customers to stay updated about the latest news and happenings about Lenskart.
The cart allows the users to add products to their baggage and still allows them to continue shopping.
The app comes with an order tracking facility that allows the customers in having insights about the details of their orders.
The app has integrated payment gateway system leveraging which the users can make seamless payments, that too in the safest and secure manner.
An SMS gateway allows the customers to receive OTP, shipment details and various other details
Admin Panel App Features
Our on-demand app development services
DxMinds Innovation Labs is a leading on-demand mobile apps developer in India, UAE, USA, Peru, and Australia. We help our customers build high-end mobile apps all from scratch to designing, development, and deployment. We follow the agile model of development. We always maintain one hundred percent accuracy and commitment to our app development services. Our in-house team is capable of building scalable on-demand mobile apps that take your business to the next level. As the leading on-demand mobile app development company in Bangalore, India we master the art of coming up with innovative digital solutions and products leveraging cutting-edge technologies.
Our app development services for various industries
Our mobile app development services are spread across the verticals of different industries.
Food, Beverages, and Grocery
We deliver explicitly outstanding on-demand mobile apps for the food, beverage, and grocery industries to digitalize and automate their internal frameworks. All the solutions we develop are homegrown and the best usage of the same can take your business in the food, beverage, and grocery industry to the next level.
Logistics and Transportation
A high level of Automation in the domain of logistics and transportation can offer you the best and most hassle-free experience. The entire business domain requires a high degree of digitalization for its smooth flow and DxMinds comes up with precise solutions for overcoming the challenges faced.
Home Service and Utility
A high level of Automation in the domain of logistics and transportation can offer you the best and most hassle-free experience. The entire business domain requires a high degree of digitalization for its smooth flow and DxMinds comes up with precise solutions for overcoming the challenges faced.
Beauty and Salon
The on-demand beauty and salon app we create has gained huge traction as the end customers prefer services to be delivered to their doorsteps.
Benefits
Here are few benefits of hiring DxMinds Innovation Labs as a development partner for developing an eye wear delivery app like Lenskart.
Highly Talented Professionals Team
The architects, testers, designers, project managers, and every individual who is part of developing a mobile app possess a high degree of professionalism.
Cutting-Edge Technologies
Leveraging cutting-edge technologies, we built innovative mobile apps that meet customer requirements and beyond.
All the on-demand app solutions we come up with are the result of continuous dedication and hard work and all of them are quite home-grown.
Costing Analysis of Lenskart like app
App platforms like iOS, Android, and Windows take away the major part in determining the app development cost. One needs to choose the app development platform based on a user basis.
A large number of technologies such as Artificial Intelligence, Blockchain Technology, IoT, etc. are getting integrated into mobile applications these days. Integrating any of the above-mentioned technology can be highly productive, but costly.
The more the security integrations are, the higher will be the success rate of the app and the user engagement.
How Much Does it Cost to Develop an app like Lenskart
The cost of developing an exclusive eye wear delivery app like Lenskart will be around USD 10,000 to USD 50,000.

Partner with DxMinds Innovation Labs in the process of developing an app like Lenskart. The experience we have in developing and deploying eCommerce mobile applications is all you need to outpace the competition thereby building a successful revenue-generating business model.
Frequently Asked Questions
DxMinds Innovation Labs is the right pick if you want to develop an e-commerce mobile app like Lenskart.
The more the features, the higher will be the app development cost. However, on an average basis, The Cost to Build a Clone or Similar Ecommerce App like Lenskart will start from INR 7, 00, 000.