October 10, 2022
Posted by:

Admin

Category:

Famous App Analysis, Mobile App Development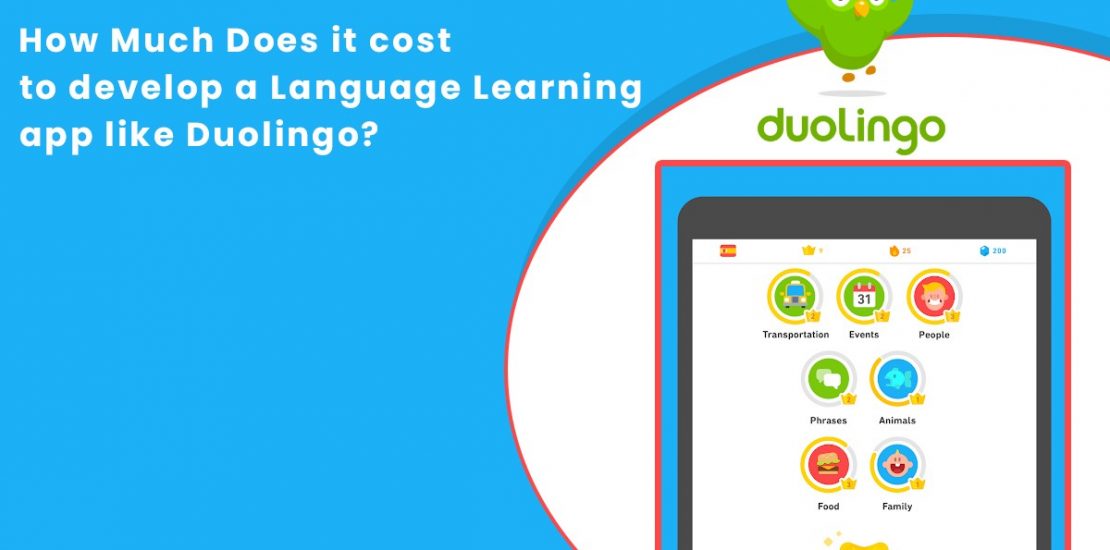 How Much Does it Cost to Develop an app like Duolingo?
Today, in the age of advance technologies and internet, where most of the companies have become multinational, so it is very important to learn foreign languages in order to connect with other countries team and clients. Therefore, some of the us are finding an effective way of learning, while others are looking for innovative solutions to this problem, in specific by developing an education mobile and web platforms. Yes, Mobile language learning applications have the potentiality to transform the way of learning languages, the successful and bright example is Duolingo. So let's have look about the app, its features and development cost.
About Duolingo
Duolingo is world's most popular free language learning app platform with more than 300 million users, developed and launched by Luis Von Ahn on 30th November 2011.
Helps the users to learn more than 30 languages.
The platform supports innovative learning methods through different exercises and fun games.
Uses low data with fast results and is completely free.
Available for adults, children ,student and teachers.
How does Language learning app Duolingo works? (Working Model of Duolingo)
Once you create the account, it automatically provides you with a list of languages (French, English, Arabic, Hindi and so on) to choose. Select one to learn
Next you can find a landing page and skill tree which provides the course curriculum.
Skill tree is represented by specific icons,each icon consist of language unit and series of lessons
Users need to complete each units which has multiple levels in Skill tree, In order to unlock further advance lessons.
Lessons is designed with 3 kind of questions which are Fill in the blank with multiple choice, Translation, Write what you hear.
Duolingo pattern is learn-as-you-go app where Vocab lessons allow you to match words with images, and incorrect answers leads with prompt explanation.
If you like to prefer "textbook" approach where each unit includes a cheat sheet, grammar tips, conjugation tables and other helpful notes.
Features of Duolingo App
Course with set of exercise (i.e Speaking exercise, Listening exercise, Sentence translation exercise,Multiple choice exercise and Tap the match)
Gamification elements
In app currency
Experience and level
Achievement badges
Streaks
Motivation
Leaderboard
Social clubs
Push notification
offline mode
Built-in feedback
Get a Free Consultation
Essential Features to Create a Language learning app like Duolingo
Make your own language learning app by accomplishing the essential features
The best way to enhance your app by including a feedback feature where users have the authority to review the course within the app and can provide a genuine feedback. A best way to know where your app is lacking behind.
Interesting and Innovative learning process
DxMinds, the top Mobile language learning app development company in Bangalore, have the ability to understand the user requirements, and provides an outstanding quality of the course presentation with extensive list of varying language courses. An app with a package of fun and interesting language learning activities.
A app which allows the user to listen, read, speak and write,do all the activities in one place, a best way to keep and engage your users.
Make for free for certain period of time
Provide a feature of cost free lessons with specific numbers for certain time .After completion of free lessons the user need to unlock the advance lessons by a payment option.
Language learning apps with informative and interesting illustrations provides a level of creative learning in fun quest format. A tricky way to make the users to easily learn the chosen language in entertainment point of view.
By introducing a feature where students have an option of video conference with real teachers, which makes learning methodology more interesting and exciting and increases the learner's confidence level.
Deliver best in short time
Now a day's people prefer for online learning, due to the busy schedules.Hence offering an app with various types of online courses can bring a best outcomes.
Do You have an app Idea?
How much does it Cost to Develop a Language learning app like Duolingo?
DxMinds a leading Educational App Development Company in Bangalore gave a rough estimate of language learning app development cost. The cost may depend on various factors such as
App platform
Basic features
App complexity
Size of app development team
The app development team must consist of
Project Manager
iOS developer, Android developer, Back end Developer
UX/UI designers
QA testers
Technologies Required
In order to create quality rich duolingo clone learning app, it must be integrated with advance technologies to fulfill the user requirements in right way.
User interface and User Experience
CSS, Bootstrap, jquery for front end (Webmodule/Version)
Database
MySQL, Postgres, Cassandra, HBase, MongoDB etc
Real-time analytics for virtual tutors in real time
Hadoop, Spark, Bigdata,Apache and IBM
Cloud
To safely store the app data
How Much Does an app like Duolingo Cost?
Now the cost to make an app like Duolingo can be high with number of advance features and integrated technologies. However an app with basic features can cost somewhere around $10k-$30k for single platform, it may go around $45k for react native or Hybrid app platform.
If you are looking to create your own language app, then send us a free quote with your app concept and requirement and get a free estimation with exact cost.
Get Free Estimation