October 10, 2022
Posted by:

Admin

Category:

Famous App Analysis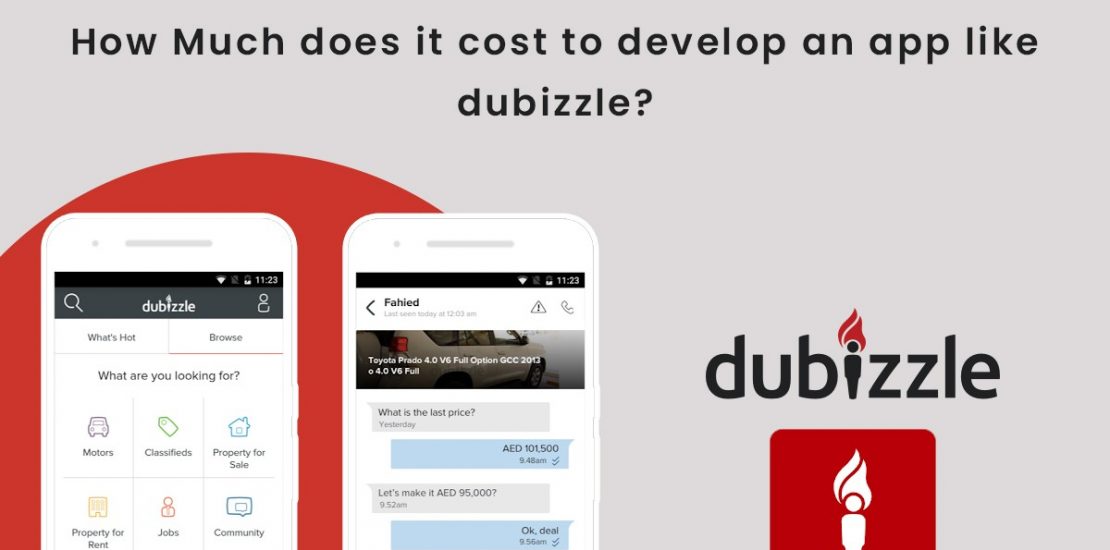 HOW MUCH DOES IT COST TO DEVELOP AN APP LIKE DUBIZZLE?
Hi there..In this blog, we are going to see the cost of developing an app like dubizzle. It is one of the widely used classified mobile apps in Dubai.
So, let's start!
Co-founded by Mr. JC Butler and Sim Whatley back in 2005, DUBIZZLE is an online platform for classifieds that enables easy buying and selling of products and services.  It is a Dubai-based multi-national company, having OLX as its parent organization.
The range of classifieds on Dubizzle varies from apartments to villas, vehicles, jobs, furniture, and much more.   
Let's see what are the main features of DUBIZZLE
DUBIZZLE acts as an online marketplace where anyone can sell or buy anything. New users can join DUBIZZLE either by using their Facebook account or Email id. Once registered, users can access their private space on dubizzle.
Classifieds can be submitted on dubizzle by making use of the "POST AN AD" option. In the next step, the users have to choose the city to which their advertisement belongs. Following is the step to classify the advertisement under the right category.
The available categories by default are
Vehicles of any kind can be listed under this category. It is again subdivided into different segments in like heavy vehicles, used cars, boats, motorcycles, etc.
This segment is exclusively designed for job seekers and recruiters. Candidates who are in search of jobs can find the appropriate jobs and recruiters who are in search of the right candidates can easily spot the right candidates under this category.
This section is for those users who want to make the right deal by selling their properties, that too by skipping brokers and their huge broker charges.
Building owners can find the right tenants by listing the property which they want to rent out under the property for rent category in Dubizzle. Users who are searching for acquiring rental properties are much more beneficial in this category.
Under this section, the users can find and list activities, classes, and workshops. Freelancers can also list their services in this section. Services like repair, maintenance, etc. can also be listed.
All other classifieds from selling furniture, household equipment, utensils, accessories, etc. can be listed under this category. When one user searches for their requirement, relevant results, and the price will be shown to them. The results can be sorted and filtered out as per locations, in ascending and descending order of the prices, popularity, and other requirements.
The chat options integrated into the app let the users carry out effective communication regarding their requirements. This will help them in straightening out the deal. Once the deal is done, the services/products can be handed over by either party.
How much does it cost to develop an app like dubizzle?
The cost of developing an app like dubizzle depends on several factors. Some of them are
location of the app
UX\UI
Support and Maintenance
App Platforms
Expertise Level
Complexity of design
Business requirements etc.
Anyway, at a leading mobile app development company like DxMinds, the approximate cost of developing an app like dubizzle varies from USD10K to USD50k depending on the above-mentioned features.
Why DxMinds for developing a classified app like dubizzle?
Developing a high-end classified and advertisement app like DUBIZZLE is an effortless task at DxMinds.
DxMinds stands out as one of the leading app development companies in Dubai because of its proficiency and expertise in the field of digital transformation. The solution offered by DxMinds varies from mobile app development to Artificial Intelligence, Machine Learning, Blockchain technology, Chatbot Development, IoT, AR/VR/MR, and so on.
DxMinds holds a group of app development professionals who are capable of rolling out the latest trends in the field of technology. The app developed by DxMinds helps you in determining the market pulse and alter your business accordingly.
Hire DxMinds as your digital transformation partner for experiencing the awesomeness of how digitalization can uplift your business to newer heights.
Feel free to contact us for more details
Email: inquiry@dxminds.com