October 12, 2022
Posted by:

Admin

Category:

Famous App Analysis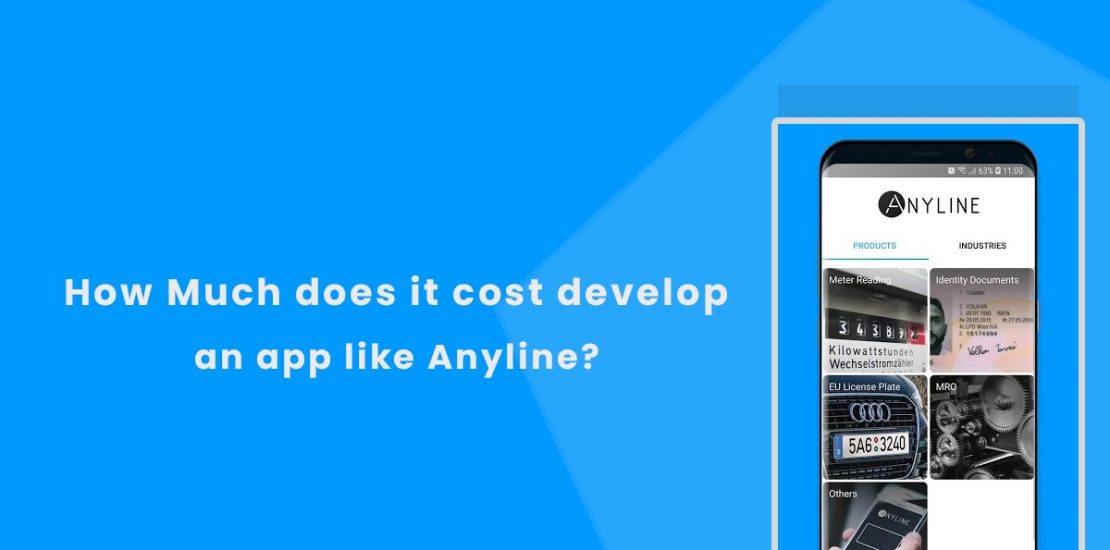 How Much does it Cost to develop a Text Recognition App Like Anyline
The war against crime is a never ending story. There are always some threats to be handled by our law enforcement agency, and the agents required some advance tools to assure the public with safe and protecting environment. Now a day's people are utilizing this advance technological tools with an intention to be aware of criminal and threat activities. One of the best app, Anyline OCR Scanner has come in market, with a full power to be the security guard of people. You may be curious to know about Anyline, its features and app development cost. Then have a look into this blog, which has been designed for entrepreneurs who are in desire to develop an app like Anyline.
Do You Have an app Idea?
So Let's Get Started:
About Anyline
Anyline is one of the top Mobile text recognition software specialized to scan all kind of text, numbers and codes. It is developed by a tech start-up from Austria in 2016, with an aim to spread the word about Mobile Optical Character Recognition. Integrated with internal or customer facing app and provides accurate, reliable and secure results .It scans and process the text 20 times faster than human being.
Amazing Features
Offline Scanning
Unlike the other Mobile OCR scanning, Anyline does not require any server connection for processing the images as it works offline directly on your smartphone.
Cross platform support 
Currently the app runs on Android and iOS and it can also integrated on other platforms like Hybrid, react native and so on.
Real Time Recognition
When scanning with Anyline it gives the feedback immediately, then it not only takes the picture but also focuses on object. And processes the extract information which is transformed into digital format.
Key Features
Meter Reading
Scan any type of Meter anywhere and anytime directly through mobile device. Yes Anyline the Mobile meter scanning terminate the manual errors and reduces the time needed to get readings and automatically document into your system.
The users first scan a meter through Anyline, the verification image is created and attached to your scan and provides you the complete tractability.
License Plate Scanning
The app features for Licence Plate scanning which provides a total control and highest security by processing the data instantly. Anyline license plate scanning is optimized for Parking management, Highway monitoring and fleet/car management.
Id Scanning
Powerful technological features supports the Scanning of ids with your smartphone which includes Driving licence scanning, MRZ and Passport scanning, Voter Id scanning and much more. The process simplifies the work of employees and saves the time and money.
Get a Free Quote
Advanced development Tips from DxMinds
For Agencies
As a digital business you need to be up to date with innovative solutions and technologies. If you want to be at a top position against competitors then you need to be one step forward. Developing an app like Anyline which take your business at a peak level because the app is applicable in various industries.
For Brands
A well-known company have a strong product and great brand but don't have idea how to transfer it into digital world? Offer your customers an app like Anyline by which you can provide redeem voucher codes from your products where they can use the codes by simply scanning with smartphones.
For Enterprises
If you are running a big firm and want to save money for any other important work? What an easy way to do so by automating the company processes? Think how repetitive and hectic tasks your employees have to on daily routine, which includes typing a kind of number and letters. Why can you facilitate an app like Anyline which let them to use smartphone and scan the characters?
How much does an app like Anyline Cost?
After giving the brief about Anyline app and its benefits, now it's time to breakdown the app development cost of Anyline. DxMinds the top Mobile app development company have a strong team of trustworthy developers and advisers who have experience in developing a clone like Anyline and assure you with powerful mobile OCR app which hit the market with best scan results.
Asper our experience and knowledge about app the cost for developing an app like Anyline may range in-between $10K-$50k depending on several crucial factors such as features, app size, platform and add-on technologies.
We are here to offer hassle free scanning solution that will save your time and money. Tell us about your business challenges and feel free to send us your requirement.
Get a Free Consultation