October 11, 2022
Posted by:

Admin

Category:

Mobile app development cost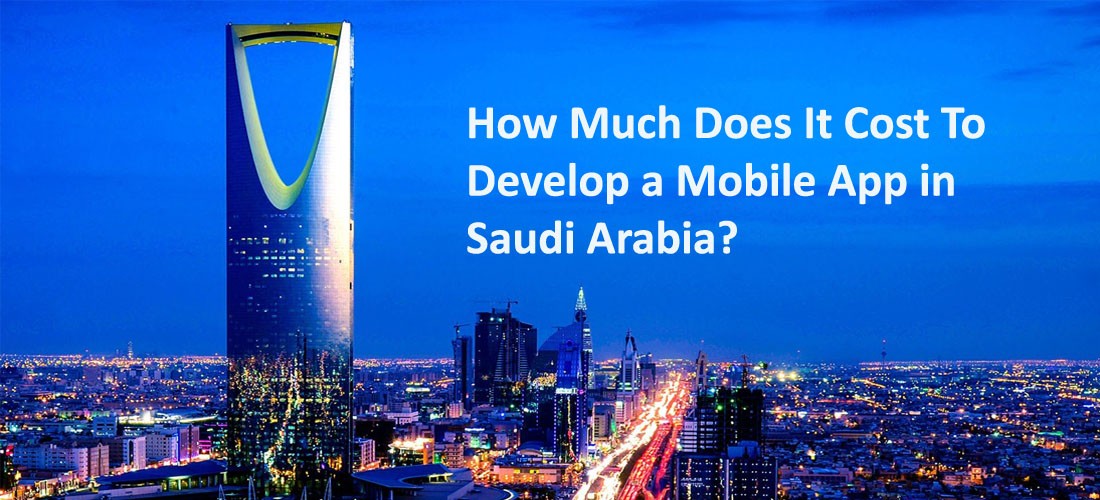 Mobile apps with its in-depth applications and advantages are enhancing various industries throughout its verticals. The wide application of mobile applications over various industries has resulted in massive digital transformation where several processes were streamlined and made flexible. Right from day one of its advent, mobile applications are taking over conventional methods and practices. It has transformed the entire business frameworks, no matter what. There are about three billion mobile applications available in the market as of now and many are been deployed daily. Just by analyzing this, we can figure out the impact mobile applications are having on the current infrastructure. The rising demand for mobile applications and building mobile applications have given rise to the growth of mobile application development companies across the globe.
Saudi Arabia holds its position among very few countries which are the aggressive technology adopters. All of the advancements that take place in Saudi Arabia have a pinch of technology and digital transformation involved in it. Mobile applications are in the frontline of digitalizing the whole economy in Saudi Arabia. Leveraging mobile apps and widespread applications of the features it facilitates, businesses in Saudi Arabia are making the most. Businesses in Saudi Arabia, regardless of their industry or domain are known to be the early adopters of mobile applications. Thus mobile applications play a dominant role in digitalizing the entire economy of the nation. In Saudi Arabia, mobile applications come in different types and sizes. Various technologies such as artificial intelligence, machine learning, Blockchain technology, etc gets integrated into the frameworks of mobile applications as per demands. All of these solutions are trending as of now. Not only these but also various other technologies are also there that can be integrated seamlessly. The purpose of this article is to create awareness among entrepreneurs who are actively looking forward to developing a mobile app in Saudi Arabia.
Why Businesses in Saudi Arabia needs a mobile application to survive
One can never ignore the role mobile applications plays in digitalizing businesses and disrupting conventional ways. Things are no different in Saudi Arabia. Businesses in Saudi Arabia are driven by digitalization and innovation. In an era where the lion share of its population is smartphone users, one can't just design a business model by ignoring the possibilities of digital transformation. In Saudi Arabia, the end-users are regular smartphone users, and a revolution by making use of mobile applications can have a huge impact on its businesses. Mobile application not only helps businesses in attracting potential clients but also helps them in enhancing the brand value and appearance. Not only in Saudi Arabia but also around all parts of the globe, mobile applications are the ideal tool designed to skyrocket sales and revenue.
Must-have features of a mobile application in Saudi Arabia
To outpace the race to becoming number one, a mobile application needs to have certain features. Let us see in detail what they are.
· Engaged app platform
Right before developing the application, one needs to find out the perfect mobile application platform for which the app is been developed. As of now, there are mainly two platforms; iOS and Android. One needs to carry out several types of research to find out the ideal app development platform that meets his requirement.
· Mobile application technologies
A large number of technologies such as Artificial Intelligence, Machine Learning, Blockchain, IoT, AR/ VR/ MR, etc is available in the market. Integrating the best technologies is capable of enhancing the user experience. It is no doubt that the apps thus developed will stand out odd among its competitors.
· App Design
One of the primaries must-have features a mobile application should have is a stunning design side. It is this design that plays a major role in deciding the success of a mobile application. It should be eye catchy yet simple. It should have the capacity to prompt a user in being a recurring one. It should have a high degree of customer engagement rate as well
· Third-party Integrations
For an app to become fully-fledged, it should have various third-party plug-ins integrated into it. An app should never fail to onboard these integrations as it plays a major role in determining the success of the mobile application. Third-party integrations are meant for enhancing various features thereby offering a hassle-free experience to the end customers.
· App security
A highly successful app will be used by millions and billions of people and the app has o stay away from all kinds of security and malware issues. It should also be free from hackers. As it deals with a lot of personal data of its users, any kind of security threat will cause harm to the reputation of the organization the app represents.
· App Maintenance
Apps need to be maintained properly to ensure its usability and customer friendliness. Many entrepreneurs often ignore proper app maintenance and give less priority for it. This, in turn, can affect the working of the application and end up in the customers being more frustrated to sing the app.
Finding the best app development company in Saudi Arabia
The demand for mobile applications in Saudi Arabia is skyrocketing. One has to follow these steps to find out the best app development agency in Saudi Arabia.
· Prepare a rough sheet of almost all app developers in Saudi Arabia. It can be done by searching down on various search engines
· Filter the list based on customer reviews. For example, one can look for google customer reviews, Facebook reviews, etc.
· Study in detail about the technologies they master
· Have a detailed analysis of their portfolio
· Keep in touch with their previous clients and have a detailed conversation regarding their experience with them.
Factors affecting the development cost of a mobile app in Saudi Arabia
The development cost of a mobile application is bound to a wide range of factors. Some of them are app platforms, app size, app features, integrations, technologies, app maintenance, app deployment, app development agency, app security, etc.
Cost of developing a mobile app in Saudi Arabia
We have seen the in and out details of developing a mobile application in Saudi Arabia, features affecting the app development cost, etc. Now coming to the costing part of it, an app will cost around USD 10,000 to USD 50,000 to develop. This may vary based on the requirements and various other features that get integrated.
DxMinds Technologies- the best apps development company in Saudi Arabia
To serve wide set f entrepreneurs in making their dream come true and to contribute seamlessly to the digitalization of Saudi Arabia; DxMinds Technologies is delivering unmatched services that meet global standards and guidelines. The company focuses on imparting the best in class services to its clients, thereby being the active contributor to the digital economy. High expertise and hands-on experience over various technologies such as Artificial Intelligence, Machine Learning, Blockchain Technology, IoT, AR/ VR/ MR, etc have made DxMinds Technologies one of the best mobile apps development companies in Saudi Arabia.