April 9, 2020
Posted by:

Admin

Category:

Mobile app development cost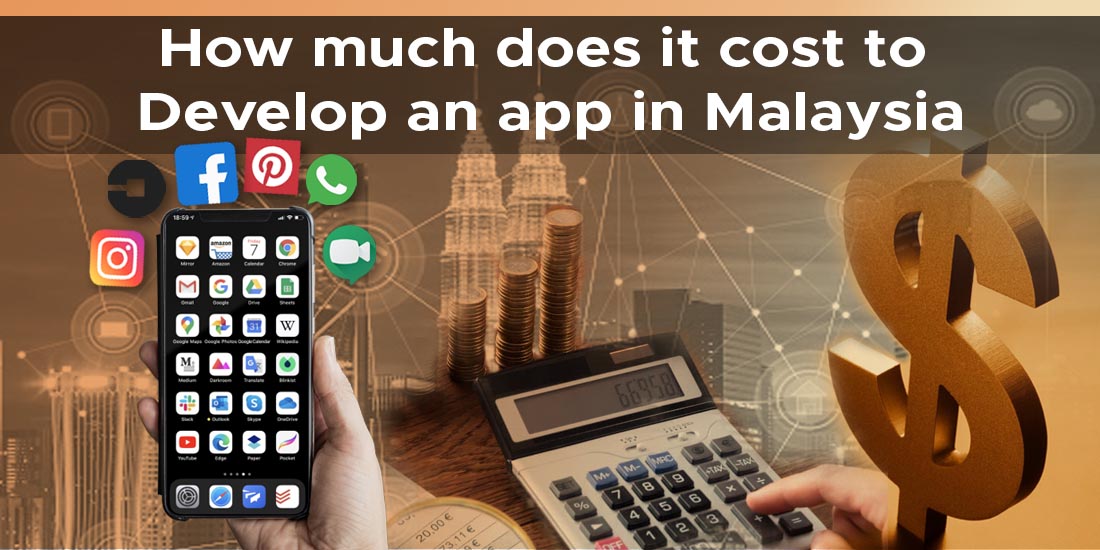 Mobile App Development Cost in Kuala Lumpur Malaysia
The mobile application has been transforming our lives since the very first day of its introduction. Right from taxi booking to online payment, food delivery application and much more, mobile applications are transforming our lives much more and beyond. Malaysia is a booming nation with technology in the frontline. A wide adaptation of technology and mobile solutions are aggressively carried out in Malaysia to enhance the growth of its economy. Lives of the people in Malaysia are highly dependent on smartphones and related mobile applications that survival without it would be hard.
How mobile applications are impacting businesses in Malaysia
Because of the advancement they offer, Businesses in Malaysia are widely switching their operations to a digital space leveraging mole applications. Most of the business in Malaysia has found that amid a Smartphone revolution and a lion share of the population in Malaysia are regular smartphone users, the best way to engage customers to a business will be by making use of a digital platform, hence mobile applications. Mobile application helps businesses in multiple ways. They let them in having proper and enhance customer engagement, target the right set of audiences based on various demographics like age, sex, profession, etc. No other ways can outpace the capability of a mobile application in sending customized promotions in the form of banner images, video and push notifications. Mobile applications are the best tool to leave a feeling of branding among customers. Mobile applications are faster when compared to any other conventional methods like websites, which make customers free from the rid of boredom.
Advantages of mobile applications
· Faster, Reliable and convenient
· Streamlines internal operations
· Best tool for engaging customers
· Highly efficient
· Eliminates all the hurdles and barriers
· End-to-end security
· Works offline as well
Read More: Top Mobile App Development Company in Kuala Lumpur, Malaysia
Factors affecting mobile app development
The main factor that plays a major role in the app development process is the cost to develop a fully-fledged one. There exist a large number of factors that determine the mobile app development cost. As an entrepreneur, one should be very much aware of the costing aspects of mobile app development as this helps them in both saving and losing funds. One should always search for the best resources for the least amount. If you are not aware of the cost determining factors, we will help you supply the same. We are sure that this will enlighten you and will be a potential resource in knowing the app development cost in Malaysia. So let us see what they are:
· Mobile Application Platforms
Platforms for which the mobile applications are built for plays an important role in deciding the mobile application development cost. One needs to decide the development platform based on their customer database and by having detailed research on which platforms their customer base uses the more. There mainly exist two main operating systems for which the mobile applications are built for. They are an Android app development platform for android phones and iOS for Apple phones and gadgets. In an event where one needs to develop both Android and iOS mobile applications, one can try developing a hybrid mobile application that will help them save a potential amount of money.
· UI/UX
A mobile application should have an enhanced user interface and should never fail to deliver the best user experience to its customers. To avail of a mobile application that holds a potential user interface and delivering top-notch user experience, one needs to invest a quality amount of money in the process. It is a process which should not even have a small degree of compromise, having so will affect the entire brand and its value.
· Technologies Used
As time goes on, a large number of technologies are being introduced. There exist several technologies in the current tech-savvy world and some of them are Artificial Intelligence, Machine Learning, Blockchain Technology, Augmented Reality, Virtual Reality, Mixed Reality, Internet of things, etc. As the app demands, one needs to integrate the best use of technology in the mobile application to deliver an exemplary experience to its customers.
· Additional features and third-party APIs
As per requirements, an app needs to be enhanced with several third-party APIs and integrations. This is one of the factors that determine the app development cost.
· App Location
The geographical feature of the location for which the mobile applications is been developed plays an important role in determining the mobile application.
· App Size
The size of the app is also a major factor that needs to be considered whilst developing a high-end mobile application. As the features get enhanced, the size of the application gets increased.
· App Security
Mobile applications need to be enhanced with a high degree of security as it needs to be free from malware attacks and other hacker activities. As the measures taken for security can charge you high, this can determine the app development cost.
How to minimize mobile app development cost
· Proper research
Right before going for the process, one needs to do a potential amount of researches which helps them in having a detailed idea of what they are going to d with the app.
· Ideation
The stage of ideation helps entrepreneurs in making their ideas turn to vision. They can make a project plan and related documents under this. Proper planning right before developing the mobile application helps business owners to save a potential amount of funds.
· Resources
On the need to be keenly aware of the resources he needs to have access or need to integrate into the mobile application. It can be technologies, developers, features, etc.
· Minimum Viable Product
Minimum Viable product is the most efficient strategy to know the market pulse. In a nutshell, the minimum viable product will not help you in saving money, but it can help you in supplying the right things to the right resources. In other words, it can be said as the right tool to go to market strategy.
How much does it cost to develop a mobile app in Kuala Lumpur, Malaysia?
Demand for mobile applications is rising like rapid fire in Malaysia. In an event where all the businesses are switching to online platforms, entrepreneurs are busy searching for the mobile application development cost in Kuala Lumpur Malaysia. Let us see how much does it cost to develop a mobile app in Malaysia. There are a lot of factors deciding the app development cost and we have seen it in detail previously. However, the approximate cost of developing a mobile application in Malaysia will be around USD 10,000 to USD 100000. The cost may vary based on the type and characteristic of the mobile application.
DxMinds Technologies- the best mobile application development company in Malaysia
DxMinds Technologies Inc is a leading digital transformation and mobile application development company in Malaysia having headquarters at the USA and corporate offices in India, UAE, Peru, and Australia. The company focuses on imparting unmatched app development services to the clients, thus becoming the best app developers in Malaysia. The mobile applications developed by DxMinds Technologies are scalable, reliable and highly productive. DxMinds Technologies develops innovative solutions leveraging its homegrown technologies that help clients in generating fruitful sales and revenue.
Conclusion
We hope this blog served its purpose in letting you aware of the app development cost in Malaysia. Hire DxMinds Technologies, the economical mobile app development company in Malaysia to develop mobile applications of your kind. For more details, info@dxminds.com