January 24, 2023
Posted by:

Admin

Category:

Mobile App Development, Mobile app development cost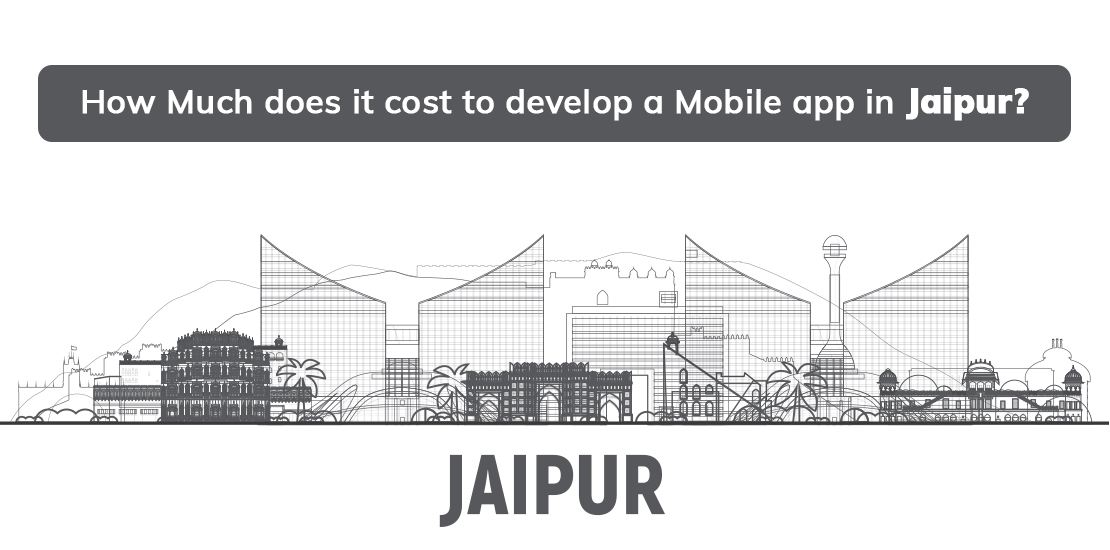 Increased demand for the latest apps propels smartphone technology to new heights. Daily operations are becoming more convenient and user-friendly thanks to mobile apps invention. In recent years, an increasing number of people have turned to handheld devices to find even the most mundane information, such as where to eat or how to paint a wall.
In Rajasthan Jaipur, the demand for mobile apps is at an all-time high.
Jaipur a royal city also known as the Pink city of India is advancing in terms of IT zone and mobile app development world.
More and more businesses from every niche showing knee interest in building a high-tech mobile app for raising the bars of their businesses
Are you looking to build a customer-serving mobile app in Jaipur at budget-friendly rates?  But don't know where to start and how to start?
Before you jump into anything you might be seeking a basic idea about the cost and everything.
Then this educational blog powered by a Trustworthy mobile app Development Company in Jaipur discloses everything about the factors affecting the Mobile app development cost in Jaipur and the cost of developing different types of apps in Jaipur
Factors affecting the cost of building a Mobile app in Jaipur
The cost of developing a mobile app in Jaipur is determined by a number of factors. However, the following seven factors are critical:
The level of complexity in app development
Estimating the cost of developing an app in Jaipur is the same as planning a house. The more features you add, the higher the price.
Simple apps require less development time and cost less. However, integrating advanced mobile app features into your mobile app will increase development time and cost. As a result, it is critical to ask yourself the following questions:
How many features are you including in your app?
Is the application's business logic complicated?
How many screens, buttons, and functions will it have?
Here's a more detailed breakdown of mobile app development costs based on complexity (assuming $25/hour as the average app price):
| | | | | |
| --- | --- | --- | --- | --- |
| Complexity level | Features | Examples | Development time | Cost |
| Simple app development cost in Jaipur | Profile creation, search, notifications, and messages are all essential features. There are no additional benefits.fewer displays calendar, calculator, or digital camera | Calendar, calculator, or camera apps | 2-4 months | $5000-$40000 |
| | | | | |
| Average or Mid-level apps | In-app purchases and payment portals are essential features.API integration is possible. There are more screens than in the basic version. User Interface Design Other features include real-time messaging. | Dominos app | 3- 6 months | $35,000-$80,000 |
| Complex apps | Multipurpose applications Real-time synchronization is one example of an advanced feature. A UI animation Media Editing | Instagram, uber | More than 9+ months | $90,000+ |
App type
Mobile apps can be broadly divided into Native, Web, and Hybrid types. The requirements, business logic, and functionalities of each type of app make them distinctive.
Native apps are created in a language specific to the operating system of the target device, such as Objective C or Swift for iOS and Java or Kotlin for Android.
Web apps are websites that have been optimized for mobile devices and use responsive design to provide a fluid user experience on devices with different screen sizes, such as tablets and smartphones.
Hybrid apps are best suited to meet the needs of a broad audience because they are created using a combination of web and native technologies.
Here is a comparison table that highlights the differences between Web, Native, and Hybrid mobile application development to help you better understand how much it costs to create various app types.
| | | | |
| --- | --- | --- | --- |
| Elements | Web | Native | Hybrid |
| Cost to app development in Jaipur | $10,000-$50,000 | $15,000-$90,0000 | $12,000-$200,000 |
| Performance | Depending on the browser's functionality and internet connectivity. | As they have access to native device features, they are very effective. | Reduced performance as a result of restricted use of native device features. |
| Distribution Channel | directly accessible on the internet | Hosted in the operating system's App store. | Hosted in the operating system's App store. |
| Required skills | HTML, CSS, Javascript | Objective-C, iOS SDK, Java, Android SDK | HTML, CSS, JavaScript, Mobile Development Framework |
| Best used for | Applications with low resource and financial requirements and no high-performance requirements. | Applications that demand high levels of optimization, such as games or consumer-oriented applications where as performance, graphics, and positive user experience are essential | apps demand complete device access but do not have high-performance requirements. |
The operating system that your application will use
A mobile app for iOS and Android is expected to cost the following:
Android app development cost in Jaipur can fall between $5000-$100,000
IOS app development cost in Jaipur can fall in between $10,000-$100,000
The price of these two platforms is not significantly different. You can choose to build an app for iOS or Android. You can even build an app for one platform and then later build it for another, which is known as a stair-step approach. For instance, Instagram, which debuted in 2010 for iOS users, only became available for Android users four years later, in 2014.
UX/UI design complexity
The users, their needs, and their user experience have become the primary focus of the entire mobile app development industry. Customers now have a variety of applications to choose from, giving them the chance to select a high-performing, clearly designed solution.
For this reason, budgeting a sizeable sum for building design is an essential step in app development cost estimation. Customized UI/UX design, which includes buttons, icons, fonts, logos, and other components, is included in the cost of developing a custom app. Although UI/UX designers are pricey, skilled designers will give your app a beautiful appearance and a fantastic user experience.
Ongoing Maintenance and Support
The cost of developing an app doesn't end with its release. If you stop using the app as soon as it's released and don't keep an eye on it, you might end up with out-of-date software. Without ongoing upkeep, bug fixes, and feature additions, your customers will grow disinterested and opt for a more cutting-edge product available on the market. A project's total app development budget should account for 15% to 20% of the average cost of app maintenance.
The cost of app development in Jaipur depends on the app type
Static Information App
Using a simple app, display static data. By only adding a hyperlink to the app, the cost of developing such simple apps in Jaipur is under $15,000. There is no server connection in the app, and screenings are only available for 6–10 people. Simple apps can be made quickly without a backend. Users can easily check the information because of the user interface's intuitive design. If information and servers need to be updated, static apps can cost more than $20k.
Mobile E-Commerce App
With the growing popularity of online shopping among consumers, e-commerce mobile app development is becoming more and more popular in Jaipur. The mobile e-commerce app has sections for managing accounts, registering users, displaying inventory, accepting payments, and a secure system. The cost to develop an e-commerce app in Jaipur ranges from $20K to $50K, and it takes 3–6 months to complete. Do you need any customization for the development of an e-commerce app? E-Commerce app development gets more expensive and takes longer when novelty features
Multiple-User Mobile Applications
Mobile apps with multiple users are spreading like wildfire. Twitter, Instagram, TikTok, and Whatsapp are a few instances of such multi-user apps. Multi-user apps with thorough features, design, and development are major areas of focus for developers. Developing multi-user apps, therefore, starts at $30K. With each new feature the app receives, the cost will rise. Real-time chat functionality must be built into the online platform.
Gaming apps
The demand for gaming apps is evident from market trends. These apps are made using extremely sophisticated programming techniques, from storyboarding to animation. The creation of gaming applications in Jaipur necessitates knowledge in a variety of fields. A 2-dimensional app costs $35K-$70K to make and takes 3–6 months. But with an 8-month development period, the cost of developing the 3-D game app will probably be higher than $70K.
Managing Business Process Apps
Mobile apps for business processes must be created in order to streamline operational procedures. These business management apps are utilized by commercial organizations. CRM is the standard illustration of a business process app (Customer Relationship Management). Business process apps require a high level of specialization, making the cost of development high. An app for workforce management can be made for anywhere between $15K and $50K. For intricate programming, an app developer in Jaipur charges between $25 and $40 per hour.
User Productivity Apps
These days, smartphones are everywhere. Nowadays, almost everyone has access to a mobile phone. As a result, the demand for productivity-boosting apps grew over time.
Software developers demonstrate their willingness to invest their time in creating user productivity applications like Evernote, Dropbox, and Email. Using these apps on their smartphones makes it simple for people to manage their work.
These kinds of apps offer seamless synchronization and a wide range of user-defined options. Such apps cost between $20K and $30K to develop as mobile apps. Apps with fewer features typically take 1 to 3 months to develop.
Marketplace Mobile Apps
Comparable to the Uber and Bird apps are marketplace mobile applications. A chat system, location sharing, and payment integration are just a few examples of native features that are required for these apps. With so many features, creating mobile apps for the marketplace is a challenging process. The cost range for creating a marketplace app for iOS and Android in Jaipur is $25K to $70K. Typically, it takes 3 to 9 months to develop one of these apps.
How to Create an App on a Budget?
How can you ensure that the quality is maintained while keeping the average cost to build an app as low as possible?
Discovery Phase
Do thorough research and do not skip the discovery stage. You'll increase your chances of success and avoid making costly mistakes by becoming familiar with the technologies, and platforms, and knowing your rivals and target market.
Ideal Vendor
When choosing the appropriate vendor, be cautious. Visit their homepage to learn more about their background, the products they have developed, and reviews. Professional software development firms will ensure that you calculate your budget accurately and objectively and stick to it throughout the entire project.
Outsourcing
Think about outsourcing to businesses in India that offer more affordable rates.
MVP
Make a basic version of the app first, starting with only functional features (an MVP). Avoid setting lofty goals right away and only include the features required to meet the needs of your users. such as using an Uber-like app to find a ride.
Simple Design
Stick to basic, clear design elements in the first draught. If the initial launch of the app goes well, you can then move on to something more complicated.
Cost Analysis
Never undervalues the significance of the app development cost analysis. You could conduct a more accurate estimation after the discovery stage, but you could start with a rough ballpark estimate.
Consider the scope
Plan out and follow the applications' scope. However, for the initial version, try to stick to the plan. You can expand the scope in later phases and iterations.
What can you do to lower the cost of developing apps?
It might feel a little overwhelming to keep track of everything, especially for your first project. There are, however, some important pointers that can help you stay within your budget when developing mobile applications.
Communication
Ensure that team members are communicating effectively and continuously. This idea is simpler to understand and put into practice thanks to agile methodology.
Testing
Do not believe that you are capable of putting yourself to the test. A separate team of QA experts is necessary because it is a crucial but extremely difficult step in the procedure. Make sure they participate in daily team meetings and stay on the same page with everyone else.
Feedback
Start gathering feedback as soon as you can. You can learn from customer feedback what users need and value, what they are willing to pay for, and which features they think should be eliminated. You won't get an unbiased assessment of your product without appropriate continuous feedback, which will prevent you from developing and improving.
Flexibility
We've already stressed the value of adhering to the scope and budget, so this may seem contradictory. Software development must allow for some flexibility, though, particularly in the current volatile IT market. If you get user feedback that makes you realize the original plan needs to be changed, analyse it and try to put some changes into practice to satisfy the needs of the users.
How Much Does it cost to build a Mobile app in Jaipur?
As one of the top mobile app development companies in Jaipur, India, we have dealt with a lot of clients who spent a tonne of money on their applications' development only to fail miserably. In light of that, here are some suggestions from our end:
Idea That Is Right
Clear understanding of what you need and don't need
Appropriate planning and execution
Selecting the appropriate developer
Onboarding a reputable mobile app Development Company like DxMinds, who specializes in providing cutting-edge mobile app development services for a variety of industries, has estimated the cost of developing an android or iOS app in Jaipur to range from $5,000 to $1,000,000 in total. You'll see an effective mobile application that complies with rules and standards set by countries all over the world.
If we reveal the cost as per the company size
Startup Development Cost in Jaipur per Hour is: 10 – 20$
The established Development Cost Per Hour is: 50$
The cost to Develop a simple Android or iOS Mobile App is: 8000$ – 40000$
Time Taken to Develop Android & iOS Mobile App: 300 – 800 Hrs
How DxMinds can assist you in developing a mobile application on a limited budget?
Whether you're a small to medium-sized business or an established company looking to revitalize your current digital presence, our team can provide a solution that works for you.
It can be difficult to find a trustworthy app development partner in Jaipur India. Numerous factors must be taken into account, which can occasionally feel overwhelming. However, the mobile app development professionals at DxMinds can assist you in creating a safe and scalable mobile app on a tight budget. Get the most affordable plans and prices for app development by getting in touch with us.
FAQs
Which is better: an app development company or freelancers?
Freelancers appear to be less expensive financially. They don't provide any accountability, though, for your mobile application. If the app doesn't work out as expected, you can't hold them responsible. An app development company like DxMinds, on the other hand, takes total responsibility for your mobile app. So an app development company is preferable to a freelancer.
How long does it take to develop an application?
A mobile app can take several weeks to several months to develop, depending on its complexity. It takes approximately 1200 hours to develop an app like Uber. On the other hand, it takes 1000 hours to create a dating app like Tinder.
How do I pick a reliable app development company in Jaipur?
In order to select a trustworthy partner for mobile app development, keep the following in mind:
Pick a business partner that values its customers.
Never skimp on your technology or subject-matter knowledge.
Examine the references, customer reviews, and portfolios of your development partners.
Watch their communication style and how much they focus on your vision.·        
Ask the appropriate questions to make your decision easier.