October 10, 2022
Posted by:

Admin

Category:

Fantasy Sports App Development, Mobile app developers, Mobile App Development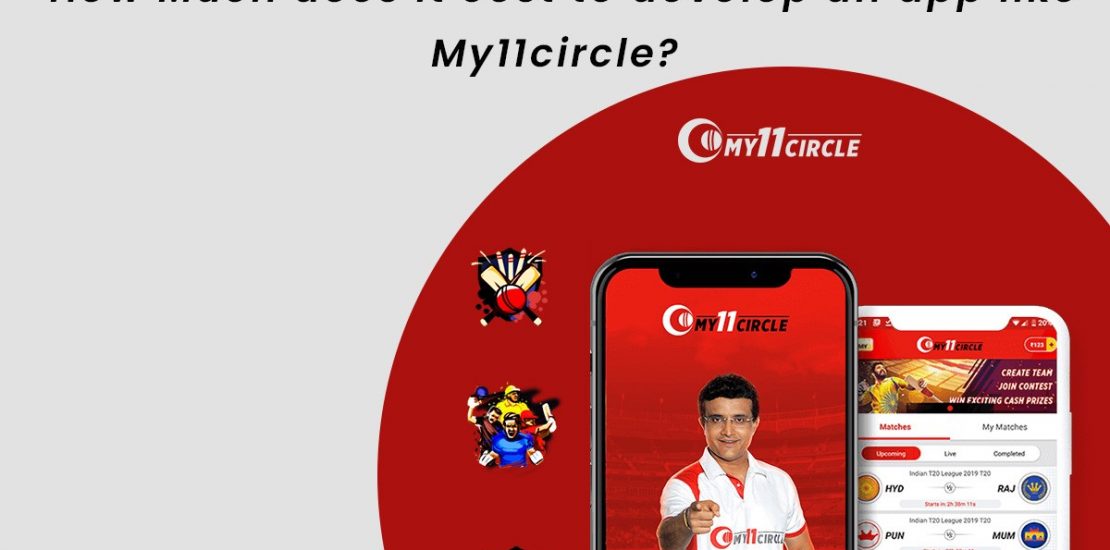 How Much does it cost to develop a Fantasy Cricket app like My11Circle?
Fantasy Cricket: India's new delusion taking the Country by Storm.
The newfound popularity of fantasy sports has created a high enthusiasm for cricket and has fueled the pace of India's gaming industry.
And Now Most Business People are amazed by the fact that.
How Fantasy Sports is becoming a Multi-Billion dollar business globally.
Why is fantasy Cricket gaining high popularity in India?
To answer your queries, the top Mobile app development company DxMinds has given a detailed description of the popular Fantasy cricket app My11Cricle, its features, and app development cost.
Let's get started
Request Callback
About My11Cricle
My11Cricle is an online fantasy cricket game owned and operated by Games24x7 Pvt. Ltd. designed for cricket lovers to showcase the highlights of cricket.
My11Cricle app is a platform that makes you enjoy Fantasy Cricket from your mobile and showcase the full details of the match. Here users have to create their virtual team of real-life players based on their performance in the real game. The App offers exciting rewards and real cash prizes that boost the skill set of its users. The app also provides a detailed analysis of the live match, team news, captain choices, and expert team for My11circle.
My11Cricle Main Features
Registration
After installing users can register into the app through Mobile no, email id, or Facebook.
Select the Match
Users have to select the upcoming match of their choice.
Create your team
This feature allows cricket fans to create their team within 100 credits by analyzing players' stats in an actual game.
Join Free and cash contests
Users can participate or join in cash or practice contests.
How to play Fantasy Cricket at My11Cricle
After installing the My11Cricle app, users have to register for the app.
Select the current or upcoming matches from the list of matches.
Create your team within 100 credits.
Join or participate in different contest that is live from Small, Mega, and private.
Analyze the progress of the match in the live tab. After the match goes live, points start adding up.
Once the match gets an overview of your final score just go to matches, Click on Completed, and analyze your points and ranking of the team.
The winning amount will be partitioned depending on the performance of players and the amount will be added after 4 hrs completion of a match.
Users can withdraw the winning amount at any time.
Advantages of Playing Fantasy Cricket on the My11Cricle App
Quick, Easy, and Smooth
Gaming becomes more interesting if the platform is fast, secure, and has a simple dashboard and My11Cricle grasps everything.
Select the Matches to Go
The App rules clearly make your virtual team with few clicks and select your team players.
Play Real Matches with your team
Get the real experience of playing your passionate game by applying your strategy and winning the game.
Exciting offers, Rewards, and Promotions
My11Cricle offers exclusive tempting discounts, referral bonuses, and lots more, and makes the users get more attracted to the game.
User-friendly interface
Clean and Simple dashboard with a seamless user interface and make you get started with less time.
Real-Time Updates
Watch the real-time match score and updates right on the My11Cricle app. Play and check the scores with ongoing matches.
Get Secure Transactions
My11Cricle is a safe and secure fantasy cricket app where users can play their dream game for cash and can earn money.
Get a Free Consultation
How much does it cost to develop a Fantasy Cricket App like My11Cricle?
The cost of developing a fantasy cricket app like My11Cricle depends on several factors:
App Platform
The development cost of a fantasy cricket app like My11Cricle varies on chosen platforms i.e. Android, iOS, React Native, and Windows.
App Size
App Size refers to the total number of features added with advanced features added in the Fantasy sports app.
App Design
It's one of the most crucial factors which makes the fantasy sports app like My11Cricle more attractive.
Additional Technologies
AI Chatbot: 
Our experience in API and chat development will aid you to get the custom bots for Fantasy sports which will cover all the responses, topics, and queries related to players, teams, scores, and live updates.
Machine Learning
DxMinds Technologies top fantasy sports app development Company develops the fantasy sports app with a machine learning-based algorithm that helps the app admin to set features for the app users as per their behavior patterns.
Blockchain Technology
We build a decentralized platform for your fantasy sports business model which legitimizes the app users and admin in terms of payment processing.
However it is tough to estimate the exact cost of developing a fantasy sports app like My11Cricle, but the cost may vary around $10k-$50k 
DxMinds' #1 Mobile App Development Company in Mumbai helps start-ups and organizations in developing an app like My11Cricle at a minimal budget.
Get Free Quote