October 13, 2022
Posted by:

Admin

Category:

Famous App Analysis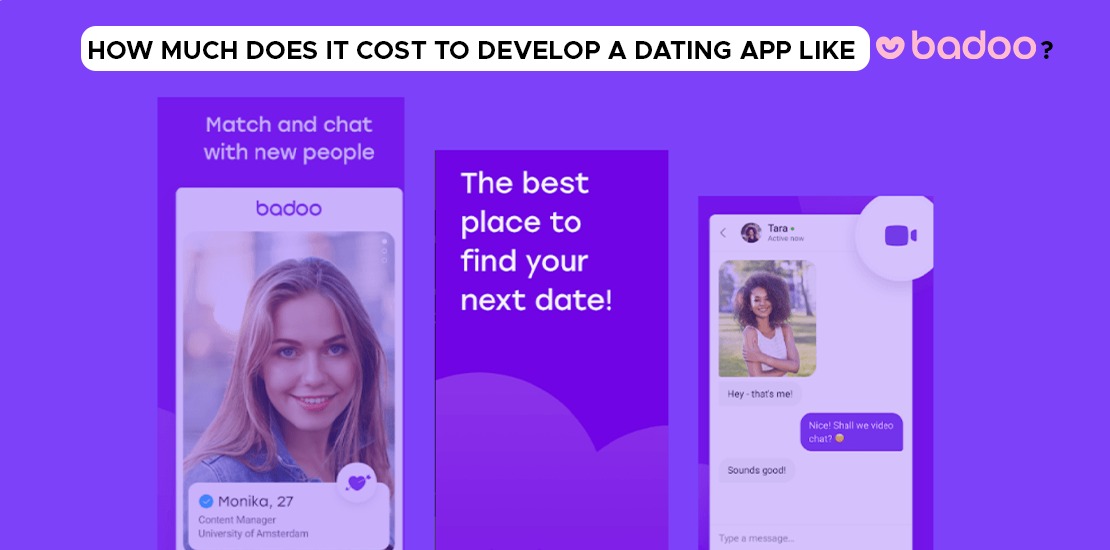 Cost to develop an app like Badoo?
Recent technologies have transformed not only man-machine relationships but also significantly influenced interpersonal relationships.
Do you remember when you last expressed your feeling in a handwritten letter or told anyone about the forthcoming meeting personally? Today we hardly use such mediums of communication due to the plenty of electronic gadgets.
Most people are going online to find a life companion. That is why creating a dating app, Free Chat & Dating app background has become extremely popular these days. If you're going to develop one you should surely keep it in consideration one of the brightest representatives of such services – the Badoo app. This is a mobile application that allows exploring for people who are willing to meet and communicate within a specific area.
Are you interested in how to make an app like Badoo, happn app, and how to make an app like Badoo, tinder? Look forward and check this article below.
Some facts about the online dating industry:
• According to the survey, during the period from 2009 to 2018, UAE mobile dating business revenue grew from 46 to 362 million dollars, and it is assumed to increase to 415.3 million dollars by 2020.
• If 10 years ago peoples were cautious of using dating apps like Badoo, and Tinder, happn whether it was socially adequate, today more than 15% of adults are implementing mobile dating apps.
• 87% of those people who have already experienced those say that such services are a good and safe approach to meeting people.
• Around 7.8 million people are using online dating services.
• 5% of the overall UAE population is registered with Badoo.
• The business of online dating apps costs more than $2.2 billion and is increasing at a tremendous speed.
How much money do dating apps make?
There's no denying the tremendous impact dating apps have had on our romantic lives, with 49 million people have joined in online dating at least once. With so many people now looking for love online, just know how much money is our favorite dating app Badoo making.
Surprisingly, Badoo tops the charts, making a huge $1,269 per minute, or $88,153 per hour. This success can be attributed to Badoo's recent survey of paid subscription options, which unlock added features like countless likes and the ability to 'rewind' random swipes.
Female-friendly Tinder takes the number two spot, earning $172 per minute. Like Badoo, Tinder also began to monetize its service last year, adding a per-month subscription package, which offers users many new features.
What Is Badoo?
Badoo is an app where you meet people around your region. It also helps you find new friends chat with them and get to know them better as you continuously chat with them. Badoo is also a dating site or a social networking site. It works on a multilevel model. To have added features, the user can pay or enable Badoo to email all of the user's friends.
Techniques that Make a Badoo app popular
Despite the truth that the Badoo functionality may appear very simple at first sight, it covers moderately complex algorithms transparent to users. Consider the following characteristics when you create a Badoo-like app
Users can view only one person at a moment but there are thousands of people swiping right and left simultaneously
Each user observes people in a different manner. It intimates that the developer's task is to structure the profiles of people into several groups
Attractive and unattractive people are purposely combined up and shown to various users with non-repeatable frequency
How much does it cost to make an app for your business?
In short, the cost of a Badoo-like app depends on the complexity of its functionality and the mobile app development companies you prefer. Roughly, the primary Android or iOS app will cost you $10k-55K normal hourly rates of the Middle East country is $50. If you want to build apps for both platforms simultaneously, your budget will strike and exceed around $80k-100K.
Let's move forward to find out the details of How much does it cost to develop a Dating app like Badoo?
How to Build a Badoo / tinder clone app?
Development Team
Give high consideration to the location of your team. If you are going to pick someone to build a Mobile app in the USA or Western Europe, be ready to double the costs of the project. However, the Indian or UAE (Middle East) developers can do the same or even more for much less Cost. For example, the average Western Europe developer charges 50 dollars per hour.
So, if you want to build a Badoo\Tinder clone, the project team will most likely consist of:
3 backend developers
2 designers
1 Android app developer
1 project manager
1-2 QA engineers
1 iOS app developer
Taking this into consideration, let's see how much it costs to make a dating app like Badoo.
Why Choose DxMinds for App Development?
Are you intending to How much does it cost to develop a Dating app like badoo?? Then you are in the right place. DxMinds Innovations Labs Pvt Ltd can be your development associate to build an App like Badoo/Tinder. You must be confused about the cost of mobile app development |Android|iOS|Windows. So An App like Badoo will cost you between $10000 to $50000 per platform.
Feel Free
You can contact us anytime without any delay for a free quote and more information about Mobile app development.
UAE Office :
P.O.Box. 211200 – Office 1109,
Al Moosa Tower 1, Sheikh Zayed Road, Dubai, UAE
+971-501529161
India Office :
#61, 1st Floor, 7th Main, 12th Cross Rd, BTM 2nd Stage, Bangalore, Karnataka 560076
+91-7483546629