January 24, 2023
Posted by:

Admin

Category:

Famous App Analysis, Mobile app development cost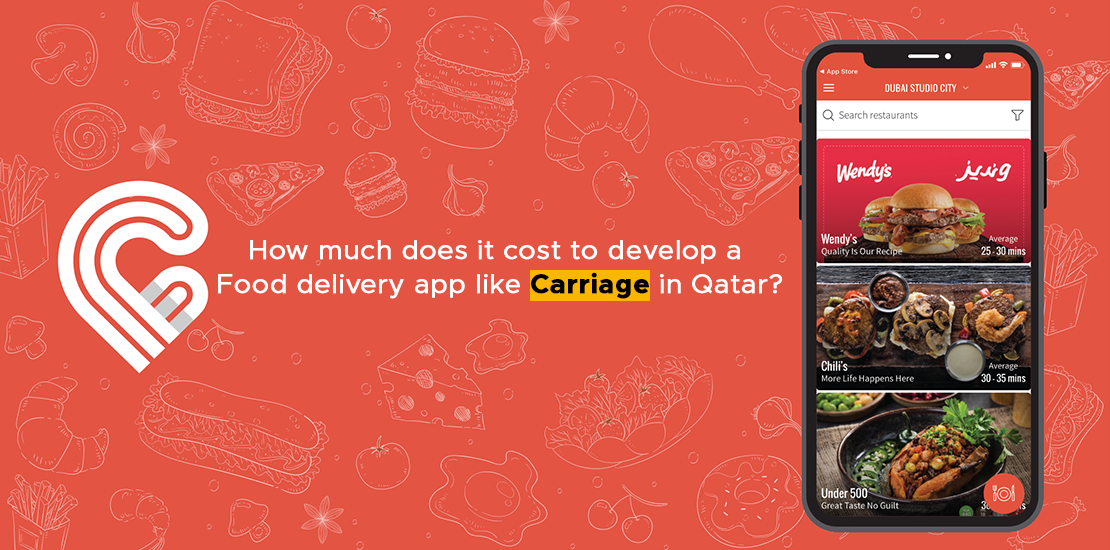 The global online food delivery market is booming, and the Middle East is no exception. Demand for online food delivery is increasing in the Middle East and North African (MENA) region, with Saudi Arabia, the United Arab Emirates, and Kuwait leading the way.
Top Food delivery app development companies in UAE are bringing the best to the people's table in terms of Mobile apps to provide more ease and comfort than ever.
Top-notch On-demand food delivery apps in the Middle East like Carriage combine two things that everyone enjoys on one platform: food and comfort.
On-demand food delivery mobile applications are born to be an instant hit among a huge pool of mobile app users, regardless of what demographic or country they belong to, by making the entire ordering process, not restricted to any one cuisine, come on the tap and flick of millions.
The market is ready for more competition for the top food delivery apps as more consumers turn to mobile apps for a variety of commercial activities, including food.
With the aid of a food delivery app development company, you can enter one of the markets with the highest rate of growth by starting your own delivery service.
Are you interested to set a benchmark in the Middle East by building a full-fledged food delivery app like Carriage? Then this blog is specially designed for you.
In this revealing blog, you will learn everything about the Carriage app- features, development, and cost to build a food delivery app like Carriage
Let's delve into it
Why Create a Food Delivery App like Carriage?
According to a Statista report, the online food delivery market is anticipated to generate $323.30 billion in revenue by 2022. Additionally, it states that the industry will expand at a CAGR of 7.6% from 2022 to 2027.
Users of food delivery apps like Carriage can browse the menus of hundreds of restaurants, place orders for the food they want, and have it delivered to their homes.
It benefits restaurants and users alike that these apps offer convenience to both parties. The fact that most of us are working and adjusting to the WFH situation further shows how beneficial the pandemic has been.
And after a long, stressful day, ordering food from our favorite restaurants is exactly what anyone would want. It has integrated itself seamlessly into our daily lives and isn't showing any signs of slowing down.
Let's run some numbers to give you a clearer picture of the MENA food delivery market environment.
Saudi Arabia's market for online food delivery is anticipated to grow at a CAGR of 8.2% to $2.25 billion by 2024.
In 2019, the UAE food service market had a $15 billion market value.
With a CAGR of 26.3%, it is anticipated that Kuwait's restaurant-to-delivery market will reach $519 million by 2024.
A different report recently predicts that the market for online food delivery services will grow from $115.07 billion in 2020 to $126.91 billion in 2021 at a compound annual growth rate (CAGR) of 10.3%, and from $192.16 billion to $192.16 billion in 2025 at a CAGR of 11%.
How does an online food ordering system like Carriage work?
To provide the greatest variety of options for your customers to choose from, you as an organization or individual must collaborate with restaurants, food services, and even bakeries if this is possible. Working with food services is a requirement before even thinking about creating an online food ordering system.
The main goal is to create a delivery software application that can be used by multiple restaurants, which will be shared by the food services you are partnering with. Additionally, it should contain the user's location, as this will allow app users to choose a restaurant, food item, and delivery location.
The restaurant is notified after the customer pays or chooses COD. When the food service has finished processing the order, the delivery department is notified and is responsible for picking it up and delivering it to the customer. The profit is split between the owner of the app and the food delivery service after the delivery report has been generated.
When you choose to create your own food delivery app, there are several steps to keep in mind. Although it is true that you can create the app, there is a chance that you will make mistakes. Even a small mistake could end up costing you a lot by delaying the launch of your company or resulting in other problems. Therefore, it is preferable to hire a third party to develop the food delivery dispatch software for the online application.
Features to include in Food Ordering system like Carriage
When you create an on-demand food delivery mobile app, whether it's using the restaurant-to-user business model or you're figuring out how to create a delivery app like Carriage, you don't just create one app; you create four, then combine them all into one. The list of features would also vary from one screen to the next since you are working on an app that deals with three different stakeholders: restaurants, customers, delivery people, and the admin.
Customer Panel
Courier Panel
Merchant App
Admin Panel
Here, we list the functions that are typically present in each of the four app panels:
Customer Panel
Sign-up/Log-in
Search Menu
Shopping Cart
Payment Integration
Track Order
Rating & Review
Customer Support
Restaurant Panel
Sign-up/Log-in
Manage Menu
Alerts/Push Notifications
Check Ratings & Reviews
Delivery Panel
Registration
Order Management
Update Order Status
Admin Side
Log-in
Manage Restaurants
Manage App
Manage Payment
Discount offers & Coupons
Technical Assistance
Some Extra Features
Real-time location tracking
Que algorithm
Push Notifications
Real-time analytics
Payment systems
CMS for articles and news
Customized searches
Social media sharing and many more
Now that we've thought about the features to include in the app, it's time to concentrate on the technologies required to create it.
Tech Stack to Include in Food delivery app development in Carriage
For Restaurant Listing – Grubhub API or FourSqure API
For Payment – Square APl, Braintree, Stripe, pyP|
To Find user Location – Core Location Framework, Google Places API
To Find Directions – Google Maps, MpKit
For Cloud – AWS, Azure
For Registration – Facebook SDK Login
For Storage – Amazon Cloud Storage
For Analytics – Google Analytics
Obstacles to Entry in the Mobile Food Delivery Market (And Their Solutions)
Entrepreneurs who are planning to build an app similar to Carriage face the biggest challenge from the already crowded market. Businesses that are industry leaders in their specific fields have already crowded the market to an extreme degree.
You will need to provide something that the other players don't in this situation, both in terms of features and the UI/UX of the app. You and the company that develops your food delivery app will need to come up with fresh ideas for luring restaurants that are currently affiliated with other players in the market, while also concentrating on improving the options or discounts you provide to customers who are ordering food.
Locating Restaurant Partners
Even though it has nothing to do with the price of developing a food delivery app like Carriage since you are just getting started, this may present a challenge. Instead of lagging behind the major brands, you can concentrate on promoting low-level restaurants. Instead of including the names of popular restaurants among millennials at this point, concentrate on growing the partner count.
Stable UI/UX across All Panels
The four screens each have a different purpose and are tailored to the needs of the user, making this a challenging aspect of the online food ordering app development services. However, your partnered mobile app design agency will step in to help you with this. In order to respond to vastly different intents, they will need to develop an experience that is constant across all of the various screens and combines design and movement.
Selecting which MVP features to include in the application and which to omit is another challenging problem that your restaurant app development agency associate will be able to resolve. A significant factor in determining how much it will cost to develop a food delivery app like Carriage is the MVP. Since you are just getting started, it is crucial that you test the waters before diving in headfirst, and the only way to do that with the least amount of expense and effort is through an MVP. You will be assisted by your partnered agency in creating an MVP that will help you raise money for your company.
Choosing a Reputable App Development Company
There are many questions you should ask a mobile app development agency before hiring them, making it difficult to find an organization that will turn your idea into a fully operational app business. Finding the right team to turn your vision into reality will take time, but it will be the key to navigating the competitive on-demand food delivery app market.
After everything is said and done, it is now time to consider the cost. How much will it cost you to have a mobile app for food delivery developed?
What does the future of mobile food ordering apps look like?
Food delivery trends that have only recently begun to gain traction but are all expected to have a significant impact on the market by the year 2025 define the future scope of online food ordering systems and on-demand food delivery apps.
Let's take a closer look at the trends in food delivery that you will need to pay attention to in order to prepare your 2023 food delivery app for the years to come. So that you can speak with the developer of the food delivery app with whom you have a partnership about expanding your app.
Increase in Business Model
Food delivery apps are currently moving in one direction, which is away from simple food delivery and toward something more sophisticated. These days, companies like Carriage are surfacing to fiercely compete with those that only exist to deliver food to customers from restaurants. Carriage is an on-demand service that allows users to place real-time orders for food, food preparation supplies, and more.
This is the key to understanding how Carriage operates. So, we advise you to first conduct a thorough analysis of Carriage's purpose and business model before talking with your partnered app development company about how to develop an app that functions similarly to Carriage.
New Ways to Order Food
Users will now find newer platforms to place orders while connected to the internet, in addition to traditional food ordering channels like websites and mobile apps. channels such as social media, virtual helpers, smart TVs, wearables, etc., and even through the dashboard of your car.
New Delivery Methods
The on-demand food delivery system will look into some new trends in the near future in addition to the new ordering options. Food will soon be delivered by robots, parachutes, and drones as delivery options advance in this direction. Therefore, you must make sure that the mobile app you invest in for food delivery can be scaled to fit into these modes.
AR/VR
The time has come to upgrade your basic restaurant app, and AR/VR is the one technology that can make that happen. Although they will initially concentrate on the mobile app's marketing side, they will eventually be used as a significant user engagement strategy by keeping users glued to the screen even while their food order is taking a while to arrive.
Big Data
Currently, big data in the food industry is thought to be a very specialized field, but this will change in the future. The food industry will adopt powerful technology in a wide variety of new ways in the future.
Big Data will soon start providing food delivery apps with a number of advantages when used properly, including better demand prediction, a better understanding of consumer sentiment, more effective personalized marketing, and better delivery time estimation.
Crypto Food Ordering
A new service called Crypto food ordering has also emerged in the online food sector as a result of the burgeoning blockchain technology market. Customers from all over the world can now use cryptocurrencies to pay for online delivery or takeaway services.
Regarding this market trend for food delivery apps, a number of businesses, including have already begun to accept about 50 cryptocurrencies. This implies that before it becomes the norm and makes your business idea seem out of date, you must also take it into consideration.
Less-Explored Service Diversifications
In the near future, we will observe that apps that currently operate under a business model that focuses on connecting customers with numerous restaurants on a single platform will soon be expanding to newer business types, such as food categories tailored to specific medical conditions, a pet food section, a space for recycling food, etc.
Want to Build a Food delivery app like Carriage?
There is no set cost for creating a food delivery app. As a result, there are many variables that affect the Carriage food delivery app development cost
What are these elements? Here's a sneak peek:
Selecting a platform: Android, iOS, or another
Number of features integrated
– Tech stack used
– UI/UX design
– Complexity of the project
– Developer's cost
– Technologies integrated; for instance, IoT, Blockchain, AR/VR, etc.
Based on the above-mentioned factors the Cost to build a Food delivery app like Carriage can fall between $20K-$130K
| | | |
| --- | --- | --- |
| Location | Average hourly rate | Max Hourly rate |
| North America | $60-$75 | $80-$120 |
| Western Europe | $45-$65 | $65-$100 |
| Eastern Europe | $40-$50 | $60-$80 |
| Latin America | $40-$50 | $60-$80 |
| Asia | $20-$30 | $35-$50 |
Final Thoughts
Players such as Carriage may have captured the lion's share of the online food delivery market in the Middle East. Still, there are numerous opportunities for new businesses to establish themselves in the market by targeting specific audiences via apps.
If you want to enter the food delivery industry and dominate the market, now is the time. However, one vexing question is how much it costs to build a food delivery app.
We have adequately answered this question in this article to assist you in developing a food delivery app like Carriage
If you are considering launching a food delivery app or want to learn how to create an app similar to Carriage, a food delivery app development company such as DxMinds Technologies can assist you in keeping up with the market. You can consult the experts there and pursue your passion!!
FAQs
What is the cost of developing a food delivery app?
Developing a food delivery application is dependent on a number of factors. You must first identify your requirements before investing money to create an app. Above all, contacting an app development company to create a food delivery app is the most cost-effective option. Furthermore, the average cost of a simple app ranges from $20k to $120k.
How much did it cost to create the Carriage-like food delivery apps?
It could cost between $15,000 and $100,000 to develop an app similar to Carriage. Furthermore, the cost may vary depending on a variety of factors such as app design, quality, features, and business requirements.