October 12, 2022
Posted by:

Admin

Category:

Software Development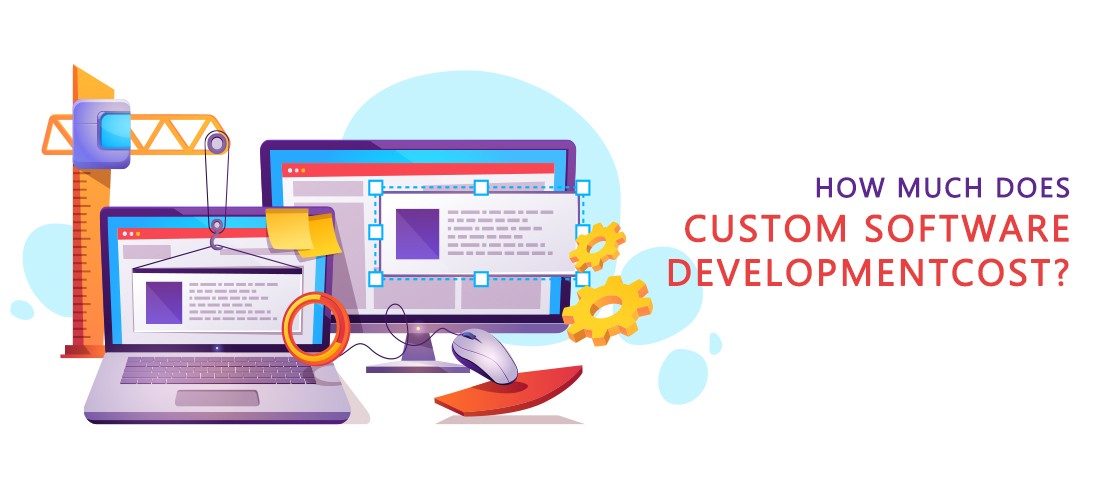 If you are here, then for sure thinking about bespoke software development, implies your business is going to get major assistance. You know the various favorable circumstances of such applications
Hence,
You're likely here to learn and know about the custom software development cost right?
Software development estimation is a significant factor for any business visionaries, who are intended to build something advanced. However, it isn't easy to calculate software development costs.
To provide the major support and assistance
DxMinds #1 Software Development Company has in-depth expertise in the software and app development industry and has presented a blog, where one can get a clear picture of custom software development, its features, and factors affecting the cost.
Let's approach the blog with a basic understanding
Get a Quote
What is Custom Software Development?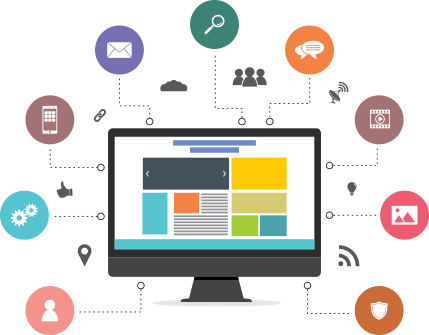 Software apps are basic for all modern-day businesses which center in advancing the performance and generating more income.
Custom software development implies building a tailor-made software that meets explicit company needs and goals. By investing in custom software development, businesses can get advanced solutions that are customized to their requirements and procedures, upgrading their operations, and positioning them towards the heights of success.
Custom software development is divided into two categories
Prepackaged applications
An all-inclusive mashup of the most demanded modules (for example accounting software, HR tools, CRM, and so on.) which are offered to various clients without customization or with minor changes. Generally, these applications feature initial license cost, month to month charges dependent on the number of users, and additional costs on updates, support, training, and customization.
Bespoke software
Apps of this sort are extraordinary as developers create them for each accomplice asper their concept and business needs. They accompany with prior analysis, exhaustive research, MVP release, testing, etc. Clients can characterize which modules they need to add or remove to get the best understanding with business objectives. Custom software includes features only a single payment which incorporates all costs.
As you see, the second category is conceivably profitable, in light of the fact that business people perceive how much the company needs to spend and can be certain that there are no traps.
Software development Process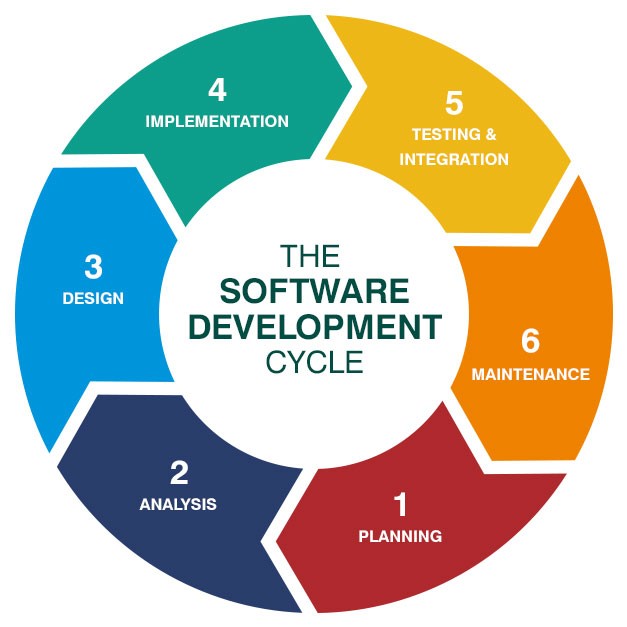 Development
Beginning with analysis, the development stage is the heart of the product. During this stage, software developers and experts help out clients to specify the vision of the ideal application. Here, clients examine the scope with a number of modules included, delivery time, spending budget with progressively exact costs, additional services like training/maintenance
In a perfect world, developers start with an MVP to show how the product functions. Further, they update the essential product with extra features, evacuate redundant ones, interface legacy software, migrate information, etc. The development itself takes from months to years depending on the app complexity. Thus, you get a completely working product.
Key Price To Know: Start investments on analysis, the cost of an MVP, and expenses of the final version.
Implementation
Here, the completed app is introduced on your server or deployed in the cloud with remote access. This stage ought to incorporate appropriate testing and performance assessment which demonstrates that the product works fine and you won't lose core information or integrations in the wake of changing to it. During execution, nonstop control over applications is critical.
Key Price to know direct expenses of QA testing and migration of data in addition to concealed costs identified with revenue misfortunes during performance downturn.
Training
Without great training, your employees barely can get the greater part of the new software. For the most part, developers of bespoke solutions give in-house or remote talks and practices with fundamental information about applications. On the off chance that this choice is excluded from the last list of services, make certain to request it regardless of whether it accompanies more costs. Simply trust us that autonomous preparing will be far increasingly costly.
Key Price to know the pay rates of mentors and roundabout expenses of your employee's work time spent on training as opposed to finishing their fundamental tasks.
Maintenance
Clearly be a tech person you know that the development lifecycle doesn't end after the launch. It proceeds with the following evaluation, updates, support, and tech maintenance. Likewise, these alternatives can come as parts of the cost or might be accessible for additional expenses. Once more, you need to get them from developers who know how the program functions as opposed to cooperating with third party teams who aren't an expert with this given application.
Key price to know: the cost of future upgrades and expansions, costs on the support team, and tech experts.
Forthcoming towards the major on-demand query i.e
How Much Does Custom Software Development Cost?
Along with fundamental stages that characterize software costs, there are likewise various side facts. They're certainly worth to consider as each point can increment or decrease costs and, separately, help the businesses to avoid spending more budget
The rundown of facts mentioned below is common for all applications regardless of the industry they are built, however, you need to set priorities relying upon the market area and industry-explicit requirements.
Now, let's explore the software development cost calculator factors
Number Of Platforms
The cost of your bespoke business app relies upon what number of the platform you need it to deal with. If you pick only one of Web, Android, or iOS, the cost will be lower. In case, if you want it to develop for each of the three, the cost will be higher.
At DxMinds the top mobile app development company we suggest you do user research to perceive what platforms your users are on. Why waste time and money on building the platforms that aren't broadly utilized by your user base?
Know the fact that iOS applications take less time to create. While Android covers a bigger target crowd for most businesses. The time it takes to create Android applications can influence the overall software development cost.
App Features
The complete cost of the software, for the most part, rely upon the number of features or pages you need. So as to reduce cost, you have to make a list of top demanding features and optional functionalities. At that point, the list should be chopped down to a base.
Remember that your demands and priorities may change during the application development process. At DxMinds, leading software developers are always ready for new recommendations and demanding changes.
Think about developing a Minimal Viable Product (MVP) first to demonstrate the concept and realize the features that are generally required by your users
Timeline
When do you need the app to be ready? If you are in a hurry, anticipate a greater cost. It's smarter to plan the project ahead of time to keep it within a financial plan. Some app development processes can't be surged so keep your desires practical.
If you need to change the deadline, be prepared to invest more. Quicker development deadlines include longer working hours and additional team members. The entirety of the above comes at a greater expense.
Waterfall versus Agile
The waterfall is a progressively conventional approach where you plan the project completely from start to end before the beginning. This typically gives you a firmer cost and timescale forthright yet it makes changing scope or approach harder.
Agile is a progressively present-day approach to run a project where you split it up into 1-multi week runs and just spotlight on the current and next run. The concept is that you are building completely working functionalities in each run, yet conceivably restricted in what it can do.
There are budgetary controls however a fixed end cost and date aren't normally known at the start. The advantage for the cost is that you can adjust course all through with the point of acquiring the project on spending budget. All things considered, if you have changed something on numerous times you may come up short on spending budget before the task is done.
Updates And Maintenance
Once the application is created, you have to anticipate additional costs, which incorporate updates and maintenance. Both these focuses are crucial to keeping your applications working accurately for a considerable length of time to come.
Our company DxMinds attempt to offer sensible costs for updating and building up their software on a continuous premise, yet this ought to be considered into the lifetime budget of each program.
MVP or no MVP?
MVP is the most transparent version of a product you release that despite everything enhances the user. Typically, this can be somewhere in the range of 10-50% of the all-out cost yet the advantages it can bring are many. When you complete satisfactory user research, until your users are utilizing the product, you can never be confirmed how they utilize it.
Dealing with an MVP initially gets you to answers about users needs speedier than building the whole product and it snappier and less expensive.
Development Cost Varies Depending on Different Location,
However, globally an average custom software development cost may differ from $5,000 to $120,000
Sometimes people from different countries ask queries relying upon their location. Let' s us examine the cost differing from one location to other
Get a Free Quote
How Much Does Custom Software Development Cost In India?
Most of the companies and businesses go with Asian countries like India, as it is the least expensive seaward zone for IT developers. India has the most reduced costs for custom software which starts at $15 per hour and top at $80-$90 every hour paying little heed to the software type. However, this area includes generally high tech in budget-friendly costs.
How Much Does Custom Software Development Cost in the USA?
Being the most costly locale, North America highlights $50-$250 per hour except when we talk about a high quality, the least level climbs to $100. The general competency of developers in the USA is high and these people like to work with mid/large fortune of companies.
How Much Does Custom Software Development Cost in the UK?
Western Europe and, especially, the UK is like the USA compared with costs, customers' inclinations, and quality. Developers in the UK region convey custom solutions for huge clients at rates from $40 to $180 per hour. So also, costs ascend to $100-$200 for big business solutions
How Much Does Custom Software Development Cost in Ukraine?
Eastern Europe and Ukraine are the leaders of the outsourcing market. Costs here beginning at from $25-$30 and can go up to $100 however on normal rates are $30-$70 every hour. Points of interest in this zone incorporate high qualifications because of amazing education and the capacity to work with various clients.
Custom software development accompanies numerous benefits. It's exclusively custom fitted to take care of specific problems; associations can without much of a stretch coordinate it with their interior procedures and begin receiving rewards from beginning itself. When contrasted with off-the-shelf solutions, custom software development turns out to be considerably valuable over the long haul.
Ensure you additionally pick the best Custom Software Development Company for your dream project
We hope this blog has provided an incredible illustration of custom software development costs, and youcan locate some basic hints for picking the best technology provider for your undertaking. Are you searching for an accomplished team of software developers who has the expertise and specialized in software development? Connect with us with your requirements at info@dxminds.com.
Get a Quote