October 12, 2022
Posted by:

Admin

Category:

Famous App Analysis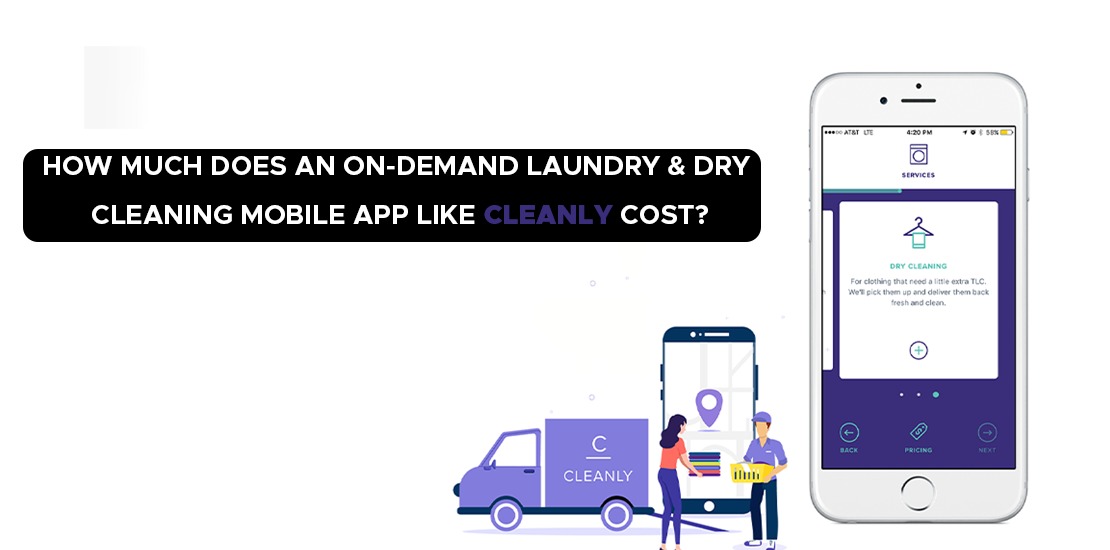 On-demand Laundry App Development Costs like Cleanly / Pick My Laundry
Mobile applications hold a huge potential that transforms our lives exponentially. It is taking our lives far beyond our imagination and is seamlessly setting up an ecosystem where all of our days to day tasks and activities are accomplished in the easiest way possible. There exist an infinite number of mobile applications in the respective mobile application stores and each of them stands high for serving or fulfilling particular assignments. Some o them are game applications, some are delivery applications, and some fall into the category of fintech. Also, there are productive mobile applications, entertainment mobile applications, and much more.
In this article, we are going to discuss one of the prominent mobile applications that have disrupted the conventional protocols that existed in the industry and have gained a huge amount of customer traction, and are a huge hit in its segment. The app is known to be Cleanly, an on-demand laundry mobile application. We will discuss in detail the in and out features of the application including its an advantage, business model, major aspects, things that need to be taken into account while developing the app, cost of building an on-demand Uber laundry app like Cleanly, Pick My Laundry, Rinse, FlyCleaners, Washmen, etc. So let us get started.
More about online dry cleaning mobile application Cleanly
Cleanly is an online dry cleaning business that makes use of a mobile application to collect clothes and deliver dry cleaning. The company is founded by Tom Harari and Itay Forer. The company operates and delivers exemplary services to its clients in each nook and corner of New York City Brooklyn, and Washington DC. The company expands in the form of outsourcing franchisees thereby giving a revenue stream. The Cleanly mobile application and digital transformation have played a key role in determining the success of the mobile application Cleanly. High demand for the online laundry application Cleanly has gained from a wide range of communities has prompted entrepreneurs in setting up the same and this paved the way for them searching the cost to build a Uber laundry mobile App like Cleanly.
Need for a cloth washing and delivery mobile application like Cleanly / Pick My Laundry
Busy lifestyles and hectic works schedule have our lives in agony and paved the way for information about laundry shops. Conventional ways of practicing the laundry system were not so effective that it had a lot of hurdles existed in between. Some of the laundry stores find it hard to reach out to potential clients so I forced them to stay back from scaling their business to the next level by starting a chain of outlets, which helps them in enhancing the business. Digital transformation has brought a wide range of opportunities for an on-demand laundry mobile application like Cleanly and it opened the doors of a wide range of opportunities. The app is not only helping the customers but is offering a wide range of scalable business opportunities for entrepreneurs that they are actively looking out for companies to develop laundry delivery iOS and Android mobile applications.
Advantages of having an on-demand laundry mobile application
· Fast and convenient
· Scalable business model
· Huge revenue-generating
· Seamlines in-house laundry operations
· Real-time status tracker
· Abrupt conventional ways
· Efficient and reliable
· Enhanced customer experience etc.
Features of an online laundry mobile application like Cleanly / Pick My Laundry
· Sign in / Sign Up
The app should have a mandatory feature that lets the users create an account on the mobile application. By doing so, users will be given a private space on the mobile application leveraging which they can handle their data. Using their phone number, mail Id, or social media, one can seamlessly create an account on the app and the credentials obtained at the time of registration can be used the next time they login.
· Profile
The profile section is the unique and personal space for the customers which helps to add and update their profile picture, stay on top of their day-to-day activities, update their communication and contact details, etc.
· Grant location access
The mobile application should be integrated with high-end features like a GPS to identify the user's location. This will help the delivery boys in reaching out to the right location for pickup and delivery of the clothes even I the customers have made a wrong address.
· Service selection
A large number of services are available in the laundry segment varying from ironing, dry cleaning, materials, type of clothes, and various other services. Integrating all these features will help the customers in selecting the exact kind of service they are looking for.
· Time slot scheduling
The app should host a feature where the users can choose the time and slot which they feel is more convenient for them. This will help them in making the necessary arrangements for the same. The same thing happens in the case of delivery as well. This will add more transparency and help both parties in experiencing the real impact of technology.
· Enhanced payment gateway
The app is integrated with a safe and secure payment gateway system that offers an enhanced experience to the customers. The purpose of the payment gateway system is to offer the hassle-free experience of making payments against the services they have availed.
· Delivery Tracking system
The status of the order including the real-time location of the delivery assistant has to be tracked on the mobile application on a real-time basis. This helps the customers in staying on top of the entire process.
· Order history
Order history as the name suggests helps customers in availing a detailed note on their previous orders. This helps them in planning various activities by the same.
How much does it cost to build an on-demand dry cleaning and laundry mobile application like Cleanly, Rinse, FlyCleaners, etc?
The demand for online dry cleaning mobile applications is skyrocketing. Everyone out there is actively exploring the latest opportunities of coming up with new in the entire domain. Entrepreneurs are keenly looking forward to the cost of creating a washed cloth delivery mobile application cleanly. When we discuss the costing aspects of an on-demand dry cleaning mobile application, we need to consider several factors into account. Some of those factors are mobile application platform, technologies used, third-party API integrations, app security, app size, app security, app enhancements, user interface, user experience, app maintenance, app deployment, etc. Taking a detailed note of all these factors, the cost of creating an on-demand laundry and dry cleaning mobile application like Cleanly, Pick My Laundry, Rinse, FlyCleaners, etc. will be approximately USD 10000 to USD 30000. The cost will vary based on the requirements and prerequisites.
DxMinds Innovation Labs- the leading laundry application development company
If you are the one who is actively looking forward to trying out your fortune in the area of setting up an online laundry business, hire DxMinds Innovation Labs as, the leading digital transformation and laundry mobile application Development Company. DxMinds is a fully-fledged company that offers enhanced services in the area of mobile application development. The company has got wide experience in developing an enriched mobile application that helps the business in generating revenue 10x tie more than any other method. For more details, drop a mail to info@dxminds.com