April 28, 2021
Posted by:

Admin

Category:

Technology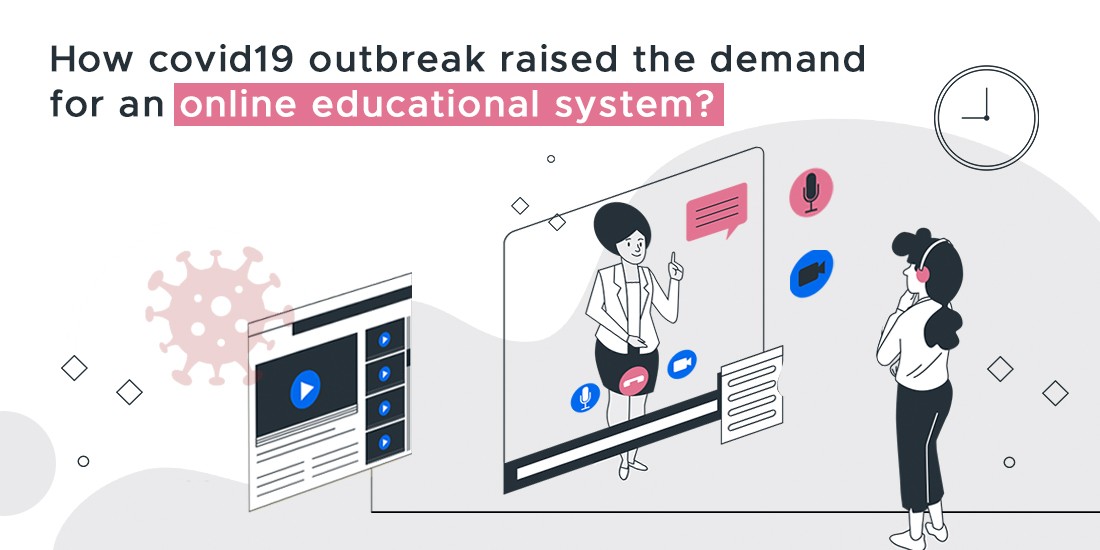 The Ongoing COVID-19 outbreak which is expected to roll out for a couple of years has shaken the entire functioning of bigger systems be it industries, business markets, factories, schools, and universities
The most affected arena of covid crisis is the school system. Do you know around 1.2 billion children are unable to access the schools as before, due to the significant closures of the classroom system disrupted by the Covid pandemic, reports reflected from the World Economic Forum. That's where an online educational system or online learning witnessed the hype where everything in sense the entire offline way of providing education in universities, colleges, or other educational institutes quickly adapted to a remote and digital platform.
However before the devastating COVID-19, there was immense growth and endorsement of educational technologies, and the global Edtech investments were reached US$18.66 billion in 2019 and it is predicted to reach $325 Billion in 2025 as per the reports from Research and Market Forecast. Virtual conferencing software, Virtual tutoring, language apps, or online learning software's through its incredible interactive features has opened up a way for students, teachers, and tutors to get engaged easily and effectively.
About the COVID flooded Educational Market
Diverse Online learning platforms such as Udemy, Coursera, Lynda, Skillshare, and other platforms experienced an unbelievable crowd by providing an access to millions of users for learning their desired skillset or academic courses. It was unavoidable for Small to top-tier schools, universities, organizations, and institutes for quickly adopting the online practice in order to continue to provide instructions/ lectures, assessments to students.
Before the emergence of COVID vaccines when there was a higher transmission rate of coronavirus, the authority of educational institutes across various countries have directed some claws to stay safe at home and run their academic operations and activities through online education. As a result, most of the educational institutions in almost every country have embraced the online mode to conduct classes, assignments, seminars, and tests through Online platforms.
While some institutions and faculties got aware of the online education system due to corona crises and many others implemented recently and began to understand its benefits and challenges.
In this situation where individuals can't be headed out to risk their lives, there is no option left for institutes to rather count on some reliable channels like Online education to help the students to move on their crucial years of education life and perform assessment activities.
In order to continue the flow of education, it has become essential for every school, institutes to organizations to enforce online learning and deliver virtual engaging services.
This all shows how COVID-19 raised the necessity for educating the learners through online platforms.
Speak to the expert
Various Online learning styles and formats have been adopted in this pandemic such as
Fully Online: Tests, assignments, discussions, and instruction took place online.
Simultaneous Teaching:
A batch of students are learning the same lesson from a faculty together virtually implies not being physically present with each other.
Blended or Hybrid:
Around 25-50% of instruction, assignments, and teaching are given online and students can get course study materials outside the class and use the classroom time for learning, asking questions, and communicating with their instructors.
Face to face web-enabled
Video chat or Teleconfereing enabled students to meet virtually with their instructors to get clarity about the academic course.
Emergency remote teaching
Everything gets transformed to digital education from face-face meetings, accessing the course materials, or hybrid teaching in the case where students or faculty are unable to go to campus.
MOOC(Massive Open Online Course)
It is aimed for provided self-paced learning where the pre-recorded course or lectures can be accessed openly
Along with these formats, two leading category styles has been embraced by learners
Synchronous learning
That empowers the real-time teaching, engaging, and getting feedback from Instructors and other students that includes speedy internet connection.
Asynchronous learning
This provides a way to access or submits the online materials by the internet via classroom portals, messages, or emails that don't require a continuous connection.
Top E-learning statistics and Insights that tells the demand of online education system in present and coming future
The eLearning industry undoubtedly is filling an educational gap in individual life's that got arise since the COVID breakdown. The beneficial circumstances such as lower cost, easy accessibility, and great convenience are brightening the eLearning into the global education force of the 21st century. In the coming future, the whole educational system going to be strengthened with numerous online learning platforms that unlock the modern way of providing education.
Interesting facts that reflect how eLearning is transforming the current landscape of providing education
As told earlier the global e-learning market will reach around $325 billion in 2025
By looking at the present scenario the research and markets believed that the worth of the global eLearning market would reach $325 billion. There are a lot of reasons that are backed up with this value: The necessity to educate wider people at low cost, lesser price of the learning solutions attracting more and more learners, the essentiality to adopt modern workforce to get engaged in life-long learning and the reality that learning through the online educational portals is more convenient than rushing to school.
Believe it or not, the higher percentage of growth in the eLearning market is estimated from developing countries as these online platforms uncover the way for such a country audiences to consume world-class educational resources that might not be accessible in-person from their home country.
The self-paced E-learning market grow by USD 6.71 billion from 2020 to 2024
Self-paced e-learning implies a student gets the flexibility to learn in the own time and schedule. And this culture is literally admired and loved by learners during these distance learning times. As per the reports claimed by Technavio the global self-paced eLearning market is set to grow by USD 6.71 billion during the period of over 2020-2021.
One of the leading fact that igniting the growth is the freedom to access the subject proficiency assessments and certifications that build the confidence in learners by being aware of the progress in learning a subject or concept. The rising interest for effective, highly contextualized and precise content from both students and employees has accelerated the demand and need for packaged content.
Around 77% of US companies have encouraged Online learning in 2017 itself
Yes, that true, about 77% of US companies have stepped into the Online learning world in 2017 by getting aware of the value and impact eLearning platforms can drive in. One of the most advantageous reasons for US companies relying on eLearning is the facility it provides to speed up the employee training process.
In 2017 the Brandon Hall Group's HCM brings forth the survey that stated eLearning can reduce employee training time up to 40-50% and the same group has suggested the eLearning has the power to boost knowledge retention by . Amazing isn't it?
Through diminishing the training hours enables the companies to let their workers spend needed time on working their primary roles.
Mobile learning is adopted by 67% of Organizations
The Old picture that portrays a typical eLearning thing where a student and employee sit together at a computer terminal tabbing the boxes is slowly getting faded away. Now everything is being replaced by mobile models where learners can leverage any courses in whatever field they are looking for without considering the time and place constraints. This trend has become achievable with the expansion of mobile devices and a well-structured interactive learning environment.
At Present, it is estimated that more than 67% of organizations have already enrolled in mobile learning and 80-90% of mobile users are pleased with mobile learning with the opinion that it enhances their experience.
Advantages that ELearning system imparting for Students in COVID-19 Pandemic
Today at this critical situation learners are seeking relevant, self-paced, and personalized way of learning lessons, and this need is been catered by Online Mode of education through which students can leverage education in their own comfort and requirement without heading outside
Combine e-learning tools and solutions fulfilling the students learning needs as before
Since the COVID-19 situation has emerged, there is been a higher increase in the adoption of eLearning solutions with a variety of tools and methods such as video conferencing, virtual tutoring, digital libraries, and online learning software resulting in the tremendous demand for online education connectivity. These diverse E-learning software's are added up with impressive features that are providing the best practices for faculties and students to get engaged conveniently, handily, and effectively. As the tools unlock the variety of delivery methods such as interactive e-learning courses, live and recorded lecturers, and share documents for group work and more, are benefiting the students in all the aspects of getting learned comprehensively.
Lectures can be accessed any number of times
Unlike classroom training, the online learning system provides the opportunity for students to grasp the content as many times as they want. Either they can record the live class section or through pre-recorded lectures, they get to clear their unasked doubts. This is mainly beneficial during examination preparation which requires a revision process. In the conventional way of education, if a student misses out on any lectures it was hard to get the notes and understand certainly but now the eLearning has provided an ease to leverage the unattended lectures whenever they want to perceive.
Bring in the Updated content
The Online e-learning platforms usually perform the updation of the loaded or existing content by getting synchronized with modern lecturers or educators from all around the globe. This empowers the learners to access fresh and updated courses or contents that help them to stay competitive with the ever-evolving trends and technologies. In contrast to the typical classroom training where the students are limited to the one specific lecturers or training, online learning opens up a wide range of circumstances to get enroll in the diverse courses organized by different tutors.
Customize your quote
Speedy delivery of lessons
E-learning is recognized to be the best way for delivering lessons quickly and precisely. When distinguished from the traditional classroom teaching process, this mode processes quick delivery cycles. This specifics that students time gets saved up to 25-60% which was consumed in traditional learning. Several reasons indicates how the learning time is reduced in e-learning
Each learner has their own grasping power and through eLearning, they can follow the own speed of learning instead of the speed of the whole group
Lessons are planned in a way that begins quickly and winded up in a single session. Accordingly, the training programs easily get rolled out within a week or even in days
The highest percentage of the student time gets saved from the travel obstacles, through e-learning platforms one to gain knowledge at their own comfort and place.
As the course materials or resources are been planned systematically starting from basics to advance, students can prefer to skip out certain areas and focus on what's important and essential to learn.
Economical cost
E-learning is way more economical and cost-effective than the traditional way of learning. The reason behind the reduced cost is because learning through online mode happens quickly and easily. And more of the training time is reduced with regards to trainers, travel, course materials, infrastructure, amenities, and accommodations.
Additionally, the course study materials are assessed online, thus upholding the paperless learning environment which is doubtlessly affordable for learners and advantageous for the environment.
Final Words
By going through the entire blog you definitely have understood why embracing the Online Educational system is the only needed solution to cope up with the ongoing covid disaster.
Despite the critical situation faced by the educational institutes in inheriting the new demands and approach, there is no backing out. E-learning is an everlasting solution, now or then, with or without covid-19 you need to acclimate it for addressing the growing digital demands of the market as well as students. However, in order to make your online learning success and to maintain a technological edge in a competitive market, it is highly advisable to collaborate with a reliable On-demand eLearning solution provider that can figure out pitfalls in your system of education and accordingly capitalize the best fit e-learning solutions that support learning everywhere along with that it could be revenue amplifier for educational institutions as it potential to reach out as many students as possible all across the globe.
Book an appointment with experts
Popular Posts: