September 10, 2020
Posted by:

Admin

Category:

Chatbot App development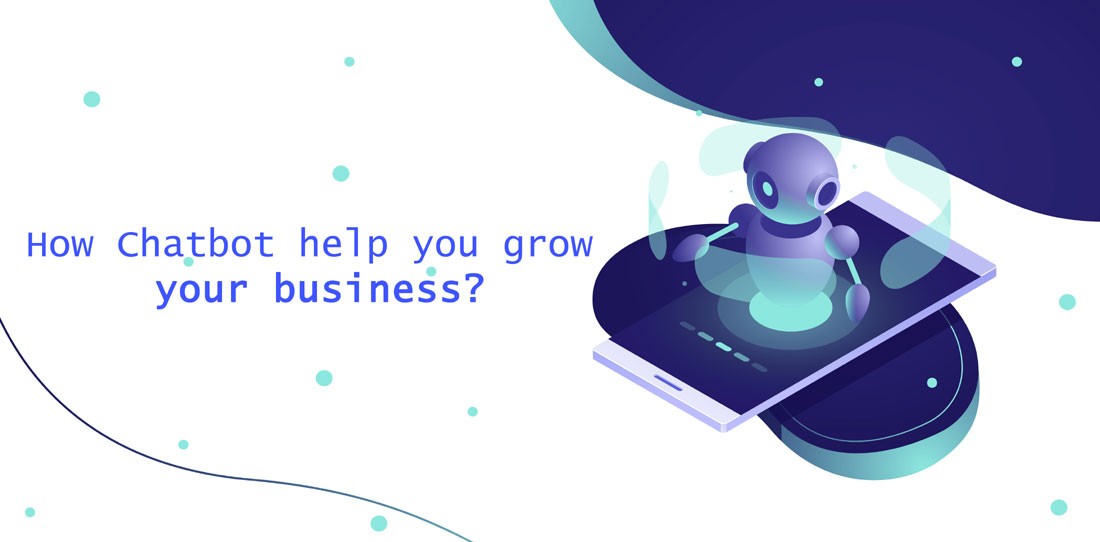 Chatbots help you grow your business in a number of ways. It supplies your business with the right supplement so that it can be scaled to any extends. Chatbots are getting adopted widely because of this reason. The role played by Chatbots in driving innovation into your organizational frameworks is prominent. Moreover, it takes your business to its next level and acts the same way as what the sun does for the plants. In this blog, we will discuss in detail about chatbots, its classifications, advantages of having a chatbot and how it can transform your business, etc.
What exactly is a Chatbot?
Chatbots or Chatterbots are programmed set of software that is designed to serve a particular task. It can be customer relationship management, providing personal assistance, inquiries, etc. Chatbots act as a mediator between a business and its customers. The role of the chatbots in business is to analyze the customer queries and to supply it with the right set of solutions, in the best possible ways. Chatbots help business owners in streamlining their business operations. It also helps them in enhancing their customer relationships and provides a multitude of ways to treat the customers in a perfect manner. Chatbots come in different types and sizes and varies based on the context of its application and use. It can be a text bot, a voice bot, or a conversational bot. Depending on its peculiarities, chatbots can be divided into different categories.
· FAQ Chatbots
Frequently Asked Question Chatbots are the very basic model of Chatbot. Their work is very simple and consumes less development time. The way these bots operate depends upon the customer queries. The very next moment a customer shoots a question, the chatbot searches for the precise answer from its pre-programmed database and caters to the customer. In an event where the bot is not able to figure out the right answer, it gets literally mum and transfers the chat to a human agent. It will not cost much to develop a FAQ chatbot as it is the cheapest one. Though the FAQ bot helps an organization, at some point in time, they need to have human interpretations as well.
· Artificial Intelligence Chatbots
Artificial Intelligence Chatbots or AI chatbots are a type of chatbot that have manmade intelligence associated with it. The special thing about these chatbots is that they can analyze situations and can respond the way as humans do. What makes an AI bot different from an FAQ bot is its ability to deliver precise answers even if for the queries that are asked outside of their database. AI chatbots can interact with customers the same way as a human agent and even can understand the mood of the customer based on the conversation and can act accordingly. AI chatbots help businesses in reducing manpower as it alone can deal with a customer to its fullest.
· Natural Language Processing Chatbots
Natural Language Processing Chatbots, also known as NLP Chatbots is the third segment of chatbots available in the market. The main advantage of these chatbots is that it can seamlessly understand and process natural human languages andf can respond back to the similar way. This helps businesses in bridging the gap with their customers thereby implementing a deep-rooted relationship with them.
How are Chatbots transforming business landscapes?
Chatbots are playing a key role in level shifting businesses. They not only help businesses in enhancing their customer relationship values but also plays a major role in elevating its brand value to the next level. At times, when businesses were actively following the traditional approaches, they were prompted to face a wide range of challenges. It involves many issues such as un streamlined operations, inefficiency, the effort for double tasks, etc. The major one among them was the unsatisfied set of customers who find it hard interacting with the business. They were not given full access to contact businesses as the customer care executives will be always busy attending the calls. These scenarios dot disrupted right after chatbots were introduced. Businesses were given the full power to explore new opportunities to its fullest, thereby making the most out of them.
Chatbot Facts and Figures
· Chatbots carries out 30,000+ chats on a monthly basis
· More than 45% of chats are carried out by Chatbots and the number is still skyrocketing
· More than 75% of chat carried out by chatbots are found to be productive and successful.
· Majority of organizations are preferring AI-enabled Chatbots
· 60% of businesses were able to avail the best ROI
· More than 90% of businesses claim they were able to resolve customer queries at a higher pace.
Industrial applications and advancements of Chatbots
· Chatbots in Logistics
The advent of Chatbots in the logistics and supply chain has disrupted the entire industry as a whole. It helps the industry to enhance its bandwidth in terms of operations and scaling. The integration of chatbots has played a key role right from managing the logistics to inventory management and order tracking.
· Chatbots in Telecom Industry
Chatbots have taken over all the major roles in the telecom industry and have added much more transparency to it. It helped telecom operators to scale like anything. It is one of the industry which receives a large volume of customer inquiries and the integration of chatbots have helped them handle all those inquiries with utmost quality and supremacy.
· Chatbots in Real Estate
Integrating chatbots in the real estate industry helps business owners precisely understanding what exactly the customers are looking forward to. This helps them in delivering services that meet their customer requirements.
· Chatbot in Education
Educational industry is one of the prominent industry which is making the most utilization of Chatbots. Chatbots helps them in numerous ways and help them build one of the best and effective ecosystem. Right from the admission procedures to student welfare and hosting academic activities, chatbots are playing a major role.
· Chatbots in Automobile
Chatbots helps businesses based out of the automotive industry in generating more revenue than ever before. It can help them in streamlining the entire process thereby helping the management in having their hands on top of the entire activities.
· Chatbots in HRM
The role played by Chatbots in figuring out the right candidates that fit the perfect for a particular job is prominent. In big companies, handling various human resources activities can be challenging at times and this helps businesses lose their grounds. Chatbots back them during critical situations like this.
· Chatbot in Tourism and hospitality
Chatbots eliminates all the hassles of both travelers and businesses dominated across the travel and hospitality industry. It helps them stay ahead of the competition by offering exemplary outstanding services to the end customers.
· Chatbots in Healthcare industry
The medical industry is leveraging chatbot to its fullest. Hospitals and related medical institutions are now able to deliver accurate services to their clients. Chatbots have made the wholesome of the process seamless. Right from booking the doctor's appointment to collecting the patient records and availing medication history, chatbots are disrupting the conventional ways and practices.
Conclusion
It is no doubt that Chatbots are the face of tomorrow. They are transforming businesses at a rapid pace for the good. Chatbots are taking over the conventional practices and systems, thereby giving rise to the revolution. Business owners are now able to deliver their best services to their end customers leveraging chatbots.