March 30, 2021
Posted by:

Admin

Category:

React Native App Development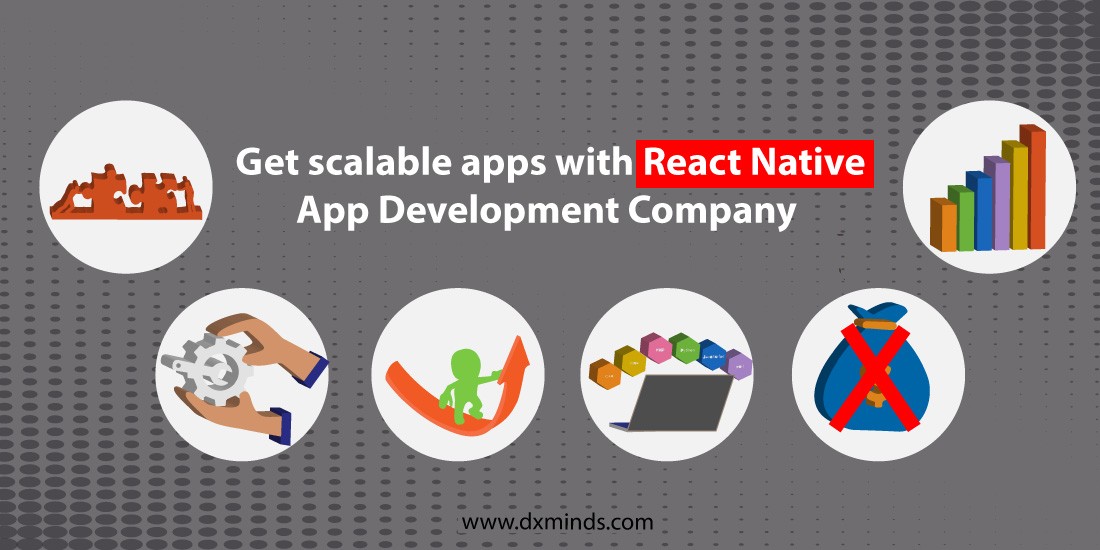 The mobile app industry is stealing the show. If you want to take over the market, app presence on all platforms take over the market, app presence on every platform is a must. Building a native app for each platform is a daunting task since it is a time-consuming and costly task; this is where react native app development company comes in handy. React Native proves to be a reliable cross-platform solution.
React Native is a prominent open-source project of Facebook. By utilizing the fast-growing React library, React Native is used for developing mobile apps. Since its inception, it has transformed mobile app development with higher speed and performance.
React Native is a robust open-source platform for developing a cross-platform app with a native-like user experience. As an additional benefit, React Native developers can craft a feature-rich app without compromising on the UI and UX.  You can build an app with a seamless performance using a single codebase. Some of the popular React Native-based apps are Tesla, Walmart, Airbnb, and Facebook Ads. The code usability feature is one of the best-in-class features, which helps you save a lot of effort and time. The developers don't find it difficult to develop code for Android and iOS platforms.
DxMinds recognized as the leading React native app Development Company in India with a talent pool of experienced developers leverages the Javascript framework to create scalable, futuristic, and appealing applications which meet the industry standards. Our team strives hard to offer excellent web solutions which help to meet business requirements.
Ease of maintenance
React Native-based apps do not have to face difficulties. Hire React Native developers in India if you do not have to deal with the version change in Android and iOS frequently. These apps are like native apps and combine with every component of the device. If you are an entrepreneur, you can save money by utilizing this cross-platform app development. You don't need to spend a lot on maintenance.
Easy Integration
Hire React Native programmers to make easy integration with other apps and your business system. Easy integration enables the app to maintain performance during and after the integration process.
Flexibility and Scalability
React Native, being a cross-platform app development platform offers many native components and brings flexibility to the sector of app development. As an additional advantage, the React native developers in India can develop a feature-rich app that is in line with the business model without spending any extra amount.
Moreover, the React native-based cross-platform apps can be easily accessed on any device irrespective of the operating system. Due to its higher scalability feature, you can easily make modifications to the app with new features in a small amount of time. You don't need to be dependent upon high proficient team which takes an immense amount of time.
No additional cost is required
The mobile app development cost matters a lot in the development phase. If you want to build an app in React Native, the top react native development company will not hire mobile developers for both Android and iOS separately. You can hire a single team of mobile app developers or an experienced professional who has great in-domain expertise according to the business requirements. In this way, you can save a lot of money and time.
React Native is based on JavaScript, hence developers who have extensive years of experience in this language can easily learn React Native. It is always a daunting task to find developers who have experience in JavaScript, hence you can get rid of paying high to find expert developers. Hence it reduces the app modification and customization costs.
Get a Free Consultation
Easy debugging and easy testing
There are some excellent features such as easy integration, a single codebase, and debugging which help you save money. React Native makes it possible to build a cross-platform app with native features without spending a lot of money. Moreover, it also facilitates the React native developers to debug the application during the development stage.
Write Once and Use Everywhere
Facebook launched the React Native in the year 2015 and it became the hotshot technology in the field of the mobile app development field. The best feature of "write once and use everywhere" made it very dominant in the field of the mobile application industry, since you don't need to write code in Swift for IOS, java for Android, or C# for Windows. The applications which are built using React Native are native, which means they can be used for multiple platforms.
Programming Language
The programming language of a framework is the most important part of the language which influences several developers. If a framework utilizes any programming language which is commonly used, it becomes the sole responsibility of the developer. And in the case of React Native, utilizes JavaScript, which is one of the popular programming languages. JavaScript is one of the core technologies of the World Wide Web, and the other languages are HTML and CSS. Professionals with minimum years of experience in using web development can easily craft JavaScript applications. It is easy to learn a simple and easy language.
React Native utilizes NPM for installation
React Native language is always a daunting task for newbies. It utilizes Node Package Manager or NPM for installation. People with less knowledge of Javascript can also easily understand NPM and it is always an easy task for even the newbies to learn and utilize NPM commands.
GPU-oriented
The Mobile applications built using Native are mostly CPU-oriented. But the React Native applications are mostly GPU-oriented which leads to a better performance than the applications which are CPU-oriented.
Live Reload feature
The live reload feature offers the top React native developers two screens as to modify the code and another to see the modification. It is one of the best features in the mobile application development field.
Performance
React Native framework uses unique techniques to economize DOM operations which are required to update the UI. React Native introduced a new timeline feature that allows the developers to have a close view of the components getting updated, mounted, and un-mounted at best React Native development company.
Component-Based
React is a component-based framework. With each component designed with specific logic, you can create a UI interface of the web application. As the data is written in components, the react-native developers can easily change the code.
React Native vs Ionic vs Flutter
Flutter and Ionic are also some of the cross-platform mobile applications. While Ionic is a bit old now, Flutter seems to be a great technology that is giving tough competition to React Native.
Let's compare to see where React Native stands.
Programming Language
React Native programming language is one of the greatest advantages of it, as it is built using JavaScript. Flutter utilizes Dart Language while Ionic uses HTML and CSS along with JavaScript. While considering the different programming languages, React Native has an upper hand over Flutter.
Support
Since all these frameworks are open-sourced, which always welcome external contributions, the passing of knowledge, and the resolving issues effectively. In the field of community support, React Native and Ionic have strong support while Flutter still needs to develop its support.
Front-end support
React Native has a great attractive user interface and in-built widgets. It supports native components and declarative UI. The case of Ionic, it has a wide range of UI designs and utilizes the typical approach of HTML and CSS.
React Native Users
In daily life, there are commonly used mobile applications such as Facebook, Instagram, Uber, Walmart, and Tesla. On the other hand, Flutter is also used by famous companies such as Alibaba, Google Ads, AppTree, and a lot more. Ionic is not followed by giants.
Component-Based
React is a component-based framework with each component designed with specific logic, a user interface of the web application can be created. The logic is written in JavaScript, instead of templates so developers can easily pass the data throughout the application.
Asynchronous function
React Native is significantly utilized in app development because of the asynchronous functions and generators offered by ES6.
Server -side Communication
React Native library empowered developers by offering lifecycle hooks that enable the server requests and make it easy to understand the mechanism of XHR requests and easily update the library according to the requirements.
React Native Services
Our team follows an agile methodology to ensure that the app is delivered on time. They develop robust and differential Android/iOS apps using a Javascript library that helps you deliver best-in-class apps. Hire React Native developers in India to access incredible applications that work seamlessly around cross-platforms and turn ideas into reality.
Mobile App Migration
At our React Native Development Company in India, hire React native developers with appealing UI/U If you are feeling difficulty in reengineering some existing legacy mobile app or migrating it into React Native with appealing UI/ UX, then you can hire React Native developers to modernize your apps in every aspect.
React Native Consulting
Our experts understand your mobile app development requirements and offer you the right guidance required to convert your ideas into reality. Our team understands the aim of developing an app, creates the roadmap, and utilizes React Native to craft customized apps.
React Native Development
Our React Native development services cover the entire gamut of services, from designing an intuitive UI to developing cross-platform mobile apps for Android, iOS, and other platforms to customize the mobile application.
Our expert team has an in-depth understanding of the React Native language and its API library to help you understand the basic functioning and its application development.
React Native Team augmentation
The best React Native development company in India offers a team of experts who have immense years of experience in the field of React Native, hence the clientele can augment the team of experts according to the business requirements.
We have become an extended hand by providing a great team of professionals by following an outsourced development model.
Quality Assurance and Support services
We ensure that you get a complete quality check on the web solutions offered by us. Our React Native development team offers great support and maintenance services. App updation, customer-specific app development, and performance optimization are some of the best-in-class services offered by us.
UI/UX services
Hire React Native developers in India to deliver applications with appealing UI/UX designs. Our niche-based high-resolution designs help clientele with adaptive UI designs customized for your app. They strive for excellence in delivering applications with exemplary services.
Get a Free Quote
World-famous apps built with React Native
Many enterprises and large-scale companies have started leveraging the React Native platform to develop the most amazing apps of all time. Let's dive into some of the companies which utilize React Native platform:
Instagram
Instagram is most probably the most popular mobile app which has a maximum number of downloads every day. React Native enhances their velocity and delivers the product much faster as it has the capability to code between the apps for both Android and iOS mobile devices.
Airbnb
Airbnb a popular American vacation rental portal was initially facing the issue of slow development time, but thanks to React Native which helped to deliver the app in a short time with a native-like experience.
Bloomberg
Bloomberg offers the business and finances latest updates. React Native platform was the reason behind their speed of development towards new features and offers clientele a better-streamlined experience.
Facebook Ads
After the release of Facebook ads in 2015, Facebook Ads started utilizing the React native platform. Due to its appealing UI/UX Facebook ads have become the most responsive and attractive
Features.
Uber Eats
Uber Eats is one of the popular food ordering and delivery apps. On the initial note, the company wanted to enhance its built-in restaurant dashboard. But they were confused regarding the selection of a platform and finally, they selected React Native. After the app got updated, their restaurant dashboard allowed clientele to utilize more functionalities and hence significantly enhance their consumer base.
The Conclusion
Easy integration and maintenance, a single codebase, and ease of programming language are some of the noteworthy features of React Native. React Native, being a cross-platform app with native features is a great investment where you don't need to spend a lot.
DxMinds, being a recognized React native development company in India offers a proficient team of designers and coders who delivers world-class React native apps. They have a great team of professionals who have 4-5 years of experience in the react-native platform. Our expert team strives hard to build scalable, creative, and interactive applications. We are popular all around the globe to offer exceptional quality mobile apps.
They offer a great team of professionals at competitive rates. You can upscale the number of professionals according to the requirements of the clientele. We always follow the agile methodology to complete the given project on time.
If you are having any business ideas and want to convert them into an incredible app? Get in contact with us or drop a mail at info@dxminds.com