February 16, 2021
Posted by:

Admin

Category:

News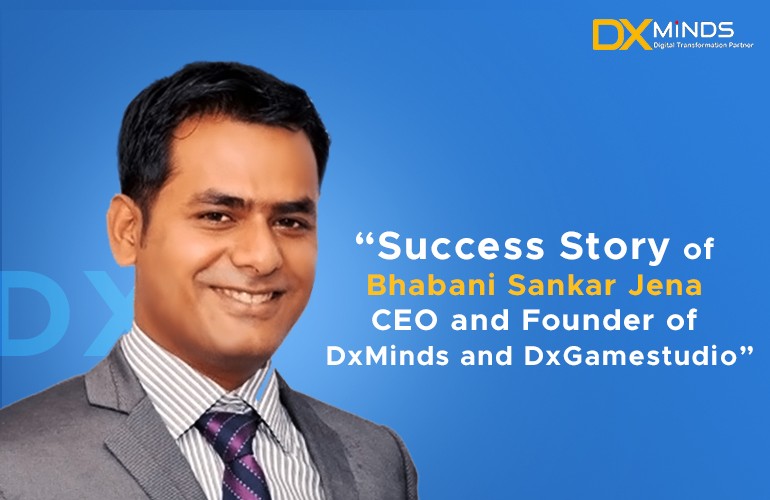 Success is not an overnight recipe; it needs a lot of effort, patience, determination, and dedication. That's what Mr. Bhabani Sankar Jena's quite inspirational story narrates us all about.
Bhabani Sankar Jena is the founder and group CEO of DxMinds Technologies.
From the very beginning, he had an extreme interest in the ever-evolving technology stuff and chooses to become an entrepreneur who envisioned helping auspicious businesses by creating impactful technology-based solutions that bring effective transformation in their conventional business models.
At an early stage, he started his technophile journey from the bottom with the role of software engineer at two big giant companies known to be Mascon Global Ltd(Feb 2003- Jan 2005) and Samsung Electro Engineer( Feb 2005-Apr 2008) and served approximately 5 years. He didn't stop there, his obsession with his vision sparkled him to kick start his technopreneur journey in mid-2008.
Even though he decided not to work longer as a technical expert, but believed in his experience. His work with the flourishing technological world has helped him to reach the ambitious CEO level.
The identity got shined when he made his first big move by becoming the Co-founder and CEO of a successful Mobility Company FugenX, which lately in 2017 got acquired by a $65MN US-based company.
During his ownership and supervision, the company build and delivered 1000+ successful projects and was crowned as Deloitte Tech Fast 50 India and Fast 500 APAC for 3 years.
Most demanding and thriving Apps such as Big Basket(funded by Alibaba group), Byju's classes(funded by Mark Zuckerberg), and more, which are now recognized as billion dollars valued company was got shaped under his guidance.
Despite the got pushed through the rough patches, he never stopped dreaming to lead his vision and took another big step by starting another digital transformation venture known as DxMinds Innovation Labs 
About DxMinds Innovation Labs
DxMinds is born to help promising start-ups, aspiring small and medium businesses, and established firms with cutting-edge technology solutions that drive transformational outcomes and unlock new market opportunities.
The company uncovers the disruptive technology services such as Artificial Intelligence, Blockchain, Mobile applications, Chatbot, BI and Big data, DevOps, Cloud computing, Gaming, AR/VR, IoT, and Web3.0 
This Indian, USA, and UK-based start-up which got emerged in just a couple of years has already rolled out with big projects and has earned a reputation as Start-up of the year in 2020 by Silicon Valley of India.
Mr. Bhabani Sankar Jena is dedicatedly proactive in his ambition and wants to make DxMinds a one-stop destination for embracing winning technology solutions that deal with diverse business pain points.
Speaking about his mindset he says "Technology which is glowing today might get faded by tomorrow. So we need to be at the forefront with new changes and trends"
Honorable Award and Recognition 
Start-up of the Year award for DxMinds by Silicon India startup city in the year 2020
Indian Leadership Award For Industrial Development on the occasion of National Seminar on "Outstanding Contributions to National Development" in New Delhi, 2014
First Distinguished Alumnus Award –2015 from Koustuv Group of Institutions
Achieved high revenue growth, which helped FuGenX in achieving Deloitte Technology Fast50 India and APAC 2012, 2013 & 2016 awards.