October 23, 2020
Posted by:

Admin

Category:

Innovation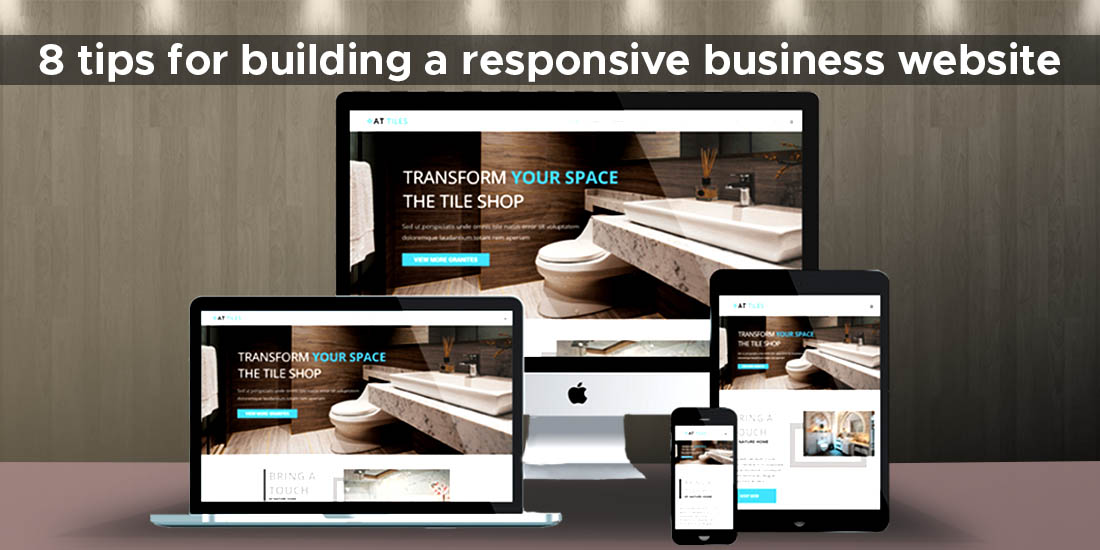 Do you want to attract new users to your product or service? A website is the most effective way to capture your user's attention. The online competition is vast. Therefore, it is important to use the right techniques for your website to stay ahead of others. It takes 15 seconds to generate a user's interest in your website. 
Your website design should ensure that your site is responsive. A responsive website allows for a pleasant user experience, minimal scrolling, zooming, and confusion regardless of the device being used by the user. The more enjoyable your website is, the more likely a visitor will stay.
Why Use Responsive Design?
Simply put, a responsive web design is an approach to putting together your website to allow the optimal viewing experience on any size of a device's screen. An increasing number of people are using their mobile devices to research a product before buying it. 
If your website doesn't appear properly on a mobile device, there is no way a visitor will stick around. That's why your website should be designed to work efficiently on all devices.
Google examines whether a website is mobile-friendly or not as part of its search engine optimization algorithms. This automatically makes user-friendly sites rank higher compared to those that are not. With this in mind, it's important to make your site as responsive as possible.  
Tips for Creating a Responsive Business Website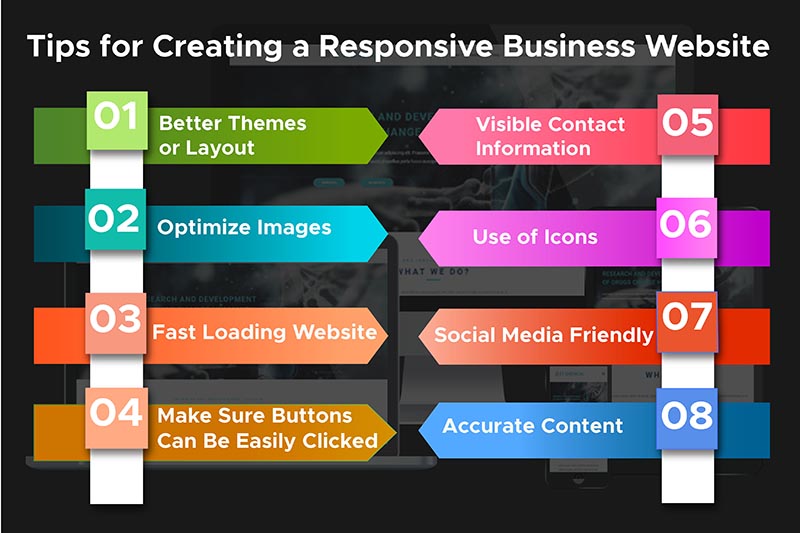 We will discuss the tips for an effective design to ensure that your site is responsive and mobile-friendly.
Better Themes or Layout
The design of your website that is seen by every visitor is known as the theme. Themes are meant to add life to the site's design, and having the best theme meets the need of your brand.
Avoid clutter that can lead to your site looking busy. Additionally, if the information used on your site is minimal, the user can easily understand it. In most cases, minimal design and content will take less time to load. A bad design can divert your visitor's minds and leave your site. 
Optimize Images
The best way to create an emotional bond with your visitors is by using images. Images allow users to visualize the product they are interested in.
Therefore, your site should use relevant images that should be saved in the appropriate format. JPG is used for photographic or scenic images and PNG for icons and logos with a transparent background. Image resizing determines how images are handled on different user screens.
Fast Loading Website
Speed is a crucial factor in every website. A user can leave your site instantly if your website is slow to load. This puts the wrong impression of your company as well.
It is important to check the speed of your website to sustain quality content at a fast speed.
Make Sure Buttons Can Be Easily Clicked
If the buttons are made so small to fit on the screen, they may be harder to click. You can enhance the button's proper visibility by using a different color to make them stand out from the rest of the page.
Additionally, your buttons can be placed on a circle or rectangle to represent a button.
Visible Contact Information
If your visitors take a lot of time looking for contact information on your website, they may leave the site. It is easy to navigate a contact or a share link from a desktop site. Make sure the same visibility applies to a mobile site. If possible, place your contact information at the top of your home page for better accessibility.
Use of Icons
When creating a responsive website, icons and symbols are very important. Text on a site can make a website very interesting. But if the text is too bulky, it may take a longer time to scroll through.
 You can use an understandable image or icon in place of the text to tell the story of your content. Anyone can comprehend a well-put icon. This helps your content look clear and understandable to fast readers.
Social Media Friendly
Today, almost 3.8 billion people are using social media. In recent times, social media has become the most widely used platform to connect people and do business effortlessly.
Make sure your business site is social media friendly to enable you to connect with new visitors and build better relationships with your current customers. A social media presence works best for all types of business professionals.
Include social apps such as Facebook, Instagram, and Twitter on your website. Remember to include a share button to connect with more target audiences. 
Accurate Content
Customers love knowing that what they are reading is accurate and reliable. Inaccurate content will put off readers from your site. Inaccurate information such as a piece of outdated product information, simple grammatical errors, a wrong number can quickly dismiss your company as unreliable.
It is important to proofread your information before publishing and periodically make updates on your website to add relevant information.
The main aim of a website is to generate traffic. A responsive business website uses every technique required to make it more accessible to its target audience. The main thing you need to do is keep up with the latest trends to keep you at the front line in a highly competitive field.