April 6, 2021
Posted by:

Admin

Category:

Chatbot App development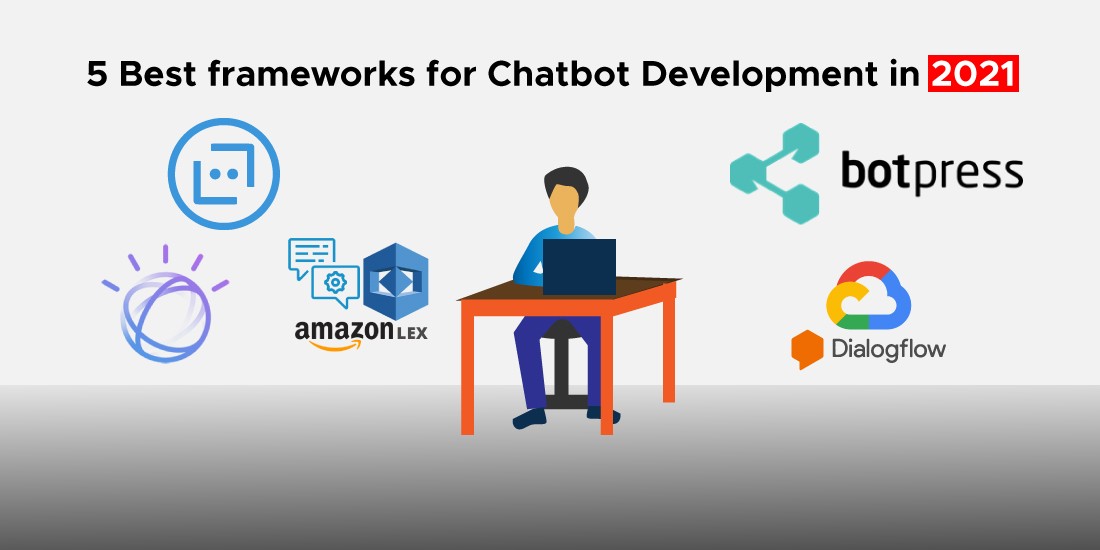 The chatbot is an indispensable element of the digital world that enables businesses to serve their customers seamlessly. The chatbot is being accepted by almost all businesses and has become the easiest way for them to communicate with the outer world and address the queries of customers to resolve them quickly. The superiority of chatbots lies in the framework chosen by the chatbot developers. Several frameworks have been used for Chatbot development, but most of the chatbot development companies in India are using the latest technologies to enhance the capabilities of the chatbot and enable it to serve the customers by replacing manual assistance.
Some technologies and frameworks have been ruling the recent IT sector giving a new approach for chatbot development. If you are also willing to know about the frameworks that have stepped an extra mile in developing chatbots with exciting and unique features, then here we have meticulously created a list of top frameworks that can help you to develop the best chatbot.
Top chatbot development frameworks that are thriving in 2021 to navigate the business sector:
Microsoft Bot framework:
It is one of the most preferred frameworks used to build intuitive and most intelligent chatbots. The framework offers rich features enabling the developer for easier chatbot development with flawless deployment and management from a single platform. It is one of the favorite frameworks of chatbot developers in India and the reason are the two major components offered by the Microsoft bot framework. The first component is the channel connector which connects the chatbot with different communication channels allowing a swift connection with the customers, and the second component is the SDK that offers an effective implementation of business logic in the channel of conversation. It offers an easy chatbot development with Ai experience.
What you can create with the Microsoft bot framework?
Chatbot developers can develop a bot that not only can understand the query of customers but can also listen, speak and learn from the user's activities using Azure cloud services.
The development can take the benefit of developing a bot that can connect with other bots and enable flawless communication using the open-source SDK offered by the Microsoft bot framework.
This framework also helps you to develop a secure and scalable solution that can be easily integrated with any type of IT ecosystem.
It allows you to keep control over the data and keep it secure
Free Consultation Request
Amazon Lex
To develop a flawless communicational interface for your IT ecosystem, Amazon Lex is the most preferred framework of chatbot development companies in India and also another part of the globe. Using this framework you can develop an application incorporated with text or voice assistance. The Amazon Lex helps the chatbot developer to develop a highly interactive chatting channel with automatic speech recognition technology with the capability to understand natural language. This allows the development of an extremely engaging chatbot with an enhanced user experience.
The chatbot developed with the Amazon Lex can be launched on any communication platform, such as Facebook Messenger, Slack, and many more.
Benefits of using Amazon Lex for chatbot development are:
Simplicity to use
Democratized deep learning technologies
Offers a one-click development
Seamless AWS integrations
Cost-effective
Use of automatic speech recognition (ASR) and natural language understanding (NLU)
Effortless deployment and scalable chatbot development
Speak to The Expert
Google Cloud Dialogflow: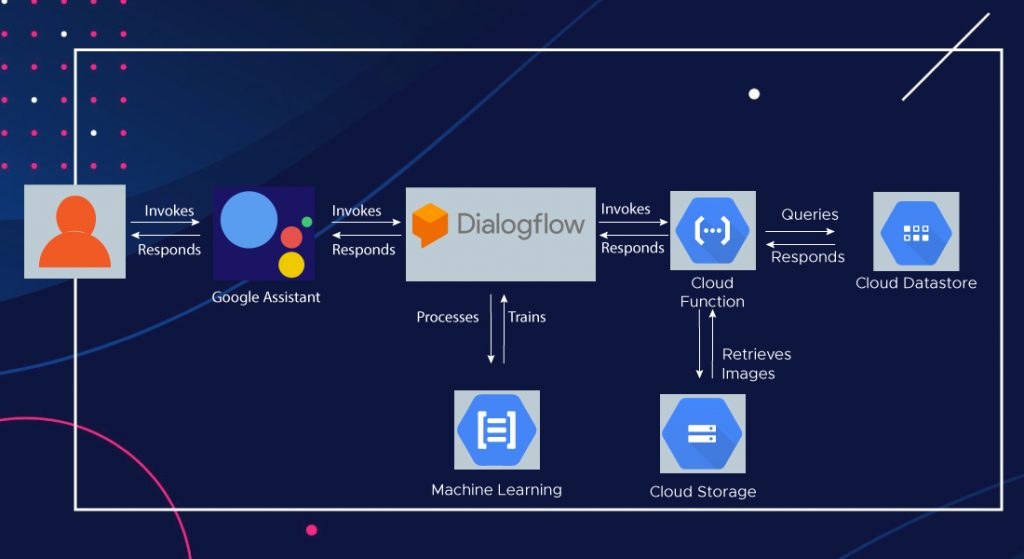 Dialogflow is one of the advanced level frameworks used for the chatbot development of a conversational application with the power of artificial intelligence that also includes voice bots and IVR bots. The reason for which chatbot developers in India chooses Google Cloud Dialogflow is the availability of versioning tools, advanced level of IVR, and scalability. It is a cross-platform framework that can be used to develop an app for various platforms. A chatbot developed with this framework can be integrated with any platform. This platform also allows you to use Google cloud support offering a services level agreement for the deployment of products.
Benefits offered by Google cloud Dialogflow framework:
Interact naturally and accurately
Build quickly, deploy universally
Manage and scale with ease
Dialogflow CX and ES agents used for chatbot development:
The two distinct agents offered by Google cloud Dialogflow are CX and ES are:
Dialogflow CX: It offers an advanced agent to develop large and complex elements
Dialogflow ES: It offers a perfect agent that can be used to develop small and simple elements
The common documentation shared by the CX and ES are:
Editions: Detailed comparison of editions and agent types.
Support: Support options, FAQ, troubleshooting, etc.
Resources: Pricing, quotas, release notes, etc.
Key features offered by Dialogflow are:
Visual flow builder
Omnichannel implementation
Advanced AI
State-based data models
End-to-end management
30+ language support
Advanced performance
Data export to a custom dashboard
Easy integration with popular messaging channels
IBM Watson Assistant:
IBM Watson Assistant is another name that is very much popular in the world of chatbot development. This platform is used for developing live chatbots for various applications developed on various platforms. Most of the chatbot developers in India use this framework for the development of android chatbots for the retail and banking sector with a voice integrated chatbot. This type of platform offers pre-configured content that can be used for banking, finance, or e-commerce sectors which requires vast data to serve their customers well. This framework also offers an advantage of machine learning that can enable the chatbot to learn from the on-going trends and respond to the queries of the customers.
The best benefit offered by the IBM Watson assistant framework is the user-friendly GUI which allows even those folks to use it even if they are not well-equipped with the technologies. Another benefit offered by the framework is support to 13 different languages which makes the use much easier.
Benefits offered by the Watson assistant:
Increased customer satisfaction with the natural language understanding
Simplified customer service that chooses the right data to be served to the customers
Can deliver a personalized experience to the users
Offers higher security to the chatbot
Features offered by the Watson assistant:
Across any channels of communications, the chatbot developers can develop web chat, voice chat, and messaging platform
The framework is having built-in artificial intelligence technology that offers a great customer experience with speech customization, natural language understanding, data storage of history records, etc.
It is an easy-to-use platform with auto-learning and conversational analytics as advanced features
It offers customer service integration with advanced APIs and SDKs
It can be deployed on any cloud-based premises
Excellent data protection
Botpress:
It is an open-source chatbot development platform that allows the developer to develop an efficient and intelligent chatbot effortlessly. The chatbot development with botpress is as simpler as the development of a website with WordPress. It offers excellent UI which is easy to use allowing even non-technical people to use it effectively. This chatbot development framework offers a variety of rich features such as dialog manager and flow builder. These two features make this framework more preferable to use.
Botpress is:
Natural Language Understanding (NLU)
Developer-focused
Built-in graphical interface & flow editor
Runs fully on-prem (control your data)
Support multiple messaging channels such as Web chat, SMS, Telegram, Facebook Messenger, etc
Botpress is a virtual assistant platform using which the chatbot developers can easily develop a chatbot. It offers a built-in tool for easy development, deployment, and maintenance of the chatbot. The built-in channels included in the botpress framework are:
Facebook Messenger
Telegram
Skype
Slack
Microsoft Teams
Website (Webchat)
Conclusion:
Chatbot has emerged as a powerful tool that can help businesses to communicate with their customers anytime and every time. There are a plethora of frameworks that can be used for chatbot development but a few which has been ruling out the industry and have made a remarkable place in the chatbot development sector are Microsoft Bot framework, Botpress, IBM Watson Assistant, Google Cloud Dialogflow, and Amazon Lex. By using any of these frameworks, chatbot developer can develop the most intuitive and intelligent chatbot that not only automate your customer support but also make it swifter.
Book an Appointment With Experts
Faqs:
What is a chatbot?
The chatbot is a chatting platform powered by artificial intelligence that helps the business to communicate with the customers seamlessly without any manual assistance. Chatbots can be used on various platforms and can make the product responsive.
What technology do you use for chatbot development?
Chatbot development completely depends on the client's requirement. Being one of the leading chatbot development companies in India we use the latest framework such as chatbot developers can develop the most intuitive and intelligent chatbot. Using these technologies we can deliver the best and most intelligent customized chatbot.
How long does it take to develop an intuitive chatbot?
As we offer a customized chatbot development, hence the development time of the product completely depends on the requirement of the client. A simple and effective chatbot will take around 4 weeks of development time, while a complex one may take a longer time.
Popular Posts: