Hire Chatbot Developers in India
Technology has always been leveraged for the good, repetitively over the years. The best applications of technology have revamped the traditional lifestyle of citizens, all the time round. With technology on the frontline, many businesses and organizations are making it big. It is offering all the necessary stuff that enhances and adds value to business growth.
Ever since its advent, chatbots were always on the limelight. It offers businesses the bandwidth to flourish their day-to-day operations. From a business point of view, chatbots help them exponentially in scaling their business to the next level. To put that into perspective, a finely built chatbot comes with all the necessary ingredients that are mandatory for a business to flourish. Being the best chatbot development company, our mission is to connect you with the best chatbot developers available across the globe to make your chatbot dream come true. Our chatbot developers are extreme technologists and profound experts coming from a tech-savvy background that they can seamlessly meet and greet your requirement in the most appropriate way possible.
Hire Dedicated Developers
Onboard leading chatbot developers
We are DxMinds, the best product engineering company with a global presence and customers. Our mission is to empower your business in the best possible way by gradually supplying you with the right amount of talent in a timely manner. Our developers are profound technologists and agile developers. All the solutions they impart help you keep your business on track and never let it go out of the league. They are well equipped with state-of-the-art technologies and best development practices which in turn make your business a full-fledged one. By analyzing your business in-depth, our well-versed resources derive the best formulae and come up with a world-class level of chatbot that eliminates all the hassles and bustles off from your business.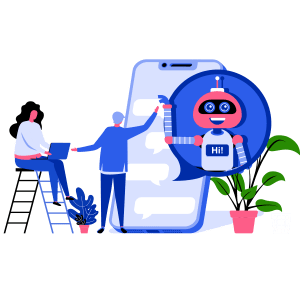 Our chatbot services are all you need to excel
Chatbots have turned out in becoming the need of the decade and to put that into perspective, we help you hire the best chatbot developers in India. Our resource pool is wide and potential that one can avail of services based on their requirements. The resources we hire are onboarded as a result of surpassing intensive rounds of interviews and their proficiency in the field of developing futuristic chatbots directly gets reflected in your business frameworks. Our resources come with profound experience and domain authority they are the best in-class resources one could ever hire. The world-class level of chatbot services you avail by hiring certified chatbot developers is all you need to take your business to the next level and make it flourish like anything.
Our chatbot development services
We uphold a wide array of precise chatbot development services that go straight into your organizational frameworks.
FAQ Chatbot development
If you are running a small-scale business and you want to attract a potential set of customers, a FAQ chatbot comes your way. It is a basic level of chatbot and our profound developers help you come up with one, that too first of its kind. Our developers are backed with all of the latest technologies available in the market and they can seamlessly make a chatbot that helps you engage your customers in the best way possible. Hire top chatbot programmers from the house of DxMinds and experience in reality what the best chatbot development services can have on your business and how far it can take it forward.
NLP chatbot development
The most accurate NLP chatbot development services rolled out by our resources adds more mileage to your business. Our resources add more value to your business frameworks, enhancing your chances of becoming a global business. By hiring world-class chatbot developers, you are given a chance to explore the unexplored, make the odds even, and bring the best out of your business. Natural Language Processing chatbots developed by our talented resources can enhance your business growth by engaging the customers in the most intrinsic manner.
AI Chatbot development
Artificial Intelligence Chatbots are gaining huge traction from the global community and have turned out in being everyone's cup of tea. It adds more value to the business frameworks and businesses are making the most out of it. To put that into perspective, we help you hire the best AI chatbot developers on board from our enriched resource pool.
Enterprise chatbot development
Based on your enterprise requirement and to meet and greet in the most precise manner, we help you hire the best chatbot developers in India. Our resources are well experienced in associating with potential chatbot development projects, and nothing comes their way as a barrier to the development. The combines world-class technologies in order to make your project a full-fledged one. Their services are well acclaimed by our global set of customers and uphold a high degree of customer satisfaction rate.
Chatbot consultation
With our well-versed proficiency and hands-on experience in developing futuristic chatbots, we offer end-to-end chatbot consultation services to our prestigious set of customers. Our resources are well-trained to deliver their best all the time and are one hundred percent committed to the same.
Maintenance and support
Proper maintenance is a factor determining the success rate of a chatbot and we offer full-fledged chatbot maintenance and support services. They are available round the clock, 24x7. We love serving our customers to its fullest and we do it very often.
Why hiring chatbot developers from India?
Reliable

Indian chatbot developers are one hundred percentages reliable when it comes to developing potential chatbots. Global businesses can go stress-free relying upon Indian chatbot developers. This peculiarity enhances the wholesome of the project development and makes Indian developers a good hire when it comes to chatbot development.
Economical

One can avail of global chatbot development services at competitive pricing from Indian developers. The less cost of living, seamless resource availability, flexible government rules, and regulations, etc are the major factors that add value to this point.
Committed

When it comes to developing futuristic chatbots, one will find it hard to avail of services that are as potent as the services imparted by Indian developers. This is because of the commitment and dedication Indian developers have towards the development process. Their commitment goes beyond the borders and has helped gain traction from a global set of businesses.
Resourceful

Chatbot development comprises of various technology integrations and one needs to have their hands on top of various technologies like Artificial Intelligence, Machine Learning, deep learning, blockchain technology, Augmented Reality, etc. Indian developers come with extreme mastery over various technologies that they roll out the best in class services.
Our resource hiring model
Offshore development center
Our offshore development centers offer a high degree of flexibility as it comes with a handful of advantages. Under this model, we help you hire world-class level resources in a seamless manner. Our resources come from a tech-savvy background and can precisely meet your requirement, that too in a timely manner. With our ODC model, you can get rid of all the activities and overheads, thereby focusing keenly on the core process.
Turnkey and co-owned projects
This engagement is also known as a fixed-cost model. Under this model, the wholesome of the project is analyzed in-depth and the overall cost is calculated. It is then shared with the customer prior to the development. The resources are charged on an hourly or on a monthly basis. This engagement model offers a high degree of transparency for businesses as they can avail of full-fledged services before the deadlines.s
Build Operate Transfer
The build phase under which we set up everything from scratch including infrastructure, amenities, resources, etc, the operating phase under which we ensure the system is operating in a flawless manner and the transfer phase where the ownership of the entire system gets transferred to the customers upon request are the various phases involved in the highly flexible BOT engagement model we offer.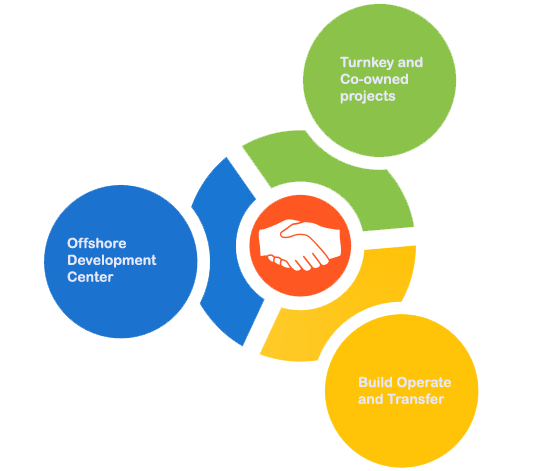 Frequently Asked Question's