May 7, 2021
Posted by:

Admin

Category:

Technology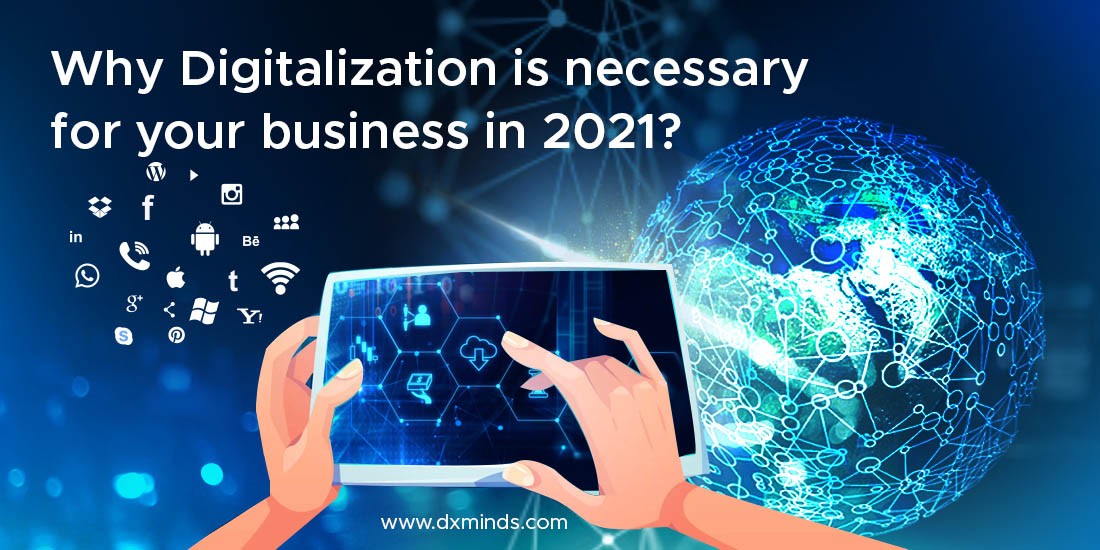 Do you know digitization can bring wonders for your local businesses by coping up with the Ongoing COVID-19 outbreak? Yes, that's true. In the Current COVID-19 epidemic 'digital' has become the talk of the town implies the savior solution for businesses to sustain the challenges laid out by this dreadful virus.
This disruption which has made people scared and anxious to step out from home has impacted and limited the offline businesses to carry out their physical operations of selling the products and services. Already tremendous businesses around the world are it small to big giant business has fallen into the big loss during this disaster time.
You are not aiming to be on that lost list? Aren't you?
Still, it's not late, Now or then, but once in this digital dominant world your business must have set the foot into the digitalization. So Why not now?
How to Make Your Businesses Survive and battle against this horrifying COVID-19? Is digital transformation or inheriting digital technologies is the only way to stay competitive while being connected to customers?
Know everything by being with this value providing blog that instructs
Why digitization is necessary for your businesses in 2021
How could digitalization benefit in present as well as the future?
How to grow a small or any business with the power of digital transformation?
Let's answer the queries one by one. To continue with this blog.
Let's talk with the experts
What is Digital Transformation?
Digital Transformation is the technique that gives new birth to your businesses by remodeling their functioning and process with digital technologies. It is considered to be the best way for building long-lasting relationships with the business end customer.
With the emergence of new tools and devices, it has become easier and faster to deliver quality services and products to your customers.
However, not all businesses look to modernize their processes with the help of technologies. Those that refuse in adopting digital strategies or transformation soon or later will witness a downfall in the customer base as it becomes difficult to satisfy their growing interest and demands.
Undeniably digital transformation holds the potential to give the best exposure to your business. Have a look into some stunning data that tells how digitalization has impacted the business
According to the research made by Deloitte (https://www2.deloitte.com/content/dam/Deloitte/es/Documents/Consultoria/The-performance-of-SMBs-in-digital-world.pdf) paste the hyperlink for Deloitte
More than 40% of small businesses have embraced the best results in consumer growth with the adoption of digital tools
Around 70% of them have gained a high percentage of revenue growth with digital transformation
90% of the businesses that have to utilize digital tools reports has helped foster innovation
Businesses that adopted the digital transformation journey are twice as profitable as those that don't.
Why Digitalization is necessary for local businesses in 2021?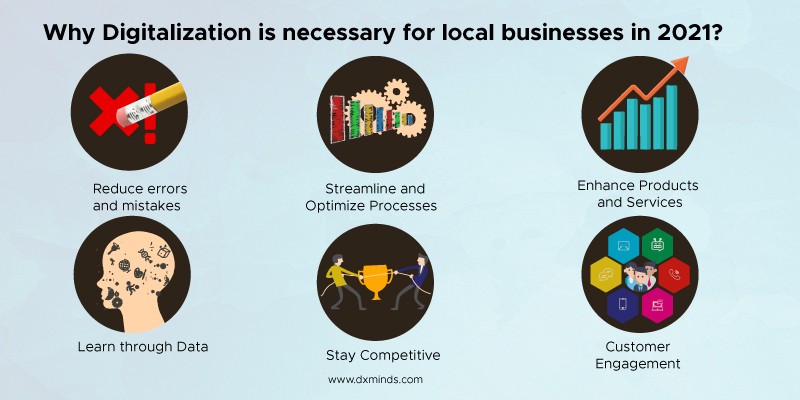 By analyzing the above stats you probably understood the power of digital transformation that could scale any kind of business.
You might have thought that it is only defined for big companies? That's not true.
The fact is small businesses can make out great value and profit by digital transformation and also open up the opportunity to give cutthroat competition to the bigger players.
Below are few reasons that tell how digitalization can uplift your local businesses.
Enhance Products and Services
Well, this the main advantage you would leverage by investing in digital transformation. It holds the capability to serve your business products and services more precisely and attractively. This digital tools and technologies empower you to provide the best quality to your customers that are curiously waiting to experience such improvements and change their perspective towards your business positively
Streamline and Optimize Processes
Does your business profit-generating graph is same as it was before 10 or 20 years ago? If yes, then Digitalization is the proven way to take it to the next level.
As technology revolutionizes, so as the business process gets evolved with that. Through this way, your business can work smarter, flawless and deliver more value to your customers
Digital transformation unleashes process optimization by bringing down the ultimate automation tools that easily streamline the heavy process. You can be able to focus on performing other imperative tasks by leaving all the burden to digital software's and machines
Reduce errors and mistakes
No business whether it's small or big is resistant to make mistakes. However, it's essential to employ suitable efforts to lessen them as much as possible. Through turning around the digitalization your local businesses can reach this goal
The thing is Digital solutions enable us to cross-check information multiple times and even automate corrections.
By emphasizing technologies you and your customers would deal with much fewer errors in operations than before.
Learn through Data
If you want to take your business to a higher level then it important to learn and understand the customer, market, and product data. Through digital transformation, it's utterly easy to embrace the information about the market and business customers through which they can make better business decisions.
This is because Big Data brings out the best digital solutions. By considering tools such as this Google Sheets add-on, Sheets Genie, you are able to get the stats related to your activity and transactions. That is helpful to go parallel with customer interest and market trends
Customer Engagement
Digital tools uncover the best ways to engage with new and existing customers of your business. This strategy is effective to interact with those users that are immensely interested in your brands and products while disassociating from your competitors.
This operation is primarily performed by adopting interactivity tools for customer service.
For example with the real-time chat solution like chatbots or any other software's customer can resolve their products or service queries rapidly instead of contacting the representatives through the smartphone
Stay Competitive
In the technological world where one technology that is glowing today might get faded by tomorrow. So business and market trends in every niche are getting evolved rapidly. In such circumstances, if your business can stand with those trends then undoubtedly it might leave behind.
Still, if you endorsed the sign of digital transformation in your organizations or businesses, then is a lot more you need to catch up.
How to Develop a Small Business through Digital Transformation?
Aiming to invest in Digitalization for your local businesses? Then you must focus on unique and business-relevant strategies for getting quality best results, which can be embraced with the help of digital transformation companies.
While going through the below points which have been listed through depth research you can effectively implement digitalization for your local businesses
Spend on Technology
Digital transformation is not digital without the essence of technology. Numerous technologies are roaring out in the market so it essential to catch up with those trends that perfectly fit your business operations.
As the technology evolves, you probably need to lend on the new equipment and software to cope up with changes and boost the results further. It is advisable to stick with one goal- Try to stun and satisfy your customers by providing the best services and products
Elevate with collaboration
Just by implementing digitalization in your local businesses doesn't work out, you need to collaborate with different franchises digitally for lifting your businesses.
By encouraging collaboration strategies with the use of digital tools, you can get better business opportunities and improve the solutions. This is known to be the best way to reach out to the goals.
Include IT assets
Real Digitalization of local businesses entirely depends on integrating multiple systems for boosting productivity and improvising the opportunities for products and services.
That's why you should look for the best integrations to software and equipment
These multiple integrations are a pillar for making your Digital Transformation journey more impactful. By driving into this new world, you will come across the ultimate tools and software that will provide the required value to you and your customers.
Encourage Digital Culture
Provide your team members the effective digital tools that bring up the digital culture. These tools not only empower the collaboration but also move the entire organization towards success digital journey.
It also encourages upskilling and updating of team members by taking the advantage of digital transformation.
Last Words
To survive and stay competitive in this Digital growing world it has become imperative for any type of business to get hook up with Digital technologies. Digitization covers every aspect of a business from automating the business operation, reducing human errors to delivering user-centric services and products. But to take in this transformation you need to focus on hiring a reliable Digital transformation company that holds the expertise to bring disruption in your business with the help of on-demand digital technologies.
Experts are just a click away
Popular Posts: