January 19, 2021
Posted by:

Admin

Category:

Technology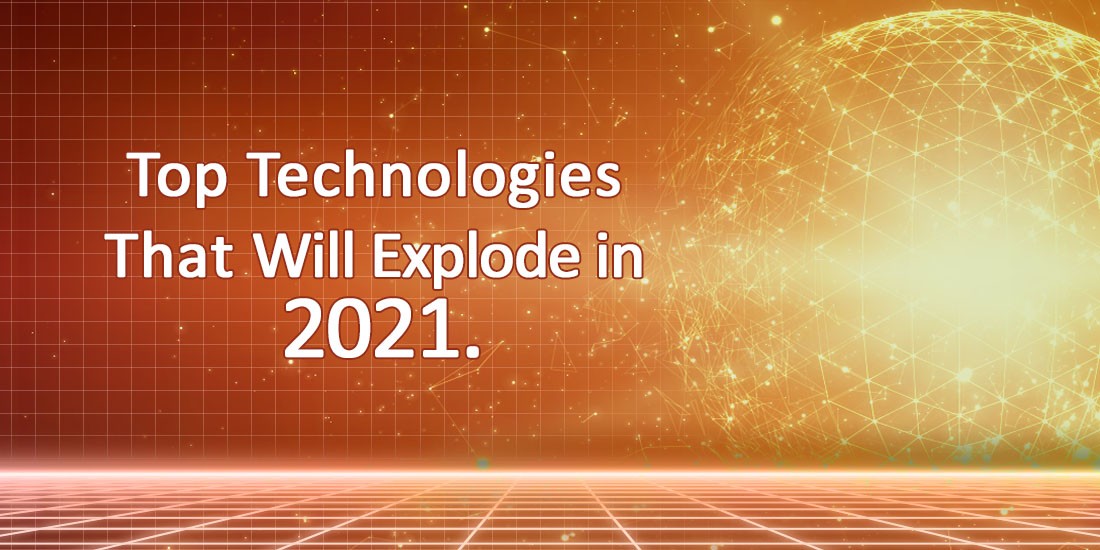 It's been decades that technology started evolving and has transformed the entire landscape, all for the good. Each technology that gets introduces is going through continuous polishing processes that one can witness the better versions of technologies each day. The aggressive research that is taking place and cutthroat implementation of the outcomes makes the technology industry highly vulnerable to transformations.
Innovation is the key driving factor for these technologies. They are revamping domains, businesses, landscapes, and lifestyles, all for the good. With the best application of state of the art technologies, both businesses and individuals can make the most out of the available resources. Global businesses are leveraging futuristic technologies for automating their end-to-end processes, that they can land upon the ideal solutions that uphold a high level of accuracy and less error recorded. The association with the state of the art technologies is lending businesses a helping hand in such a way that they can avail fruitful businesses and better ROI, all the year-round. Organizations are actively looking for technology partners to implement the latest technology adoptions to get rid of all hassles and bustles and to stay ahead of the game. In this article, we deal with top such technologies that exist in 2021 and how they are going to disrupt the respective spaces.
Role of technologies in transforming businesses
The role played by technology in taking a business to the next level is huge and omnipotent. And this remains the major reasons businesses prefer the implementation of state of the art technologies in their core business process. Let us have a brief look at what those main reasons are.
Accelerated growth
One of the major aspect businesses takes into account while going ahead with implementing technologies to their frameworks is their inputs towards business growth. Futuristic technologies can offer organizations gradual and stable growth. They are seamlessly relying upon these technologies to ensure continuous organizational growth.
Flawless process communications
With futuristic technologies onboard, businesses can get rid of all hassles that existed in the process that tends to be a hurdle that prevents the processes from carrying out quality communications. Flawless communication makes the entire system improve productivity, thereby offer higher chances for the business to scale like anything.
Globalization
Futuristic technologies allow businesses to reach out to the global market in a hassle-free manner. It let organizations in ramping their operations similar to that of the global businesses thereby letting them in being a key global player.
Optimized operations
Technologies are intended to bring changes on board and to enhance business visibility and transparency. To put that into perspective, it let businesses in optimizing their end-to-end operations, thereby helping them outperform their competitors in the market.
Boosted efficiency
Many organizations fall down in their way towards being successful due to the lack of efficiency. Traditional approaches in the tech-savvy era can stop them from being a global entity, no matter what. With futuristic development approaches, technology is taking over the traditional approaches thereby enhancing the organizational efficiencies.
Top technologies to look for in 2021
Artificial Intelligence
Artificial Intelligence or manmade intelligence is all set to flourish in 2021. Though the technology is very early in its initial stage, a wide array of implementations is taking place actively. Artificial Intelligence can take organizations far more and beyond by adding high-level transparency to the system. Predictive behavior, a high level of automation, etc. are some of the added advantages of Artificial Intelligence. Its wider adoptions are transforming industries regardless of their niche and type. From space to production, retail, healthcare, hospitality, and education, Artificial Intelligence has got all the domains covered.
Blockchain Technology
Blockchain Technology is one of the most transparent technologies that have been adopted aggressively these days. The fact that it remains a decentralized technology makes it an ideal technology for similar use cases. Its been used widely used for developing cryptocurrencies, cryptocurrency exchanges, wallets, dApps, decentralized finance solutions, etc.
Internet of things
Internet of things, IoT is one of the trending topics in the space. IoT is all about enabling devices, gadgets, and even living beings with the internet so that they can have effective communication with the services provided. with IoT, organizations can have regular monitoring of given use cases. The best application of IoT consists of smart city, smart campus, smart homes, etc.
Robotic process automation
Robotic process automation or RPA is meant to eliminate all the hassles and bustles that exist in the business operations. By enabling state of the art technologies, the entire RPA outpaces the traditional approaches and processes. It reduces the human intervention to its fullest, thereby performing repetitive tasks with utmost accuracy and productivity. RPA effectively handles the in house communication processes, thereby enhancing organizational visibility and transparency.
Augmented Reality
Augmented reality, commonly known to be AR is the technology which is used to place surrealistic objects, processes, and phenomenon in real-world situations. It's gaining huge popularity these days as its use cases are vivid and vibrant. Many experiments are actively taking place in the space to explore the unexplored potentials.
Virtual Reality
Virtual Reality is capable of taking the user to a virtual world thereby enhancing the user experience. One of the best use cases of virtual reality is in the gaming industry and it's yet to full fledge.
Associate with the right partners to avail top of the line services
Even though the technologies are meant to disrupt your business, what matters the most is the way it gets implemented. On the way towards onboarding technologies, one of the major factors organizations need to consider is to associate with the right technology partners like DxMinds Innovation Labs. Because they act as a medium in analyzing your businesses to the core and customize technology solutions in such a way that it fits the best for your key requirements. The major factors that need to be considered while going for the right partners are
Experience
Experience plays a key role in determining the successful implementation of technologies. With experience, comes the proficiency in handling technologies in a hassle-free manner.
Technology Mastery
End to end mastery over the state of the art technologies can help the organization to avail top of the line services. They need to look for mastery over various technologies prior to getting started.
Enriched portfolio
Top technology partners will have an enriched portfolio to showcase and this can be taken into account while associating with them.
Customer satisfaction rate
Shout out to the past and present set of customers of the particular organization in analyzing the customer satisfaction rate. The customer satisfaction rate plays a key role as it has a lot to say about the organization's capacity in meeting customer requirements.
Ratings/ Reviews
Analyze the ratings and reviews the organizations have over various online platforms prior to hiring.
Development costs
Go for low-budget yet full-fledged delivery partners on your journey towards onboarding digitalization.
Final notes
Though there exists a number of technologies as of now, the above mentioned are having high potential and use cases. These technologies are gradually evolving that it's not fully flourished and waits for a disruption in the decades to come. The above-mentioned technologies like Artificial Intelligence, Machine Learning, Natural Language processing, etc. are multi-dimensional that their use cases go above and beyond industry borders. These technologies can be customized in accordance with the use cases.
FAQ
What are the top technologies in 2021?
Artificial Intelligence, Machine Learning, Blockchain technology, IoT, etc are some of the omnipotent technologies that are yet to disrupt like anything in 2021.
How to find the right technology partner in 2021?
Figuring out the right technology partner demands a high level of research and study. However one can partner with top product engineering companies like DxMinds for having their services done.
What makes DxMinds the best?
Accuracy, Reliability, hooking up to new challenges, etc. are some of the factors that make DxMinds a standalone digital transformation partner.