December 22, 2020
Posted by:

Admin

Category:

contract staffing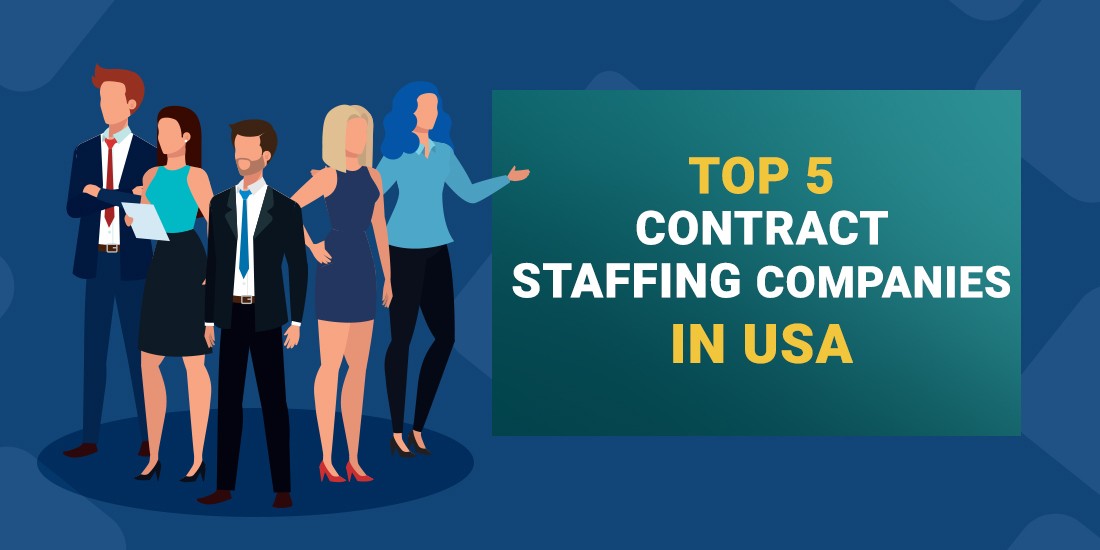 Technology has evolved in delivering the best for both businesses and individuals. It has transformed the entire perceptions and traditions that existed in conventional landscapes. The role played by technology has turned out in becoming a key factor in digitalizing our ecosystems. As time passes by, the ways of technology implementation have evolved drastically. In-house resource hiring methods have turned out the paths for remote hiring methodologies. Outsourcing projects has become a trend these days as businesses have figured out that it is one of the best patterns that add more mileage to their journey towards being a successful one. In this article, we will cover the list of the top 5 contract staffing companies in the USA.
Why outsourcing projects in the USA?
There exist several solid reasons that led businesses in outsourcing their projects. Economical development methods and the risk-free process were always the top among them. Let us see in brief some of the major reasons that have made businesses and organizations think about outsourcing their projects to vendor companies.
Economical
Outsourcing projects help businesses in saving a huge amount of development costs, which they can use for business scaling purposes. This is one of the major reasons why businesses are preferring more outsourcing than in-house hiring.
Reliable
Reliability is a major aspect that businesses are seamlessly availing of by outsourcing projects to resource-hiring companies.
Hassle-free development
Businesses are ideally free from all hassles and bustles that separate them from being successful. They are free from all activities like resource hiring, resource augmentation, training, etc. that they can enjoy fruitful development services.
Team scaling
When it comes to scaling up and scaling down the development team, outsourcing the projects is the best. The same flexibility offered by project outsourcing won't be available in terms of in-house hiring.
Resource monitoring
The IT augmentation agencies follow several methods to review the performance of the resources. If at any event they feel like a resource is not performing up to the mark, they can replace them immediately.
Choosing the best IT staffing agency in the USA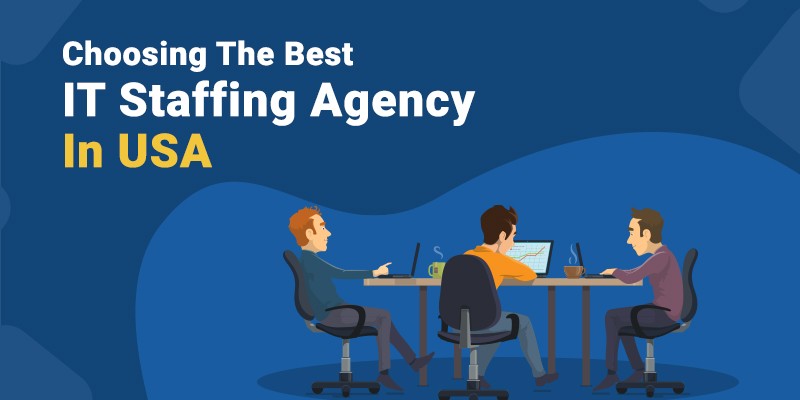 When it comes to hiring the best IT staffing agency in the USA, many organizations pretend to be confused. This is because there exist numerous companies claiming themselves to be the best in class. So, what are the major steps to be followed when it comes to hiring top IT resource hiring agencies in the USA? Let's have a brief look.
· Have a detailed look at their portfolio
· Have a word with their previous set of customers
· Go for online reviews and ratings
· One on One meeting at their office can add more value
· Analyze in-depth their capabilities and strengths
· Have a detailed understanding of the development plans, processes, budget, etc.
· Be more realistic towards the implementation
· Go for an economical and budget-friendly development agency
List of top 5 IT staffing agencies in the USA
For the organizations out there who are actively looking forward to associating with the best IT staffing agency in the USA, here is our filtered list. We are sure that this will help you in adding value to the process.
DxMinds Technologies
DxMinds Technologies, a Californian-based multi-national product engineering, and digital transformation company position itself among one of the top contract staffing companies in the USA. DxMinds was incorporated with a vision of imparting high-quality technology services to small, mid, large-sized, and even global fortune companies to enhance and ensure their gradual growth. Team DxMinds comprises highly talented resources that are capable of rolling out groundbreaking technology solutions and services that in turn can bring the most out of any business. With the DxMinds resources on board, businesses can seamlessly address their core business operations and attract a potential set of customers to take their business to the next level. DxMinds have an enriched resource pool wherein it consists of well-versed resources who come with notable domain authority and a proven track record of developing and implementing successful technology solutions that have eliminated all the hassles and bustles of business frameworks. The top-of-the-line technology services imparted by DxMinds resources are meant to increase your business visibility and the profound technologists in-house thrive hard to meet customer requirements, above and beyond. The quality of the services imparted has helped DxMinds technologies in reaching out to a position where they are known to be the pioneers among the best technology staffing agencies in the USA.
Technology staffing services offered
· Artificial Intelligence
· Machine Learning
· Blockchain Technology
· Cryptocurrency development
· Cryptocurrency wallet development
· Cryptocurrency exchange development
· Smart contract development
· dApps development
· Augmented Reality
· Virtual Reality
· Mixed Reality
· Chatbot development
· Native mobile app development
· Hybrid mobile app development
· Web app development
· Internet of Things etc.
New Horizon Global Partners
New Horizon Global partners are one of the top tech staffing agencies in the USA that go parallel to the US IT staffing company's rules and regulations. The new horizon global partners are quite parallel to the latest trends and updates that are taking place in the tech space that they can deliver services of any kind to the precise set of customers with a high degree of accuracy and utmost priority. The main asset that relies upon the hands of the toppers among the list of best staffing agencies in the USA, New Horizon Global Partners is their full-fledged resources that can seamlessly hook up to new challenges and environments no matter what. The services they deliver help you elevate your business in the best possible manner to newer heights regardless of the industry's circumstances. The services imparted by these resources are meant to make your business a full-fledged one. Team New Horizon Global Partners have their hands on top of various state-of-the-art technologies domains that they can seamlessly derive out the best in class services to the end customers.
Star Staffing
Star Staffing is a top-of-the-line IT resource augmentation agency in the USA with proven track records in helping businesses hire top-of-the-line resources to ace their development process. With the hands-on experience and domain authority, the resources Star Staffing offers help you outpace the traditional approaches and methodologies, thereby streamlining your core business processes. The optimal services rolled out by star staffing help you outpace the traditional races and approaches. It offers a high level of transparency to your custom business thereby addressing the core business challenges. When it comes to integrating and executing top-of-the-line technology services, the resources offered by star staffing services are the best. They have their hands on top of technologies like Artificial Intelligence, Machine Learning, etc., which enhances your service delivery in turn.
Robert Half
With Robert Half, one of the best IT staffing company in the USA by your side, you can avail of services rolled out by world-class level resources who not only understands your day-to-day business operations in detail but also structures out the services in such a way that it can enhance your business visibility and streamline its day to day operations. The enhanced mastery Robert Half resources uphold helps you bring the best out of your business. It lets your global market entry seamlessly by offering all the relevant inputs to make it a standalone one. It adds all the relevant input that is mandatory when it comes to scaling your business in the best possible manner. The wide array of services imparted by Robert Half resources comprises Artificial Intelligence, Machine Learning, and Blockchain Technology, etc.
Talencio
The flagship resource augmentation services offered by Talencio have played a key role in making them the best certified IT staffing agency in the USA. Talencio helps companies and organizations hire top-of-the-line resources that deliver precise services that go above and beyond customer expectations. These resources roll out services that help businesses nurture their customer relationships, which then pave the way toward achieving organizational stability and success. The services imparted by the talents at Talencio are a powerhouse of technology that acts as manure for ensuring business growth in a full-fledged manner. Talencio upholds a wide array of technology services that uphold huge potential and are capable of delivering groundbreaking solutions and services.
DxMinds Technologies- the best among top IT staffing companies in the USA
Your search for the top IT staffing agencies in the USA will end up associating with DxMinds Technologies as one will find it hard to avail of top-of-the-line services that are as best as the full-fledged services imparted by DxMinds Technologies. One of the main reasons that separate DxMinds from other IT resource hiring agencies in the USA is their access to the enriched resource pool. They can seamlessly supply you with resources of any kind ranging from executives to mid and senior-level professionals who can by any means level up to the requirement to enhance the project development. They have a wide array of engagement models that are highly flexible when it comes to availing of the world-class level of resource hiring services.
Resource hiring model at DxMinds
Offshore development center
The offshore development center engagement model put forward by DxMinds Technologies, the top IT resource hiring agency in the USA is gradually helping businesses based out of the USA in availing full-fledged services at an economical pricing structure. Under this model, the agency helps businesses to set up their extended workplaces in countries where resource hiring appears to be seamless and the cost of development is economical. This results in companies availing top-notch services that consume less development cost and help them save about 40–45% of the development cost.
Turnkey and Co-owned projects
The Turnkey and co-owned projects are also known as the fixed cost model. DxMinds Technologies is one of the popular practitioners of the turnkey and co-owned engagement model in the USA. By going ahead with this engagement model, businesses can avail themselves of services that have their development cost preset before the development. One of the main advantages of this engagement model is that the customers are delivered with full-fledged technology services meeting the deadlines. DxMinds charges competitive prices for resources employed under this engagement model and is charged on an hourly or monthly basis.
Build Operate Transfer
For adding more flexibility to resource hiring and project development, DxMinds rolls out a flagship engagement model known to be the Build Operate Transfer engagement model. In its initial phase, the agency helps its customers in building everything from scratch including resource hiring, infrastructure setup, etc. Under the operation phase, the main task that relies on the hands of DxMinds is to ensure that the system is working flawlessly. The transfer phase is all about transferring the entire ownership of the full-fledged project to the respective customers upon request.
FAQ
DxMinds is the topmost IT resource hiring agency in the USA that can supply you with the right amount of talented resources at the right time in the right manner so that your project development process can be elevated to the next level.
What kind of resources does DxMinds supply?
DxMinds supply you with resources that are having profound experience in the state of the art technologies like Artificial Intelligence, Machine Learning, Blockchain Technology, etc.
Does DxMinds have any NDA policies?
Yes, they strictly stick to all the aspects of NDA to protect the confidentiality of customer ideas.
What are the engagement models offered by DxMinds?
Offshore development centers, Build Operate Transfer, Turnkey, and co-owned projects are the major resource hiring models offered by DxMinds Technologies.