October 13, 2022
Posted by:

Admin

Category:

Mobile App Development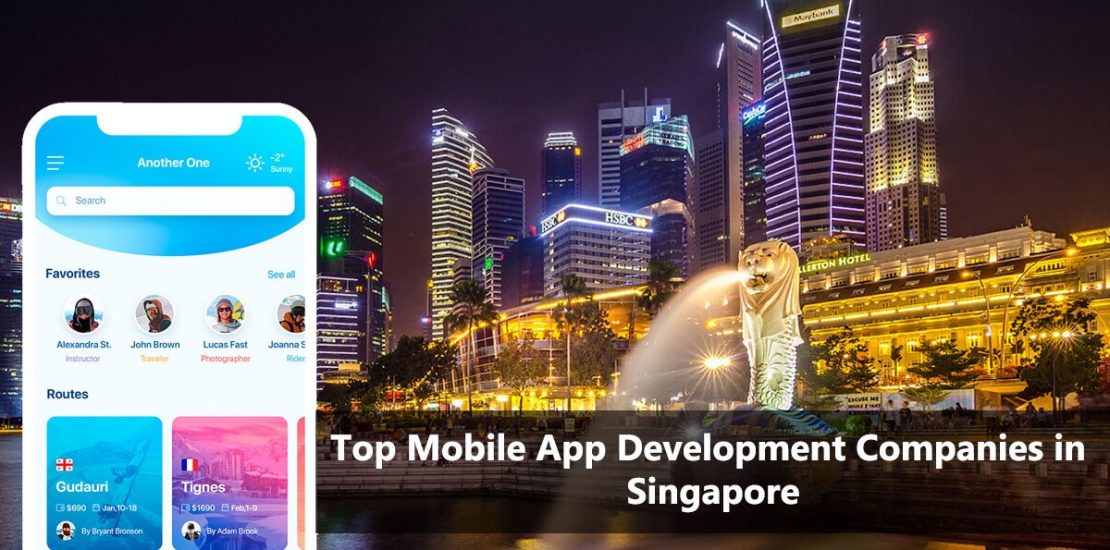 Singapore always has the silk touch in all of its domains, whether it's its royal airlines or its advancements in technology. All the eyes from the various verticals of the world are keenly focused on Singapore to witness their new contribution in terms of technological aspects.
We are residing in an age where Information Technology has made information quickly accessible to us with one click of the mouse or just a finger click away from the smartphone. These dynamic changes have surely made our lives simpler. Nowadays mobile apps have become an essential tool for every business. Entrepreneurs in Singapore couldn't adapt their business fast enough to the emerging market by leveraging conventional practices and, hence, the role of technoscientific mobile app development companies in Singapore has gained monumental significance. The role played by mobile applications in determining organizational success has played a major role in enhancing this significance. These companies with their wide access to a large number of technological resources work tirelessly and seamlessly to deliver us some of the best apps ever made.
In the world of technology, mobile applications have got a fundamental role that one can never imagine a life without a mobile app. Back in day, mobile apps were a choice for business, wherein it has now become an obligatory requirement. Today it has become a matter of standard for a business to have a mobile app of its own. Although the market is overwhelmed with mobile apps and their technological applications in each business, where everyone from small business owners to CTOs of Fortune 500 companies owns an app of their own. So, if you are someone who is seeking the help of an agency to develop an app for your business in Singapore, we appreciate you and say it is an excellent idea. You must go ahead with it. The development of a full-fledged mobile app takes much effort, devotion, and a freaking wonderful idea. However, what separates business owners in coming up with an app for their business is the challenge he faces while searching for the best app developers in Singapore. Taking a wrong decision at this step can charge them high as one needs to have a full-fledged mobile app to outpace the competition. So in this article, we are going to introduce to you, the list of top 10 app development companies in Singapore, following which can enhance your app development process.
Top Mobile App Development Companies in Singapore | App Developers Singapore 2020
1. DxMinds Technologies Inc
DxMinds Technologies Inc. is the best mobile apps development company in Singapore that offers high-end digital transformation services and technology solutions from ideation to design, development, and deployment. DxMinds Technologies comprises highly skilled developers who are well aware of all responsibilities, right from developing mobile apps to deploying them in the respective app stores. DxMinds execute the most advanced and selective methodologies across all the important platforms such as Android, IOS, Windows, React Native, etc. to deliver high-tech mobile apps that meet user requirements to their fullest in the current market scenarios. Various service offerings by DxMinds include:
· Hybrid app development
· Web app development
· Cloud computing
· DevOps
· Blockchain Technology
· IoT
· AR/ VR/ MR
· Chatbot development and much more.
Do You Have An App Idea? Reach Us:
2. Vinova
Vinova is a popular mobile app development company in Singapore having relevant experience and skill set in developing a successful mobile app. Vinova has earned high recognition from its customer base by delivering a broad portfolio of mobile applications on various platforms. With years of experience in the industry, the company has proceeded to build dynamic, cost-effective solutions that meet its client requirements. Continuous modernization and dedication to the profession are the guiding principles of each employee at Vinova.
3. Buuuk
Established in 2008, Buuuk has been developing apps since the birth of the iPhone in Singapore. They concentrate on mobile app development for both iOS and Android platforms. Every project at Buuuk is led by a keen focus on creative design as well as technology integration. Having a great experience in the domain of app development, team Buuuk is deploying robust solutions and integrating them with existing setups. Leading enterprises and futuristic start-ups associate with Buuuk to build great apps in order to stay on top of customer experiences.
4. Multiable
Multiable team has been delivering custom mobile app development services in Singapore for enterprises for a long period of time. Holding great industry knowledge and functional expertise, Multiable will surely help you bring your ideas to reality in the form of awesome mobile apps. Multiable Company comprises experienced developers and designers who are passionate about developing attractive mobile applications across all the major platforms such as IOS, Android, Windows, etc.
5. Rainmaker Labs
Rainmaker Labs is the top iOS and Android apps Development Company in Singapore. Rainmaker Labs has successfully developed its own beacon management system and is providing location-based marketing campaigns. With Apple-certified BLEep, iBeacons are enabling marketers to drive better mobile user targeting experiences. Rainmaker Labs targets a broad scope of clients ranging from retail businesses to large companies. This top app development agency in Singapore was established in 2011 and is a fast-growing mobile technology company with more than 70 employees. It is headquartered in Singapore with offices in Asia Pacific regions.
6. Octal Info Solution Pte Ltd
Octal Info Solution Pte Ltd is an app development agency in Singapore with offices located in London & Singapore. They are also operational in different parts of the USA. Their service offerings are in domains such as Custom software development, mobile application development, Microsoft solution, portal development, web design & development, and digital marketing. They have more than 11 years of experience in the field of digital transformation and it is during this time that they were able to win the trust of over 1200 customers from more than 40 countries.
7. Swagsoft
The company gives a broad span of services like mobile app development, game development, augmented reality development & iBeacon technology. Founded in 2009. Swagsoft has its office headquartered in Singapore. The company has bounded hands with several large companies like BMW, Caltex, and Toyota & government agencies like The MDA & Singapore air force on various projects.
8. Massive Infinity:
Massive Infinity was established in 2011 by a team of interactive media producers and developers. The company gives complete end-to-end digital solutions such as web designing, AR/VR development, game development, e-Commerce, and Blockchain solutions. They build feature products as per the most advanced industry standards, client requirements, and targeted audiences. Its team boasts years of experience in the field of mobile app development in Singapore and has the appropriate skill set to craft a fully functional, valuable, and cost-efficient mobile app.
9. Originally US
Being one of the finest Android app development companies in Singapore, Originally the US has managed to come up with some of the most auspicious mobile apps in Singapore. Fast, reliable, and creative –is the tagline and it has become an identity of Originally the US. They are an excellent iOS & Android Mobile app development in Singapore.
10. Cyber Infrastructure Inc
Cyber Infrastructure Inc is the top-notch Custom Software Development Company in Singapore that has a quality portfolio in developing iOS, Android application development, and web app development. It's a Singapore-based Enterprise Mobility, IoT, and AI Company that strongly believes in giving quality services and solutions that help to enhance your business.
Main Services
Custom Software Development
Blockchain App Development
Microsoft Development
Mobile App Development
Artificial Intelligence Solution
AR/VR Solution
Why do businesses in Singapore need mobile applications?
Back in the day, a mobile application was just a symbol of fashion, but now it has become a matter of survival. Situations have turned upside down no business in Singapore can survive without the help of a mobile application. The mindset of the entire customer segment has gone parallel to the latest updates in the technology and to tackle that to convert it into revenue, a business needs to make the most out of the mobile application. Let us see what the major advantages of having a mobile application are.
· Enhanced communication
Mobile apps act as an ideal tool that allows a business to carry out uninterrupted communication with its wide customer segment, and the result will be more sales conversions and closures.
· Personalized experience
What separates mobile apps from other conventional modes of business approaches is their ability to deliver a personalized and unified experience to their customers. Apps allow the business to segment their customers based on their shopping behavior and help to deliver a stunning experience to them. This feature of mobile applications is widely been used by the eCommerce industry.
· Branding
The role played by mobile applications to increase the brand value of a business is vital. Decades back, it took a long time for businesses to make their logo, brand name, and other aspects related to branding register among the customers. It is this process that got completely disrupted right after the advent of mobile applications
· Advertisement and marketing
Video ads, banner ads, image ads, push notifications- there are a lot more features offered by a mobile app that allows you to promote your business, its product, and services.
how to choose the best mobile app development company?
Do you think that just recognizing the top mobile app development firm is sufficient? Absolutely NO, As we have said before there are lots of companies around giving services with mesmerizing features so we have to do research identifying which one is the most beneficial of the best among the top app developers in Singapore. Powerful mobile apps perform a significant role in determining the progress of any business and its performance and therefore it is very important for owners to choose a well-versed mobile App Development Company in Singapore.
Classifying a good IT company for enterprise mobile app development is not an easy task. As an entrepreneur, one needs to analyze various factors while choosing a mobile app development company. Let us find out some of the main factors that can help you in recognizing the best mobile app developers in Singapore that are quite capable of giving special mobile applications that can impress users and bring revenue to owners.
Factors that determine the perfect app developers in Singapore
1. Application Ideas Security
Disclosing app ideas and concepts is the most significant threat, companies, and entrepreneurs face these days. The clients have to assure that the companies they prefer to design and develop a mobile app must follow several stringent safety measures to protect their ideas. The application ideas and thoughts must remain confidential until their deployment.
2. Customer Reviews and Feedback
One right way to identify the best app development companies in Singapore for the development of mobile applications is by going through its customer feedback and client reviews. To get all the information about the company, people can reach out to their previous clients.
3. Standard Design -App
Unique application design is one crucial factor that adds a lot of input in determining the success of a mobile app. That is why companies and independent business owners must highlight the experience and skills of app developers prior to associating with them. Consider the Mobile App development services in Singapore that have some fabulous UI / UX designers who are capable to give clients a world-class application design.
4. Trusted QA and Test Measures
Custom mobile applications tend to have technical errors and bugs. Regular interruptions of these bugs and errors in the functions of mobile applications can drastically affect the performance of the app there by a sudden shred in the number of users. That is why testing and quality assurance practices of mobile apps need to be carried out very often. Hence, top mobile app development agencies have to make it mandatory to follow some of the newest manuals and modules in Quality Assurance automation and testing measures to guarantee that the final product has no technical errors or bugs when the product arrives in the market
best among the top 10 mobile app developers in Singapore
We hope you have got the list of the top 10 mobile app developers in Singapore covered. Yet if you want to know the top company among this list that can tirelessly develop any app of your kind, without any second opinion, we will suggest you associate with DxMinds Technologies Inc. the best mobile app development company in Singapore. Currently, DxMinds operates and has physical offices in several cities across India, the USA, UAE, Peru, and Australia. Hiring DxMinds as your digital transformation partner will let your business flourish and be self-sufficient.
Why DxMinds?
· Strong and Scalable Apps
· cutting edge Technologies
· On-Time Delivery
· 24×7 Customer Maintenance
· Budget-Friendly
· Expertise in various technologies
· Excellent Experience
For More details: info@dxminds.com
FAQ
Suggest to me the best mobile app development company in Singapore.
In Singapore, you can go for DxMinds Technologies for mobile app development as they have a clear track record in developing successful mobile applications that take your business to the next level.
Which is the best Hybrid or Native mobile app?
In an event where you need to develop both iOS and Android mobile apps, you can save quality time and budget, by going for hybrid mobile app development.
How much will it cost to develop a mobile app in Singapore?
The average cost of developing a mobile app in Singapore will lie within a range of USD 10,000 to USD 50,000. The cost will vary based on the niche of the app, its features, technology integrations, and much more.
How long will it take to come up with a full-fledged mobile app?
It will take approximately 6–7 months for an app to get developed from its scratch, However, this may vary based on the requirements and the agency you are associating with.