November 27, 2020
Posted by:

Admin

Category:

Software Development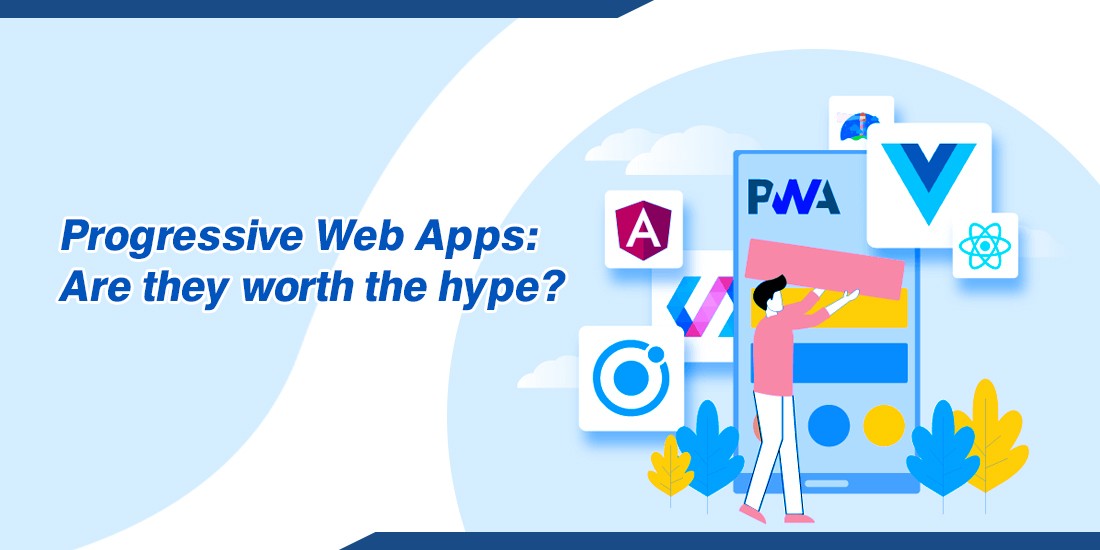 Most of businesses are turning towards progressive web apps. Increased speed, enhanced re-engagement, and a regular spike in the conversion offered by progressive web apps are becoming the major point of interest for businesses. The uses of progressive web apps are extending to several business industries. Progressive web apps tend to reach out to anyone anywhere regardless of their devices. The PWA enables the developer to reach out to several devices with a single code. Using PWA you can leverage the user experience and flexibility of an app. As the name progressive web app notifies, a solution that is coded like a website or web page but offers an experience of an app.
For all the growing entrepreneurs with creative business ideas, PWA can be a solution for their requirements. Most entrepreneurs are struggling to reach out to the maximum audience but device, screen, and platform compatibility restrict them from extending their reach. PWA is coming as a solution for all those ventures leveraging the latest technologies.
What is a Progressive web app?
These many years we have witnessed native apps or web apps. Businesses were hiring software developers from India to develop a web or native app based on their requirements. Native apps were developed to get excellent features with robust capabilities, whereas web apps were developed with a solution to get better reachability.
The web has ever been recognized as the most incredible platform, expanding the user security model boundless of any specifications and implementation restrictions.
If you compare the native apps and web apps to choose one among those, you will find it a difficult task, because both of these are potent in some or other terms. Hence, as a solution, progressive web apps are developed using modern APIs and are crafted the features which are robust to serve the best reliability, capabilities, and potential to reach anytime, anywhere using any device. PWAs can be coded using a single programming language for various uses.
The progressive web apps are designed to achieve three major pillars of the online business world, i.e. reliability, capability, and easy installation. Let's get to know what those major 3 pillars mean and how they are useful.
Reliability:
The speed of an app is very essential to serve the best user experience. A progressive web app deems to be reliable when it comes to speed independent of the speed of the network. Page loading speed is the major aspect that makes an app reliable. If the loading speed of a page slips ahead from 1 second to 10 seconds, it drags the bounce rate of the website to 123% higher than the usual one. Users are never bothered about internet speed or device specifications. Most of the user wishes to get smooth scrolling animations, excellent performance.
Progressive web apps provide a perfect option to develop an app that is independent of network connections. It allows the developer to develop an app that is free from the device and internet speed.
Capability:
Only native apps were capable of interacting with the local device data and accessing it. Web apps have ever worked with a restriction of local data access, limiting the capabilities of an app. But now with the emergence of modern APIs, developers can develop a hyper-local video chat app that can be installed or can make virtual by using geolocation, WebRTC, and push notifications. Modern APIs are enabling developers to increase the capabilities of the app and make it more secure than ever before.
Installable:
Installable apps are independent of web browsers and can be installed in a standalone window. Once they are installed on the device, they can be used as a part of that device and can be launched at any time needed. Progressive web apps possess the quality to run on a standalone window without depending on any web browser. It can be launched directly from the taskbar, home screen, or any place of the device where it has been installed. It also opens the use of keyboard shortcuts which are usually bared for web apps. These apps can also accept content from another application and can access and process distinct types of files.
For a web app, there were several challenges that were making a great impact on the performance and user experience. One of the major issues faced by the users of web apps is the requirement of an internet connection to access a website; other restrictions were sending a push notification to the users, lower speed, prone to malware and malicious activities.
Progressive web apps have been developed with the capabilities to overcome all these restrictions and serve you with enhanced solutions and user experience. The PWAs are developed with the most robust technologies having the potential to attain excellent compatibility with various platforms and devices. The progressive web apps share the qualities of both native apps and web apps, i.e. have excellent features like scalable, security, and launching on the device, independent of web browsers but also have the capabilities of sharing to any device on any platform.
How industries are incorporating this web solution?
Most of businesses in today's digitized world are using some or other type of online solutions to grab the attention of their targeted audiences. Few were using web apps and few had incorporated native apps, still, they were limited to some other extent which restricted their access to worldwide audiences. Now, with the technological change and advancements in the software development sector, progressive web apps can remove all the limitations of web and native apps offering all one solution to various businesses. Most businesses started incorporating progressive web apps for various purposes, a few of which are listed below:
Higher conversion rates:
With the introduction of PWAs, it has been depicted that the conversion rates of businesses using PWAs have increased at a rate of 36% in the past 5 years. Most of the businesses which were using native apps have been migrated to progressive web app development, hiring the best software developers in India to get the most effective solutions. Earlier with the native apps or web apps, folks were finding it difficult to compare the products or services being stuck on a single screen. Now with the PWAs, folks can quickly switch from one app to another based on their requirements.
Increased engagement:
With the increase in the speed of the app, most folks love to access it. PWA helps the software developer to develop more engaging and creative apps that possess the capability of holding viewers for a long and turning them into customers. The PWAs also help in reducing the bounce rate of the web solution. The incorporation of PWAs has increased the user's engagement to 50%.
Enhanced loading speed:
Web page speed plays a major role in enhancing the existence of an app in the real world. Development of PWAs is done with the latest APIs that enable the developer to enhance the speed of the app to load it faster, approximately within 3 seconds and hence increasing the Google ranking.
Benefits of opting for progressive web apps:
Undoubtedly progressive web apps have taken over the software market with the biggest numbers of businesses. It has a wide array of benefits that helps the business to enhance user engagement, conversions, and search engine visibility too. There are many more benefits of opting for progressive web apps, here are a few top benefits that make it one of the prior choices of businesses:
Economical:
Budget plays a very crucial role in developing a business and boosts its business to a sky-high level. When most businesses plan to step into the digital world spend a lot of money but fail to achieve the best out of it. Progressive web app solutions help businesses to develop the best app. It offers them the flexibility to develop a web app with the least capital investment with the benefits of native apps. A single coding can give you a one-stop solution. The cost of developing PWAs is approx. three to five times lesser than any other app development.
Easy to maintain:
Maintenance of an app is mandatory to match the pace of the changing technological world and rapidly growing market trends. Most entrepreneurs ignore the maintenance cost which can shuffle your annual budget. Maintenance of an app consumes approx. 20% of the development cost. Progressive web apps are easy to maintain at the most affordable cost.
Smaller and lighter:
Installing and launching native apps on your device are very bulky and require a huge part of RAM and also requires a better internet connection. It can be simplified by developing progressive web apps that are smaller and lighter require very little memory and are also able to launch on the possible internet. Progressive web apps can be developed in less than 1 MB making them weightless.
Lower bounce rate:
The bounce rate of a website is a very crucial aspect in providing a top ranking on the search engine ranking page. The increased bounce rate of a website can drag your Google ranking down. PWAs are developed with a great loading speed helping you to reduce the bounce rate of the website and holding the viewers to the web page for a longer duration.
Offline access:
Poor connectivity is a common issue faced by internet users. Most of the users are deprived of app accessibility due to poor networks. Progressive web apps allow the user to access the app in poor connectivity also. It also allows the user to save the data once went offline and restore the data when they go online again.
Push Notifications:
To keep your customers always connected you may need to send push notifications to share your updates. It is the best approach that helps you in engaging your customers and keeping them well-connected with you.
Top industries that have incorporated PWAs are:
E-commerce:
An E-commerce portal requires reaching out to the maximum number of targeted audiences and allowing them to use it regardless of their platforms, or device sizes. For e-commerce portals, the speed of websites also plays a crucial role in grabbing the interest of targeted audiences and holding them for a long duration. PWAs are the ultimate solution for developing an e-commerce portal as it offers the best performance and security too.
Banks:
Banks need to offer customized apps to facilitate their customers in accessing their services easily. Bank apps need to ensure to keep higher security making each transaction safer than ever. PWAs offer robust security and other additional features such as authentication specifications, fingerprint authentication, and many more.
Media portals:
A media portal requires an app that can take the load of connecting countless users at once. PWAs are lightweight apps that require only 1MB of space in the device to be launched and are robust enough to bear a load of countless users simultaneously keeping their data secure.
Conclusion:
Web or mobile solutions are the only option for a business to establish their online existence. The only intention of establishing an online presence is to cover the maximum relevant market with the widest client base. Native apps or web apps have their limitations and cons in restricting businesses from offering the most extensive solutions to customers. Progressive web apps are the one-stop solution for all the limitations. PWAs are capable of developing light and small apps that can be launched even with poor connectivity and the least space on the device. These apps have the capability of serving the qualities of both native and web apps. With single coding of PWAs, you can cover various devices and different screens. PWAs can be defined as web apps that feel like native apps. It offers the best security, speed, and least loading speed.