October 9, 2022
Posted by:

Admin

Category:

Technology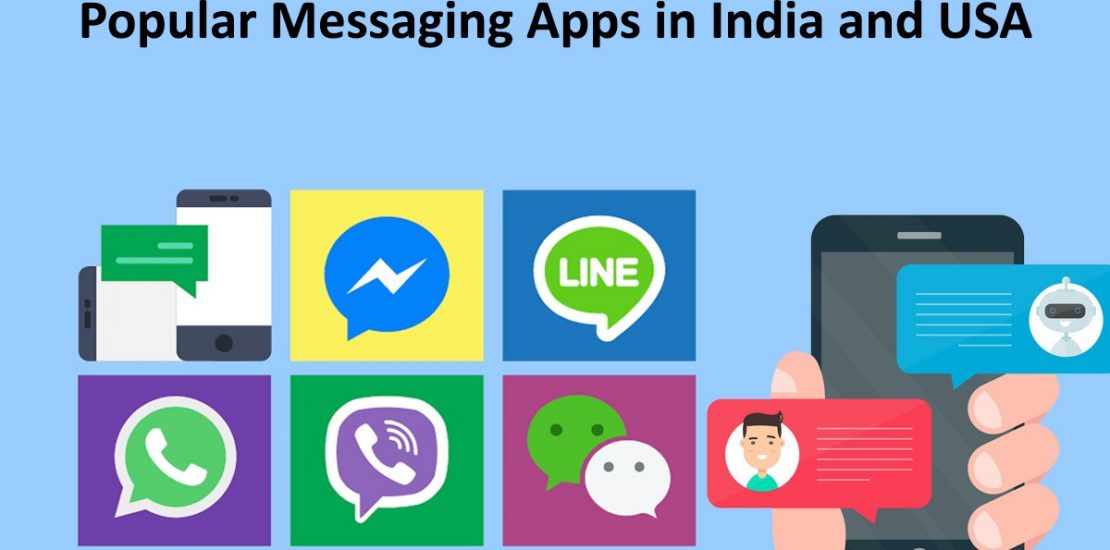 Top Mobile Messaging / Chatting Apps in India & USA
If we are talking about connecting with friends and family, we rely upon messaging apps more. The role played by these apps in building strong relationships among friends and families are not small, but immeasurable. As of now, numerous numbers of messaging apps are available and they refer to the contribution of technology in transforming our lives. Messaging apps take over a notable part in not only making effective communication but also it made multimedia file transfer hassle-free.
Popular messenger/Chatting apps for getting us connected
Even though all the messaging apps serve the same purpose of connecting lives, the way they deliver their services are entirely different from one another. Ever since messaging applications were introduced, the traction they gained from various parts of the globe is huge. With all the features of integrated to the platforms, popular messaging applications aims to abrupt the conventional ways by offering seamless communication between individuals anywhere across the globe.
In this article, we are going to cover and discuss the most popular messaging apps in India and the USA. This will make you aware of all the nitty-gritty aspects of the famous messaging apps in USA and India: how they work: and many such data that too in a macroscopic approach. So let's dive deep into that.
Widely used messaging applications across India and USA
Whatsapp is a popular and widely used messaging app in India, USA and almost all major countries across the globe. VoIP services allow its users to send texts and files that was Whatsapp in its earlier days. But as of now, it offers end to end encryption services including voice calls, video calls, and even group video calls up to 4 people. Mr. Jan Koum and Mr. Brian Acton founded Whatsapp in 2009 and later on, it was acquired by the tech giant Facebook. Whatsapp is written In the Erlang programming language and serves a wide range of audiences including Windows, iOS and Android smartphone users. Whatsapp is busy adding new features on to its platform regularly to make it more and more attractive. The latest feature offered by Whatsapp is its dark mode and Whatsapp pay which is already on its pilot mode and is running successfully among a selected lot of people.
Facebook messenger owned and operated by Facebook is a messaging application that has gained huge traction among its users. FB Messenger offers a multitude of services to its users and that includes hassle free ways of making voice and video calls, sending text messages, files, documents, and audio notes. FB messenger positions it among one of the most popular messaging apps in the USA, India, and every nook and corner across the globe.
We Chat is a popular messaging cum social media and payment platform that was built in China, but gained huge popularity throughout the globe. We chat serves its customers via its iOS and Android mobile applications. Onboarding millions and billions of regular users, thereby reaching a position where it is known to the top messaging app platforms in India, the USA, China, etc. Tencent builds this widely adapted messenger app in the year of 2011, making Java as its coding language.
Viber is one of the most popular messaging apps in the USA and various other parts of the globe. The app currently has its platform over various operating systems like Windows, Android, and macOS. Mr.Taimon Marco and Mr. Igor Magazinnik developed Viber. The programming languages which were made use of before its development are Java, C, C++, Python, etc. The app currently helps tens and millions of people in getting connected with their friends and family. 1
The line is a Voice Over IP mobile application that offers seamless ways data transfer and end to end encrypted communication facilities to its users. Though it was built in Japan, as a multitude of services offered to its client made Line app, one of the fastest-growing and popular messaging applications in countries like the USA and India. Studies prove that as of now the Line mobile application has got nearly 200 million active users and the amount is still skyrocketing.
Telegram lets the users in having access to its endless offerings via its mobile application, which comes for variants of any kind. It comes for android, iOS, Windows, Linux, etc. The app lets its customers in having effective communication, enabling them to send and receive files, texts. Videos, stickers, Voice calls, video calls, etc. The communication carried among individuals in Telegram is highly secure and end-to-end encrypted. Mr. Nikolai and Mr. Paval Durov founded this best messaging tool in India.
IMO, the popular messaging app in India lets its users in getting touch with their friends and families that too for free of cost. IMO comes as a mobile application that can be installed on windows, android, and iOS smartphones. It is the fastest and most convenient way of sending and receiving messages. It also lets its users in carrying out high-quality audio as well as video calls.
Snapchat is known for the high-end features and filters it offers to the users. The app makes use of top-notch technologies to design filters that are capable of adding a blend of creativity to make the conversation more effective and fun-filled. It is one of the widely adopted messaging platforms in the USA and other nations in the world.
Skype is a free voice and video calling software. Skype can be easily installed on desktops, laptops, MacBooks, Android, iOS and Android smartphones. It is one of the very oldest messaging apps that ever existed. It helps users in carrying out high-end conversations among its users.
Conclusion- Best messenger apps in India and USA
We hope you now have a clear picture of the most popular messaging apps widely used across India and the USA. We have tried to include as many as possible apps which is the best performer in the market and is having a wider range of fan followers and supporters. Do you want to develop a messaging app of your own and want it to be a big hit? Hire DxMinds Innovation Labs, the best messaging App Development Company in San Francisco USA and Bangalore, Mumbai, Delhi India. Write to us for availing of free consultation on the same. info@dxminds.com