February 15, 2021
Posted by:

Admin

Category:

Technology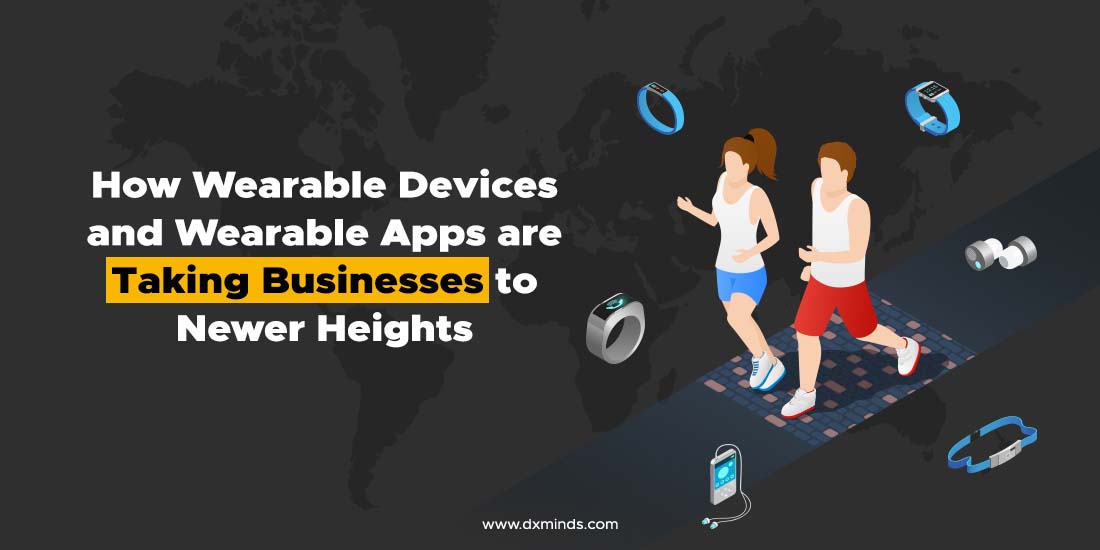 Technology is transforming industries over the past decades. Ever since its inception, the best applications of technology had had a quite positive impact in all the spaces it belongs to. With futuristic innovation and most modern development approaches, technology is helping businesses outpace traditional approaches and methodologies. Leveraging state-of-the-art technologies, businesses are now able to make it big than ever before. It has made the impossible possible with the finest of the finest Midas touch.
Ever since their inception, Wearable technologies have turned out in becoming the next big thing in space. Wearable technologies are one such technology adoption, which might be the latest of all. It is still in its early stages and is still evolving, yet with its use cases increasing at an aggressive pace. It is not just limited to wearable devices like a wristwatch or something that it may sound like but has a handful of use cases and potential edge over all the spaces it belongs to. Because of its exceeding demands, global entities are now on a mission to come up with the best real life applications of wearable devices and technologies and are collaborating with the best associates and channels for making it happen. This article is all about wearable technologies, their use cases, and how they help transform society as a whole. So let us get started.
Wearables, Wearable technology, and devices…What exactly is it?
Just as it sounds, wearables are such devices that can be worn on the human body. Wearables belong to a specific category of electronics that is connected with the human body. It can be a type of clothing; a chipset or even a digital gadget like a wristwatch. Wearables are connected with digital devices such as smartphone or laptop via the internet with which it interacts and sends data on a real-time basis. These sets of data thus produced are then analyzed as per the requirements. Wearable devices come with a wide array of motion sensors integrated into them that enhances the flexible tracking and monitoring of the surface it belongs to, most commonly a human body. The most modern wearable technology is a perfect combination of microprocessors and the internet. The growth of wearable technology has always been parallel to the growth of mobile networks. A wide array of robust applications that help scale business operations are now pivoting around wearable technologies. If the wearable technology was centering on consumer products in its early stage, now it has broken the shells and comes up with industrial use cases and applications. Concisely, we can summarize that the future of wearable technologies and devices are bright and optimistic.
Real-world examples of wearable devices
· Smart belt
· Smart Watch
· Embedded clothing
· Smart Glass
· Smart footwear
· Ornaments
· Tattoo
· Activity tracker, etc.
IoT and Wearable technology
Internet of things, popularly known as IoT and wearable technology go hand in hand. In fact, wearable technology revolves around IoT and it can be called one of the best real-life applications of IoT. The marriage of IoT and wearable technology has resulted in the formation of the term wearable IoT. The real-world application of wearable IoT is limitless and researches are being carried out in an aggressive manner to bring the most out of it. The working of wearable IoT is quite simple. The microprocessors integrated into the wearable devices will collect data from the body and sends it to the cloud or a server provided, where it gets filtered and analyzed. From there it gets transmitted to the parent device which then can monitor and track the performance.
Get a Free Consultation
Classification of wearable IoT
Based on its mode and purpose of use, wearable IoT is classified into different segments. Let us now see what these segments are and how they differ from one another.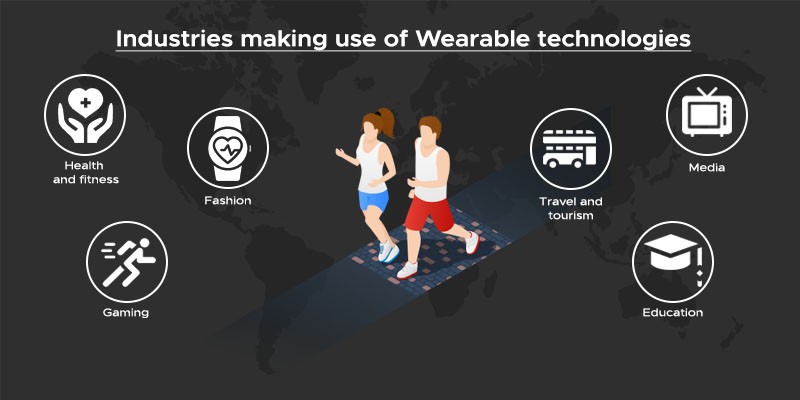 Health
The application of wearable IoT in the healthcare industry comes up with outstanding results. This resulted in the massive adoption of the same in the health industry. Its profound use cases comprise remote patient monitoring, treatments, and much more. Wearable IoT in the medical industry has also given rise to a subsidiary, popularly known to be the Internet of Medical Things (IoMT)
Activity Recognition and sports
Wearable IoT is turning out in becoming the game changes when it comes to activity recognition and sports. It is something that is off-hospital stuff. With activity recognition, one can track various human activities like sitting posture, movements, running, jumping, etc. that can be brought in to study for various use cases. Whereas in sports wearable IoT can deliver precise results, which on further analysis can help improve the player performance. It can monitor their performance in each game and come up with the best adoptions so the weak performance can be outpaced in the performances to come.
Tracking and localization
Tracking and localization endorsed by wearable technology let the system track humans and animals wearing the gadgets. To put that into perspective, pet tracking, bird trajectory traction, etc are some of the real use cases of tracking and localization. With these features, one can figure out the precise location of a human or an animal, provided it is under observation.
Safety
Wearables can add extra layers when it comes to the security aspects. It can identify falls and are capable of delivering real-time alerts. A sleepy act of a driver, Reduced oxygen level inside a mine, etc are some of such examples where wearable acts as safety equipment.
Industries making use of Wearable technologies
Fashion
Wearables have now become more of a fashion statement. It comes in different types and styles. From luxury to semi-luxury and casual ones, wearables in the fashion industry are redefining the traditional landscapes. Considering few examples of wearables in the fashion industry such as smart ornaments, smart clothing, smart belts, earrings, etc. it is quite notable that how fast the industry is uplifting.
Health and fitness
There exist tens and hundreds of health and fitness mobile apps linked to wearable devices. These apps give detailed insights into how IoT can transform the health and fitness industry as a whole. IoT in the health and fitness industry is delivering groundbreaking results that users can rely seamlessly upon them.
Gaming
The best applications of wearable technologies are taking the gaming industry to newer heights. With futuristic adoptions and development practices, developers are able to deliver precise results to potential gamers, thereby level shifting their gaming experience to the next phase.
Media
Wearable technology is starting to outpace the traditional approaches, thereby adding a high level of futuristic adoption in the media and entertainment industry. Its best applications in the media industry comprised of hearable gadgets, where the users can plug and play media on wearable gadgets.
Education
The education industry is now becoming more of a platform that integrates technology to its fullest. A wide range of experiments is actively taking place in the space. Virtual Reality headsets are one of the best examples of wearables in the education sector.
Travel and tourism
Wearables have turned out to become the bread and butter in the travel and tourism industry. It is curated to deliver highly personalized customer experiences such as holiday packages, tailor-made itineraries, enhanced communication, flexible knowledge transfers, and much more.
Logistics
The application of wearables in the logistics industry is bright for the years to come. The popularity of wearables in the industry is skyrocketing at a rapid pace and organizations are making the most out of it. From warehouse management to shipping and transporting, the wearables are implementing signature changes in the domain.
Challenges existing in the Wearable technology
Like any other technology, wearable technology also comes with few challenges since it is in the very early stage of inception. However, it may be addressed in the future to come. Now let us see in brief what those challenges are.
Power backup
Since the wearables run in a battery, there are chances that it needs to have facilities for recharging. This remains a key challenge for the implementation of wearables across various industries. As it may feel like a challenge now, chances are there that there comes a perfect solution for this problem.
High-cost
The high price structure of wearables has made it somewhat difficult for normal men and organizations to access. They are overpriced because of the complexity the industry is facing now. Once it's become quite common and widely adopted, the cost may turn out to become reasonable for the common man to access.
Ergonomics
The wearables are the devices that you wear and the continuous usage of the same can affect the comfort levels of an individual. This is also one of the key challenges faced by wearable technology and gadgets.
Privacy
The over usage of wearables can sometimes interfere with individual privacy that it remains as one of the key challenges faced by wearables.
Security and safety threat
Any damage to the wearable device's batteries can cause lead to severe explosion and can cause harm to the human surface it's been worn.
Final notes:
Even though the industry faces certain limitations, it does not stop the technologists from exploring and figuring out better applications and use cases. It is no doubt that there will be enough studies, findings will take place in the space, and the future of Wearables is bright and potential in the years to come. Global organizations are trying their best to come up with the best wearable technology solutions that are capable of delivering groundbreaking results.
Let's Talk With the Experts
Popular Posts: