May 5, 2021
Posted by:

Admin

Category:

Restaurant Industry, Technology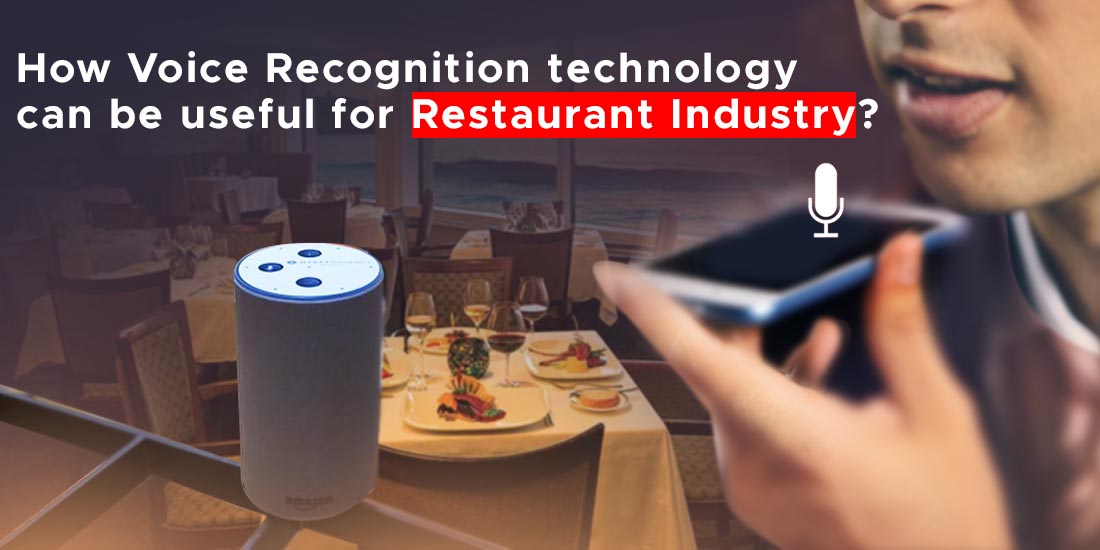 How many times you would have given a thought like being in bed if you have ordered a tea just by saying? Yes, it can be made true with the help of voice-recognition technology in restaurant industry. It is rapidly transforming varied sectors and the restaurant industry is one of them. It has helped important insights to the hotel managers to enhance their brand presence and increase sales.
Voice recognition technologyenables smartphones, smart TVs to understand spoken words which can be controlled through simple voice commands and responses. It eliminates the users to perform more traditional control tasks such as pressing buttons.
The voice control capabilities from one device to another. It's easy to turn on or off by making a single command like the "wake up" or "sleep" command, while others can offer real-time information or even other devices.
Nowadays restaurants and catering companies have moved to voice recognition software which allows customers to book their splendid meal and allow customers to book reservations and order their splendid meal within a single click. These advancements allowed information to flow between customers and service providers.
How does Voice technology function?
Voice -recognition technology relies on artificial intelligence to recognize speech patterns, understand devices to recognize various speech patterns, utilize them as commands, and responds to these commands appropriately. These voice-controlled devices are connected to the internet. IoT has become the biggest contributor for certain voice-controlled devices such as smartphones or smart hubs to influence or control the nearby technology. A smart hub can be used to connect to a smart TV, lightning, and heating or ventilation systems.
The foremost task to start working on is to start building relationships that are going to get benefitted from dealings with a respective hotel. Restaurants have to deal with delivering a sumptuous meal to customers by the involvement of these voice search technologies which can make the technology more relevant to their niche audience.
To implement voice recognition software, the infrastructure must be designed to allow customers to make orders in this way and the restaurant must be able to audit or control the entire process.
The customers must be taught about the engagement of customers so that they can change the way they ordered meals. For instance, they can set up a profile with their details and payment information which might get considered for its privacy. With the help of a voice assistant app, the customer can complete their transactions on a smartphone irrespective of where they are.
Several companies are personalizing the voice assistant apps when making orders to ensure that the customers don't feel miss out on the technologies they are getting used to.
The software must be able to predict the information which is obtained from the voice search history of the customer.
These cutting-edge machine learning techniques analyses voice to offer quick serves taking the information of customers like biometric, demographic, and customer satisfaction.
When the customer speaks their order, demographic information such as age and gender can be quickly generated. It unlocks a great level of personalization which was not successful with touch.
The voice can help to get information about the customer like for instance the restaurants can make note of the emotions and demographics to make target advertisements like perks, special offers. These voice analytics is one of the driving factors which can be utilized to improvise the services.
The functionality follows this method as the client initiates the purchase by ordering his favorite food.
The software which enables the transaction like Google Voice assistant.
The last one in the loop is the restaurant which offers the food.
Let's talk with the experts
Advantages of utilizing voice control in restaurants.
Voice recognition technology has removed the obstacles of human factors from the restaurant experience. Let's dwell at some of the great benefits of implementing voice technology for restaurants:
Enhanced profits
Voice ordering utilizes artificial intelligence to deliver virtual assistant functionality in a natural and frictionless manner. It has become the basic element of our daily lives which has the blend of voice commerce platforms with the latest technology to enhance sales. Many restaurants have started saving operational costs through automation and driving more revenue to enhance brand awareness.
Personalization
Voice-controlled ordering offers the restaurant owners to personalize their customer service. Folks have started utilizing the voice-controlled service as it offers the world-class personalized treatment of customers in an efficient and fast manner. A voice-controlled powered platform utilizes artificial intelligence to offer suggestions to customers based on facial recognition and basic preferences.
Priceless insights
Voice-driven technology ordering has become a prominent factor in growing business and increasing revenue. It also offers great convenience to customers by getting their preferences in a hassle-free manner. The first thing you need to do is to make your preferences which can be processed. Stats prove that self-service kiosk patrons order dessert is more beneficial in the case of ordering dessert in a conventional restaurant setting.
advertising and brand loyalty
Brands utilize this voice-controlled technology for advertising as it utilizes chatbots or voice assistants for improving their process. It introduces features in its app to allow the user base with convenience to order easily via voice command.
Nowadays brands have started utilizing the blend of voice technology with artificial intelligence and natural language processing to deliver personalized content and offers. It offers an instant boost to the brand's visibility hence increasing the brand's loyalty.
Request a free quote
Flawless experience
In this tech-savvy world, consumers are getting attracted to voice-driven technologyin restaurant industryto improve the customer experience. In addition to the convenience in ordering, this technology-related ordering system is utilized in delivering exquisite and advertised speech experiences.
Premise Ordering
Stats prove that the restaurants have started implementing ordering with the help of a tablet or voice-controlled technology which has increased revenue significantly in every case. The integration of voice-first capabilities to this existing technology has resulted in increased revenue.
The Final Thought
Voice-controlled technology in restaurant industry allows online restaurants to reduce the gap between their process and customers. It can help you connect personally with your customers.
During the integration of the voice technology, it must address the customer's concerns like, for instance, the dishes based upon the customer's preferences must be presented in a great manner. And the most important task is to reduce the risks involved with the common mistakes which can offer a negative experience for the users.
The introduction of these voice-ordering technology for restaurants has forced many companies to reconsider their decisions and to come up with various ways in which they can also make use of the technology. The restaurant industry is joining many AI companies to ensure that their customers can order their meals from their comfort places and enjoy delicious food. The key to this is to make use of existing technologies such as the modern smartphone with its access to a range of apps. The best way of this voice-controlled integration is to collaborate with a team that has the potential to develop the best app for you. DxMindsd, the prominent app development company is the right technology partner which can blend voice technology in a way to meet the growing demands of the user base. If you want to get more details about the integration of technology, you can meet the professionals right away.
Get in touch with our experts
popular posts: