December 9, 2020
Posted by:

Admin

Category:

Software Development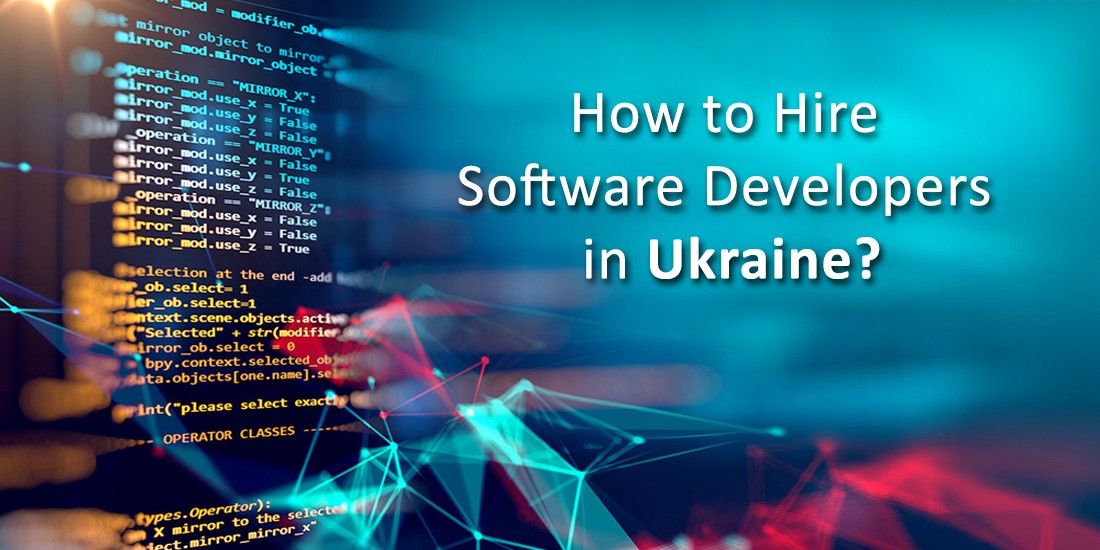 Software development is becoming a crucial element for all types and sizes of businesses to reach the highest level of success. But when it comes to hiring a software developer most enterprises get confused and start collecting resumes of endless aspirants without analyzing whether they are a perfect fit for your software development process or not. Why spend time and money when you have a simple solution to get your software developed with the highest quality and unique specifications customized only for your business? You can contact any offshore software development center and can hire the best software developers in Ukraine cutting down the expenses and making the recruitment process hassle-free. Ukraine is renowned for having the maximum number of companies dealing with software development and technological development but almost all organizations strive to hire the top software programmers in Ukraine.
In the present competitive era, most companies prefer to hire offshore software developers in Ukraine to get the best price-to-quality ratio but most of them get confused about "how to reach out the best resources from all available options?" To hire the best app developers in Ukraine you have many options that can simplify your task and also serve you with the most affordable prices.
Options trending amid the tech companies to hire app developers in Ukraine are:
Hire offshore development company:
How about outsourcing your entire project development process but still keeping complete command over the project? Sound interesting and hassle-free? It can be possible with the help of offshore development centers that offers the best professionals for end-to-end app development services. They assist you to hire the best software programmers based on your project requirement having the flexibility to scale your team anytime. You can also hire offshore developers based on time, i.e. hourly, monthly, or for the long term. With such an option you get complete access to the team and your project.
Pros of hiring software programmers from offshore development centers are:
Opportunity to filter out the team based on skills required
Holdover the project, like a native team working on it
Affordable pay scales
Reduces other miscellaneous expenses
Freelancing offers a presupposing free schedule for the professional to work without any limitation of time, company norms, or policies. Freelancers are free to work from anywhere. Many professionals with excellent skills and high experience prefer to offer their services as freelancers. You can hire freelance software developers based on project completion or working hours.
Pros for hiring freelance software developers:
Ability to search for the best talent without any geo-location limitations
Low prices when compared to full-time professionals
No expenses for the office space, working equipment, taxes, and more
Contact recruitment agencies
Recruitment agencies act as intermediates between the company and the aspirants looking for the job. If you are looking to hire an in-house software development team then taking the assistance of recruitment agencies will be the right option. This is also the best option for small-scale and start-up businesses not having a recruitment department. These agencies assist you throughout the recruitment process and also you can take their assistance for managing the payrolls and other remunerations.
Pros of hiring software programmers through recruitment agencies:
They have access to the widest talent pool
They keep on updating their database with new talents
Agencies make sure to provide you most filtered candidates based on your job description
Communication with the candidates and setting interviews are done by their experts
Steps to hire the best software programmers in Ukraine:
Choose a vendor:
Several vendors and those many options won't be the right approach to find out the best professionals. Instead, list out top offshore software development companies and exceeding than three to four in a count. If you are finding difficulty in filtering out the top agencies then you can go for the assessment of the online reviews, work portfolio, and client's testimonials.
The job description of your project:
Try to write a detailed job description explaining each specification and skill that you need in the developers and also explain in detail about the work for which you are looking to hire a software developer in Ukraine. This will help you to filter out all the candidates who are not relevant to your project.
Team structure:
A software development project is not only carried out with the help of various developers but there are several stages included in the process that require professional assistance to get accomplished. Before hiring developers in Ukraine, make sure to list down the dedicated team structure that includes business and market analysts, designers, developers, testers, managers, and more. You can hire the developers gradually based on the project requirement.
Get acquainted with the offshore development center:
Before entering into any agreement with the offshore development center you must try to get familiar with the agency and try to find out their strengths, weakness, technologies they have worked on, clients they have worked for, their recruiting procedures, and also try to connect with the team which will be working for your software development. Try to get the liberty to scale your team based on your business and project requirements.
Interview candidates:
Almost offshore development agencies make sure to hire the best software developers but the skills they required or looked at might be different than yours. Before start-up with the work, interview each candidate extended by the agency as a part of your project to filter out only the best resources and avoid unnecessary expenses.
Start your project:
Once you are done with the team selection and other agreement-related works confirming all the norms, then you can start the project with your new team and make history in the technological world with the most promising software solution.
Feedback:
Feedback is a crucial and also valuable aspect thathelps other folks to get the right information about a specific company and their service qualities. Always try to give honest feedback describing most of your experiences with the company.
Reasons that temps you to hire software developers in Ukraine:
Ukraine is one of the most preferred destinations in Europe for software development. The developers in Ukraine possess higher problem-solving skills, ingenuity, and the most important cost affordability. There are many more reasons that get you hitched with the city for hiring your software development team. A few of those are listed below:
Talent pool:
A huge talent pool of expertise in various latest technologies and skills of developing various types of software covering all the possible vertexes of software development. Ukraine is the fourth most preferred country for developing software. The approximate count of software developers in the country is about 1, 60,000 which drafts a great pool of talent offering you the best services.
Attractive prices:
When compared to other European countries, Ukraine is one of the most affordable places having lesser expenses with a comparatively lesser average earning of a developer. The cost-effective salaries of the most talented developers make the second potential reason to hire software coders in Ukraine. The average cost charged by a Ukraine software programmer is approx. $25-$30 whereas other developers with the equivalent skills charge more than $50, making a huge difference to your project development cost.
Time zone:
Proceeding to different countries for offshore software developers hinder European enterprises due to the different time zone restricting them from sharing the same working hours and hence making a communication gap. But, Ukraine shares the same time zone as other countries of Europe do.
Language proficiency:
English is widely used in all European countries as their primary language and hence more than 80% of developers in Ukraine have an intermediate or higher level of proficiency in English giving you easy communication without any hindrance.
Highly educated professionals:
Developers in Ukraine are highly educated and skilled in software programming. As per the speculations, every year around 36,000 students are graduated with a software development degree specialization in various app development technologies, angular, react, python, PHP, ruby on rails, JavaScript, Java, and many more.
Learners and open-minded:
The software development world is transforming at the fastest pace with a very frequent change in technologies with every new day. The developers in Ukraine are highly dedicated and open to learning new technologies and zeal to grab the futuristic changes in the upcoming technologies.
Conclusion:
Ukraine is developing as another technological hub with the maximum number of software development companies making efforts to come up with the most promising and feature enrich software to bring a huge transformation to the existing digital lives. To attain their objectives, enterprises require hiring the best software developers in Ukraine which is a big task when the competition is very high and resources are low. Connecting with offshore app developers, seeking freelancers, or taking assistance from recruitment agencies can assist you to get the best resources for your project development. to simplify your developer team recruiting process you can prepare a checklist as mentioned above and can get the best team.
Faqs:
What is the estimated time of recruiting a time with offshore development centers?
If you are taking the assistance of offshore development centers then you don't have to wait for so long. They already have a complete team having experience in various project development. Once you have finalized the team and signed an agreement mentioning all the terms and conditions mutually agreed upon by both parties, then you are ready to start work with the most prolific team.
What is your recruitment process?
DxMinds is one of the most renowned offshore development companies having top professionals in the team from all across the world. Our recruitment process is rigorous and potent enough to analyze a candidate on various vertexes and standards of present market trends. We ensure to keep the best professionals in our team capable of serving high-end services, beyond the expectation of our clients.
What type of businesses have you served?
Our professionals are equipped with boundless talents and skills having a sharp eye on each technological trend and zeal to hold mastery over the latest technologies. We have served all types of business domains, ranging from hospitals to hospitality, education to media, and entertainment. Every time working on a project, we take it as a challenge and try to come out with the most unique and attention-seeking solutions developed on various platforms based on the client's requirements.
What will be the cost of hiring software developers from DxMinds?
The hourly cost of hiring a software programmer from DxMinds will cost you approx. $18-$30, depending on your technological requirement.
Do you provide a team of software developers or can assist with a single developer too?
We have the most flexible engagement models helping enterprises to hire software programmers in Ukraine based on their requirements. Also, we serve customized packages in which you can scale up or down the team to any count.