October 10, 2022
Posted by:

Admin

Category:

E-Commerce App Development, Famous App Analysis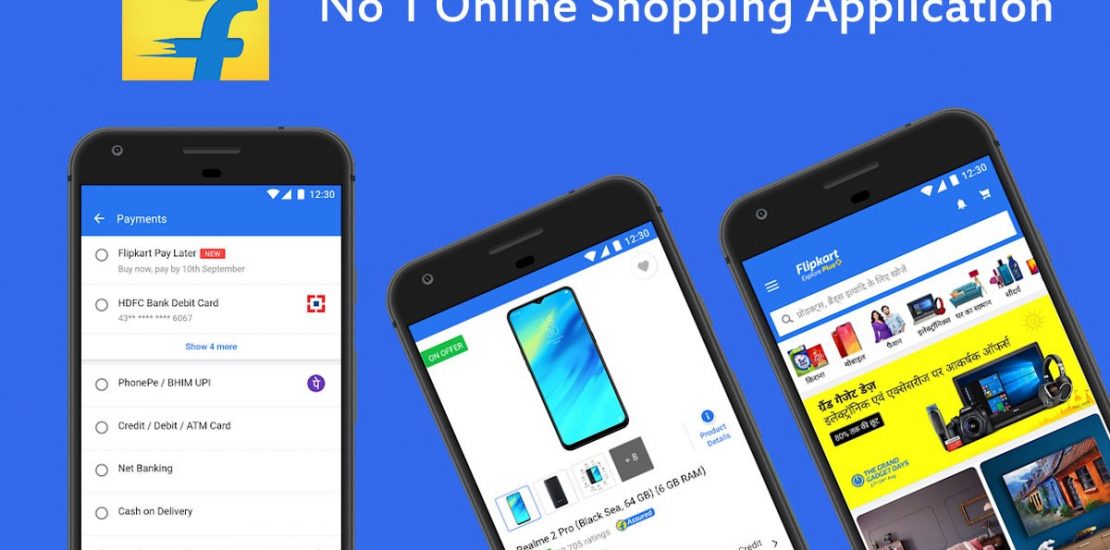 How Much Does it Cost to Develop an Ecommerce App Like Flipkart
The Idea of developing an e-commerce app to support an e-commerce website Which is a fundamental part of any online business. But do you have an overview of the detailed figures of how much does it cost to develop an app like Flipkart?
The e-commerce industry, whether in retail or B2B, locally or worldwide, has changed the way the company is transacted.  Now, the Internet is a global marketplace, offering a national presence, if not a worldwide presence, even reaches to the smallest retailer. Bricks-and-mortar sites now have Developed Website and Mobile App to expand their customer base,  new businesses are now selling products that were unimaginable before thanks to the Internet and the technology growth. It is hard to assess the scope of the e-commerce marketplace.
If you live in the India (Bengaluru, Delhi, Mumbai, Kolkata or any other Indian Metro City) and looking for the best Daily deals and discount in any online shopping website or app then Flipkart would be the best platform for your daily needs.
Get a Free Quote
About Flipkart
Flipkart is India's Largest e-commerce marketplace. It was founded in October 2007, headquarter in Bangalore, India. The Company was founded by Sachin and Binny Bansal. This online experiment was initially started as an online bookstore and as the popularity of the company grew, it expanded and diversified its operations.
By offering the largest online marketplace for sellers and buyers to interact in India, Flipkart  is promoting its engagement to develop the regions E-commerce ecosystem and drive innovations and entrepreneurship in the India.
It started selling other items such as music, movies, and mobile phones. As the revolution of e-commerce gained momentum in India, Flipkart grew at an accelerated pace and added several new product lines in its portfolio.
Flipkart is India's top Shopping App trusted by 100 million Indians customers for their online shopping. Now, you can buy products from around the India, all from the convenience of your mobile device. It makes Shopping more convenient and rewarding for their customer.
Success stories of Flipkart App
By selling 1 lakh books in a single day in 2013, the firm set a record.
In 2016, in registered clients, Flipkart passed the 100 million mark.
Flipkart got more than $4.5 billion in Funding, with the largest $1 billion in July 2014 and $1.4 billion in April 2017.
Advantage of having E-commerce App like Flipkart
Mobile Apps are faster: Mobile app usually perform 1.5 times faster than mobile websites. Mobile Applications store information on your Devices locally and in the blink of an eye, data retrieval occurs. In the case of mobile sites, data needs to be collected from web servers, which can take from a few seconds to a minute depending on the speed and size of the network.
"At the end of the day what your customer imagine and like is what brings business and profits."
Personalized Content: According to users preferences it has been noticed that customers love highly tailored communication, their own language they speak and understand and mobile app makes it easy to provide personalized experiences.
"It's been noticed that customers loves personalized content for a better experience"
Online and offline Presence : By developing Ecommerce mobile app gives your customer an instant access both online and offline with a single Tap button in the device, now with the help of this in-built features in mobile customers can quickly consume their content and save it for later and can also accessed offline later.
"E-commerce Mobile Application offers better user experiences with their potential to work both Online and offline"
Push Notifications and updates :With the help of push notification functionality in your mobile apps,Now the customers can received push notifications on their devices whether the users opens an app or not. Basically these technique would help to your targeted audience to get the detailed product information on daily basis which may also allow to promote their product and services regularly and leads to increase in sales and revenue.
"The potential to send immediate notifications to users of your app is a
 significant reason why companies should be building a Mobile app."
Branding: Each and every Ecommerce Mobile App is customized according to the firms branding. Moreover we can design mobile application the way we want it to be without depending upon the browser or devices.
"Your Mobile Application becomes your Brand Ambassador."
Unique features of Flipkart Mobile App
Flipkart covers a wide range of popular categories including latest and trending consumer products such as Home and furniture, Mens & Women's Clothing's, Electronics gadgets, Books etc.
Product quality under control
Now Flipkart verify the product quality which they going to list in to their website or app for sales. The product is been tested at various level at quality section department.
Fast shipping and tracking orders
Flipkart covers a wide range of cities and localities through auto detect geo-location features into the mobile app.
Provide the best deals on the mobile app offering huge discounts and promotions.
The mobile app support multiple languages option for the real-time customer base.
Key Feature of Similar Mobile App like Flipkart
Admin Panel
Real Time Dashboard option
Analytics and reports
CRM software
Stock management
Seller subscription free Listing
Unlimited Product Category
Responsiveness
Stock Management Record
Shipping Systems
Sellers:
Seller Control Panel
Multiple Product Listing
Specific Vendor Store URL Link
Seller Profile Social Link
Shoppers:
E-mail/Social Login
Comparison of different product
Product Review and rating
Product Filter option
User-Friendly UI/UX
Development Cost to develop a similar app like Flipkart
You must consider the following breakdown cost while estimating the total cost to develop an e-commerce Application similar to Flipkart.
Technologies used by DxMinds:
Integrations Used by DxMinds
Payment Gateway
Accounting Software
Shipping Software
APIs for social media sharing login
Development Team Used by DxMinds
Project Manager
Back-end team
Front-End team
QA Engineer
UI/UX Designer
Platform options Used by DxMinds
Flipkart type Ecommerce Mobile application development cost generally lies between $10000 to $50000 with the Basic Ecommerce app Features, Breakdown cost may rise up to $100000 depends on features, Technologies, Platforms, App Development Company, Location and functionality.
Get a Free Consultation