October 11, 2022
Posted by:

Admin

Category:

Famous App Analysis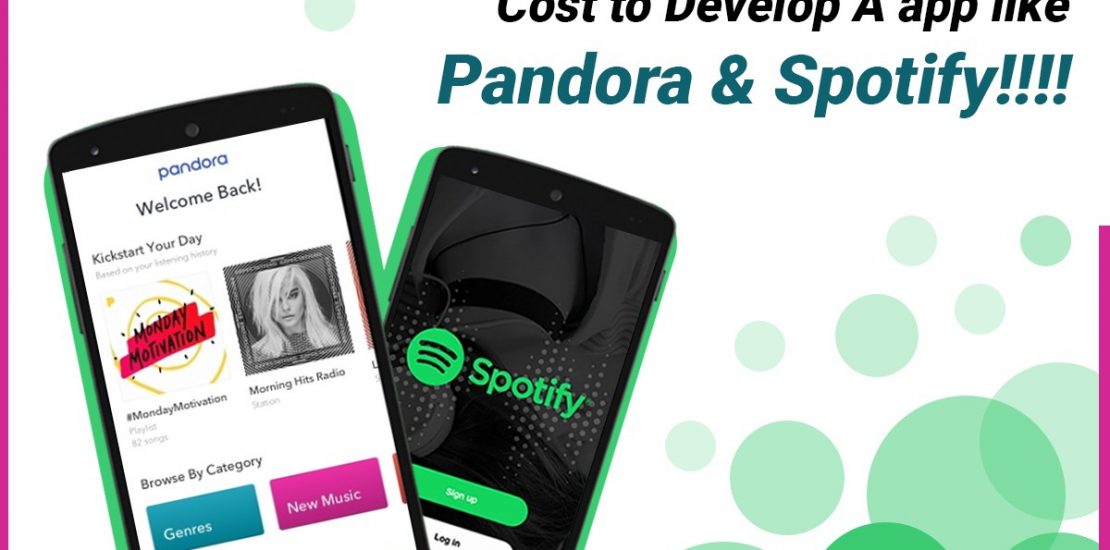 Music Streaming / Radio Mobile App like Pandora Cost?
Pandora allows them to connect with their audience and help people to search for new music. When Pandora launched, there were so many startups came. All were facing some challenges with a huge number of music but there is no way to search a good tracklist. Today we are going to discuss the Pandora and Spotify app and the cost of mobile app development like Pandora and Spotify.
Hence, Pandora radio mobile app has amazing service of personalizing the music you listen to. The online Music mobile app like Pandora has a browsing feature that serves up artists and stations users are looking for & also helps them to find new songs.
Feature of Pandora Mobile app:
Pandora Mobile application gives limited selection on the basis listed songs and artist. It allows further add stations. One of core feature in Pandora is finding new music. Pandora is used in UK, CANADA & the rest of the countries.
However, it's browser's capability provides a chance to collect more information about listening habits and search different method ways to translate that into real life events while using Mobile apps like Spotify.
Let's discuss more about Pandora app and spotify music streaming mobile application.
Is Spotify better than Pandora?
Spotify is free and allows you to listen to the song in shuffle mode. Users can upgrade and try spotify premium free for 30 days. Once your free subscription ends then you will be charged $9.99 a month.
Similarly, Pandora Radio Mobile App offers an ad free subscription with a pro version called pandora one. Pandora one for those users who like to listen to songs without any ad.
What is the Spotify Mobile App and Pandora Mobile App?
Spotify is an online free music streaming mobile application. It's the best online music application for android and ios platform. Spotify has well known more than 100 million users. Pandora is an online radio streaming mobile app that enables all artists to list their tracks in Pandora use and users can listen to them. After reading about the success milestone of spotify, you might have a plan to develop spotify clone mobile App. The main idea of this blog is to give an explanation of the topic of creating a mobile app like Pandora and spotify Cost.
Feature of Online Streaming Mobile App Like Spotify and Pandora
With Spotify, you can play millions of songs and podcasts for free. Listen to the songs and podcasts you love and find music from all over the world. Spotify has a user friendly interface and it has better navigation vai Spotify's huge music library. Other hand, Pandora radio mobile app offers remarkable radio experience for listeners, having a better song selection algorithm than the Spotify radio section. Pandora is an old online radio streaming mobile application. It was available before youtube, spotify, google play music or any other music services. People are coming back to use Pandora even after so many music streaming service apps. But Pandora is only available in the UK and New Zealand due to licensing constraints.
Difference between Spotify App and Pandora online Music app
Pandora generates most of its revenue from advertising and only 20% from subscription. While Spotify uses only 9% for advertising and 91% from subscription. Pandora has aimed to increase growth to $4Bn business by 2021 in the US alone. According to the latest report from sensor tower regarding top grossing apps in the united states for nov 2018. Pandora has ranked the top grossing mobile app for both the apple application and google play store.
Online Music App Feature like Pandora and spotify
Find new music, albums, and podcasts
Explore for your favorite song, artist, or podcast
Enjoy Selected playlists
Create and share your playlists
Get music for any mood and activity
Listen on playlist in Multiple Device like mobile, tablet, desktop, PlayStation, Chromecast, TV, and speakers
Find new music, albums, and podcasts
Play music for free on your mobile phone or your tablet with Spotify mobile app. Listeners can Listen the song, albums, playlists, & podcasts anytime anywhere.
Explore for your favorite song, artist, or podcast
Along with Spotify, you will have access to a ocean of free songs, curated playlists, artists, and podcasts you love. Discover new music, podcasts and listen to your favorite musicians, albums, or create a playlist with the newest songs to change your mood.
Enjoy selected playlists
Spotify also provides online free music, selective playlists & thousands of podcasts which you can't find anywhere else. Choose a music playlist from your favorite artists, and listen to new music for free.
Create and share your playlists
Online Free songs and podcasts has been formed so easier – Listen to a playlist, record or play music by any artist on shuffle mode
User can listen to music and podcasts on your tablet for free
Get music for any mood and activity
User can play any song, artist album, or playlist and enjoy a personalized music experience on Spotify Premium features Music App
Listen Music in Multiple devices
Listen on multiple devices & Customers can listen to an album, playlist, or podcast without ad breaks. With Spotify, Customers can play music by any artist, at any time. It can be in any other device-mobile, tablet, or computer. It allows you to download and play music for offline listening & Enjoy amazing sound quality on personalized music and podcasts. Find new music or curated playlists that suit your mood. With Spotify, you'll get a personalized music experience like no other. You can close your subscription at any time without any question asked.
Cost of Develop Online Music Streaming App like Pandora
Now after feature, function we will explain you about cost of mobile app development like Spotify and Pandora. You might have read so many blog about how much does it cost to create a mobile app or how to develop a music streaming mobile app. Here I will be discussing some factors which will define the cost of mobile app development apps like spotify and Pandora. From a technical point of view, I would like to tell you that if you include more functions then you have to handle a tight budget for making an online music streaming mobile app. Apart from that App design, platform and latest technology involvement will add more to your mobile app development cost. The avg cost to build mobile app development will be on an average $25000 to $35000. But It will keep changing based on your business requirement.
To develop a music streaming app like Spotify and Pandora, to know the development cost of Radio App like Pandora, you need highly skilled experts to build a perfect mobile application for you. DxMinds Innovation labs are one of the best mobile app development agencies have professional and expert developers with the latest technology. You can hire us as a top online music streaming app development firm for your business to create a perfect mobile app.
Conclusion
I am sure you have learned enough from this blog about the best music application and cost of music application development. So, if you are looking for online music app development then you can write an email at info@dxminds.com
We can help you to get free quotation for mobile app development