October 11, 2022
Posted by:

Admin

Category:

Famous App Analysis, Healthcare App Development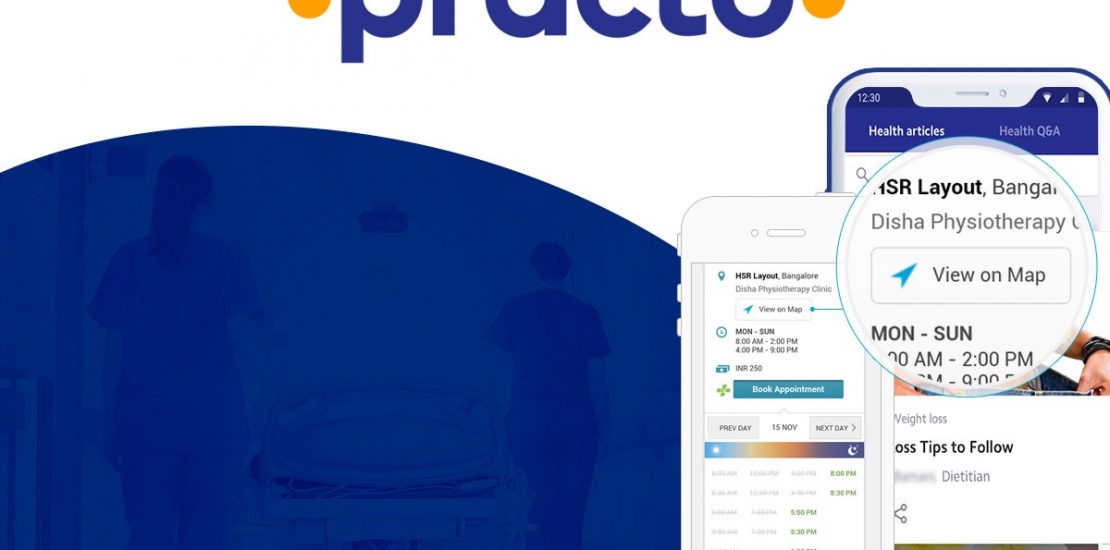 How Much does it Cost to develop a Healthcare App Like Practo?
There seems to be a high revolution and expansion in the field of Mobile Application domain. Most of the big industries have started to implement the advent of mobile apps. Also, the health care industry has followed the trend of applications. Yes, it's true from the latest healthcare research reports, mobile platforms have refined the traditional way of communication between patients and doctor. Healthcare is one of the all-season and busiest field, this is why medical services and its offering has tremendously increased.
This blog is drafted for the healthcare businesses to make them aware of the fact of innovations in mobile app technology ensures them to remain ahead in a competitive world. We have taken an example of a successful healthcare app i.e Practo and given brief details about its features and development cost. Isn't a good idea to develop an on-demand healthcare app like Practo and experience positive fame?
Let's Get Started
About Practo App
Practo one of the prime online healthcare app of India, providing best solutions whether it's finding a right doctor, taking quick appointments, scheduling diagnostic test or purchase of medicines online at your doorsteps. An all in one health care app offering a tremendous service, Founded by two youngsters i.e Mr. Shashank and Mr. Abhinav Lal with a mission to make lives healthier and longer.
Do You have an Practo like App Idea? Let's Discuss
Practo System design/features | How to Make An App Like Practo
Signup/Login
User have to login via mobile number or Facebook id
-Implementing social media features in a clone app like Practo is very beneficial in these days of the online world and DxMinds the top healthcare app development company develop and design it under 23 hours.
Help Screens
The app displays a series of screens to help the new users to be aware of Practo features and its functionalities.
-Offering a help screen feature in a healthcare app is an important aspect for users, as it assists them with the app, so they can't navigate in another platform. DxMinds sketch it in 10-15 hrs.
Find and Book
A user-friendly feature with just one click book doctors, Dentist, Wellness and fitness centers.
Integrating find and book feature in an app like Practo where user can filter to choose from various options and can book their appointment as per the preference. The time required by us is 115 hours.
Search
A common search feature helps you to find doctors, spas, salons, gyms, yoga classes, etc.
A required and basic feature for any kind of app, and it takes around 18 hrs to design.
Consult
A feature where user and doctor can communicate in real-time via text message
For designing an app with text feature it requires approx 75 hrs at DxMinds.
Blogs
A unique feature where doctors/trainers post new blogs in Practo intending to make peoples life healthy and fit.
By adding the feature like Blog where users can update and post some healthier facts which helps in enhancing the engagement rate of app making it more popular and demanding.
DxMinds developers develop and design this feature under 50hr.
Online Purchase Medicines
Order prescribed medicines online with discount offer and get medicines at your doorstep through practo feature.
Get a Free Consultation
How Much will be the cost of Practo like App development?
After getting to know about the model of Practo app, now you may want to know "How much does it Cost to Develop an App like Practo". It purely depends on the following factors:
A major deciding factor where app development cost depends on the chosen app platform. Android app platform cost is more than iOS due to more complexity in backend code.
A user-friendly design is a highlight of an app where people get more engaged with an app and its features and DxMinds is an expert when it comes in providing a high weight for an app in terms of attractive designs.
App size defined as a total of features and functionalities, where an app contains doctors and patients profile information, articles, quires, and suggestions from patients and doctor.
The cost may go high if you want to make your app more advanced and high spot. DxMinds one of the leading healthcare app development company can develop a successful mobile app with emerging technologies such as Blockchain, AR/VR, IoT, Chatbot and Ai/Machine learning.
However, the app development of Practo like Mobile app may go around $15k-$50K, by relying on the above features.
If you are looking to develop healthcare like Practo, then feel free to reach us inquiry@dxminds.com and get a free estimation with the exact cost.
Contact us