November 26, 2020
Posted by:

Admin

Category:

Outsourcing and Offshoring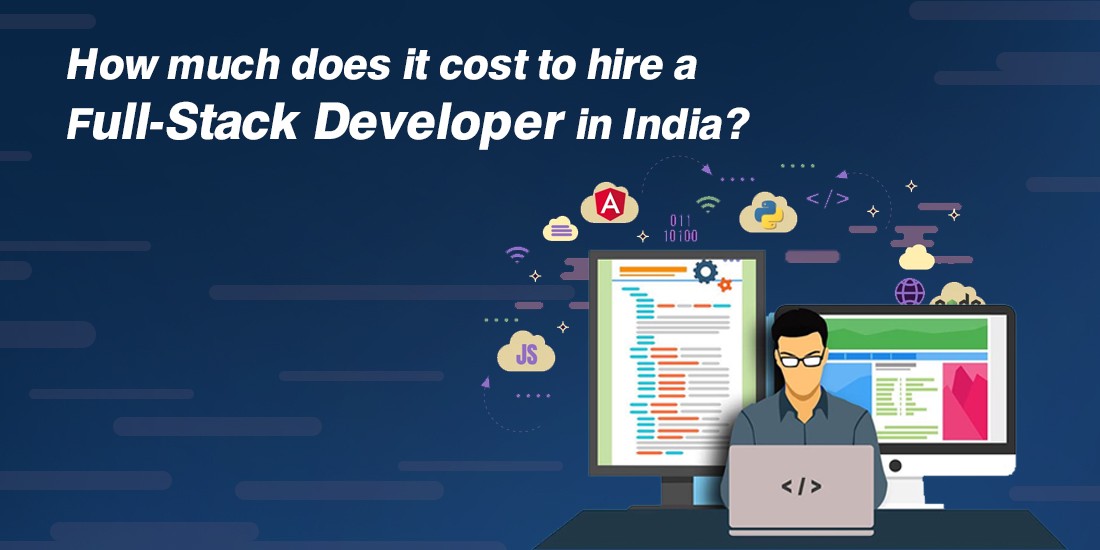 The growth of the Indian software market is incredible with the biggest talent pool for the latest emerging technologies. The excellence in technological assistance found in Indian software developers is flooding this country with greater opportunities for software development. With the growing features and specifications in technology, the demand fora full-stack developers has taken a quick ramp. The major reason behind these growing requirements for full-stack developers in India is the budding start-up culture that has given a platform for new business ideas to implement the most unique web solution and flourish with the assistance of the best full-stack programmers. Are you also an entrepreneur looking to take your business online, or a professional with creative business ideas and willing to establish your footsteps in the exponentially growing competitive business world? A web solution that includes a website, a web app, a mobile app, or a desktop app can be the answer to your requirements. But if you are confused with the selection of software developers and seeking the best developer that can serve you with comprehensive solutions, then the answer is "hire full-stack developers from India". Indian developers are renowned for providing the best services with bug-free solutions. If development cost is bothering you read further to know the cost to hire full-stack developers in India in detail.
Know what full-stack developers are:
 A full-stack developer is a professional who is well equipped with the skills required for front end as well as back end development. The major technologies that are possessed by full-stack developers are HTML, CSS, JavaScript, jquery, Vue, Angular, Python, Node, PHP, ASP, SQL, MongoDB, and many more. There are a plethora of technologies used for web solution development that reduces the full-stack development cost in India; few of those are used for front-end development and few for backend development.
Frontend development: The frontend of a web solution comprises the entire major parts with which a user can interact with web solutions. The front end of the website and mobile app development uses listed languages:
HTML (HyperTextMarkup Language): It is the most preferred language for web development for controlling the structures and content. HTML5 is the latest iteration used for web solution development. Older versions of HTML still support the web development and runs accurately but may lag fewer features than the latest iterations.
CSS (Cascading Style Sheets): CSS is responsible for the appearance of the HTML coding. CSS is used to define the color, background image, fonts, and other specifications. The latest iteration of CSS is CSS3. It possesses the quality of rearranging the order of elements when it comes to managing the appearance of a web solution, regardless of the order of coding in the HTML.
JavaScript: It is one of the game-changer that can enhance the features of CSS and HTML providing a better experience to the users. It boosts up the web solution using frameworks like jQuery, AngualrJS, and NodeJS too.
Backend development:The backend of a web solution is not visible to any user but it is responsible for every action taken on the web solution. Even the output that you get from your interaction with the website is carried by the backend coding. Backend development languages are of two types, it can be classified into two categories, namely functional and OOP (Object-oriented programming). These programming languages are either coded statically or can be dynamical, the static one will offer more rigidity with better error catching potential, rather the dynamic languages offers flexibility in web development.
Java: A potent backend development language because of its versatility. Java offers a virtual machine that makes compiling a program easier enabling the code to run on any computer regardless of the location where the codes were compiled. This language is much preferred for website development and enterprise solutions.
PHP: Most of the dynamic website is developed using PHP technology. It is one of the dynamically typed technologies that offer greater flexibility. This technology allowsconducting the compiling of codes till you reach the error point.
Ruby on Rails: Ruby is one of the preferred programming languages with the most potential development tools enabling the software developer to build a web solution with the latest and most unique features. This technology offers a ready-to-use library which makes development swift and error-free.
Python: It is one of the fastest-growing programming languages and can be used for the web as well as desktop software development. the development using this technology is easy when compared with others, as it facilitates the use of simple to use syntax which makes it easy to read and write too.
.Net: ASP .Net is a framework used for the development of web solutions accompanied by the programming languages like c#, F#, Visual Basics, and more. It offers Model-View-Controller that allows the developer to directly interact with the model to process the available data and to send the output as the front-end display.
Why opt to hire a full stack developer from India?
India is the home for the best professionals, highly equipped with the latest technologies. To develop a web solution you may have several options, but you must choose a technology that can serve you with long-term solutions that allows you to scale your business solution based on the rapid changes in the market trends. To do so, you require a professional team that is highly equipped with the recently emerging technologies with rapid technological changes. India has the best professionals with creative minds capable of offering the most creative ideas for an exclusive web solution. Even the cost to hire full-stack developers in India is much lesser than other developers and the reason is the use of the latest technologies.
In the present competitive era, every day is coming up with exponential growth in the number of start-ups raising the competition. To grow in this competitive world you need a professional hand that makes you stand out from the crowd with an unsurpassed solution. Full-stack developers of India are potent enough to serve you with an out-of-the-box solution with master hands on the latest technologies and vision for the upcoming market and technological trends.
Reasons that make full-stack developers the wiser choice for your web development:
Get end-to-end web development solutions, ranging from the inception of ideas to implementation.
A handful of professionals can give you complete solutions
Conceptualize your web development idea to provide you with a preview of your web solution
Single coordination for the development of the comprehensive website.
Well understanding of the requirement, comprehensive discussion, and detailed market analysis
Expertise in frontend as well as the backend coding
A wide array of scalability options
Easy designing of web architecture
Optimizes effective interaction between users and the system
Highly skilled with various layers of technology stacks
Development of an excellent environment that makes your web solution more effective
Can easily switch from frontend to backend development with the coordination of a single team
A single team working for both the development sides makes the end product more effective, the reason being the proper integration of both the development sides.
Single team working for a comprehensive web development helps you cut down the expenses of hiring and processing multiple teams for web development, as full-stack resource cost in India is lesser than in others.
Full-stack development and its development cost:
Undoubtedly, full-stack development is the right choice for every type of business, regardless of its size and domain. As full-stack development offers a wide range of benefits and solutions for business requirements, most folks are having a myth of expensive services. Anyways, the cost to hire full-stack developers in India is the best solution for cutting down your expenses. Going with two distinct teams for front-end development and backend development will make you spend two distinct teams with increased team members and hence the totals payoffs too.
Hiring a full-stack development resource will allow you to develop effective software with the assistance of lesser team members and also reducing the time required for the integration of front end and backend in the same solution.
Full-stack developer cost in India:
Most businesses are now turning towards India to hire the best full-stack developers as the country has the best talent pool with vast experience in various software development technologies and business sectors too. Other countries renowned for full-stack development are the US, UK, and Germany. But India has gained a leading position in offering the best full-stack development services when compared in terms of quality, experience, and cost too. Indian full-stack developers' cost is comparatively lesser but the developers of India are highly skilled with the latest technologies with vast knowledge in the relevant industry to serve you with the most effective solutions. Whether you talk about the creativity or use of technology, Indian developers have beat the competition and become the leading and prior choice of businesses around the world.
Whether you are looking to hire a dedicated full-stack development team, or are willing to hire a full-stack programmer on a monthly or hourly basis, full-stack developer cost in India is very affordable. India is a developing country with a feebler economy and hence has comparatively lesser pay scales than the developers of other countries. The cost to hire full-stack developers in India is 40-50% lesser than other developers. Where the developers of other countries charge $60-80 per hour, Indian full-stack developers cost only $20-30 per hour making a great difference to your expenses.
As per the survey conducted over worldwide developers, it is depicted that developers of India charge 2.5 times lesser than worldwide developers. If compared to the US developers, Indian full-stack developers charge 5 times lesser. The average salary of a full stack developer in India is $10000 per annum. The salaries of UK and German developers are 3-5 times more than Indian developers.
Conclusion:
Full-stack development has received a huge demand in recent years all across the world. Entrepreneurs have started taking assistance from offshore development centers that can provide them with full-stack developers with comprehensive knowledge and excellent skills in developing web solutions using various latest technologies. One of the best benefits that have provided popularity to full-stack development is cost and time reduction with the enhancement of quality. Apart from cost-effectiveness, there are many more benefits you can avail of from the full-stack development team.
India is becoming a leading country for serving the top quality full-stack development services at the most affordable price. If compared with the salaries of the developers of other countries, full-stack developer cost in India is 50-60% lesser. The average salary of software developers in India is 3.5% lesser than other developers. Choosing a developer from India can assist you to reduce your expenses by up to 50-60%. Hiring a full-stack programmer in India costs you around $20-30 per hour. Hiring full-stack developers from India will avail you of the flexibility to choose a team based on your requirements and parameters for a precise time.